Unfortunately, lost the habrosus and one of the pygmies overnight...the rest look fine, but still a bit worried. This was the first time the LFS stocked any and so I'm not sure if they were in a good condition when I bought them. Add in the fact that the guy bagging accidentally scooped up the habrosus with the group of pygmaeus I wanted, and I'm not sure they really knew what they were doing.

The rest are still very active and eating, so fingers crossed they are ok.
Did he clean the net before he scooped the fish from the tank?
Quote:
Originally Posted by
tattooedfool83
View Post
Did he clean the net before he scooped the fish from the tank?
I wasn't paying attention (trying to pick out plants at the same time), but I don't think it would make a large difference since most of their tanks are on a central system from what I can tell. Unless you meant clean with chemicals? In which case, I don't know for sure but I doubt it.
I'm more inclined to believe it isn't a batch of high quality stock given their inexperience with these corys...I asked how they were feeding and he didn't really give me an answer other then "they're scavengers" so no idea whether they were being fed well.
I meant with chemicals. Some places sit tree nets in chemicals to clean the nets between dunks. And if they don't rinse beforehand could create Problems. I love those answers, the best are when they are so misinformed yet so sure they are right
Another unfortunate update here:
http://www.plantedtank.net/forums/sh...=1#post4504409
But fish on the way! Decided to go with "nano" fish in this tank instead of larger fish...A. sidthimunki are too expensive and only a few online vendors have them.
So currently there are 5 C. pygmaeus and I'll be adding 6 more and a group of 10 Nannostomus from Msjinxd. Also have a few sparkling gouramis and some T. espei coming to finish up the stock. All should be arriving next week!
its like a slice of nature, looking real good
Both orders arrived...and my tank is now stocked! Only one didn't survive (one sparkling gourami), and I can't even be certain if it was DOA or not because it was delivered hours before I expected it and couldn't get home in time.
But everyone else seems happy and healthy! It's so funny watching everyone school together. Literally all the fish try to keep up with each other, usually the T. espei are in front...they're pretty spastic. Pygmy corys are now out and about which is a good sign. I guess they just needed some reassurance that it was ok to not hide.
So current stocking is:
-3 sparkling gouramis (T. pumila)
-12 Espei rasboras (T. espei)
-10 dwarf pencilfish (N. marginatus)
-12 pygmy corys (C. pygmaeus)
It's a bit full
Did an early water change since I'm out of town tomorrow but not enough time to thin any of the plants out, so it looks a bit overgrown. Ignore the diatoms...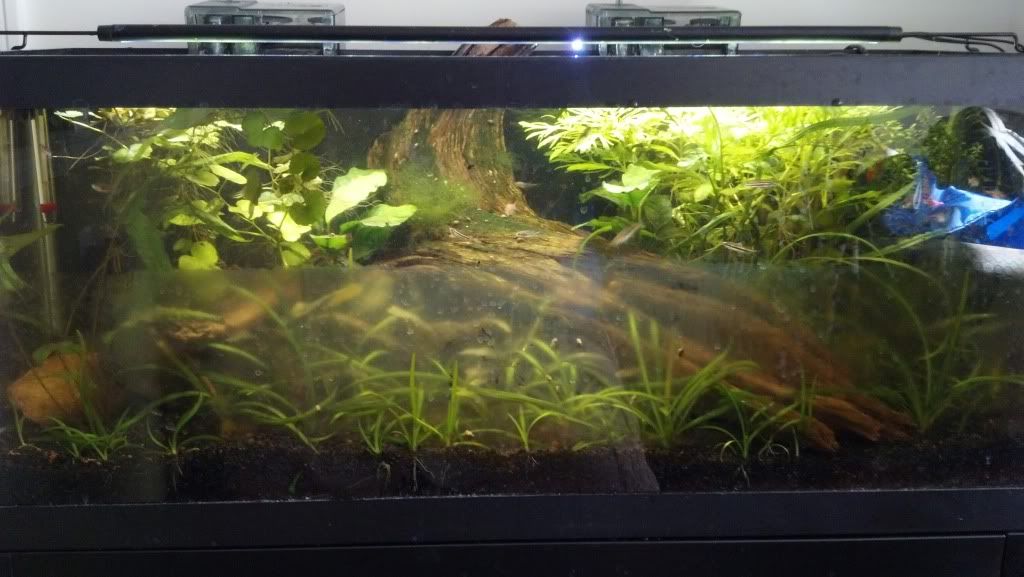 Video I took last week when the pics were taken...sorry for the weird blue reflections in this and the pic.

Everyone's still happy and healthy, although there still seems to be some lingering tension between the sparkling gouramis...hopefully it gets worked out as I've had a trio do fine in a smaller space, but I can always move if necessary.

Also need to get to work on a smaller, meaty food source (ordering from Sachs soon, most likely, and probably setting up a "worm" culture). Was kind of comical watching the small mouths try to swallow frozen bloodworms but they were just too big. Any suggestions on how to get those pieces smaller in the mean time? I tried manual blending (in a cup) but it didn't work too well. Crushed flakes are still being used as a staple but I don't want to rely on them too much.


Which Ken's food specifically?

I was actually looking to go more of the live-culture route (Daphnia, etc.) of something small, mostly because I'm thinking about going with some fish that don't like prepared food so much in another tank. I've corresponded with the people at Sach's before so I have an idea of what is possible, just need to buck up and order soon.
Quote:
Which Ken's food specifically?
I was actually looking for live-culture route (Daphnia, etc.)

I've corresponded with the people at Sach's before.
Ken's food is dry food.
Is that Sachs Systems Aquaculture? They seem expensive. Seems it would be cheaper to get a culture from member of Fla aquarium association or member of this forum or Ebay.