Algae Grower
Join Date: Jun 2013
Location: NOVA
Posts: 8
65 Gal- 1st CO2 Tank (56K)
---
New to the forum. Thought I would share my tank. Ideas and comments certainly welcome.
65 Gal 36W X 18D X 24H
ADA Aqua Soil Amazonia with Power Sand base and Aqua Soil powder type cap
Eheim 2075
Marineland 36" aquatic plant light- 9 hours per day
GLA "choice" CO2 system (timer) with inline atomic diffuser
Cal Aqua drop checker with Cal Aqua 4kH
I set the tank up on 6/11 with substrate, water and filter to start the nitrogen cycle. I added some mulm from an existing tank. Within a day or two I had a white fungus on the Manzanita driftwood. Reading that it was normal I brushed it off when it got thick and moved on. I planted on 6/15 with the following:
Sagittaria Subulata, Staurogyne Repens, Java Fern, Anubias Coffeefolia, Cryptocoryne Retrospiralis, Cabomba Purple, Telanthera Rosefolia and Java Moss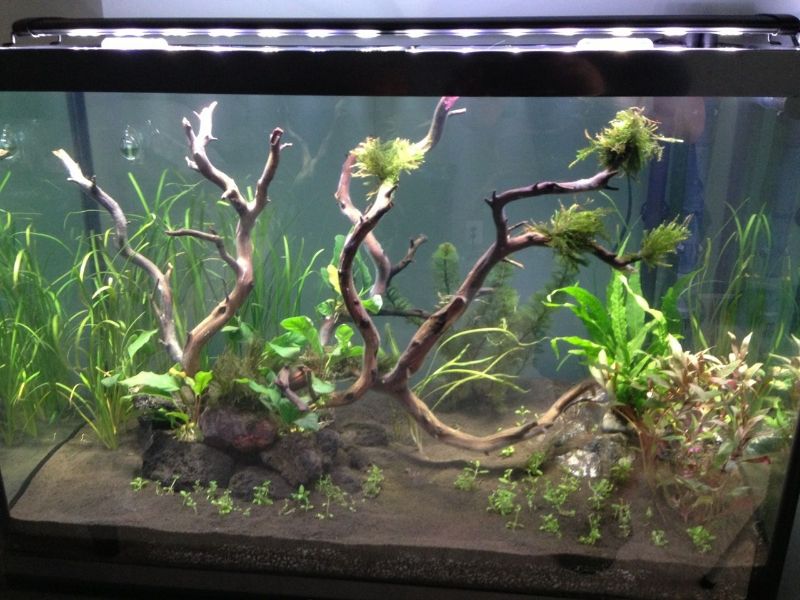 I immediately started dosing EI as follows:
40-60 Gallon Aquariums
+/- 1/2 tsp KN03 3x a week
+/- 1/8 tsp KH2P04 3x a week
+/- 3/4 tsp GH booster once a week(water change only)
+/- 1/8 (10ml) Trace Elements 3x a week (Flourish)
50% weekly water change
I slowly adjusted the CO2 and honed in on @2.5 BPS which turned my DC green and gave me @6.4pH and 2.5KH in an API test kit. Obviously these are estimates as I haven't made calibration solutions. Although I still didn't have any fish in it because I want to be ultra careful with my Rainbows and Angels, I wanted to go slowly as if I were making adjustments with a stocked tank and to learn how to recognize changes.
From day 5 to day 11 I saw good pearling and lots of new growth in the Combomba Purple, Telanthera Rosefolia, sag and 1 of the Anubias. The rest seemed ok or showed some growth.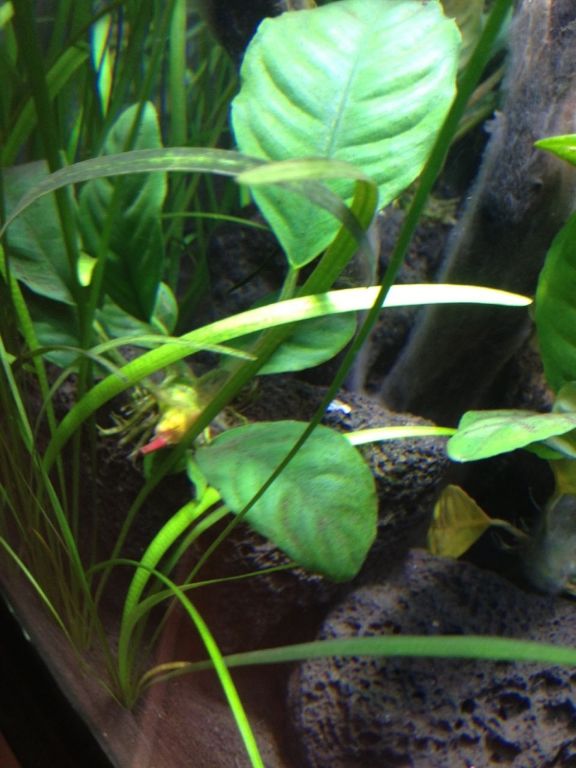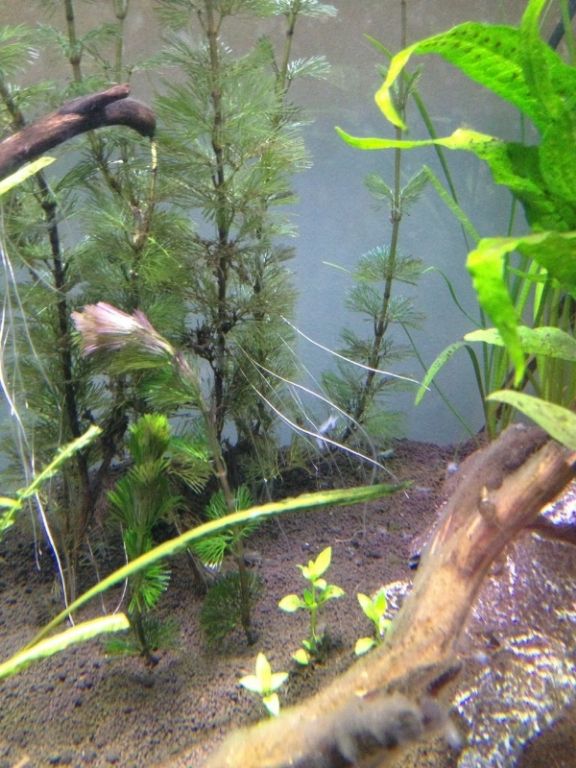 Two weeks in while doing a water change and adding another Anubias, Java Fern and Ludwigia Peruensis which was missing from the first shipment, I noticed that most of my anubias were falling apart and the rhizomes were melting. In addition I was now seeing diatoms, green hair algae and some sort of fungus like mass on the java moss etc. I slowly upped the CO2 to about 4 BPS and my drop checker is now light green to slightly yellow and my pH is slightly lower than 6.4 and Kh 3.
At that point I hadn't put fish in because the tank was still cycling and wanted to be sure I had the CO2 figured out. After ammonia was at 0 for about 5 or 6 days I found my Nitrites and Nitrates were pretty high. Nitrites were up to 2 PPM and Nitrates between 40 and 80 PPM. I was doing frequent water changes and they immediately came down to around .25 PPM and 10 to 20 PPM respectively but later that day or the next day they were high again. After a few days the tank fully cycled but Nitrates remained pretty high.
Just short of a month old, after some ups and downs, things seemed to be heading in the right direction. Here's the tank on July 2nd.
More to come...
---
Last edited by Paul Naj; 08-01-2013 at

10:00 PM

. Reason: .
Looks good ~ Just realized I have a tank with the same dimensions
Algae Grower
Join Date: Jun 2013
Location: NOVA
Posts: 8
Thanks Xiaozhuang.
Immediately after the last pic above, things went downhill a bit. I started getting massive amounts if a filamentous diatom affecting my java moss, anubias, staurogyne repens and a few other stem plants. According to Plantbrain it was most likely Melosira.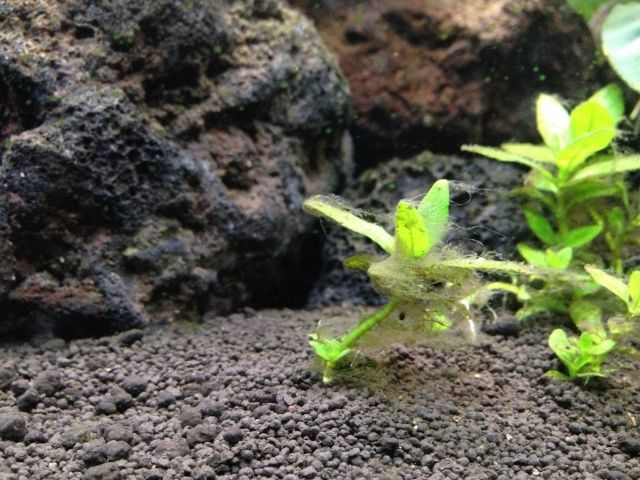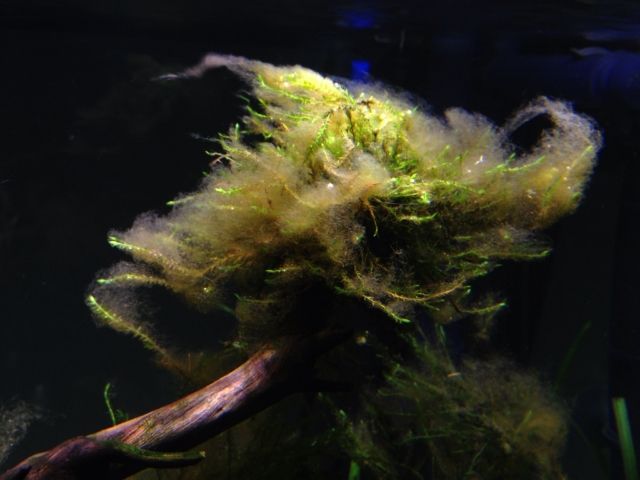 At it's worst-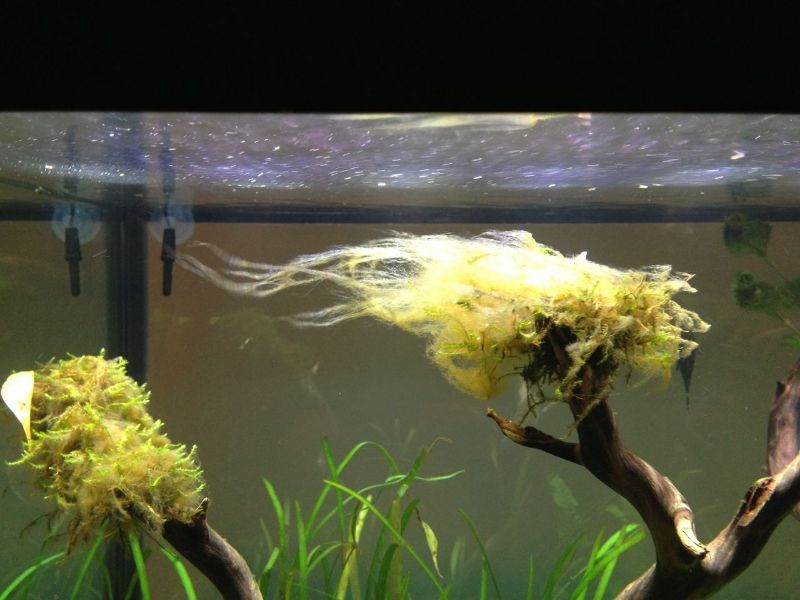 With advice from Plantbrain I increased water changes to 60 -70%, 3X per week, picked out as much of the filamentous diatom that I could. I also treated with Excel. I never went higher than recommended dosage with Excel because I was afraid it would affect my Sagittaria Subulata. In the next few days I also added more stem plants. The only ones I liked that were available at my LFS's were rotala green and Wysteria.
At this point I was concerned my CO2 was off so I also invested in a pH controller and Lamotte KH test kit. After doing some testing with the pH meter, I found my ramp up of CO2 was very slow. I tweaked a bit and then began using the pH controller and running the CO2 24X7. I also moved (over several days) some neons, amano shrimp and bristtlenose plecos from another tank and added some new ones to the mix.
Once the CO2 got stabile and the shrimp and plecos acclimated to the new tank, the results were pretty amazing. The filamentous diatom was under control. There were some casualties along the way. My Sagittaria melted quite a bit as feared. Several other stem plants seemed to get choked out and break off stems but only one or two.
I also then rented a PAR meter. The results were interesting. Over 230 umol near the surface under the light and less than 20 at the substrate near the front of the tank. Unfortunately, the Marineland Aquatic Plant LED seemed narrow for the 18" depth of the tank. Moved to the front of the tank, the par at the substrate went way up. When I held the light at about 1 ft over the surface, I got my target 50 umol at the substrate in front where the staurogyne is. So I decided to build a rack for the lights, add a 2nd identical light and raise them up to the desired height. My 2nd light should arrive today.
Even raising up the single light a bit seems to have had a positive effect. I'm getting lots of pearling again, seeing good growth, and overall starting to look a bit better.
This is the tank last night-
---
Last edited by Paul Naj; 08-01-2013 at

10:01 PM

. Reason: .
Planted Tank Enthusiast
Join Date: Apr 2011
Location: Pasadena, california
Posts: 627
Love those dimensions. Glad to hear everything is ticking along nicely now.

Are you still planning on angelfish and rainbows?

This is very similar stocking plans and equipment to what I am considering for my next step.
Planted Member
Join Date: Jan 2013
Location: Southern California
Posts: 167
Nice tank, and great job dealing with the algae. It's great to see someone seek out good advice and then follow it!
Tall tanks are harder to scape well, +1 for your problem solving approach. Many tanks have trouble at the start but when plants start growing in more fully and there is momentum, algae issues become less of a problem.
Algae Grower
Join Date: Jun 2013
Location: NOVA
Posts: 8
Thanks for the encouragement. As you all know it's certainly frustrating at times when you THINK you're doing everything right and things go wrong anyway. The slightest missed detail can spiral out of control quickly with higher lighting and CO2. I'm competitive by nature so it only drives me to get sharper.
I'm moving some of the rainbowfish in today. I still haven't decided on the angels yet. I'm not sure if my gf wants to keep my other tank at her house or if I will set that one up as a 2nd tank here. I may do that one as a low tech tank in another room.
Dennis, I agree about the tall tanks. I just love the way it fills the space I have though.
I'm looking to take out some of the narrow leaf sag on the left side and put in another tall growing, bunching stem plant. Suggestions would be appreciated.
i would fill up those gaps with moss at the lava rock section
You could try limnophila hippuroides/red myriophyllum/pogostemon stellatus for their color and dense growth. Rotala rotundifolia is good for shaping, and would add orange/pink. Or you could try Eichhornia azurea that looks like palm trees
Algae Grower
Join Date: Jun 2013
Location: NOVA
Posts: 8
So the tank was coming along nicely once I got the Melosira under control. Lots of growth, good pearling for all plants except the narrow leaf sag had quite a bit of melt off and was no longer growing tall, instead it was going wide.
I decided to make a few changes so I pulled the sag and moved another small bunch of plants. I added some Cyperus helferi and getting a shipment of Limnophila hippuroides (thanks for the suggestion Dennis) Right after pulling the sag and moving the Cabomba I had a small NH3 spike. Within a day or two after I found quite a bit of what i think is staghorn algae on the sag and anubias. While looking for root cause I found that my CO2 was a bit low because of a partially clogged diffuser. The CO2 is back to 30 to 40 PPM and I just did a thorough filter and hose cleaning. The staghorn has slowed down but still advancing.
1. Is my ID of staghorn correct?
2. If I 2X dose with excel will it affect my Cyperus Helferi?
3. Any other ideas for removal?
Thanks.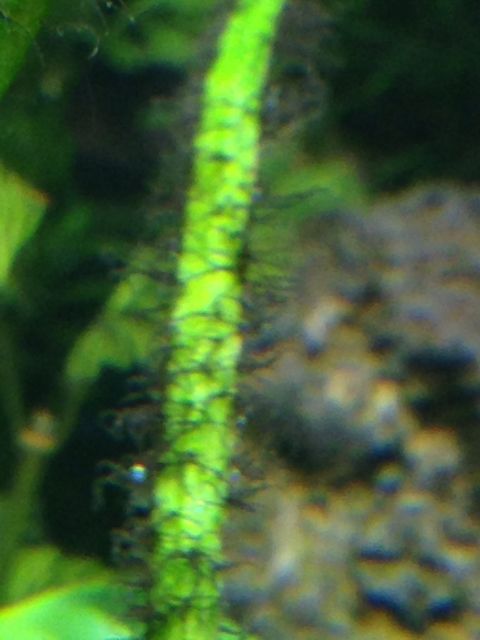 I have fought the battle with this staghorn before, you should probably just forget about your vals. Hydrogen Peroxide worked the best for me. You can spot treat with that and then hit the whole tank with an increased dose of excel. Stuff will turn bright pink and die.
Good luck
Algae Grower
Join Date: Jun 2013
Location: NOVA
Posts: 8
Thanks tatersalad, I've been traveling for a few days so I haven't been able to try much but I did spot dose with Excel before I left and came back to dying staghorn in a few small areas. The good news it it doesn't appeared to have advanced anywhere else so maybe it's getting under control. I did notice one of my bristtlenose plecos looking a little pale and sluggish last night so I hope I didn't do damage with the spot dosing.

I will monitor it for a few days and if I don't see more improvement I will consider the H2O2 thing. Any recommendations on how to do this without affecting the fish?