Some HighSchool Kid's 65G
---
Hey guys! This is my second attempt at a planted tank. My first planted tank was a successful 20 gall until I added a crawfish that I caught in my creek out back. Lol It wrecked everything. After that I started my 65 gallon reef system, which I had for a year until I decided it was time for a change. And so we begin the story of a 65 gallon planted aquarium.
Equipment
(not much)
Aquatic Life T-5 fixture with one 6500k and one 10k bulb.
Reef Keeper Light
Sump Filtration
Substraight
1" of Miracle Grow Organic Potting Soil
1" of Eco Complete Black.
Flora
Dwarf Sagittaria (
Sagittaria subulata
)
Amazon Sword (
Echinodorus amazonicus
)
Anubias Nana (
Anubias barteri 'Petite'
)
Lotus (
Nymphaea zenkeri
)
Water Lettuce (
Pistia stratiotes
)
Fauna
(Planned)
School of Neon tetras (
Paracheirodon innesi
)
School of Rummy nose tetras (
Hemigrammus bleheri
)
Some Otocinclus or Corydoras
Main fish being some Angel Fish (
Pterophyllum
) or Discus (
Symphysodon
) . Discus not likely.
I got it filled and planted today
[IMG]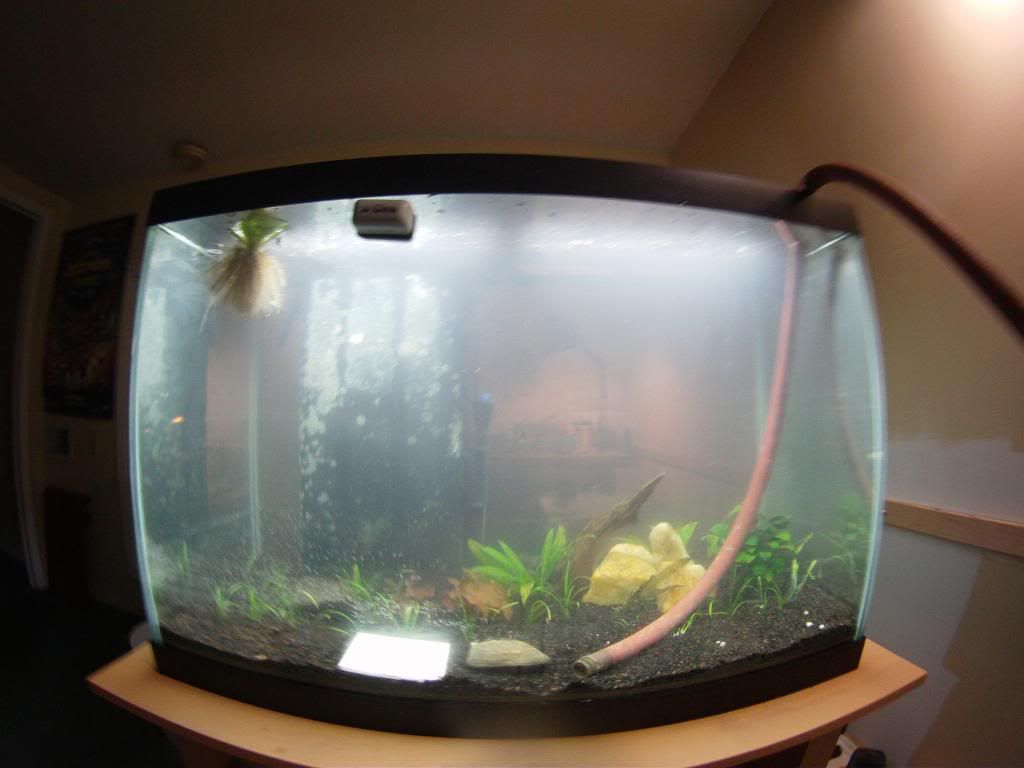 [/IMG]
---
Last edited by Awesomaaron; 06-05-2013 at

04:44 PM

. Reason: Grammar
The 65 is a great big tank to work with. Driftwood, maybe, to hide the overflow along with plant cover should fill it in nicely.
It seems like the plants you've chosen would work well with the equipment you're working with. I used to sell aquatic life fixtures and they're one of the lesser known brands that really performs well. I would probably change the 10k bulb to another 6500k, but that's just my preference for lighting.

For me, the 65 gallon has nearly perfect dimensions to make a great display. Good luck on the tank.
Tank is moving along nicely, Hoping to get a school of Neon tetras this week. Water is still cloudy. Any recommended water polishers?.
Added some wisteria (
Hygrophila difformis
)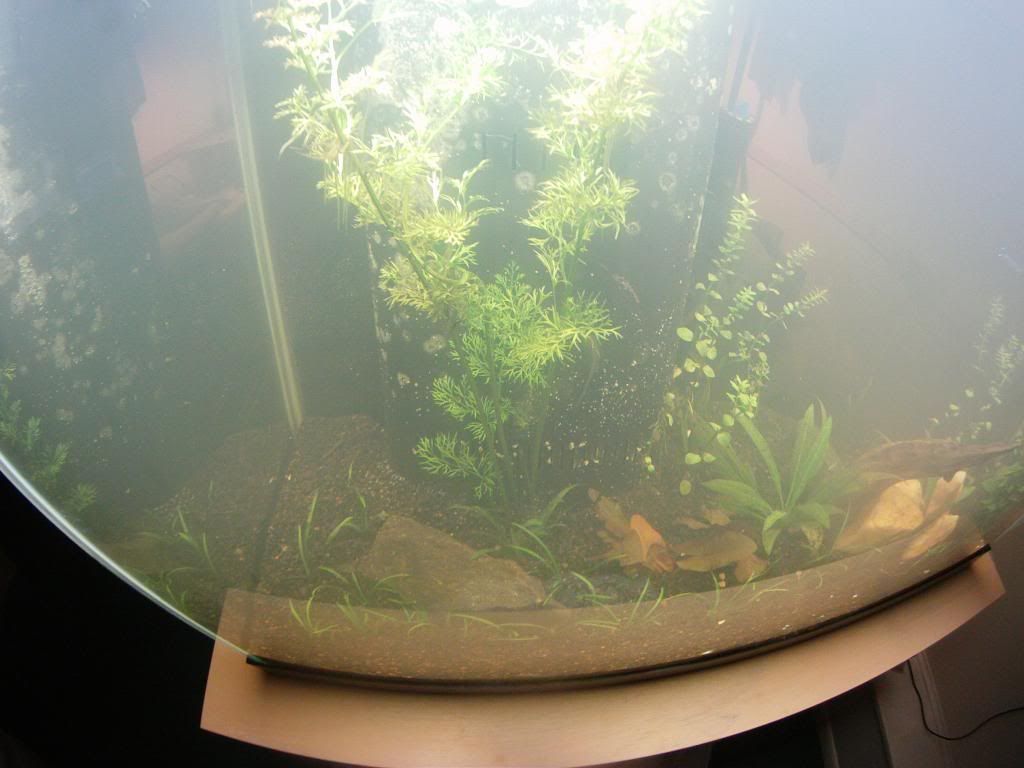 My Lotus has got a new leaf
I'll leave you with this top down shot.
Has your tank already cycled?

Your tank looks like it is off to a good start! One thing I though I would give you heads up on (disregard of you already know), sometimes [older] garden hoses can release lead and other harmful metals into your tank. I suggest an RV/marine hose or one that is specifically safe for drinking water, just to reduce worry. Yours may be fine though, you can make sure by testing your water out of the faucet, and then again out the end of the hose.

Looking forward to seeing the progress you'll make :-)
---
I
literally
love my aquarium(s).
20L Rimless
40G Breeder Tank
Got some Angle fish! I'm Trying to take some pictures but they are afraid of the camera, but they are not afraid of me. What can you do?
Well plants have grown and fish have died. I lost all but one angel. I don't know why, water parameters checked out ok. But the good news is that the plants have grown a lot.
Hope you guys had a good 4th.
Wow. I like the second set of pictures better. The first fish eye'd lens ones are no good. Good job though. I like your tank. Nice growth.
Thanks! Before I was using my go pro camera, it was all I had. Now i have a Canon t3i.
---
Last edited by Awesomaaron; 07-06-2013 at

06:07 PM

. Reason: Grammar
Looks like I will have a lilly pad soon