Algae Grower
Join Date: May 2013
Location: Hong Kong
Posts: 11
Custom 90P Iwagumi setup
---
Dear all,
I posted a day ago on another area in this forum but decided I would do it here in hopes to gain more ideas and comments.
This is my 2nd ever setup and first one in 3 years. I had to abandon this hobby for a while because of life and stuff but since getting married and settling down I felt comfortable and have the time again to work on what I've grown to love through all the amazing setups I've seen around Hong Kong's stores and online! I am a big fan of the Nature aquarium and ADA's style of things. This is really my 2nd time trying to do an iwagumi setup and I took almost 6 months to plan it and think what I should do. The research was fun though!
The beginning stage of finding the right rocks and how many etc. was very challenging and difficult. Took me some time to play with the substrate to try to get the best out of the situation with my 9 Hakkai styled rocks. Finding the "golden ratio" is easier said than done! Finding tall hakkai rocks was also virtually impossible...This was the best I could do:
Planted the tank using the dry method. The substrate was made wet with a spray first before the HC Cuba was planted. Upon planting, water was slowly and gently added to avoid disruption: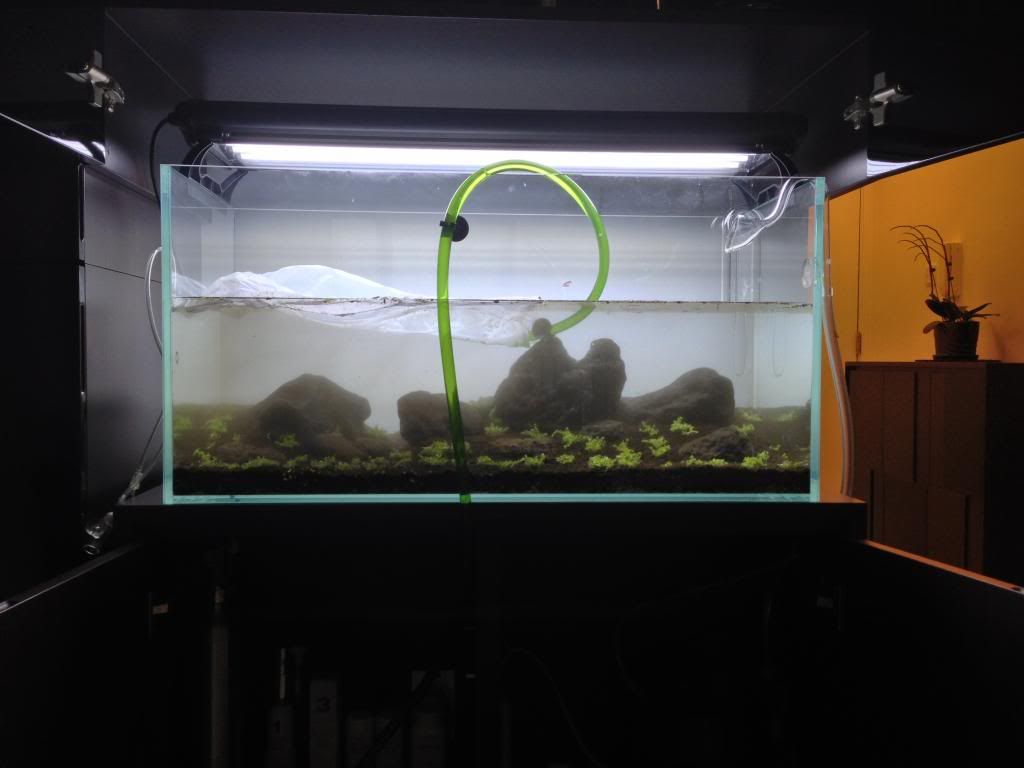 Tank was a bit misty at first: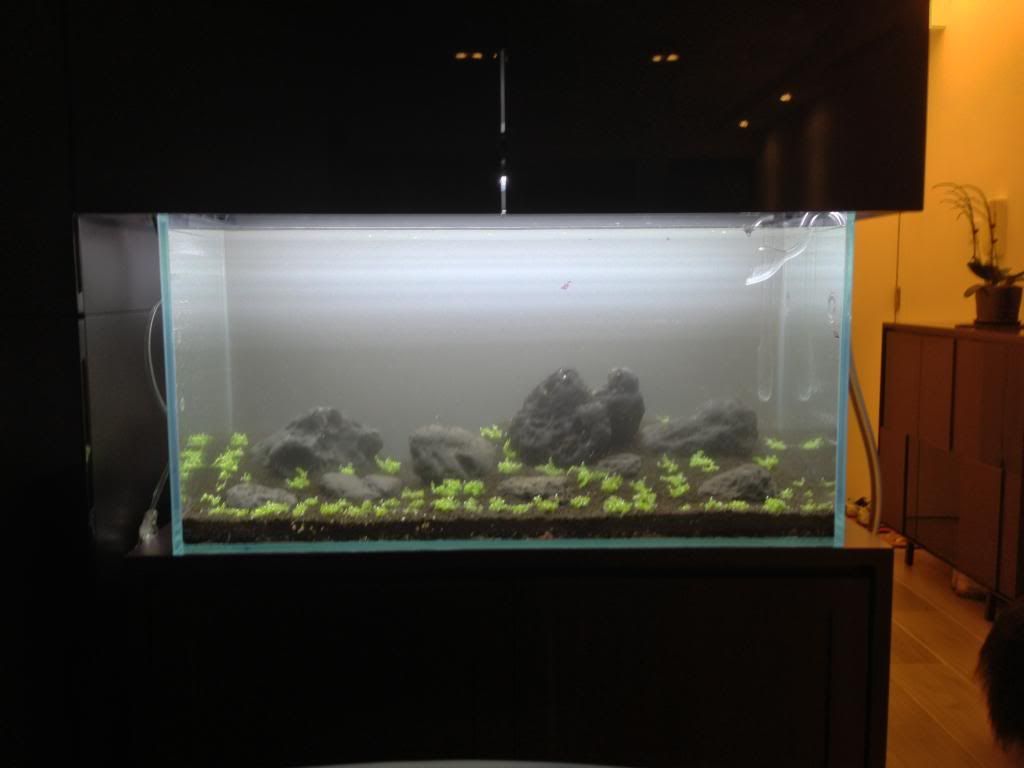 But in about 30 mins the tank became much clearer. The Eheim 2217 is very powerful and effective. The HC Cuba managed to stay in the soil the whole time and seemed relatively happy.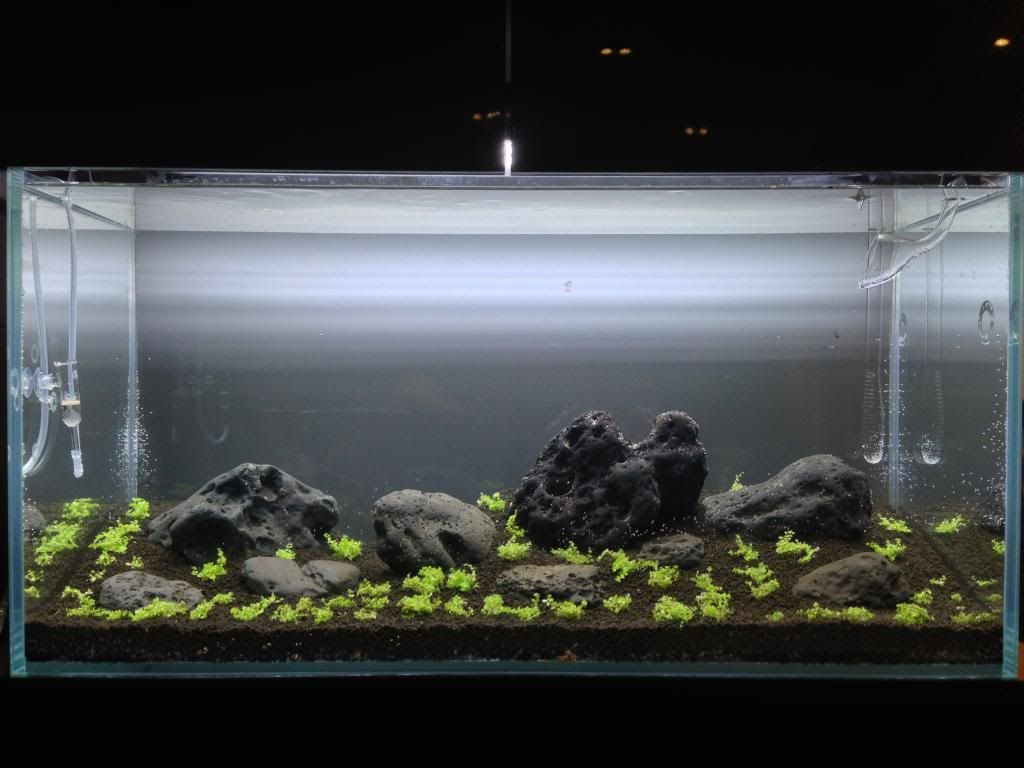 After a few days of dosing ADA Brighty K and ADA Green Bacter upon daily water change I've noticed that the plants were not doing so well. The HC Cuba were visibly yellowing and going slightly transparent: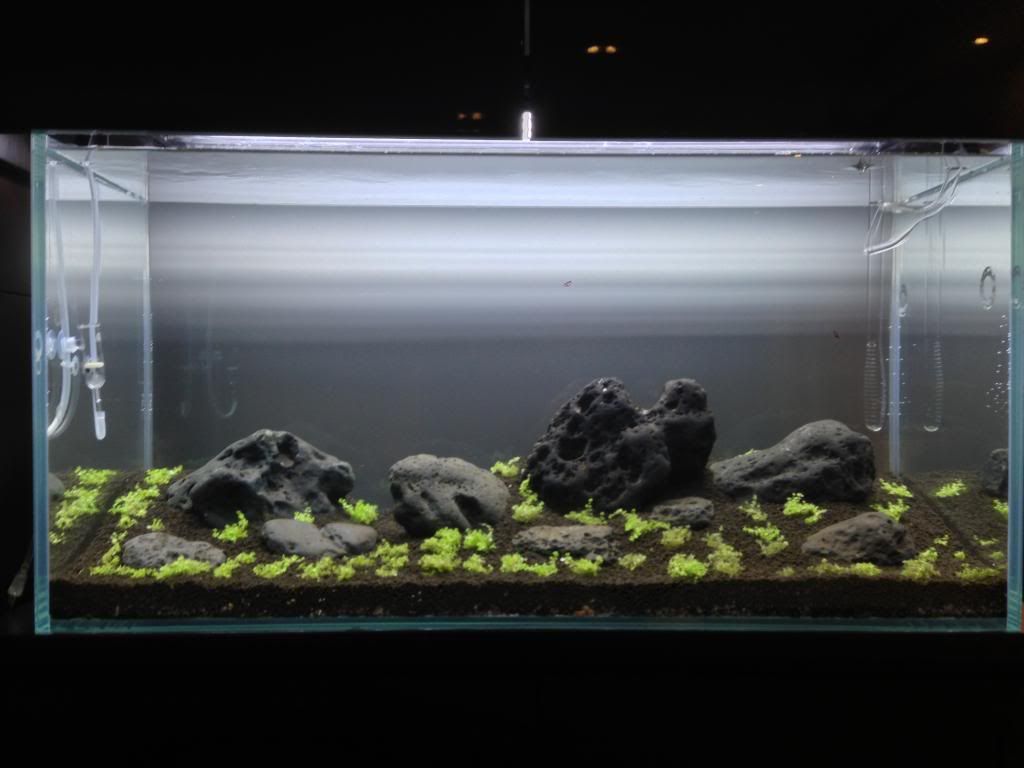 I attribute this to multiple problems which I needed to adjust. The water quality level was problematic. The PH levels were tested and the water seemed to be not acidic enough than expected. I adjusted the amount of Co2 added and increased the amount of light given from 5 hrs in the first 3 days to 6 hrs.
Also, I found that I didn't dose enough Brighty K and Green Bacter because I read the instructions wrong. I began to inject more Brighty K daily and added a few more drops of Green Bacter.
After another few days, this is the result: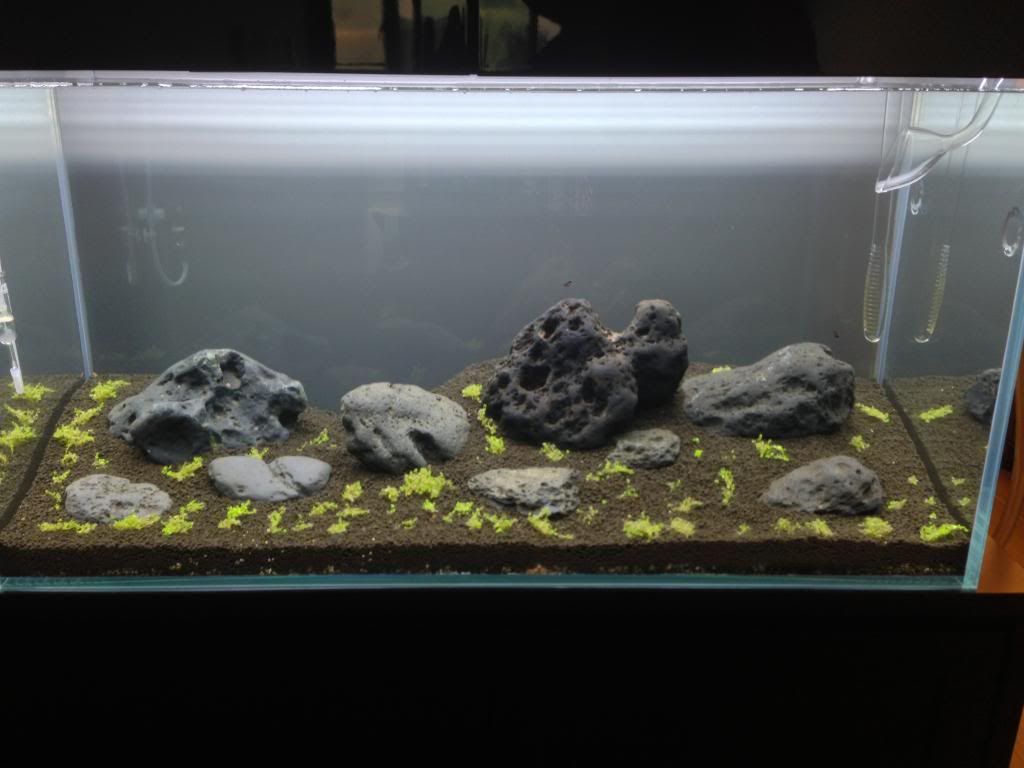 As you can see, the plants have become "leaner". Many of the originally planted have weakened or died out but there has been new signs of growth. But the stems of the plants still seemed weak. The roots seemed white, long and lacked strength. This has been troubling and worrying at the same time.
So I turned my attention to the temperature of the tank. Could this be a problem? I checked and found the temperature floating around 29-32C which is way too hot for HC cuba. To tackle this, I went out and grabbed something to cool the water down. I'll wait a few more days before I post any further updates.
I'd appreciate any comments on what I'm doing right or wrong since I really am basing a lot of what I'm doing on what I have read.
---
Last edited by Dr.Horology; 05-29-2013 at

02:19 AM

. Reason: .
it looks great, HC can be a fickle beast, I have had it grow great then just die off. I think the better dosing as well as the lower water temp would help.

It looks like you don't have any fish in yet, try increasing the co2 as much as you can. If in HK the HC is like here in america, it's grown in it's emersed form and can go through a transition period where a lot of it dies off if its not given enough co2.
Algae Grower
Join Date: May 2013
Location: Hong Kong
Posts: 11
Hey man

Good call. I remember another member pointing that the HC Cuba I bought was probably grown emersed. I think I'm quite sure mine were!

Yes, I'm currently midway through the 3rd week since the beginning. I'm still doing a fishless cycle and will probably add fish after week 4.

I'm currently doing around 2 bubbles per second and I think I will increase that to 3-4 bubbles per second for the next week and a half with a gradual rise to 7 hrs of light...hopefully it all works out
Algae Grower
Join Date: May 2013
Location: Hong Kong
Posts: 11
Alrighty so it's been a day or two since I got the cooler and this is what the setup looks like...
Before cooler:
After the cooler has been installed: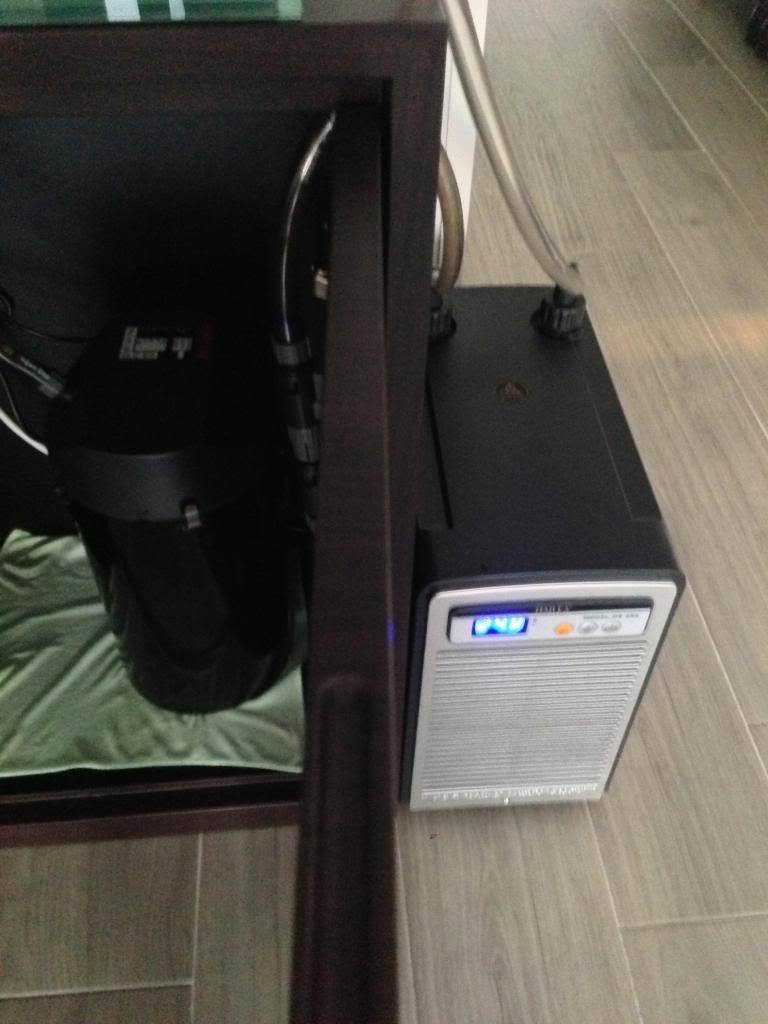 The picture is a little blurry (sorry) but I think you can all see that I've set the temperature to 25C on my Hailea Chiller which has been connected to my Ehiem 2217 cannister. The flow out from the Hailea is better than I expected but obviously not as strong as when it was just directly connected to the Ehiem 2217. This is, however, something I have to live with for now!
So...the plants actually look MUCH better now with regulated temperature. The aquarium is a whopping 5-7C lower and I think that this has really helped the HC Cuba grow.
Here is a picture of the HC Cuba before temperature regulation, but with added dosages of Brighty K and Green Bacter: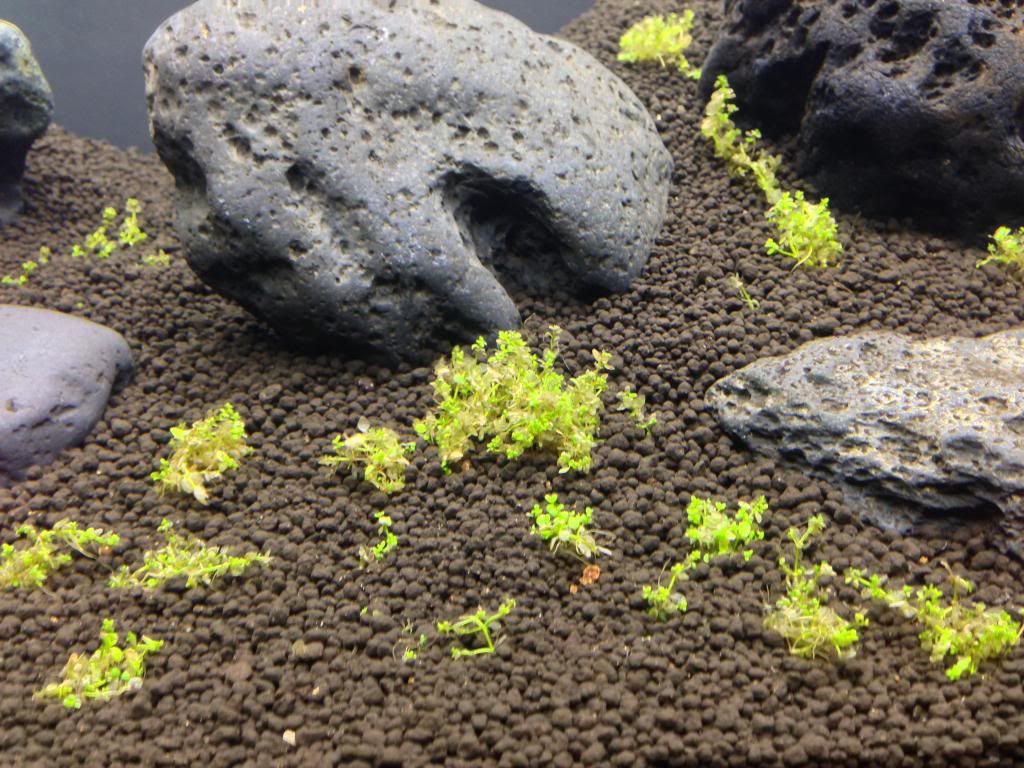 This is the same group of HC's after 2 days with the chiller in use. They are visibly greener and the roots are much stronger with some signs of further growth: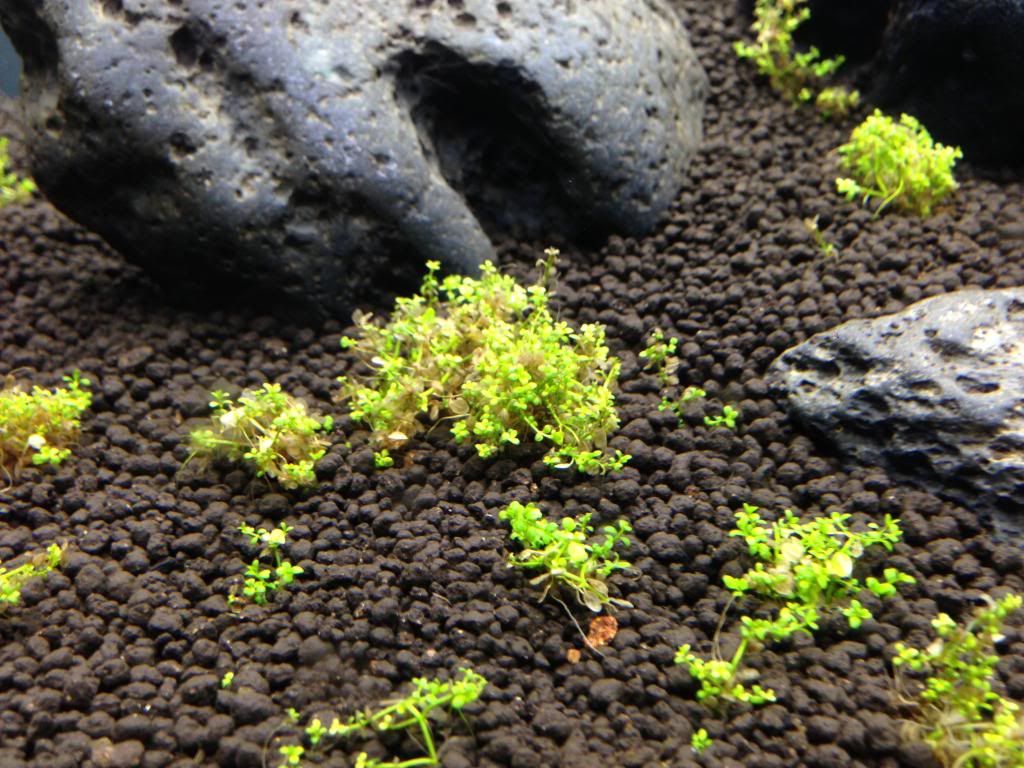 Another before picture: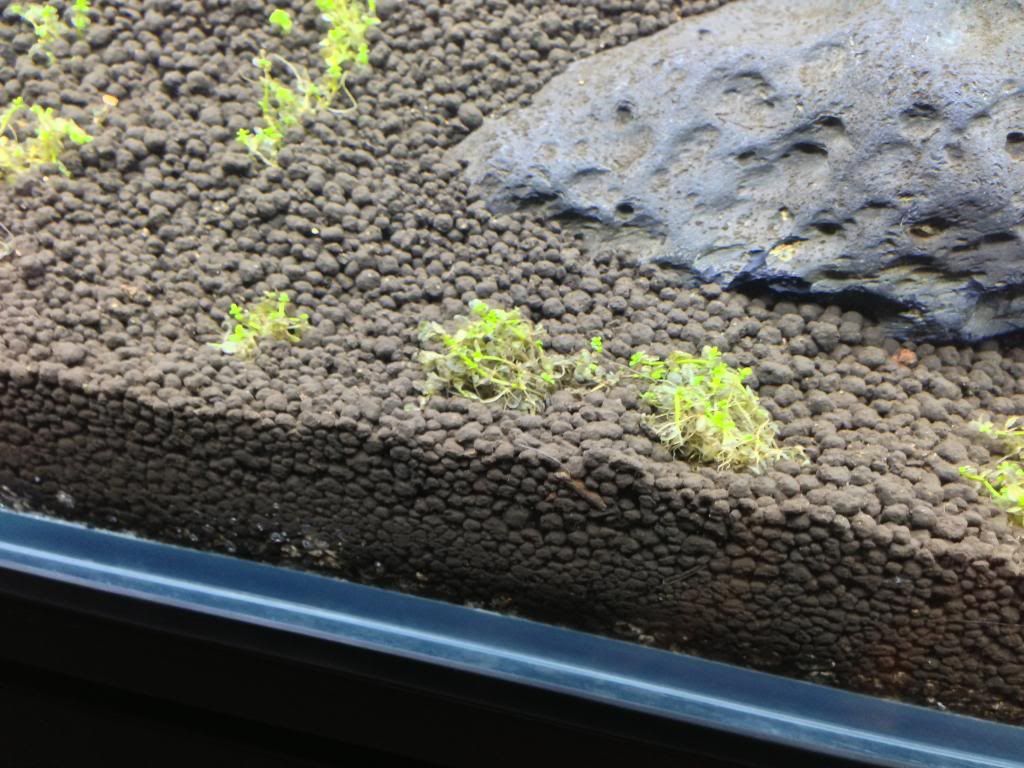 After: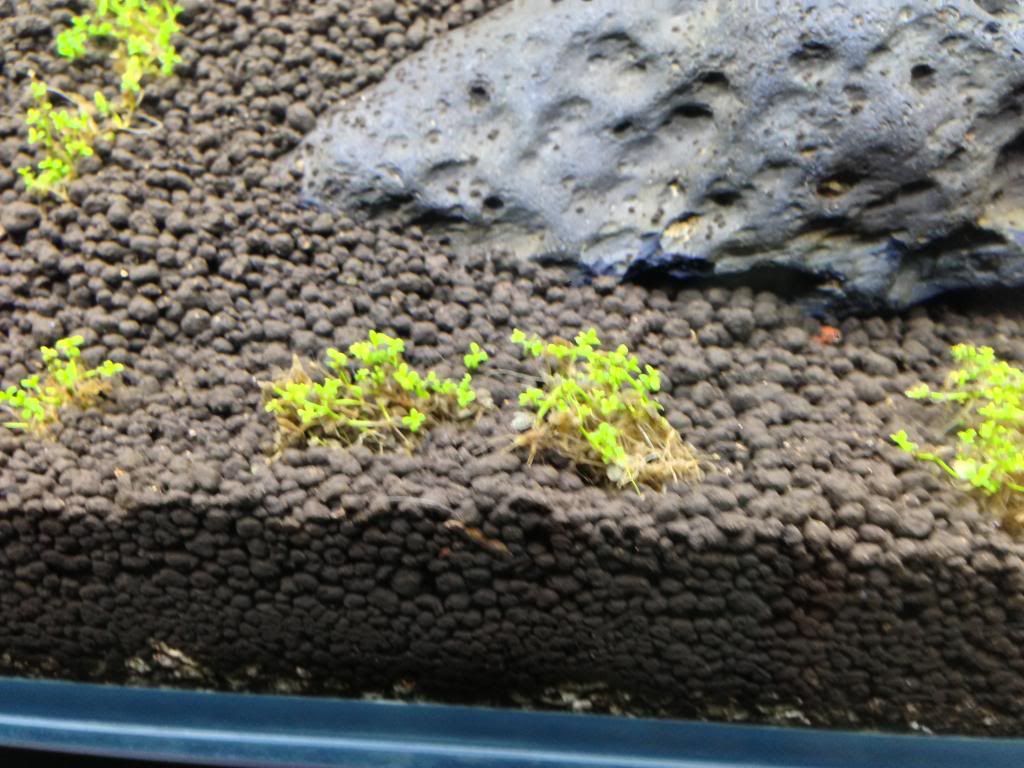 So this is all looking positive as of now and I feel much better. Still going through the fishless cycle and have just increased the bubble count from 2 per second to 3-4 per second so I hope this will further encourage growth.
Here is the current setup beneath the aquarium (not a great picture again, sorry):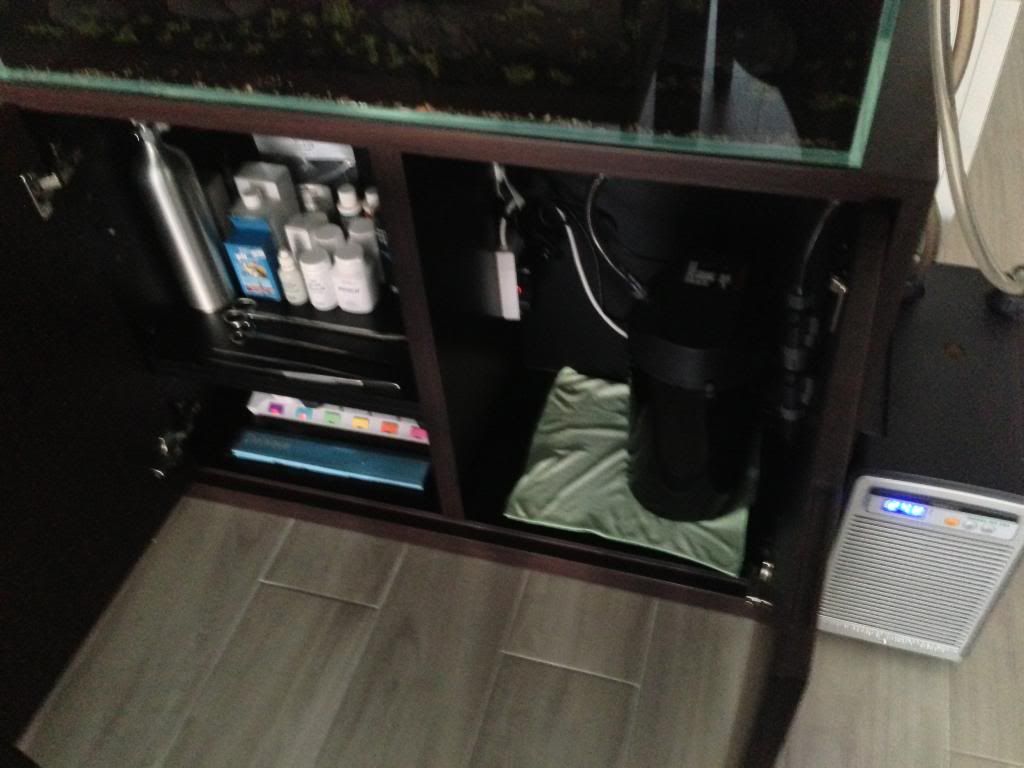 Enjoy, and stay tuned.
Beautiful tank, job well done on the scape! I tried baby tears which seem similar to the Cuba you have and it melted away. I had my tank set to 78 then, but since lowering it to 74 the couple last pieces left are rooting and growing. At this rate it should only take a decade to get the 4"x6" area covered again.
Keep at it, I'm gonna follow this one closely!
Algae Grower
Join Date: May 2013
Location: Hong Kong
Posts: 11
Thanks buddy.

74F is equal to around 23C right? If so that is a few degrees lower than my current temperature settings. I'll be monitoring the growth and will see if I need to get the temperature down even more than it is right now.

Yeah, I think the HC is a painfully slow growing plant. It's definitely not a good plant for beginners and I think I picked the wrong one to start with! That being said, I don't think it's ethically right to just throw something that has life out without even trying. I'm not even sure when I'll get the lush green carpet that is advertised but will be doing everything I can.

On another note the ammonia levels are subsiding quite well and I believe the cycle should be complete soon. However, I've starting to notice some algae (brownish coloured algae growing on the surface of the aquarium and the pipes). What's the best way to tackle this problem?
Planted Tank Guru
Join Date: May 2009
Location: MICHIGAN
Posts: 3,475
You have a nice start going with this tank!
otos and amano shrimp should take care of that algae. I usually go for about 2-3 per 10gal of tank for otos and 5 per 10 gallon for amanos
Wannabe Guru
Join Date: Apr 2012
Location: United States
Posts: 1,748
Algae Grower
Join Date: May 2013
Location: Hong Kong
Posts: 11
Right thanks for the tip. Just worried that if I put shrimp and fish in too soon the HC's will all be eaten or uprooted!

I may wait out a little...

Thanks "Green Flash". They are like the Hakkai rocks shown in some of Amano's tanks. He really loves these rocks because of how soulful they are. I cannot agree more! They really are special to look at. Mine aren't really Hakkai rocks since you can only get these rocks from Mount Hakkai and Japan prohibits the exporting of these rocks. Even Amano had to have special permission from the government before he could get some of these because they are so rare. Instead, these ones that I got are rocks from somewhere in southeast asia. The store in HK is the only one that sells it. Not as nice but I still love how some of them still carry that blue grey look though I could only imagine the real Hakkai rocks to be anything short of mesmerizing. The rounded edges and deep volcanic holes gives it so much character.
Algae Grower
Join Date: May 2013
Location: Hong Kong
Posts: 11
Update (June 1st 2013)

Water chemistry(API test kit)
Nitrate is at 0ppm
Nitrite is at 0ppm
Ammonia is at 0.25ppm (alert)

pH is at around 6.4-6.5 (soft water)

(Tested morning. No light. No Co2. No water change for 3 days.)

Action:
Will change water today as planned per schedule this evening after 7hrs light. 7hrs Co2.

Thought:
Probably need another 2 weeks or so before the cycle will be completed. I think added fact that tank is not heavily planted and a lot of soil is exposed makes for higher ammonia levels and a longer cycle.

As for pH...the natural tap water in HK complies with WHO regulations for drinking water apparently so is slightly soft to begin with. But when I tested it, the result was more towards pH 7.

I'm thinking the Co2 injection is working then for the pH to lower.

Question:
does hardness (pH,GH,KH) have any affect on ammonia level? Or should I not be too concerned about that right now? Should I be concerned about how soft my water is right now?
---
Last edited by Dr.Horology; 06-04-2013 at

10:53 AM

. Reason: .
Algae Grower
Join Date: May 2013
Location: Hong Kong
Posts: 11
Update (June 4th 2013)

Entering week 4 of aquarium.

Just began to up the dosage of fertilizers. Here is my new dosages:

Constant:
Brighty K daily
Green Bacter daily

New:
Step 1 (3 days a week)
ECA (3 days a week)
Phyton Git (3 days a week)

Settings:
7 hrs light
7 hrs Co2
Temp kept at 25C

HCs are looking so much better now and growth is gradually happening as the HCs are branching out. There us ALOT of soil to cover though. I don't think Im getting my carpet at time soon.

My pH concerns were answered already. A pH of 6.4 and a kH of 4 is actually good as that shows the rig level of Co2.

Now I just have to wait for the ammonia levels to get to 0 so the cycle finishes.

Stay tuned.