Algae Grower
Join Date: Jan 2013
Location: Baltimore, MD
Posts: 12
FIrst Planted Tank - 20 gallon Tall
---
Hi all!
This is my first aquarium – I've had it now for 2 or so years but only recently could I call it a planted tank. It is a 20 gallon tall (24w x 12d x 18h in.) that I picked up for free from a friend. It used to be a cichlid tank with rocks so it's scratched up in the front. I got in to planted tanks sort of by accident. All the plastic décor for aquariums just didn't do it for me and real plants seemed the only way to go.
Hardware:
-20 gallon tall
-Aqueon Quietflow 20
-Topfin 50W Heater
-Odyssea 24 inch dual T5 HO (2x 6500K bulbs) – on for 2 hours in AM and 4 in PM
-DIY CO2 - 20oz paintball can and Fluval ceramic diffuser
-Caribsea Eco-Complete and inert gravel mix (2:1)
Fauna:
-1 rubber-lipped pleco (???
Chaetostoma
thomsoni
???)
-4 lemon tetras (
Hyphessobrycon
pulchripinnis
)
-4 black neon tetras (
Hyphessobrycon
herbertaxelrodi
)
-1 red-eye tetra (
Moenkhausia
sanctaefilomenae
)
-1 red-spot nerite (
Neritina
spp.???)
-10 neon tetras (
Paracheirodon innesi
)
Flora:
-
Anubias barteri
var. nana
-
Anubias
spp. ??? – any help with an ID would be great
-
Alternanthera
reineckii
-
Bacopa caroliniana
-
Cryptocoryne
wendtii
'green'
-
Ludwigia
spp. ??? – ID?
I have a confession to make - most of the fish and plants are from Petsmart. BUT, as I add more to the tank I am hoping to shop more at the LFS.
I'd like to get some ground cover plants soon. I am thinking HC but I am not really sure how it will do in my setup.
I am at a crossroads – I am either thinking of getting some dwarf cichlid species (probably Bolivian Rams) for a focal fish OR looking into making my tank shrimp friendly and going that direction. Would my tetra community eat up any shrimp I put in?
I have been combating GDA for while now – it nearly killed the
Alternanthera
reineckii
. I've reduced the light and I got the pleco and nerite in hopes of getting rid of what is already in the tank – I'll keep an eye on how things progress.
I'd love to hear your thoughts on what I have and ideas for where to go with it now.
Pics below:
Full tank shot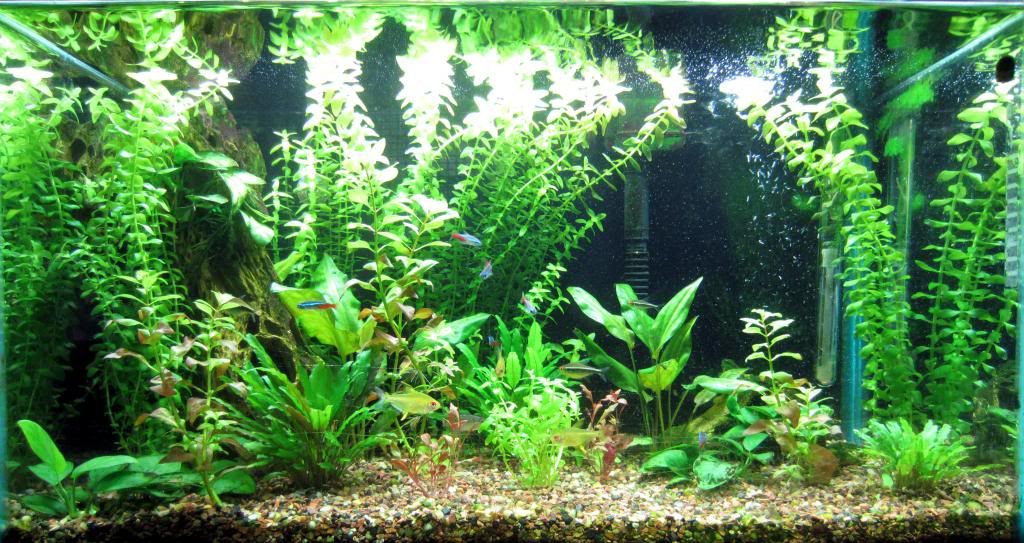 DIY CO2 Set Up

Pesky GDA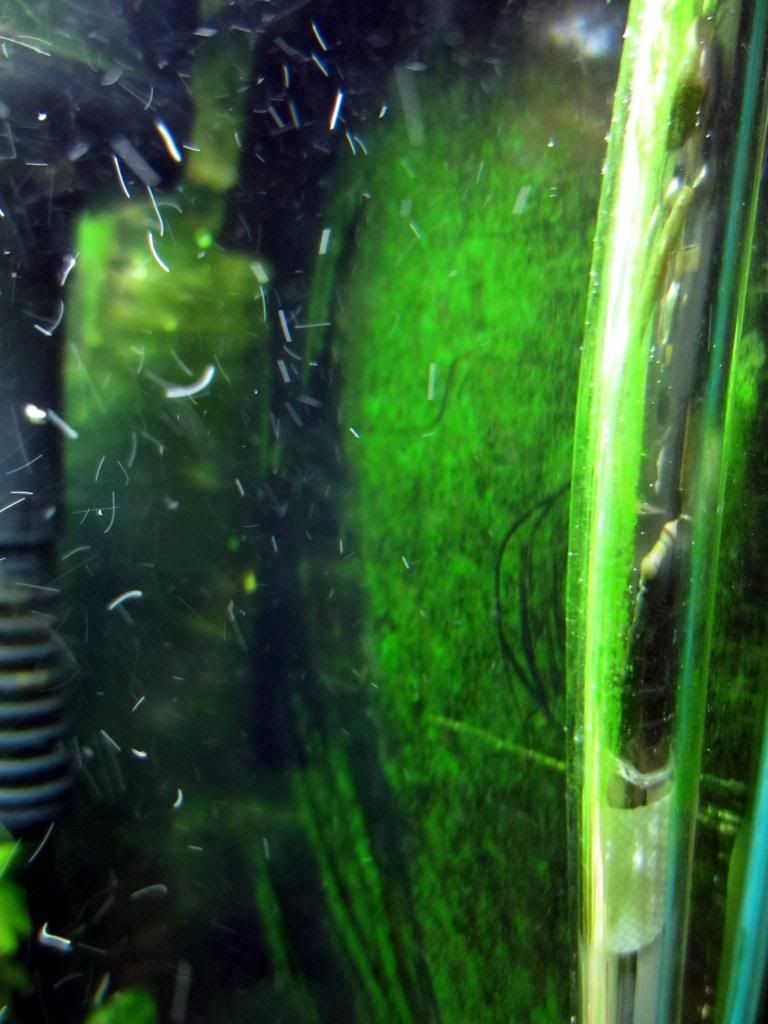 Mystery Anubias with Lemon Tetras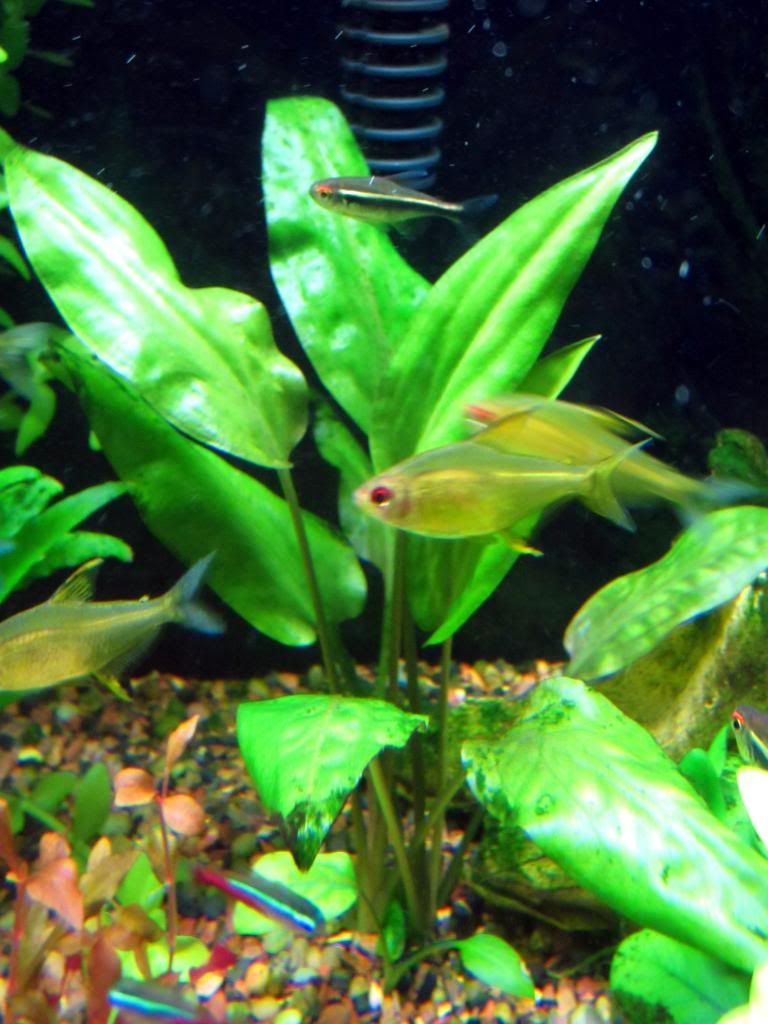 Mystery Ludwigia
Algae Grower
Join Date: Jan 2013
Location: Baltimore, MD
Posts: 12
Update with Pics - 5/20/2013
---
Hi all,
I took a weekend trip to That Fish Place and got seom new additions to the tank! I got two Bolivian Rams (
Microgeophagus altispinosa
) - I am hoping I got a male and a female but we'll see. I also got a few stems of Green Myrio (
Myrio pinnatum
).
Here are some pics of the rams and the minor rescape to give some more open space to the fish and make room for the Green Myrio.
Two new rams - male and female??? Who knows.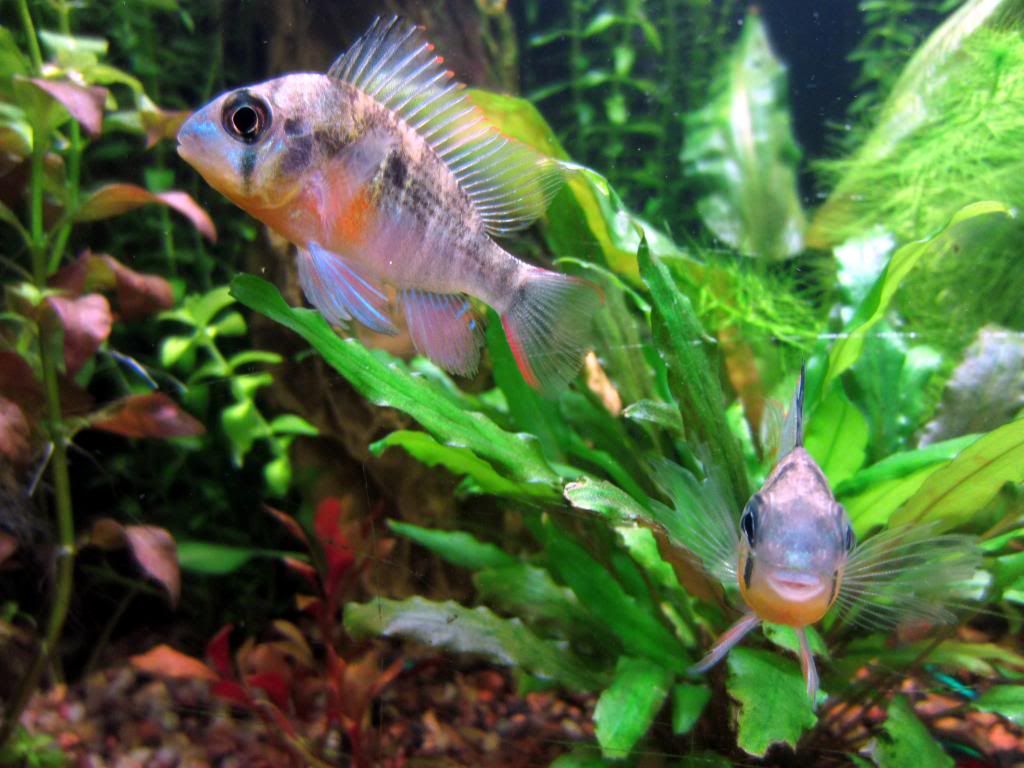 New aquascape.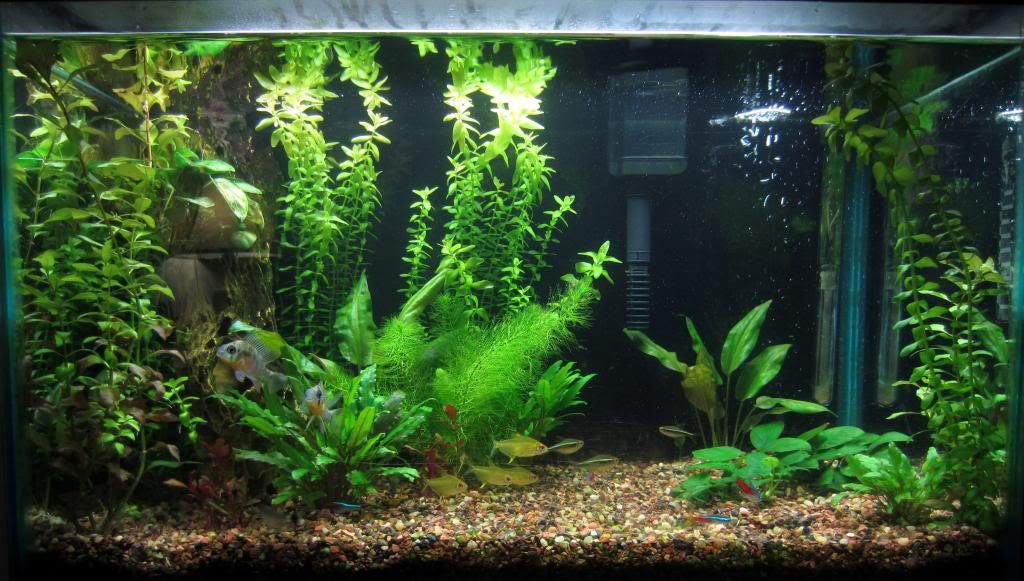 Sorry about the lamp in the background...oopsies.
Algae Grower
Join Date: Apr 2013
Location: Singapore
Posts: 67
The new layout really does it for me compared to the first one.any plans to add red plants for a splash of colour or a very low plant like downoi or belem.
nice! the new lay out is very slick! also shweet! more Bmore people!
I really love the layout! It looks like an underwater forest!

That Fish Place is a wonderful store <3

I also am curious, are you intending to add any more foreground or midground plants?
Algae Grower
Join Date: Jan 2013
Location: Baltimore, MD
Posts: 12
Thanks for the kind words!

It was amazing to see the transformation just from moving a few things around - it probably took me 20 minutes.

The fish seem to like it too. The black neons even spawned the other morning - the other tetras got to the eggs unfortunately.

The myrio has already grown 2 inches or so. Once it hits the top of the tank I'll spread it out into the background.

I'll definitely be thinking about foreground plants soon. Never heard of downoi but it looks really cool! Thanks for the suggestions cephelix. Hairgrass is definitely a possibility too.

I want to get some color other than green in there. I was thinking of getting purple cabomba but That Fish Place had the green myrio and looked too good to pass up.

Any easy red stem plant recommendations? I was hoping my ludwigia would keep its red but the new growth is coming in green.
Algae Grower
Join Date: Apr 2013
Location: Singapore
Posts: 67
Red Ludwigia
From plantbrain aka Tom Barr's journal. He has quite a comprehensive list of plants that you could look through and order from if you're interested. Keep up the good work.
Algae Grower
Join Date: Jan 2013
Location: Baltimore, MD
Posts: 12
Awesome. I'll check it out.

Hopefully I'll have some updates to show off soon.