Planted Tank Enthusiast
Join Date: Feb 2012
Location: Citrus Heights, CA
Posts: 703
Mason's Taiwan Bee/Tibee tank
---
I have seriously caught the shrimp bug so of course it was time for another tank lol. My son Mason LOVES watching my oebt and supreme red tank, so the obvious decision was to get him his own tank. When Frank had the 12" cubes for sale I knew this was the perfect tank for him.
This will be an extremeley slow work in progress. I plan to dsm hc till atleast the next 2 months as I had great success doing this with my oebt. I will then let it cycle for another 2-3 months to allow bio film build up. Plus I believe cool temps for shipping sensitive shrimp is a must, so I want to wait for the fall to add shrimp.
I went with Liam's ugf design. Now I am considering a reverse ugf, thoughts? It will be hooked to a 2213 chock full of matrix.
I will be using 2" of Africana and and inch of New Amazonia on top of that ish. I will have the soil very thick in the back around the manzanita and over the ugf. With a pretty extreme slope maybe to an inch of just Africana in the front. Contemplating using some epoxy coated seriyu stone at the base of the tree but not sure if it will be too busy.
Here is the tank as it sits today. Just waiting on the "special sauce" drone Liam to start the dsm.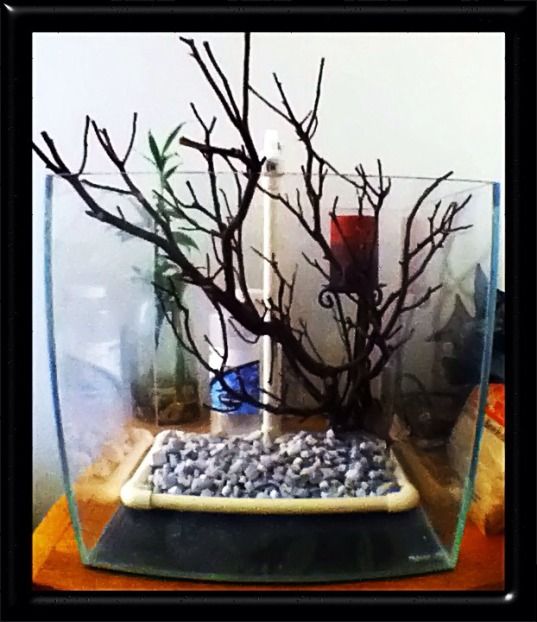 I have quite a few tricks up my sleeve for this tank I will reveal as time progresses. That's all for all will update along the way but not much will be happening for a while.
P.S. can anyone ID this moss? I got it as a small piece with my oebt and it has exploded and the shrimp just love it. I will be using this as the primary moss for the tree.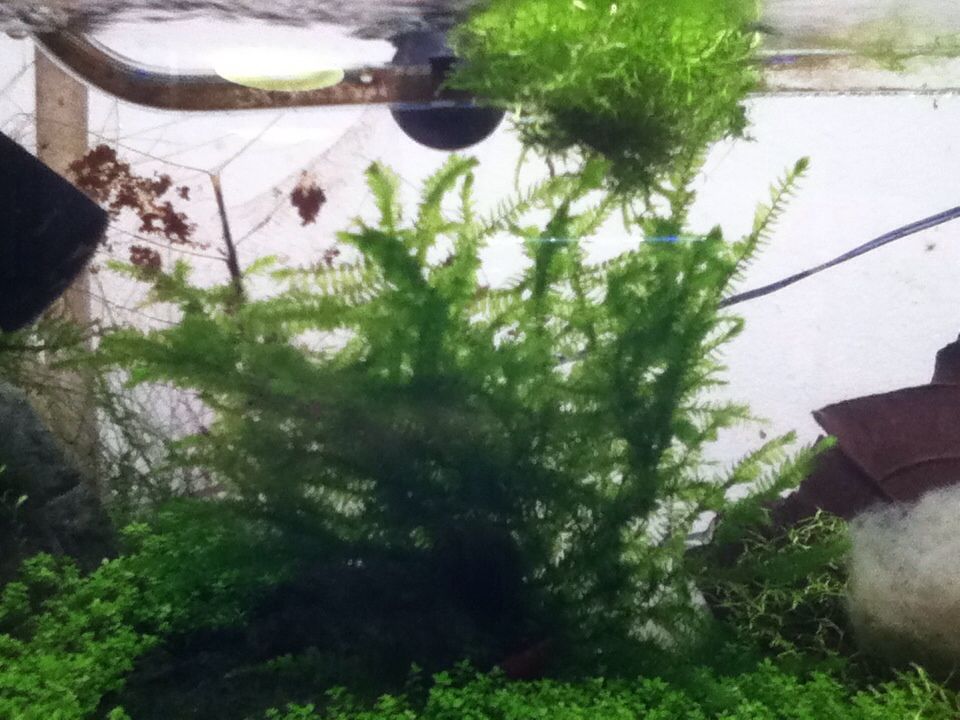 ---
Last edited by Forumsnow; 04-27-2013 at

02:08 PM

. Reason: Added
Planted Tank Enthusiast
Join Date: Feb 2012
Location: Citrus Heights, CA
Posts: 703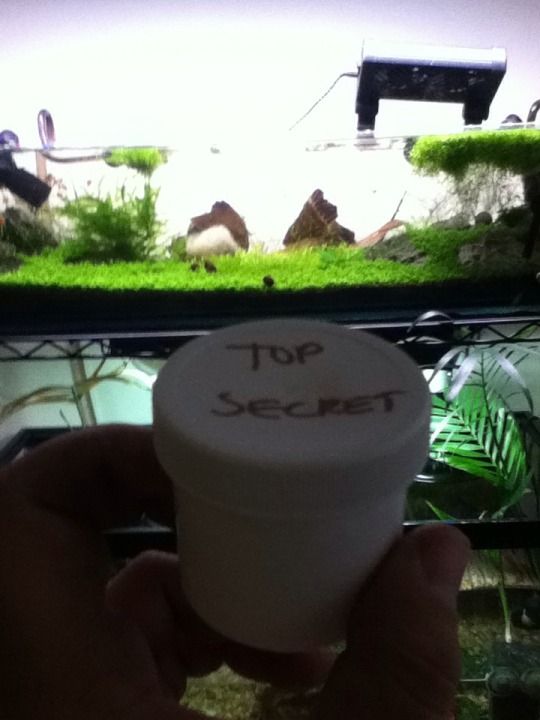 The secret sauce showed up! So excited for this stuff, looks like it has some great ingredients and I'm sure the shrimps will be thanking Liam later. I laid down a good dusting of it then started adding soil.
I have maybe a inch of Africana in the front sloping to about three inches in the rear.
I then sprinkled some new Amazonia over that so the hc has some ferts to grow in.
Right view
Left view from my pillow.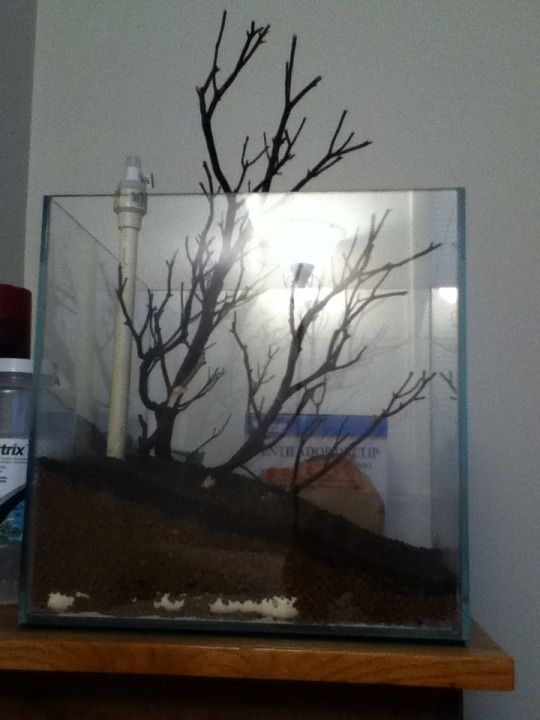 As you can see from the first pic in this post the hc in my 12 is in need of a trim. I will give it a haircut tomorrow and use this trimmings to start the lawn in this tank. Fairly content with how things are coming along so far but any input would be GREATLY appreciated. The tank will be staying dry for the next couple months, and with it being so close to my bed, inspiration could hit at any time and it all could change. Look forward to seeing what you all have to say.
Wannabe Guru
Join Date: Apr 2012
Location: United States
Posts: 1,748
That 12g long looks great, is that a HC carpet? Did you use CO2?
Planted Tank Enthusiast
Join Date: Feb 2012
Location: Citrus Heights, CA
Posts: 703
Thank you very much green flash, I'm very happy with how it has come together. Yes it is hc, I did like a 2 month dry start back in November, ran co2 for the first month and for the past 3 months it has received 0 co2 and next to no ferts. I use 100% ro/di remineralized with shirakura ca+ so it's not even getting ferts from the tap. The stuff just grows like crazy for me probably the easiest plant I have grown. Led is only 20% but I still trim a good section every week. I think the dry start is pretty clutch, once it's rooted it just does its thing.
Planted Tank Enthusiast
Join Date: Feb 2012
Location: Citrus Heights, CA
Posts: 703
I got a bunch of crypts from hydrophyte that are pretty awesome. They are petchii, blassii,wendtii 'mi oya', regular wendti, and a couple others I can't find the name of. Trimmed a small amount of hc out of my 12 gallon today. Wanted to trim more but I had about 30 babies swarming everything I was trimming. So I will be adding hc to the tank each week as I trim it, pretty much have unlimited quantity of it out of my 12. I figure with in 2 months I should have a pretty good carpet going.
I ordered and received a fusion 400 air pump, dual sponge filter and black air line tubing for this tank. I also got a temp control module to run my fan for $20 at amazon. Will be trying the DIY temp controller as if it works it will be a third or less of another reefkeeper. This is one of the tricks I was talking about. Also looking at auto top off systems to help keep tge tank more stable as it is so small. If anyone has any input I would appreciate. That's all I can think of right now.
Oh and a bonus shrimp keeper in the making. My son Mason who this tank is for watching my oebt for a solid 10 minutes. Today is the first time I have seen him watching individual shrimp. So proud:-)
Planted Tank Enthusiast
Join Date: Feb 2012
Location: Citrus Heights, CA
Posts: 703
Tank is coming along good, hc has filled in some. Not a ton of light so not a crazy amount of growth. Crypts are really starting to take off. Hoping the tank and plants will handle tge week or longer trip across the country.
Planted Tank Enthusiast
Join Date: Feb 2012
Location: Citrus Heights, CA
Posts: 703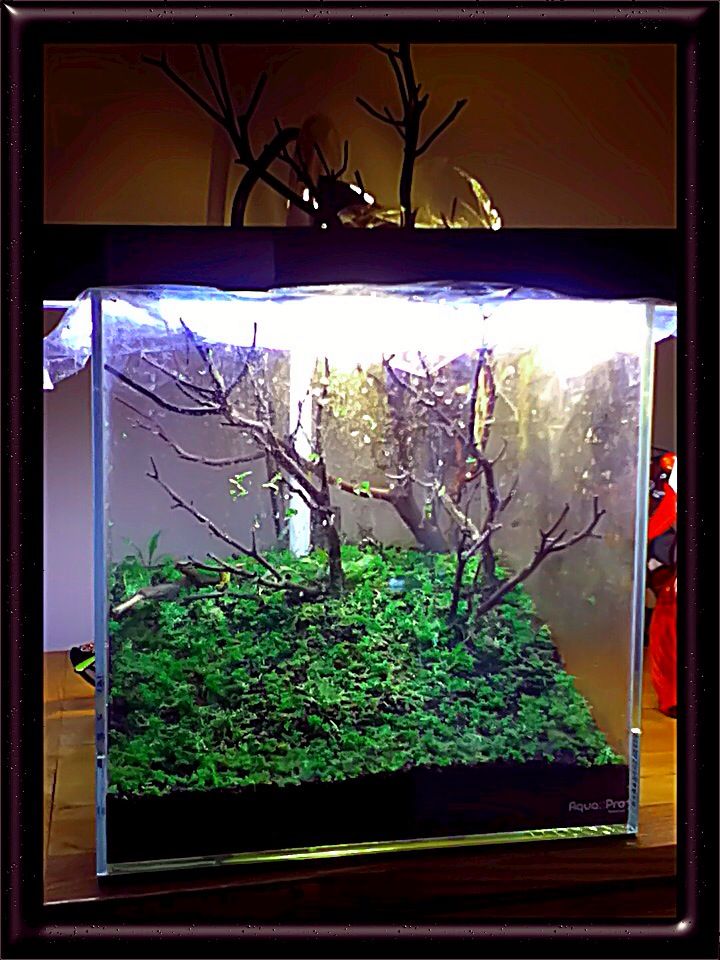 Just did a big trim on my 12 so I added a metric ton of hc. Thinking once the I get moved I will consolidate the hc to the front and do staurogyne in the back around the base of the tree.
Planted Tank Obsessed
Join Date: May 2012
Location: San Francisco
Posts: 393
looks good. try to cover up that pvc piping on the left side. I feel that would drive me crazy.
Planted Tank Enthusiast
Join Date: Feb 2012
Location: Citrus Heights, CA
Posts: 703
Thanks. It will most likely be covered in Taiwan moss once flooded. At this point with a move from CT to CA at the end of August I am really just using this as a grow out for the hc so I have some when I get out there.
Great cube.

Will you bee housing Taiwan Bees or TiBees? (TiBee = Tiger x Bee/Crystal)
Planted Tank Enthusiast
Join Date: Feb 2012
Location: Citrus Heights, CA
Posts: 703
Thank you jake, really hoping it survives. Haven't quite decided yet lol. When i first set the tank up i was thinking of putting some tb's along with some oebt banies since i have a ton. But im trying to sell all my shrimp now so that wont be an option. Not looking like either for the forseable future with this move. Will probably just grow out emmersed for the next year or so until we get settled then possibly some taiwans.