April's 18in cube - "Silent Falling Water"
---
Just wanted to show you guys my cube. Is it a riparium? Paludarium? I don't know!
I've been flailing around (life) for a while, waiting, and I finally got it set up. I 'm really glad I waited, because it allowed my ideas to change and adapt to what would finally produce this. Can't wait for it to fill in.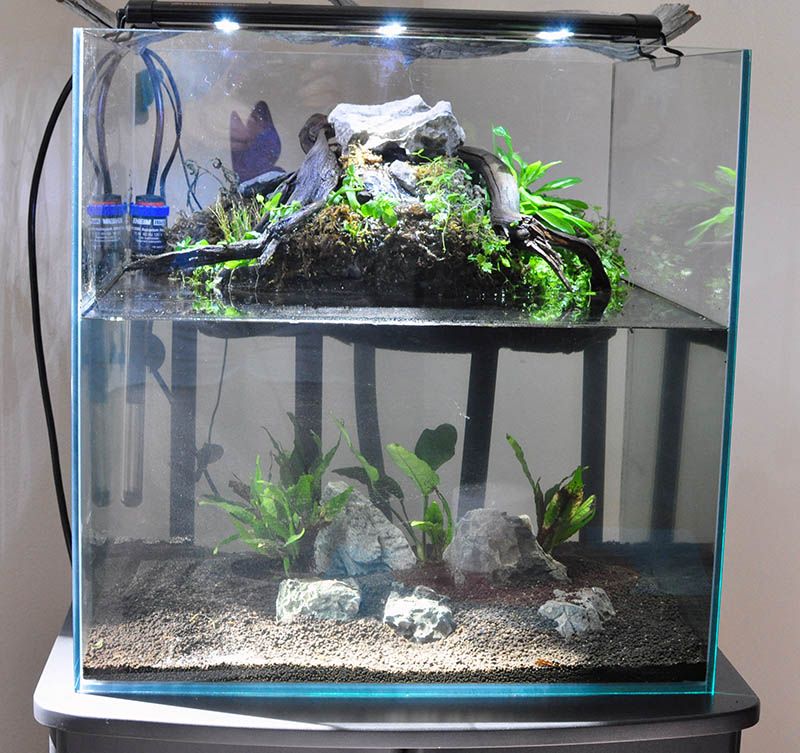 Reserved for some build photos, if I get around to finding them.
Planted Member
Join Date: Feb 2013
Location: Eaton Rapids, Mi, USA
Posts: 267
that is interesting! how is the island anchored?
It's a frame I made out of PVC. I spray painted the legs black, so they're less noticeable. Check back later for photos of the frame being made.
Algae Grower
Join Date: Dec 2011
Location: Irving, TX
Posts: 6
Planted Tank Guru
Join Date: May 2009
Location: MICHIGAN
Posts: 3,475
This is a pretty cool idea and I was wondering how you are getting light to the lower area?
There is a lot of natural light from a nearby window. I just happened to take this picture when the sun was shining directly on it. But even when it's not, I still get a decent amount from the light fixture (or at least enough for java fern).

I have a DIY LED fixture that I still need to complete. It was supposed to be controlled by an Arduino, but I think I'm going to scrap that and use the Arduino for something else.
Quick update on the bog portion. Added aluminum plant and Rotala indica. The hydrocotyle is starting to really take root. I'll post an FTS tomorrow.
Tank cycled and fish added. I ended up finding an LFS that sold sparkling gouramis. They're really shy! I had a hard time getting them to eat, but then I got some frozen bloodworms. Clearly I am spoiling them. I hope they warm up to me once they figure out that face against the glass = food. My betta goes nuts whenever you so much as walk by the tank.
I also added 10 ghost shrimp, 3 of which have died in the last 2 days. I know they're sold as feeders, but I hope at least 5 of them survive.
I like it. Can't wait to see pics of the inhabitants.
---
My roommate says I'll die by giant turtle.