Algae Grower
Join Date: Jun 2007
Location: singapore
Posts: 33
A 2ft Rockscape
---
Hi!
The start of this tank is inspired by the beautiful planted tanks i saw at an aquarium shop here in Singapore. I am not new to this hobby but definitely a newbie in planted tanks. The theme of this scape will be iwagumi style.
Added in Japonica, Japanese Hairgrass, HC & a few stalks of HM into the tank. Will be sourcing for riccia to tie to tiny pebbles for placement at multiple parts of the tank. Decided to go for the legendary HC for my front carpet, but from what i read in the forums, i guess its a tough plant to grow. Nevertheless, the beauty of HC on an Iwagumi setup is unparalleled and therefore, its a challenge i am willing to take.
Meanwhile, old man needs to rest... tired after planting.
*Algae algae go away..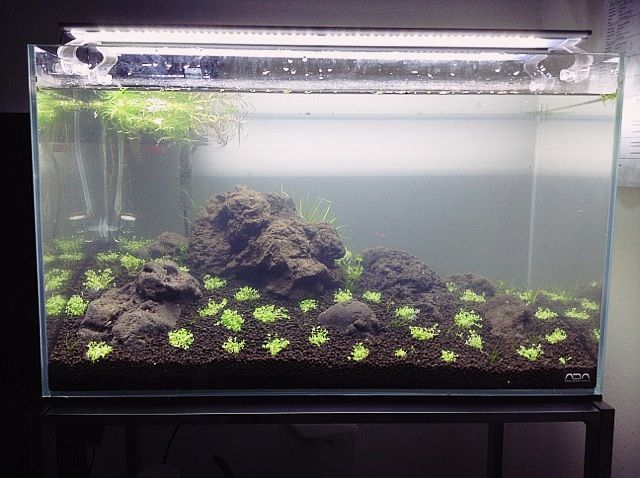 Great scape and set-up, looks pretty solid.

HC will grow in many conditions, however it prefers highlight with c02, which it appears you have. No need to worry about your plants not growing, just keep up with whatever fertilizer you are using and thats it.
Looks great. The HC should do well for you.
Algae Grower
Join Date: Jun 2007
Location: singapore
Posts: 33
to be honest, i am abit worried as the HC i bought are in emmersed form. I heard the transition process to submersed is a tough one.
I believe almost all HC is grown immersed at the plant farms.Good light and CO2 and good water quality and you are fine. I tried to take it out of my tank and I can't get rid of it. It's a weed now for me lol.
Planted Tank Guru
Join Date: May 2009
Location: MICHIGAN
Posts: 3,475