Planted Member
Join Date: Feb 2012
Location: Duncan, BC, Canada
Posts: 171
20 Long shrimp tank.
---
I don't know why I can't just set up a tank and enjoy it. After a very short amount of time I decide I need to change everything and then I am on to building V.2.
Todays tank is a redo of a sandy riverbed tank I made before,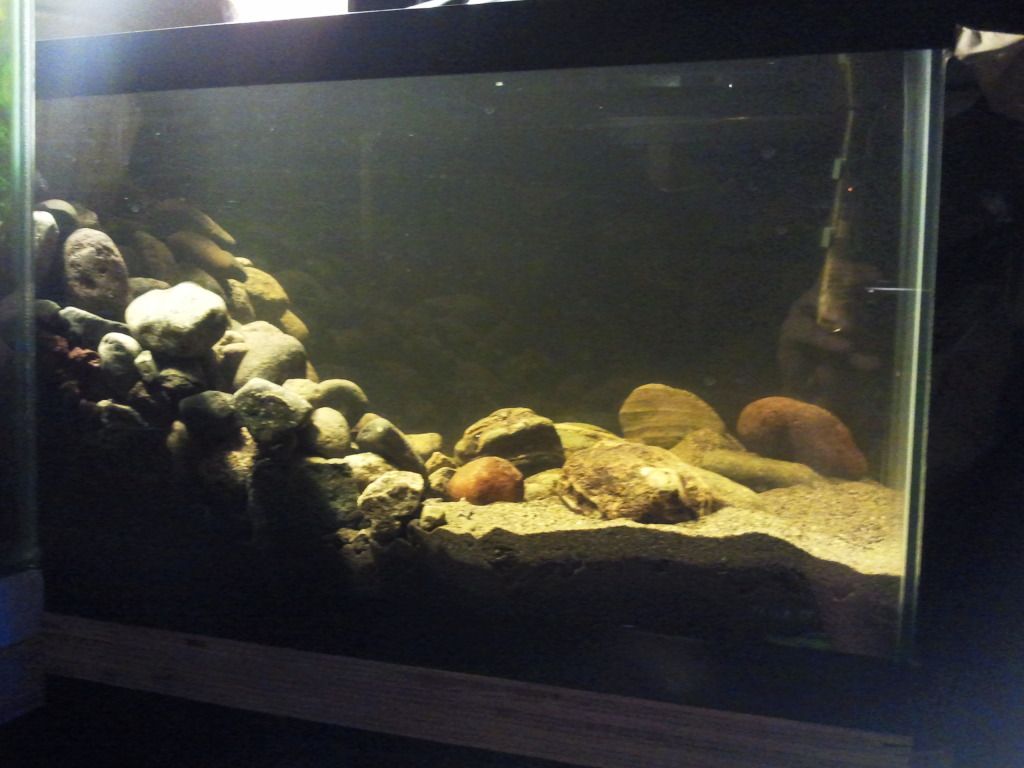 ]
which was a redo of a shipwreck tank,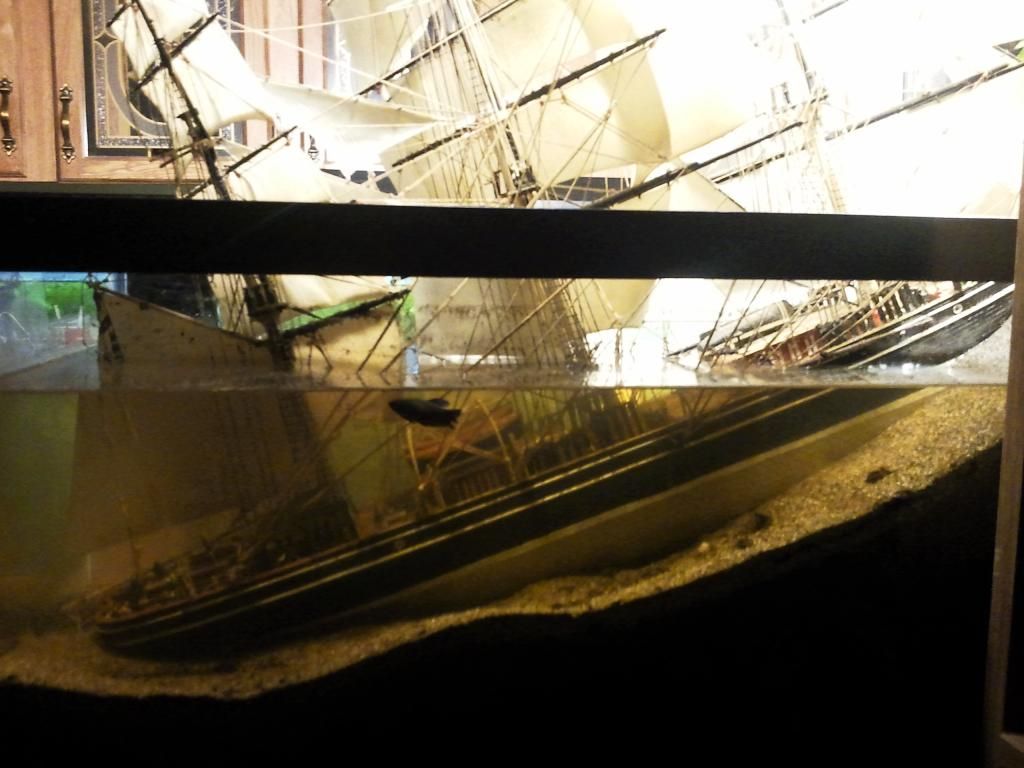 I don't particularily like looking at filters and hoses in my tanks so when I can I make extra effort to hide such things. In this tank I am going to bury the pump and cross my fingers that it never stops working. Since there is no waterfall I will also be hiding an airstone.
On a previous tank I ran a buried pump and I set the pick up for the pump on the far end of the tank with the discharge dumping under a pile of rocks. This worked pretty well but had a couple of serious flaws. One flaw was that the pickup tube had a small potential chance of sucking in a grain or two of sand, which it surely did. This led to the pump stalling and flaw two rearing it's ugly head. I had no way to know if the pump was working or not. I experimented a bit with a piece of plastic that flapped in the current, but I didn't like the look of it. Then in the 'sandy riverbed' tank I made a box with small holes in it and put the pump inside the box, along with an airstone, and buried the works under the stones. The intake of the pump was open to the box and the discharge spat out water and air into the tank 'swimming' area. If the bubbles shot all the way across the tank, I knew the pump was pushing. If the bubbles went straight up, I could tell the pump was stalled. Not too bad but after about fifteen minutes, not good enough either.
Now it's time to redo that tank with some improvements.
Starting with the pump box.
I liked the pump-in-a-box but it wasn't complicated enough so I dreamt up this: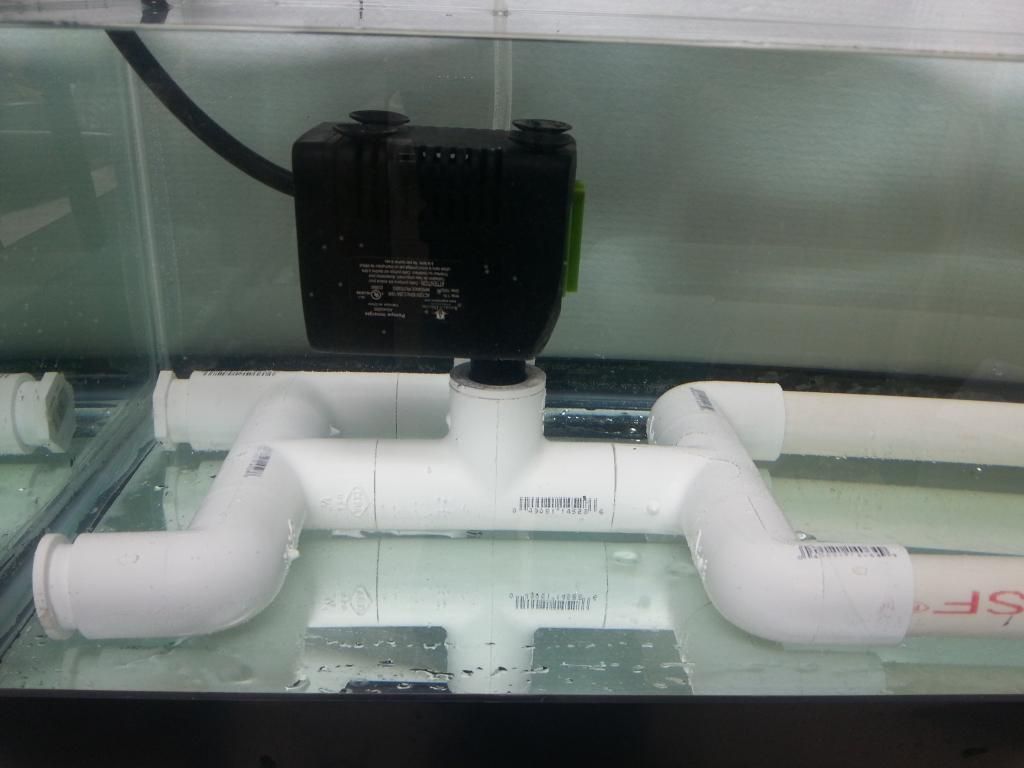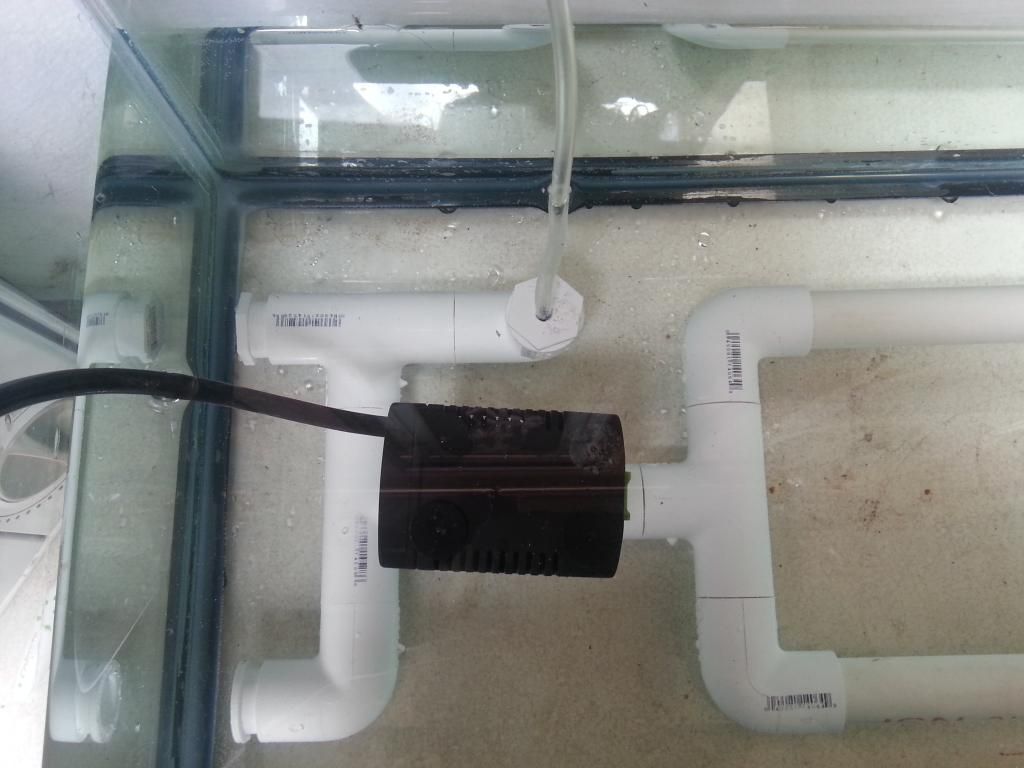 Ya, it looks bulky and wasteful and in many respects it is. Some of that plumbing is just there to give the box a flat level surface to sit on. Unfortunately at around this time I got too eager and forgot to take pictures of the box before I buried it. Ack. Just imagine an anodized aluminum box just large enough to surround the pump and airline and leaving me about an inch and a half clearance on the three tank walls. There is some perforated aluminum sheet on one side which will be the side opposite of the discharge tubes. More on all the box stuff later.
The genius (if I do say so myself) behind this pump discharge nest is the bubble flow. I am not pumping air into the box this time so I am not pushing air through the pump wasting valuable water space. I am pumping air into the pipe and as it fills the pipe it eventually gets to where the pump outflow is and it gets caught up in that and out it goes. Very pretty at the other end.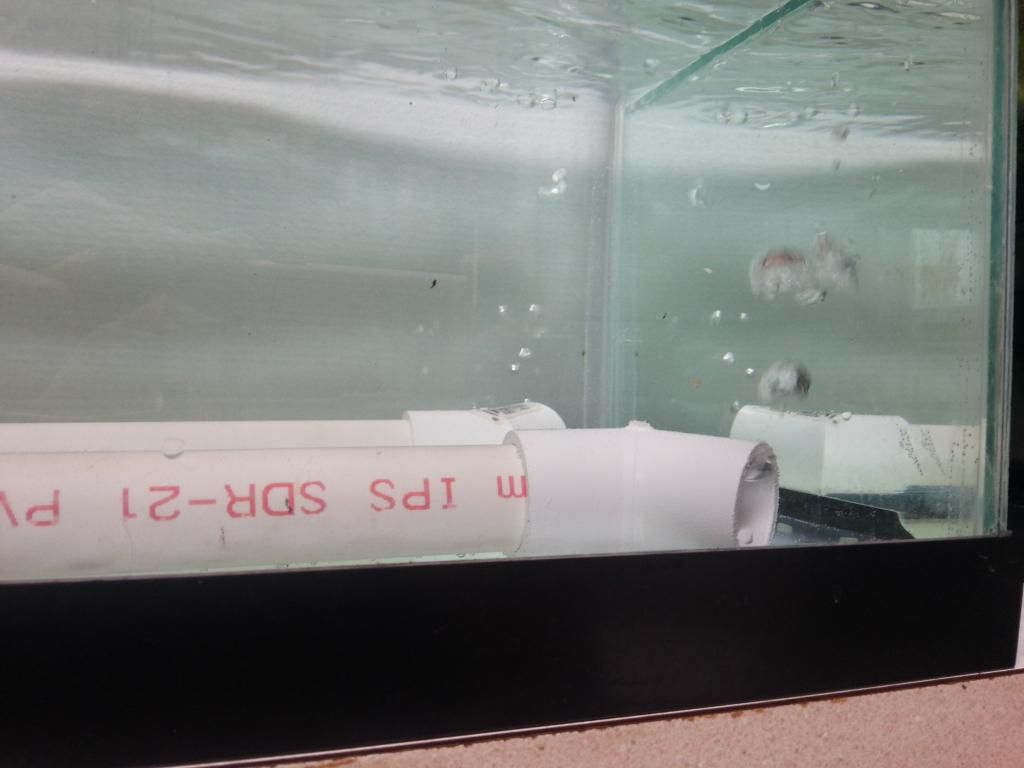 But what if the pump stops? When the pump stops pushing, the air slips up that tube and out of the pump case instead of flowing out to the tank proper.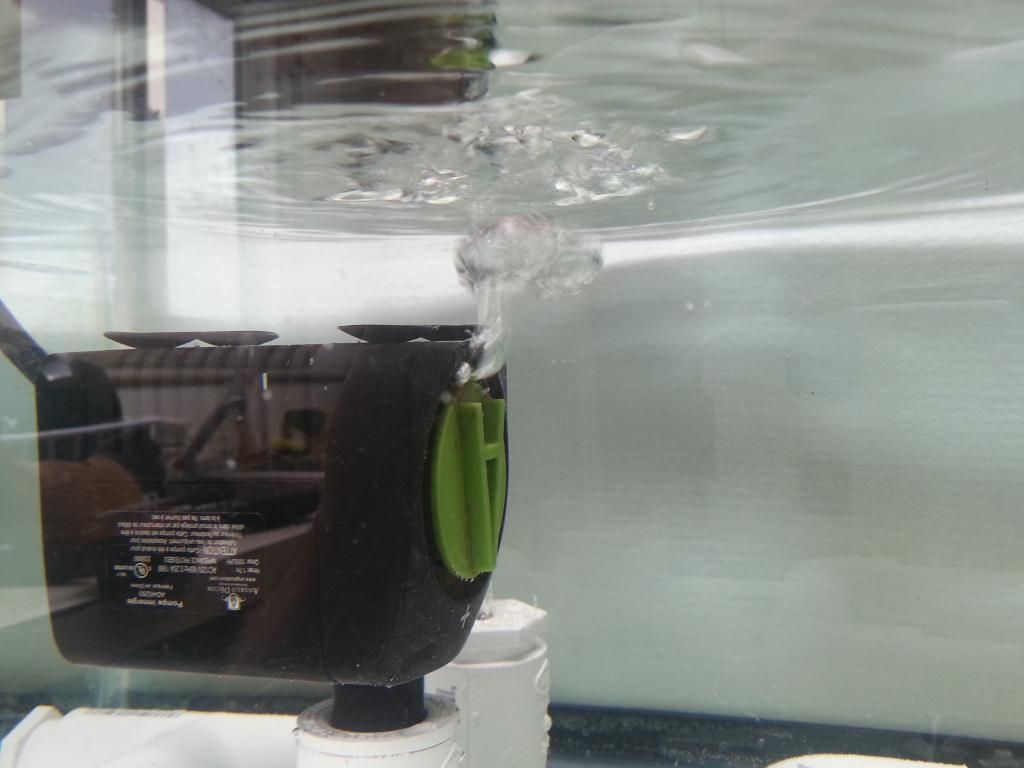 If it is jammed because of a grain of sand, I am hoping that the air will clear it. Dare to dream!
For filtration I am going to use black aquarium gravel as a biological filter and I figure that that's all I really need anyhow. That and my deep sand bed. Maybe I should call it an experimental moderately deep sand bed. It's between 4 and 5 inches deep. And I almost forgot my small fluidized sand filter. I have a fairly explosive looking sand volcano over each of the two exhaust pipes.
black gravel filter- By sealing the box on the sides and top I am able to force water to go around the box before it can enter it. This gets me in the neighbourhood of 60 cubic inches of gravel and should be a lot more surface area than the HOB recomended for this size tank. Certainly more gravel than the HOB could hold.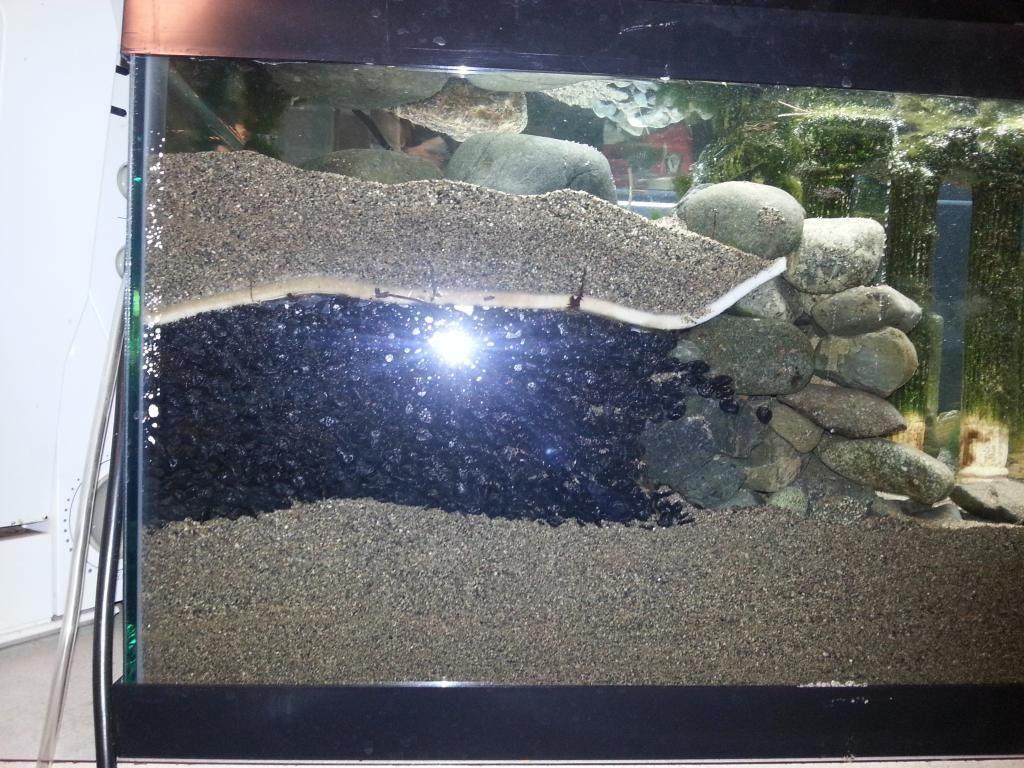 I left the bottom of the box open to the sand bed below it. I am hoping that this will help to pull some water through the sand as well. Above the box I placed a piece of dacron that I cut to be a tight fit with the tank. Then I put several inches up sand on top to give the future inhabitants a nice shallow sandy area to sunbathe or whatever else the lazy little shrimp do in their day.
Add an ornament and a few interesting stones and this is what you get: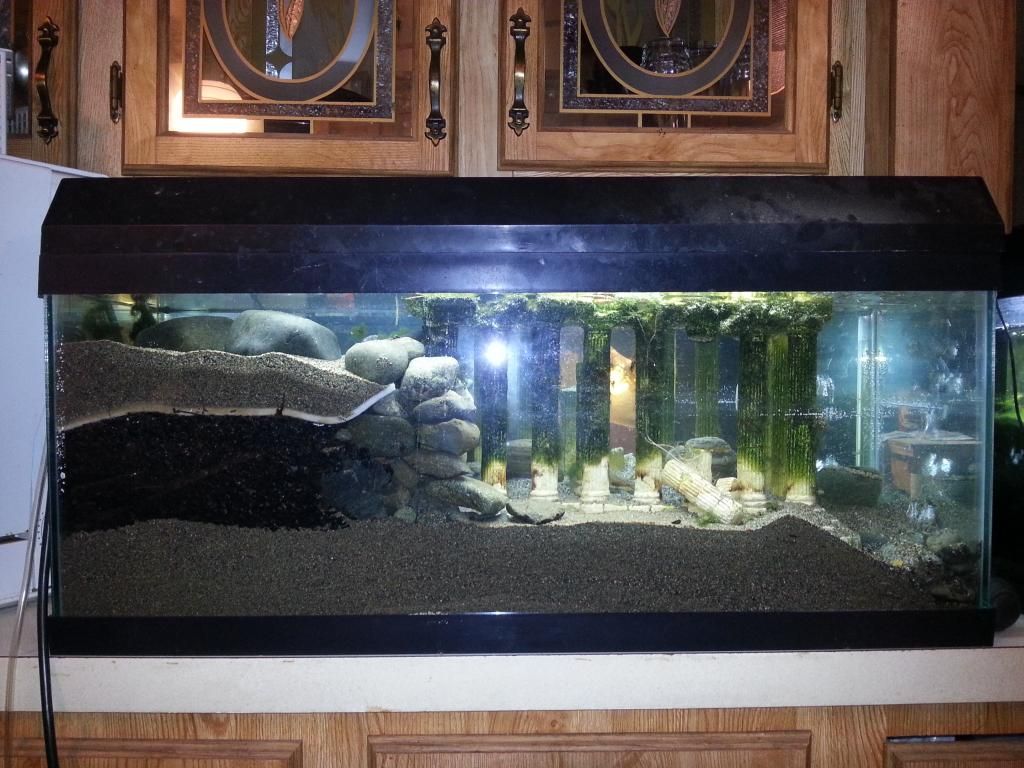 I'm not too sure how I like being able to see that speperation between the layers there. Maybe I should paint that part of the tank black? It would look a little more like this then?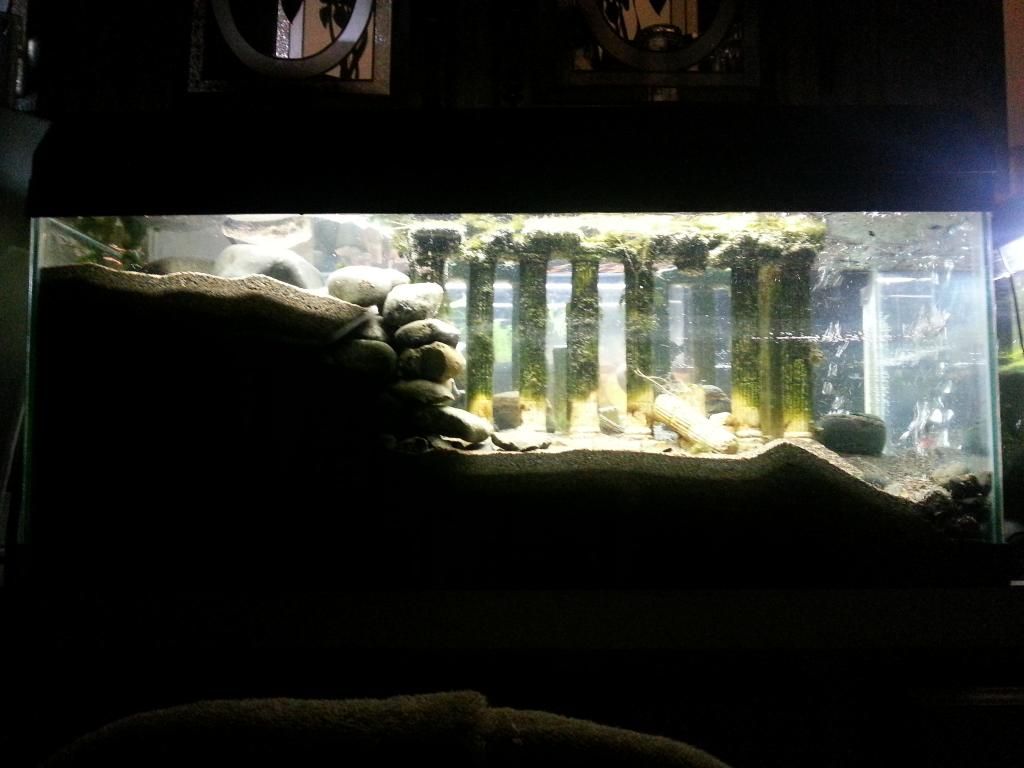 .
Very unique I must say. This going to be interesting!
Planted Member
Join Date: Feb 2012
Location: Duncan, BC, Canada
Posts: 171
One lesson learned: the open bottomed box was a mistake. As the gravel dirtied up it created a vacuum inside the box. Which sucked sand into the box which collaped a bunch of the gravel.

No matter. I like the look af this tank so much that I am going to redo it in a 50 gallon format. I will make a better effort to take pictures as I go.
Planted Member
Join Date: Feb 2012
Location: Duncan, BC, Canada
Posts: 171