Planted Tank Obsessed
Join Date: Dec 2006
Location: Rolla, MO
Posts: 464
Low Tech Guppy Breeder Tank & RCS Tank
---
I was kinda into planted tanks several years ago. Mostly, I moved plants around, bought/sold them and talked about them a lot. I never had the patience to let my tanks really flourish before I was uprooting everything and moving stuff around. I tried plants that were out of my league. Anyway, this time I'm determined to do it right, simple, low-tech and combined with my other favorite part of fish keeping, guppy breeding.
Current Specs (02/16/13)
Size: 20H
Substrate: Missouri Creek Gravel & Play Sand
Lighting: None yet, except that it's in a really sunny room :P. Probably something with CF bulbs in the near future
Inhabitants: None yet. Wild/Endler/Fancy hybrids eventually.
Plants: None yet, but I have ordered some Java Fern, Anubias, Crypts, African Fern, Java Moss, Vals and Anacharis, which should arrive on Friday.
I've decided to not hardscape anything in this tank. Loose plants will be weighted with whatever rocks I have laying around the house and arranged accordingly. I want the guppies to have as much water volume as possible. The sand portion is for the Vals, crypts and anything else that needs roots in the substrate.
The bottom shelf will be a low tech 10g RCS tank. The white blocks on the filter intakes are to keep fry from being sucked into the filters. They will be removed until the fish move in.
Top view before adding H2O
Close up front view
Almost halfway full. The rock is just hanging out, used it to pour the water on to keep the gravel/sand from being disturbed.
Almost there!!
Full! Finally! I moved the heater and took the pre-filters off the intakes
Expect another update in about a week once the plants arrive
---
Last edited by cjyhc4; 02-16-2013 at

01:27 PM

. Reason: Update
Planted Tank Obsessed
Join Date: Dec 2006
Location: Rolla, MO
Posts: 464
I still had plenty of energy and inspiration after finishing the initial setup of the guppy tank, so I decided to get started on the RCS tank
Current Specs:
Size: 10 gal
Substrate: Play Sand, Aquarium Gravel, Missouri Creek Gravel
Lighting: None yet...
Inhabitants: None, yet. RCS, eventually
Plants: None, yet....
Setup!
Started with a sand section for any plants that want their roots in the ground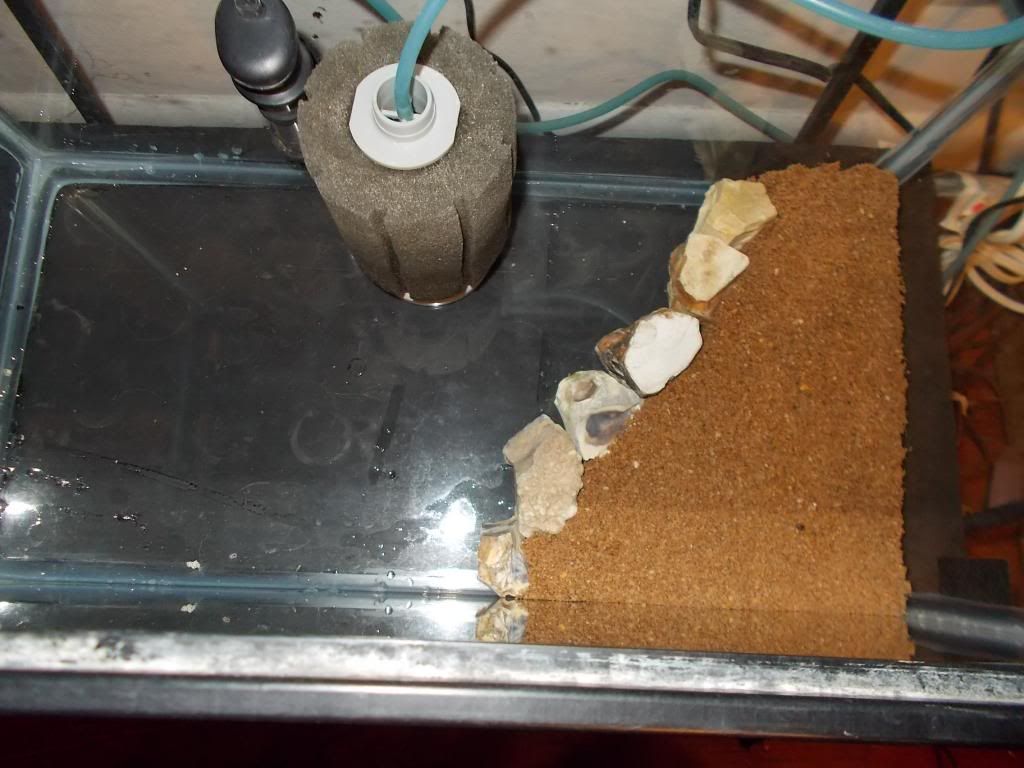 Moved the sponge filter. The front section is what I'm calling the "Contrast Section". I won't be planting on the black gravel. It will be a great place to drop shrimp food and watch them congregate on the contrasting color gravel.
The back section is the Missouri Creek Gravel, which is exactly what I'm calling it. I pulled it out of a creek here in the Missouri Ozarks several years ago. It's been dry for about 2 years, so I'm sure any little nasties are good and dead.
Hardscape? Kinda.... It's a brick! I figure I'll tie some moss or something to it.
Added the HOB filter to clean up the water. It'll go away.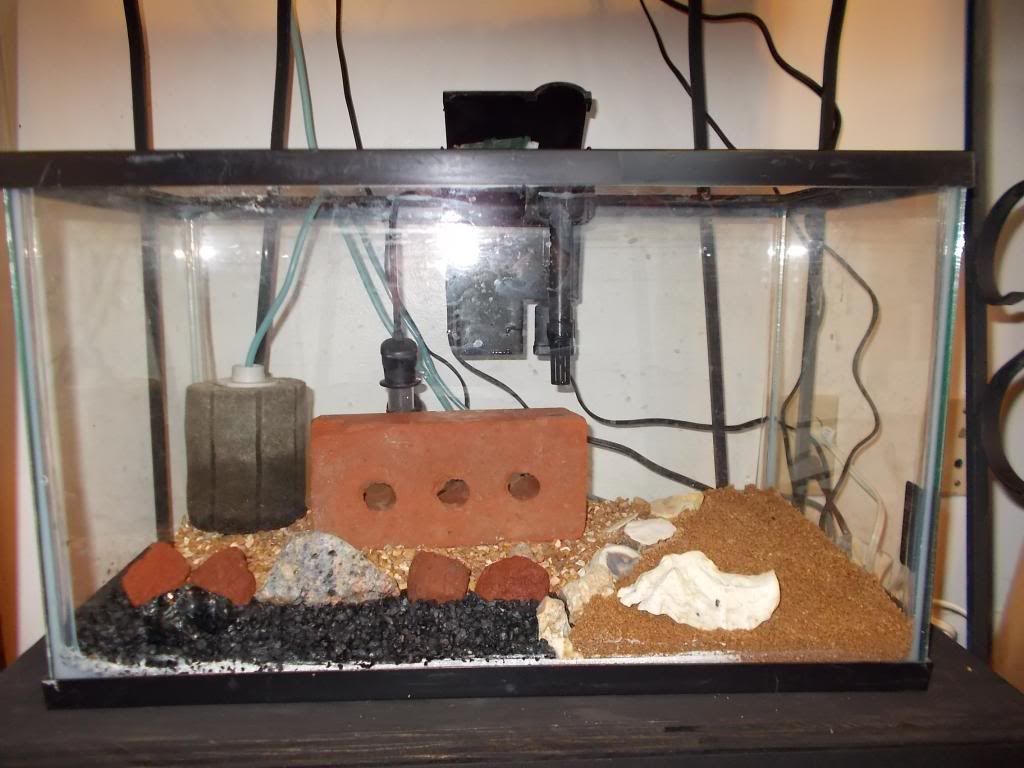 Morning Sun!!!
Added some water.....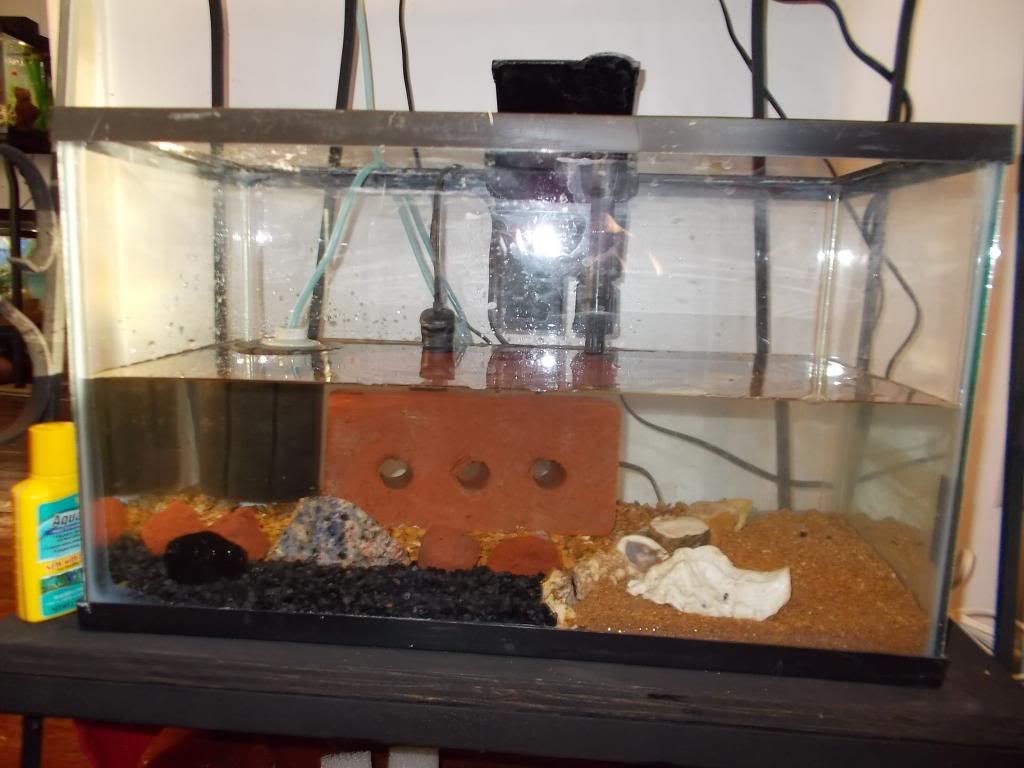 Distracted by the sun again!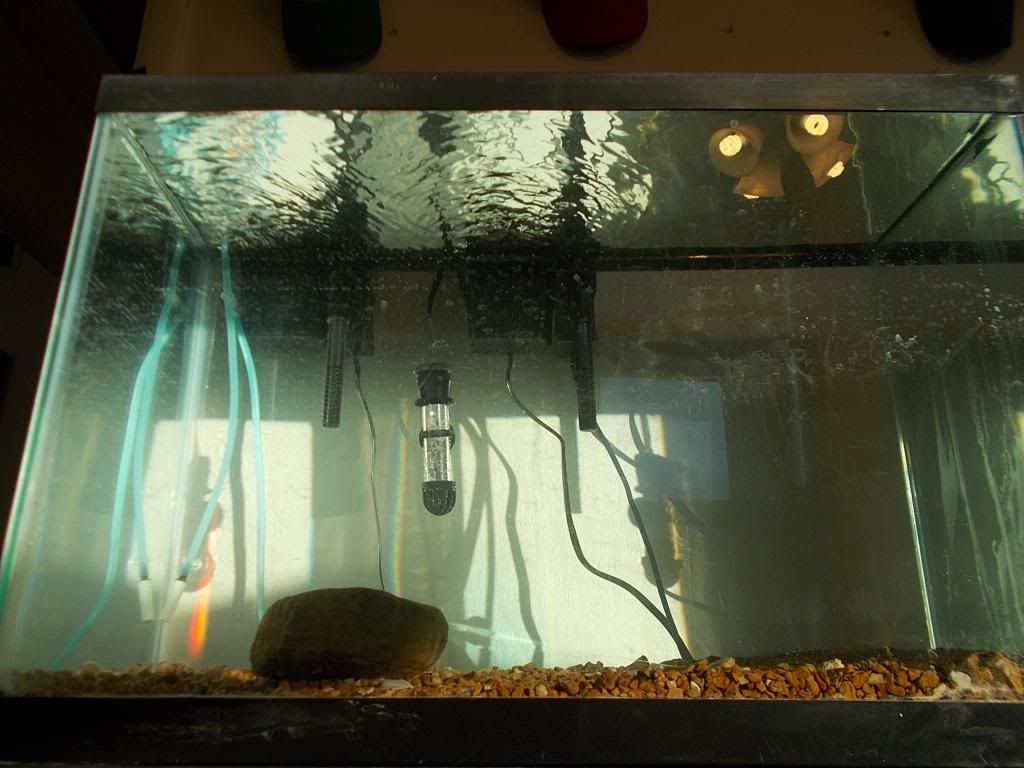 Got the HOB going... Looks like both tanks are going to get great morning sun in this location.
Even more morning sun pics!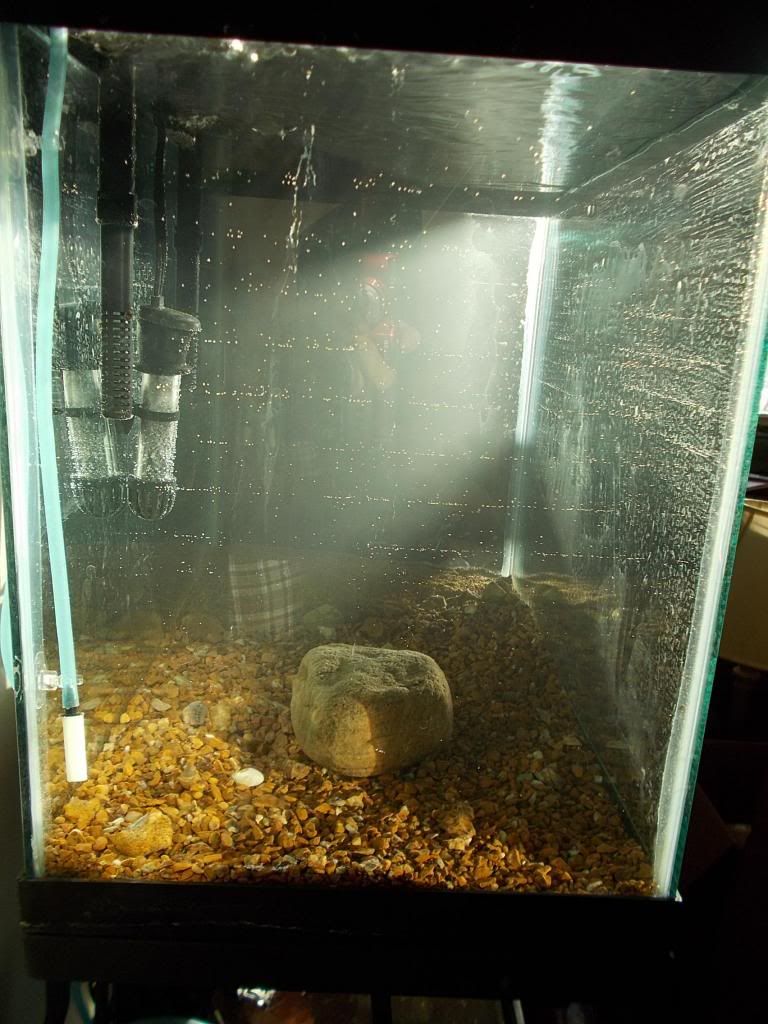 My only concern about the sun is algae growth. If it gets too bad, I'll lower the blinds and/or put sheer curtains of some sort over them to filter the light a little bit.
Algae Grower
Join Date: Feb 2013
Location: Columbia, MO
Posts: 31
Looks great! I don't know how I feel about the brick, but to each their own? I think you could find some nice would in the ozarks!
Planted Tank Obsessed
Join Date: Dec 2006
Location: Rolla, MO
Posts: 464
I think the brick will look pretty cool with some moss and Java Ferns growing from it. I just want to give the shrimp some vertical space to explore.
Betta pic :-)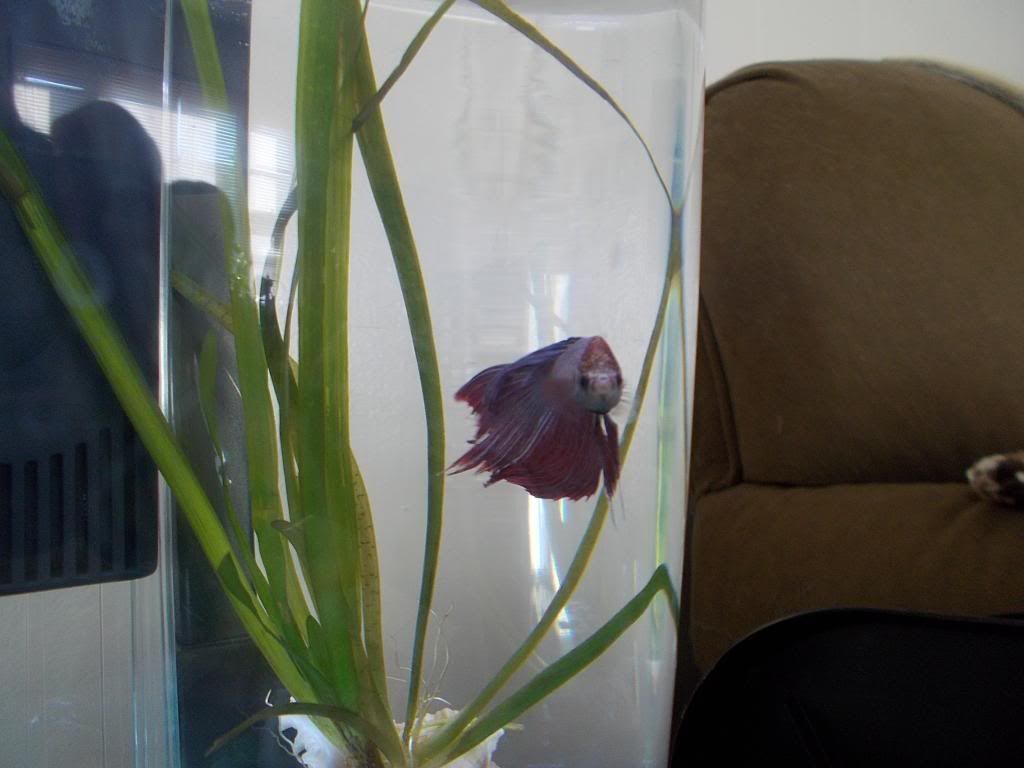 This morning I picked up some Hornwort and Anacharis to get the tanks going. I also had glass cut for the tops of each tank. After spending at least an hour in Lowes, walking in circles, picking stuff up, putting it back down, searching for who knows what, I finally found these Vanity Bar light fixtures. The three light (for the 10g) was only $9.97, and the four light (for the 20g) was $14.97. I got the 75W (comparable) daylight CFLs to put in the fixtures in a 4 pack for $11.97. I had half a plan!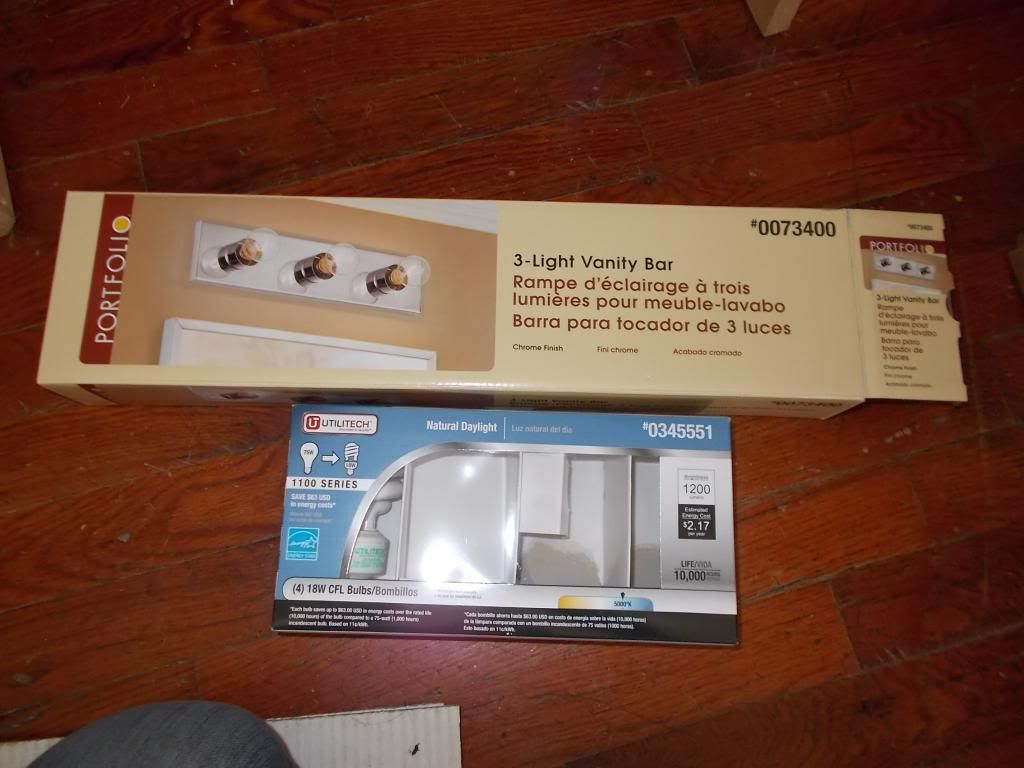 This afternoon I built a light box/canopy/hood thingy for the 10 gal using scrap wood from the shed.
The light fixture was meant to be hardwired in, but I cut the cord from an old, non-functional tank hood and wired it to the fixture. Then mounted the fixture in the light box.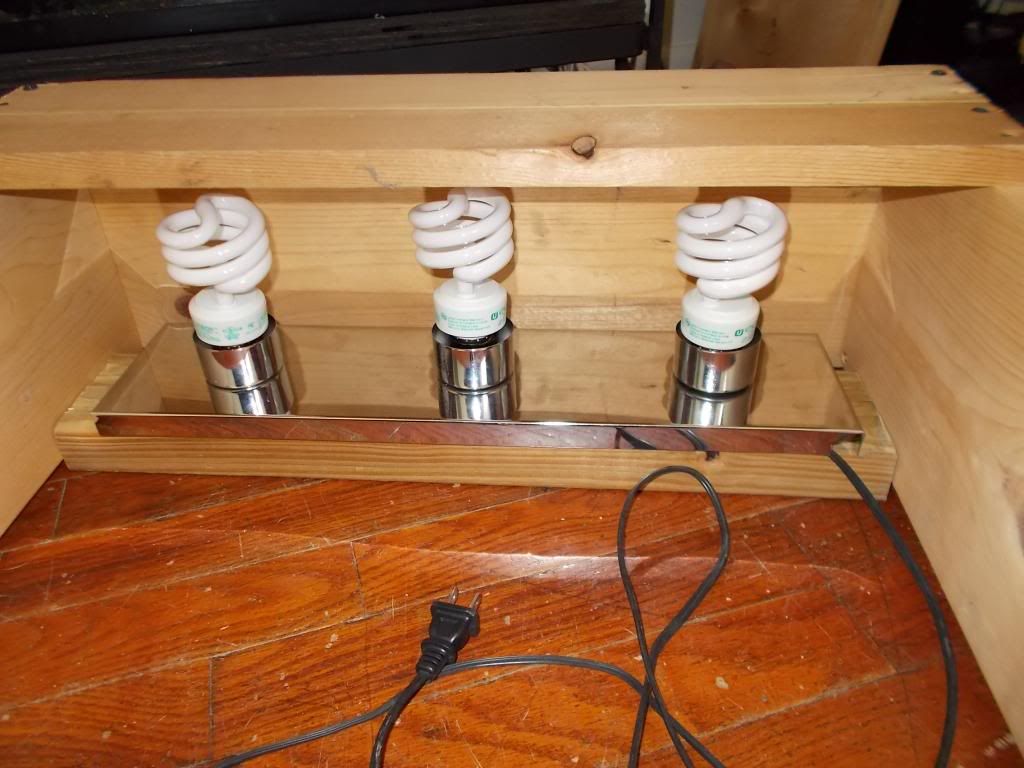 View from below, with the light box over the tank
Front view with the lights on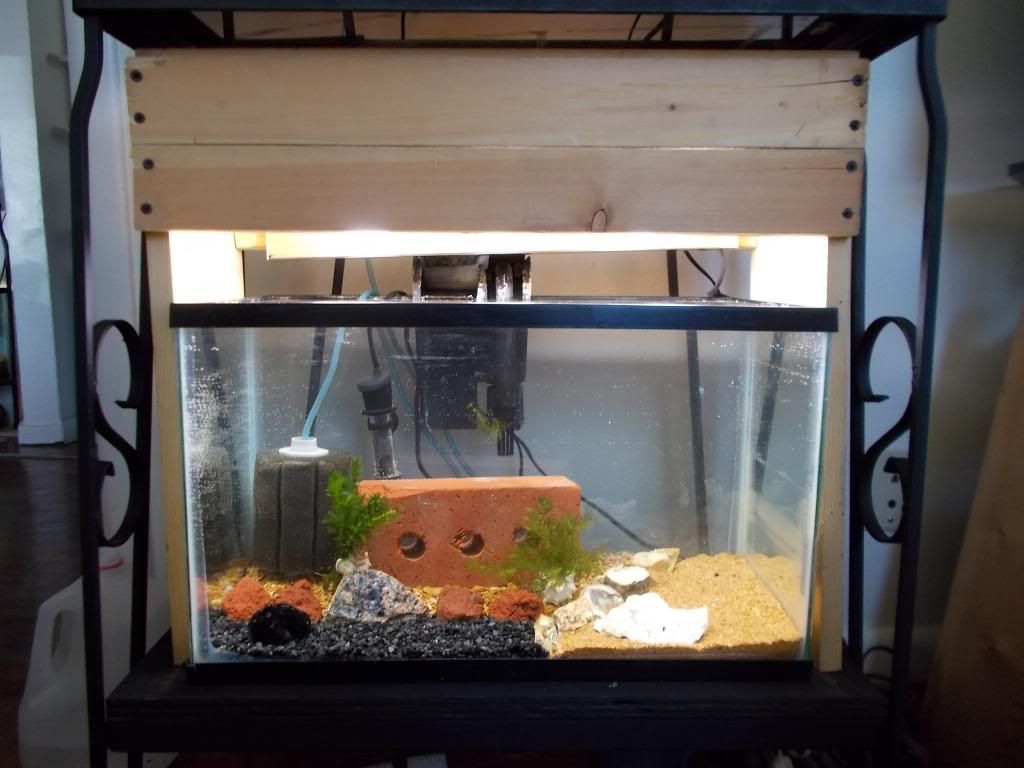 Full tank stand shot for comparison.
Planted Tank Obsessed
Join Date: Dec 2006
Location: Rolla, MO
Posts: 464
Current Specs (02/18/13)
Guppy Breeder Tank
Size: 20H
Substrate: Missouri Creek Gravel, Play Sand
Lighting: 17W CLF x4
Filter: Whisper 5-15 HOB x2
Fauna: 2 Zebra Danios
Flora: Anacharis, Hornwort, Peace Lily (emersed)
Yesterday, I purchased the wood I needed to build the lighting housing for this tank. It was tough shelling out the cash for it, but I keep telling myself that for the lighting quality it's so much better than anything I could get commercially for the cost.
Shrimp Tank
Size: 10g
Substrate: Missouri Creek Gravel, Play Sand, Black Aquarium Gravel
Lighting: 17W CFL x3
Filter: Sponge
Fauna: none
Flora: Hornwort, Anacharis, Italian Val
Night stand shot: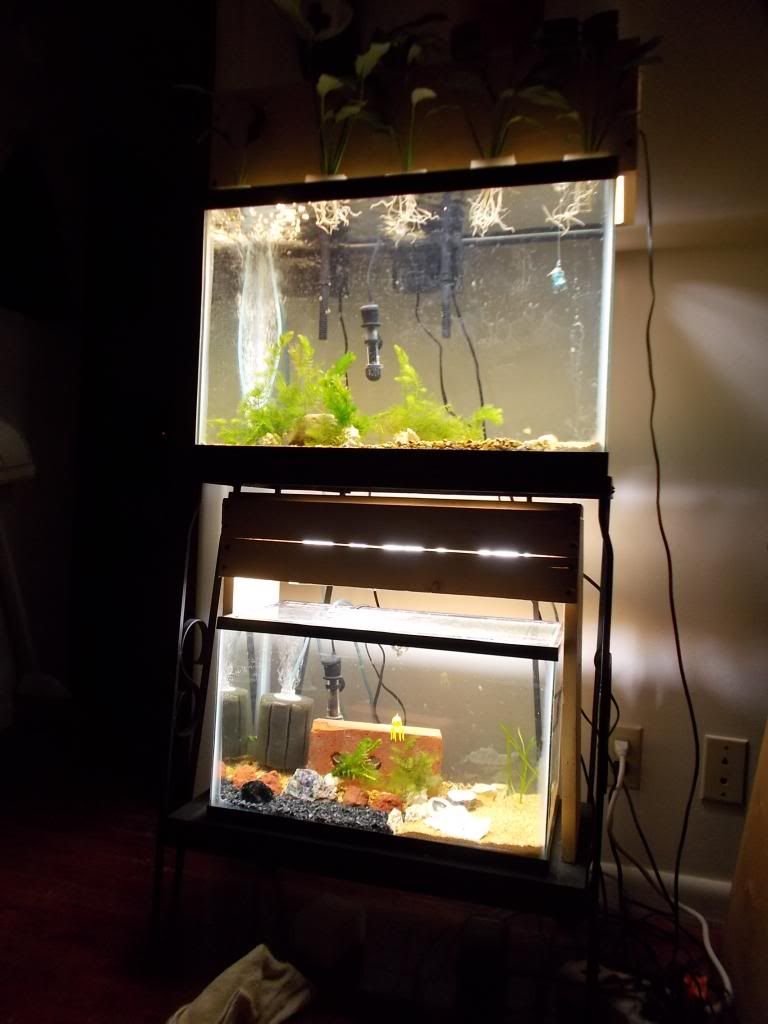 Afternoon stand shot: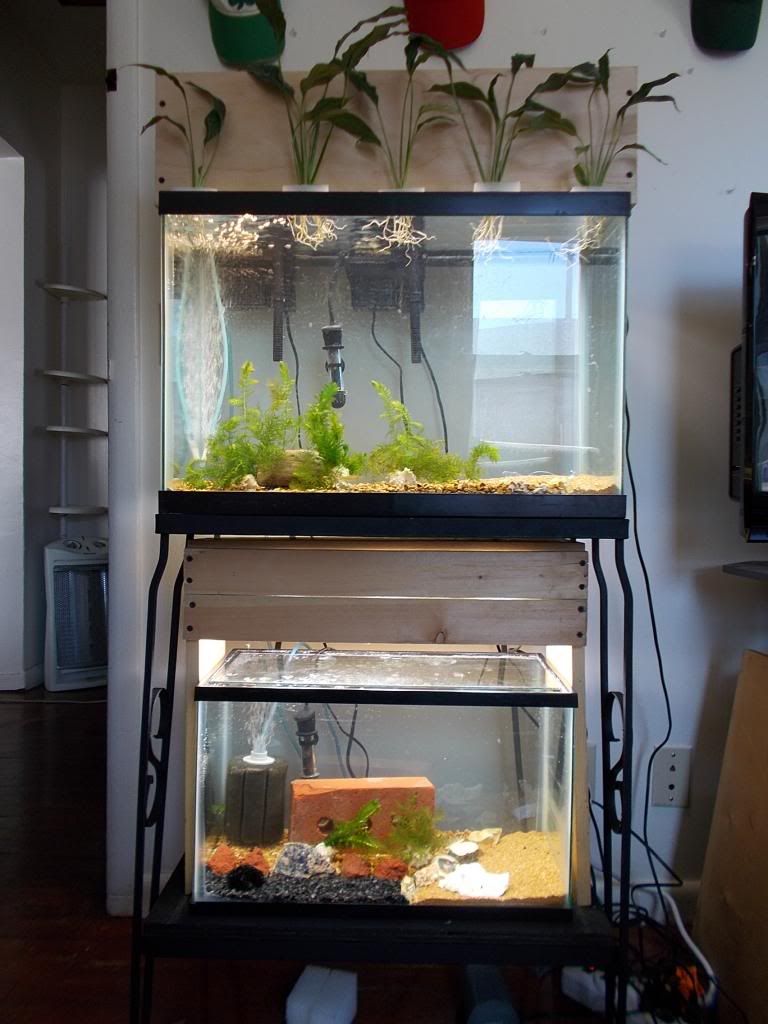 ---
Last edited by cjyhc4; 02-18-2013 at

11:52 AM

. Reason: wrong year.... :-P
Algae Grower
Join Date: Mar 2012
Location: UK
Posts: 29
Very unique and ghetto set up, I like it. Keep up the good work
Planted Tank Obsessed
Join Date: Dec 2006
Location: Rolla, MO
Posts: 464
Planting Day!!
It finally came :-). Despite the winter storm and shrimp arriving at water in the low 40's, all plants and shrimps arrived safely.
I was too excited and completely forgot to take pictures along the way, but here are lots of the results. And before you say it, yes, I need to clean my glass :-P
20H
The water still hasn't completely cleared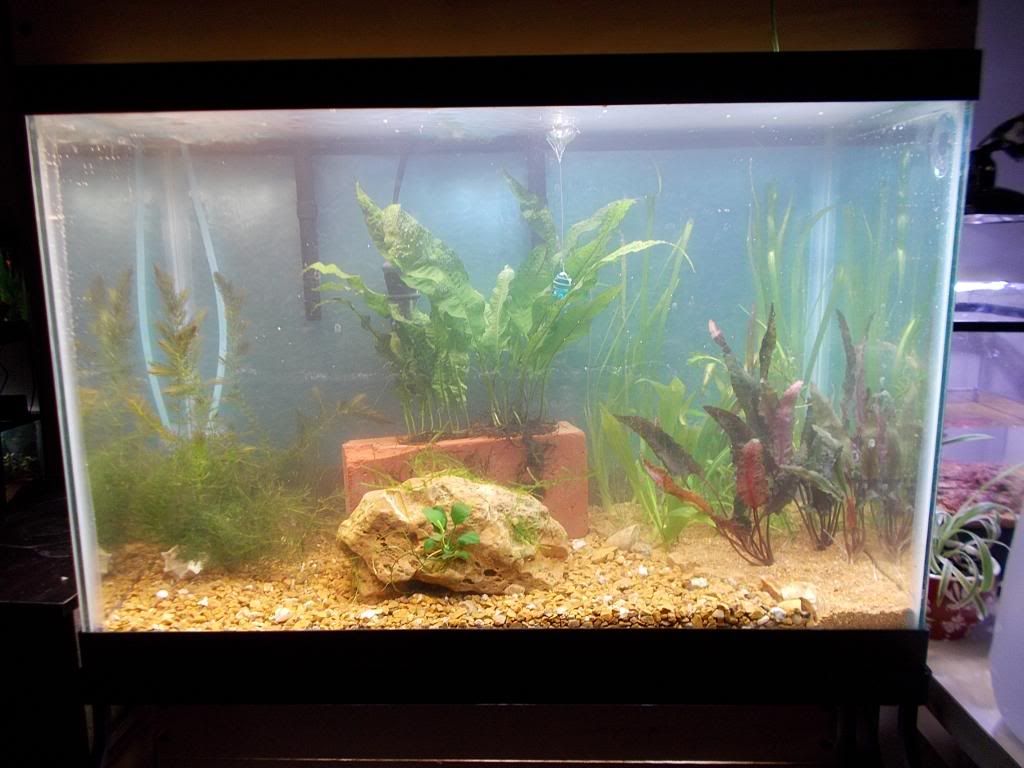 Really big Java Fern on a brick :-)
Java Moss and Anubias on a rock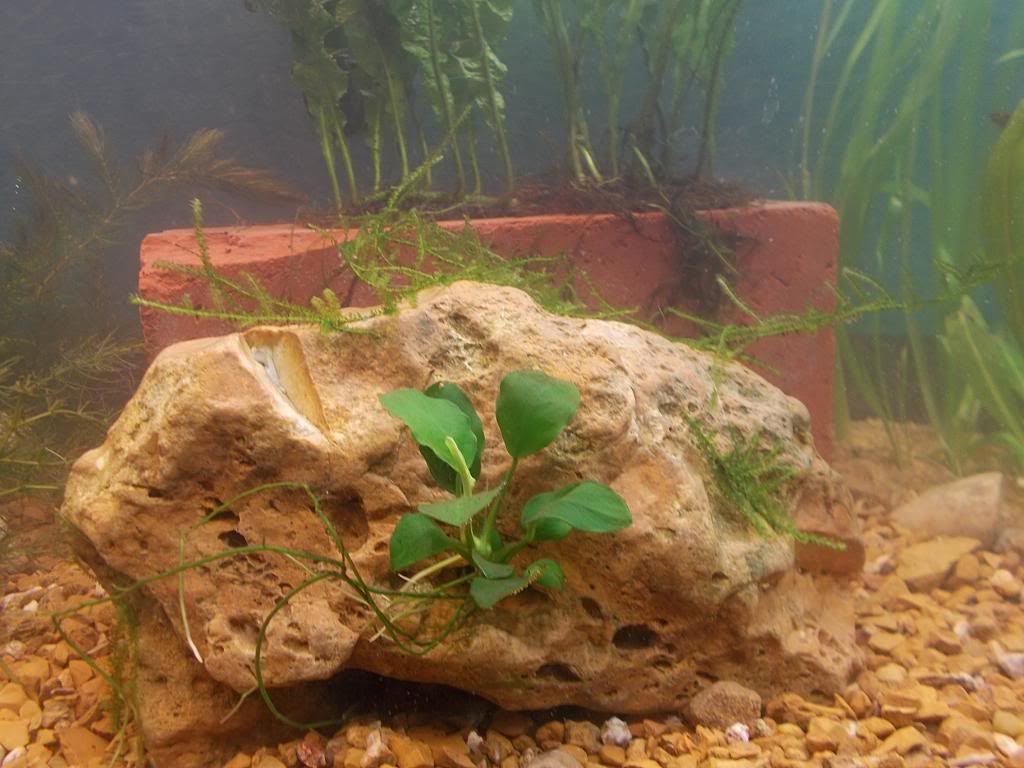 Right tank view. Jungle vals, Anacharis, Crypts and a mysterious Sword that just happened to arrive with a plant package I purchased.
10g Rili Shrimp Tank
Bolbitis on a brick :-)
Java Moss Wall
Cholla that my hermit crabs never took to. Anubias & Windelov Java Fern
Right side of the tank. Italian Vals, Anacharis, Crypts
Java Moss Rocks
Heater hiding behind the moss wall. Silly shrimp, there are perfectly awesome plants, but no, you're cleaning the heater. The sponge filter is nearly impossible to see from the front. Yay!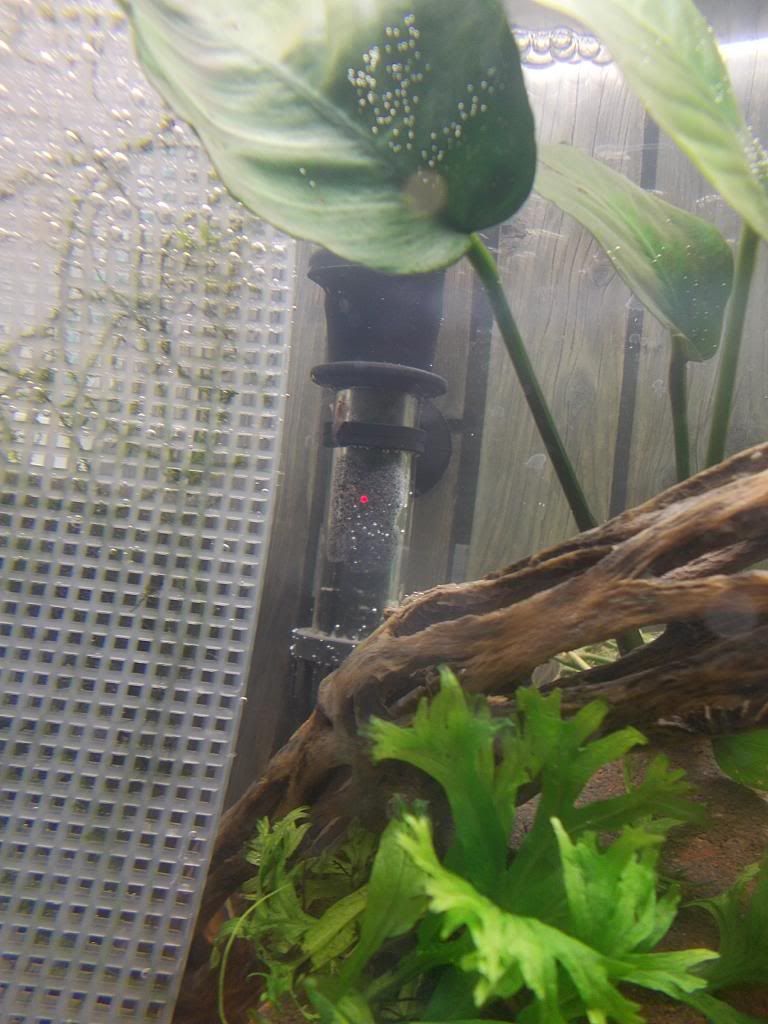 Rili on top of the moss wall. They're still settling in, and remember they just spent 4 days battling the winter weather, arriving in water in the low 40's.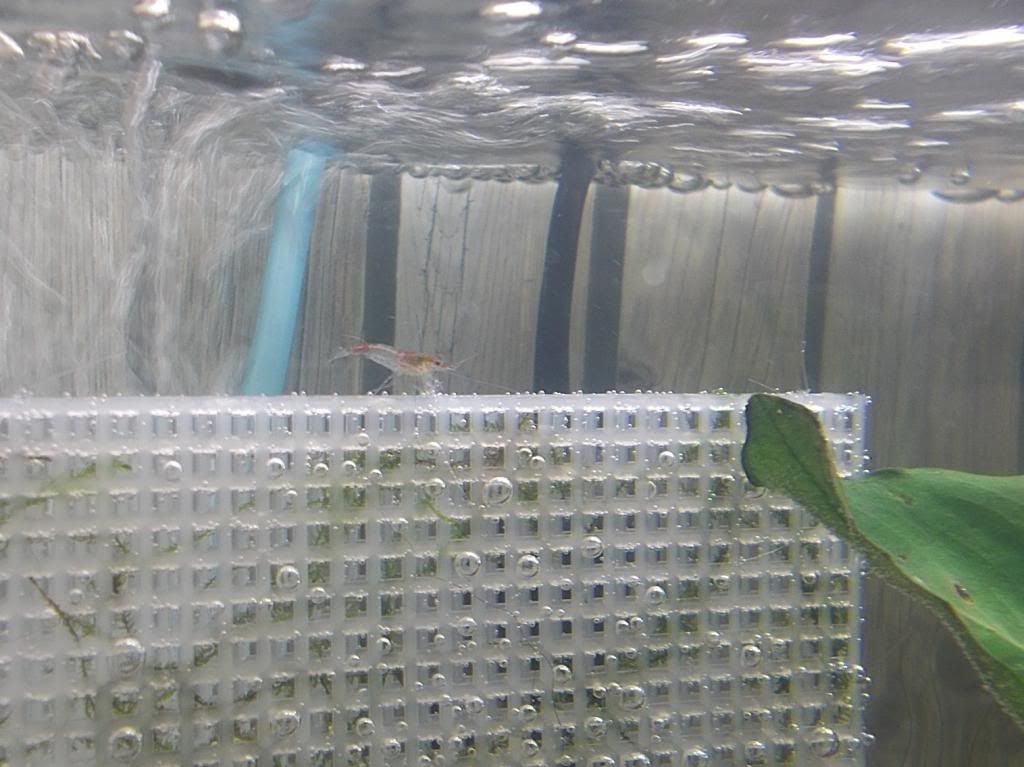 Windelov Java Ferns ... on a brick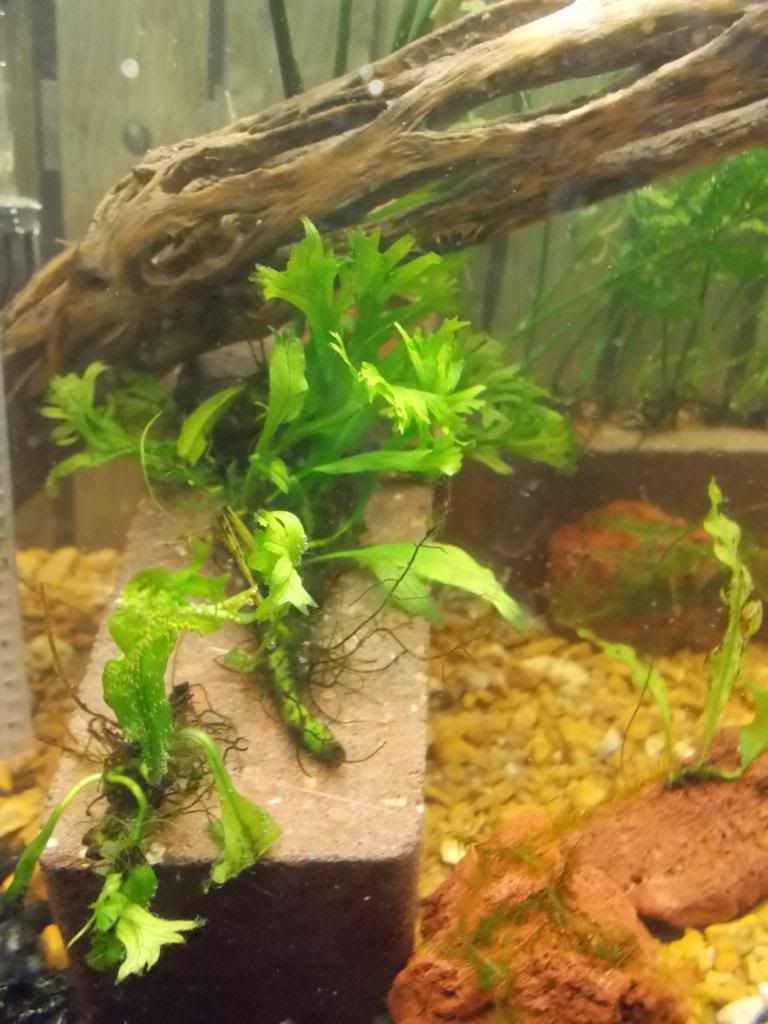 The moss the shrimps came with.
Random plug of Dwarf Hairgrass that tagged along with a plant package I purchased.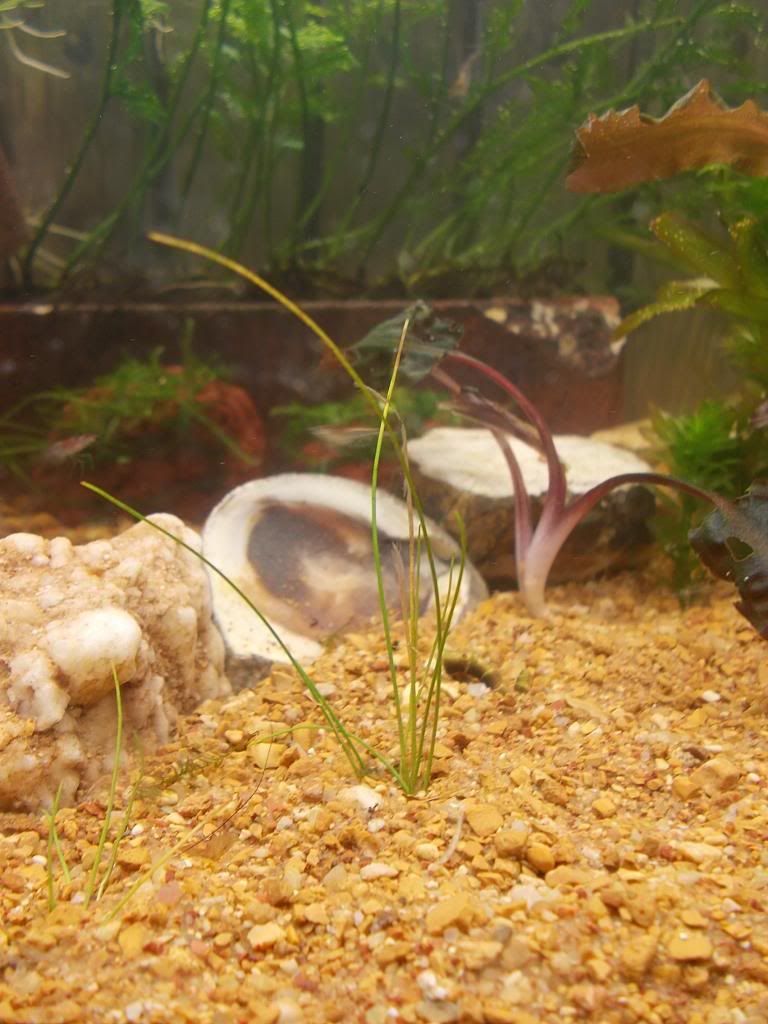 FULL STAND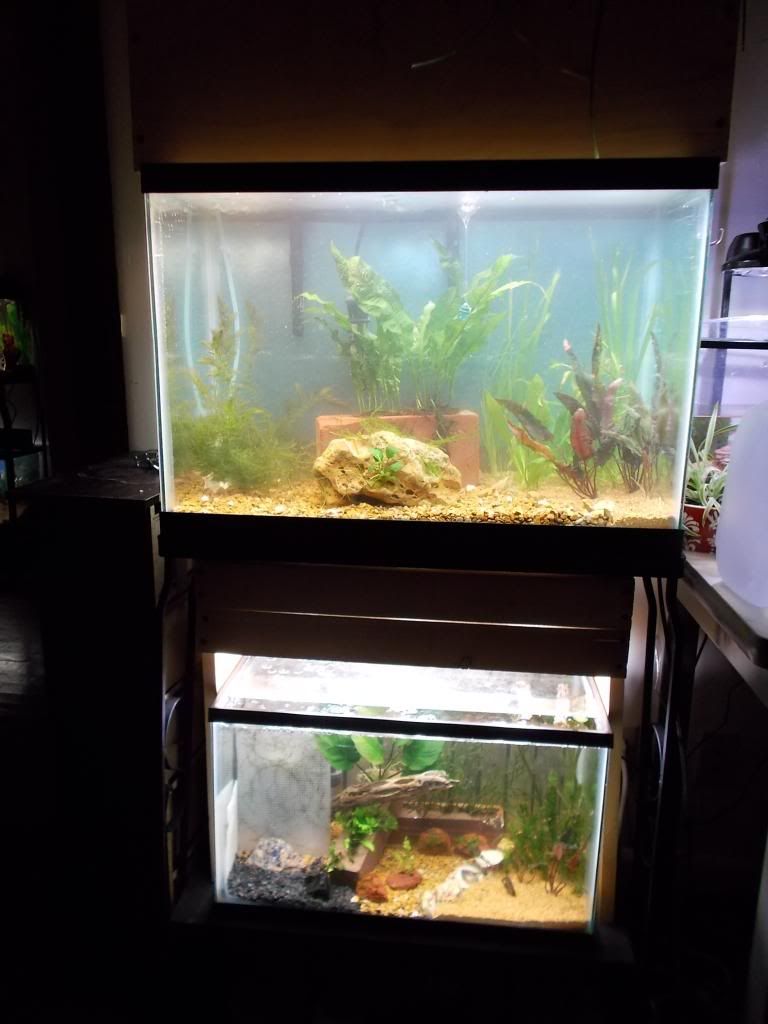 ---
Last edited by cjyhc4; 02-24-2013 at

01:56 AM

. Reason: forgot one
Planted Tank Guru
Join Date: May 2009
Location: MICHIGAN
Posts: 3,475
Planted Tank Obsessed
Join Date: Dec 2006
Location: Rolla, MO
Posts: 464