Yeah, originally I was going to get some HC but now that my budget is gone I might as well keep it emersed and allow the plants to establish a strong root foundation.
I think you should flood sooner (like NOT 4 or 6 weeks) since you have a lot of stem plants. Those stem plants would probably need to "stand up" eventually, by being submerged. You have a lot of good healthy looking leftover plants too!
Haha thanks, and I love the bowl too. It keeps me entertained while I wait for the tank to grow.
I've been really tempted to flood these past few days. Like you said, the plants aren't supporting themselves very well so I've moved and arranged how they laid on top of each other to make sure light is hitting evenly. I really can't flood yet because the stems I've laid out on the ground still hasn't rooted to the substrate yet, but once they do I definitely will! I can't wait, it's going to look nice.
How long do you think it will take for the plants to take sufficient hold onto the substrate?
Algae Grower
Join Date: May 2009
Location: Cincinnati
Posts: 29
You should flood now. Dsm is not really for a lot of these types of plants.
This is my plants list right now:
1. Riccia Fluitans (crystalwort)
2. Broad Leaf Ludwigia (Ludwigia repens)
3. Narrow Leaf Ludwigia(Ludwigia palustris)
4. Bacopa monnieri
5. Golden Creeping Jenny (Lysimachia nummularia)
8. Microsorium brassii (Needle Leaf Java Fern)
9. Sagittaria subulata
10. Red Temple Plant (ALTERNANTHERA) red/purple
11. Vallisneria spiralis (Italian)
12. Crinum "Dwarf" onion plant (Zephyranthes candida)
13. Unknown Ludwigia. Possibly Ludwigia repens x L. Arcuata.
14. Unknown Crypt. [--No ID yet--] Possibly Cryptocoryne nevillii (Dwarf Crypt).

Just to be sure I researched all of them, and it seems they all can grow emersed. I'm more convinced that I should be waiting just a little bit more before flooding, though I'm not ignoring your advice. I'll flood in another week or two, at least just to wait until they won't float everywhere after water is in.

I've been observing them everyday so far, and making sure their humidity level is at optimal level, and I've been seeing a lot of new growth so I'm not so worried yet.
As advised, I flooded my tank a few days ago, and am patiently observing the plants' transitioning process. I think it's going well
FTS: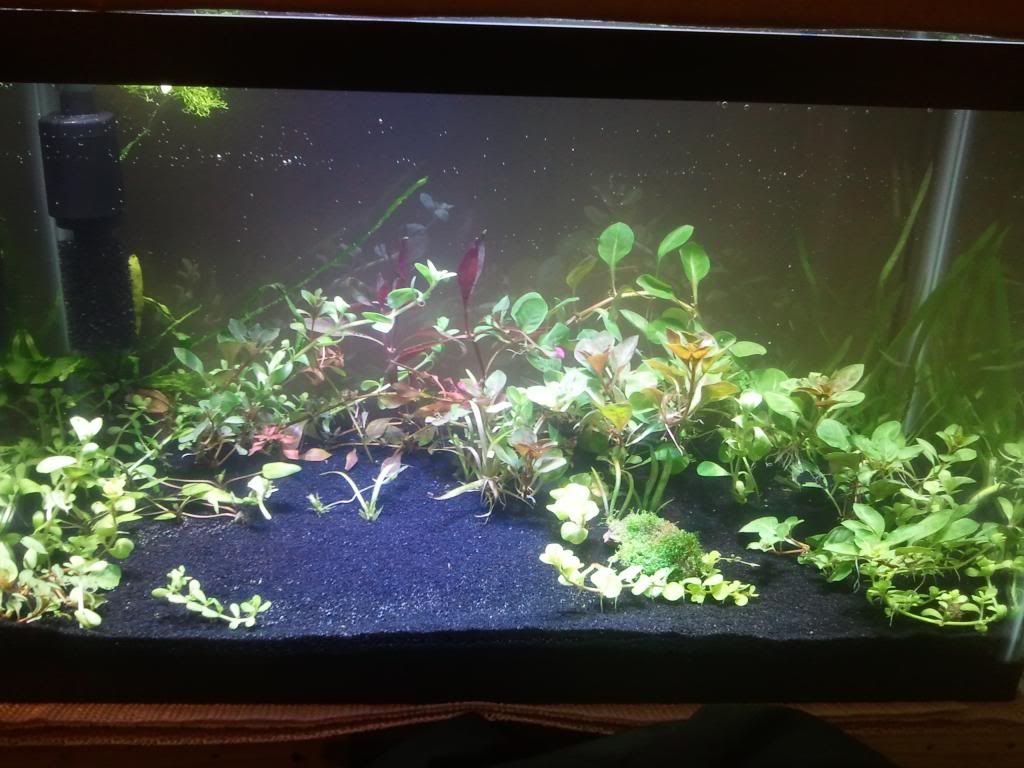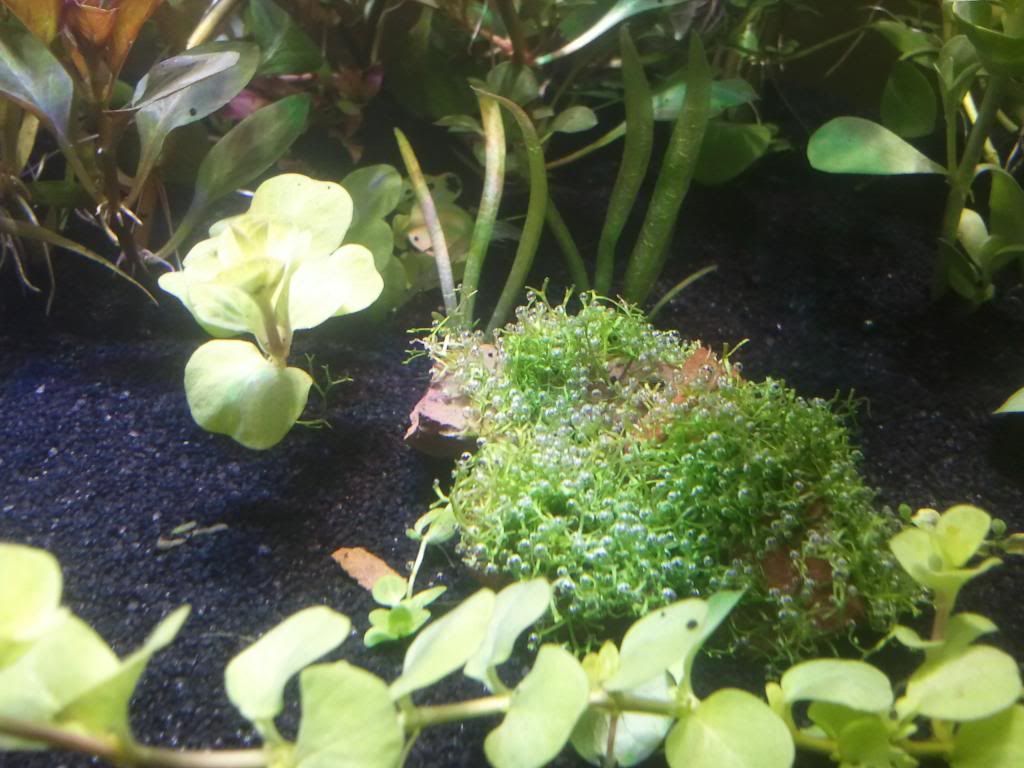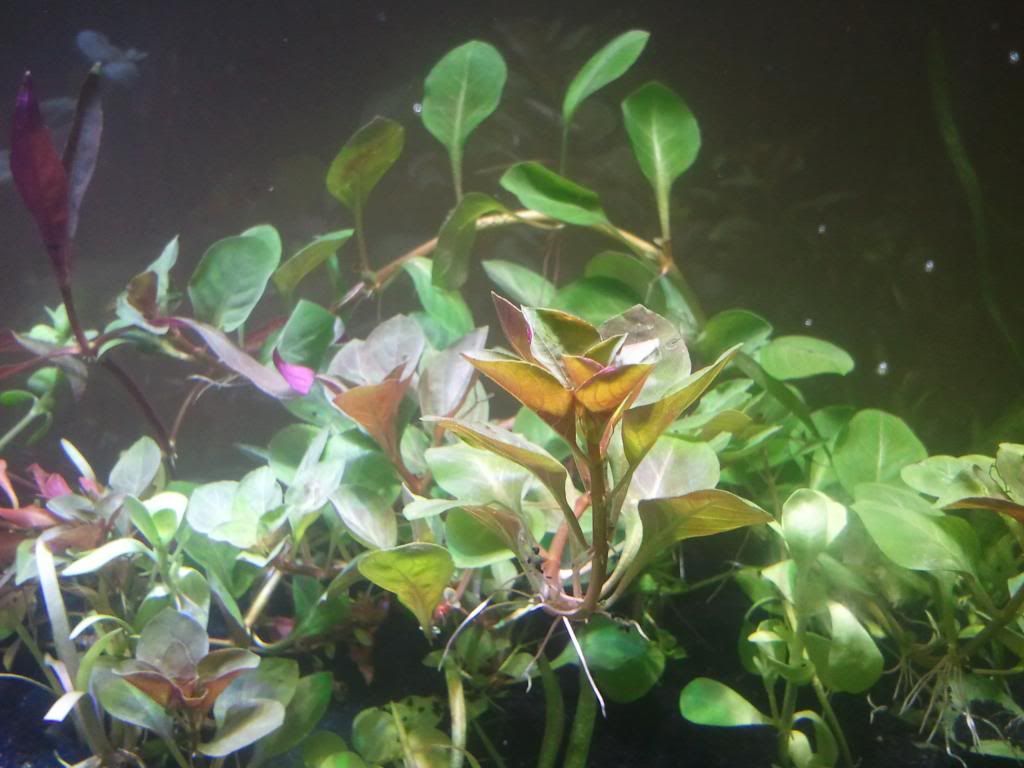 L.Repens starting to color up under the light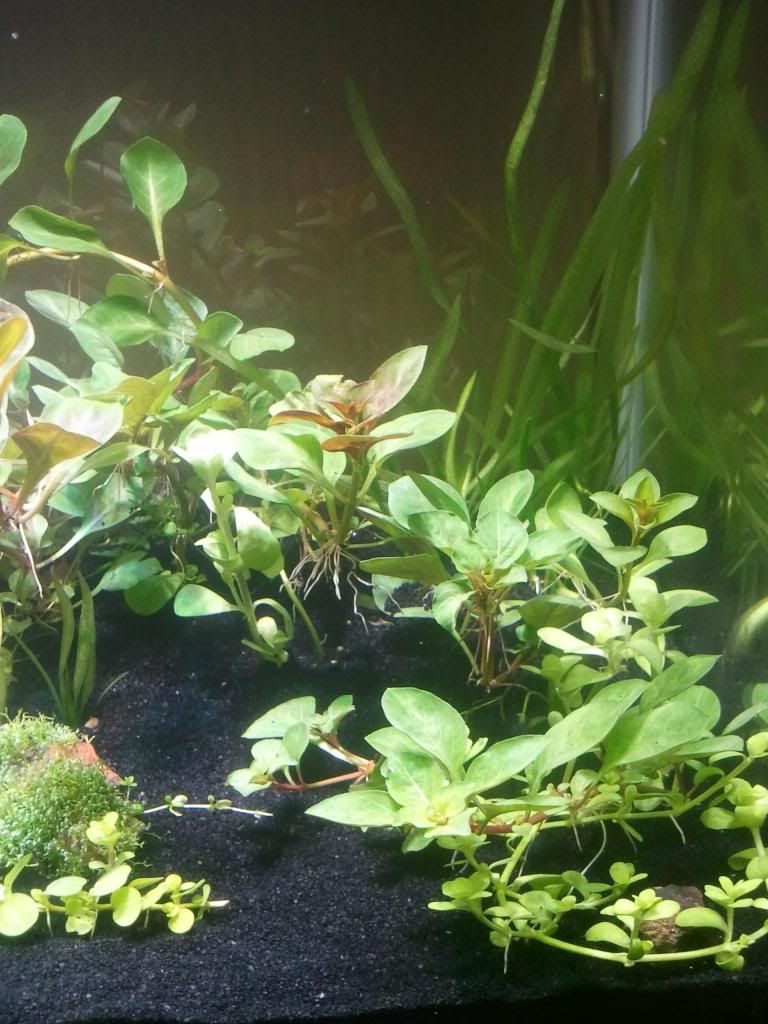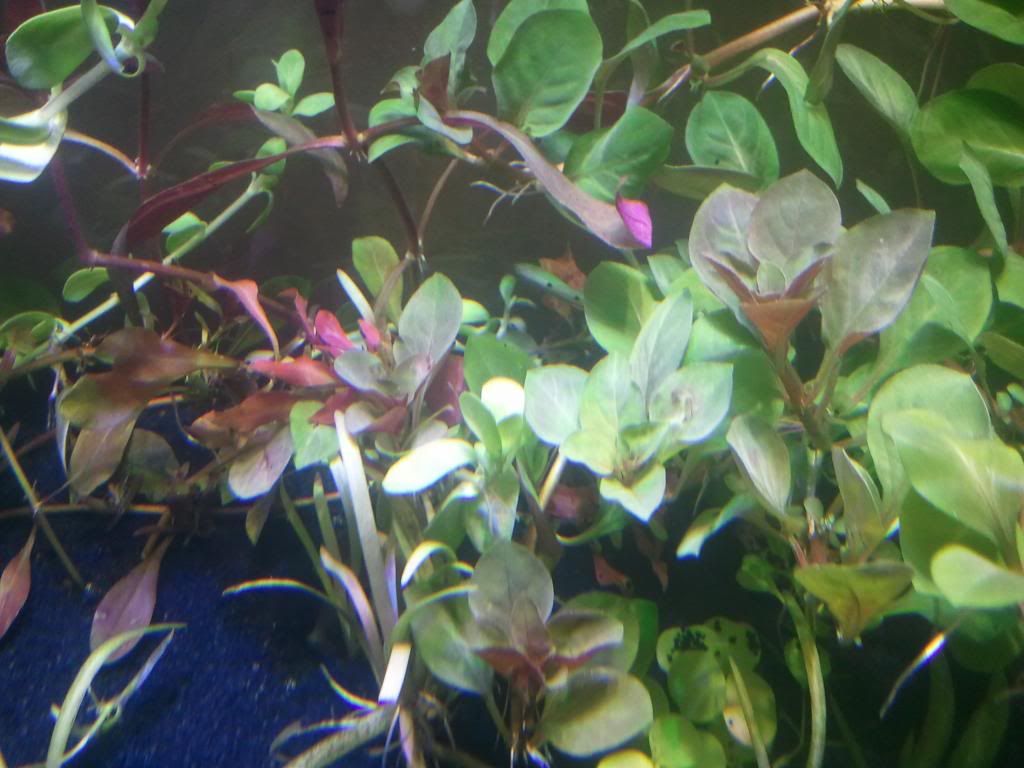 Nice pearling! What is your fert schedule going to be?
Quote:
Nice pearling! What is your fert schedule going to be?
No dosing plans yet, I'm hoping the soil will provide sufficient nutrients right now. When I feel like I should dose, I'll probably go with this once every week or something:
http://greenleafaquariums.com/aquari...rtilizers.html
I've been leaving the lights on pretty long so I'm starting to get some algae, plus the C02's probably getting depleted pretty fast so I might start a DIY C02 generator soon to compensate.
Also, I'm trying to seed the tank with some scuds and seed shrimp, to provide a semi-constant food source for future inhabitants. My goal here is to recreate an ecosystem that's semi-self sustainable. I hope it goes well :O
Update 3/15/13
---
This thread has been overdued for an update, so here it is.
Did my first major trim today, and used the clippings to plant the HOB.
FTS: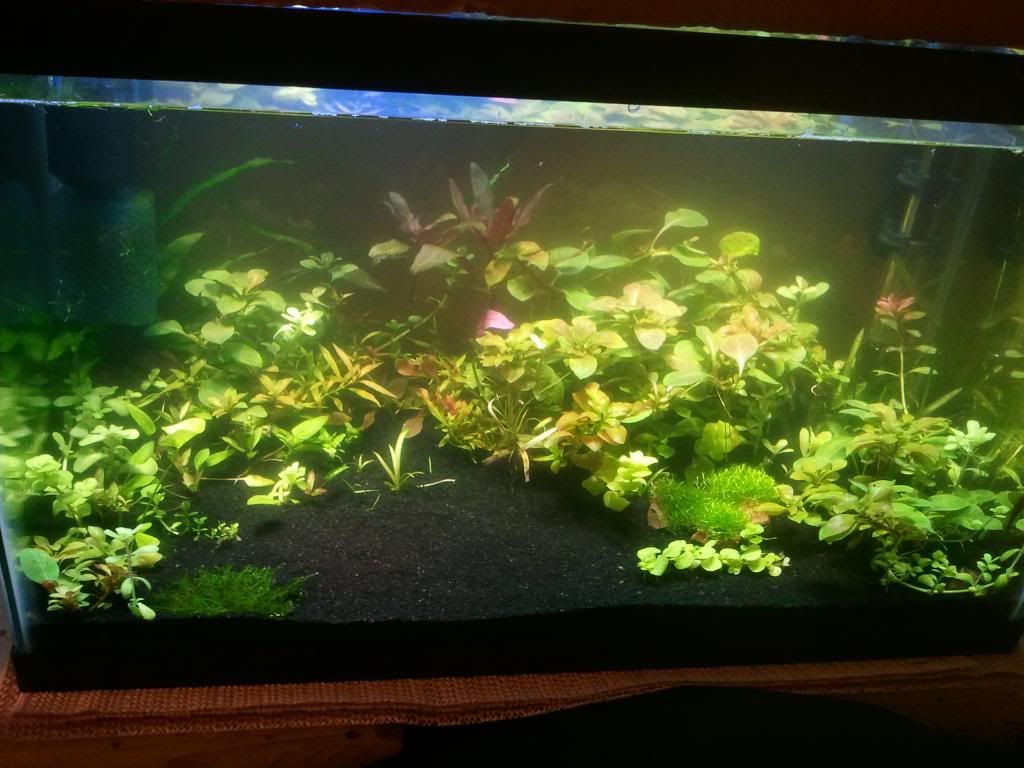 Excuse the cloudy water, I messed around with it alot. Hope it'll clear up tomorrow.
Currently, I've been doing water changes every 2-4 days. Fighting a bit of algae, mostly Rhizoclonium, GDA, GSA, strands of Spirogyra sometimes, and just noticed the appearance of maybe hair/fuzz algae (or early BBA, idk). To be honest I haven't put that much effort into ridding them, as the tank is still mature, algae is to be expected. Am I correct?
When ever the Rhizo gets out of hand I do a 10% water change, manually remove all visible algae, except the GDA and GSA because I don't mind them.
I'm aware that I'm probably low on CO2, will impliment DIY CO2 soon when I find the time. Water current & surface agitation is perfect in my opinion but idk. Please give me your opinions!
My floating island: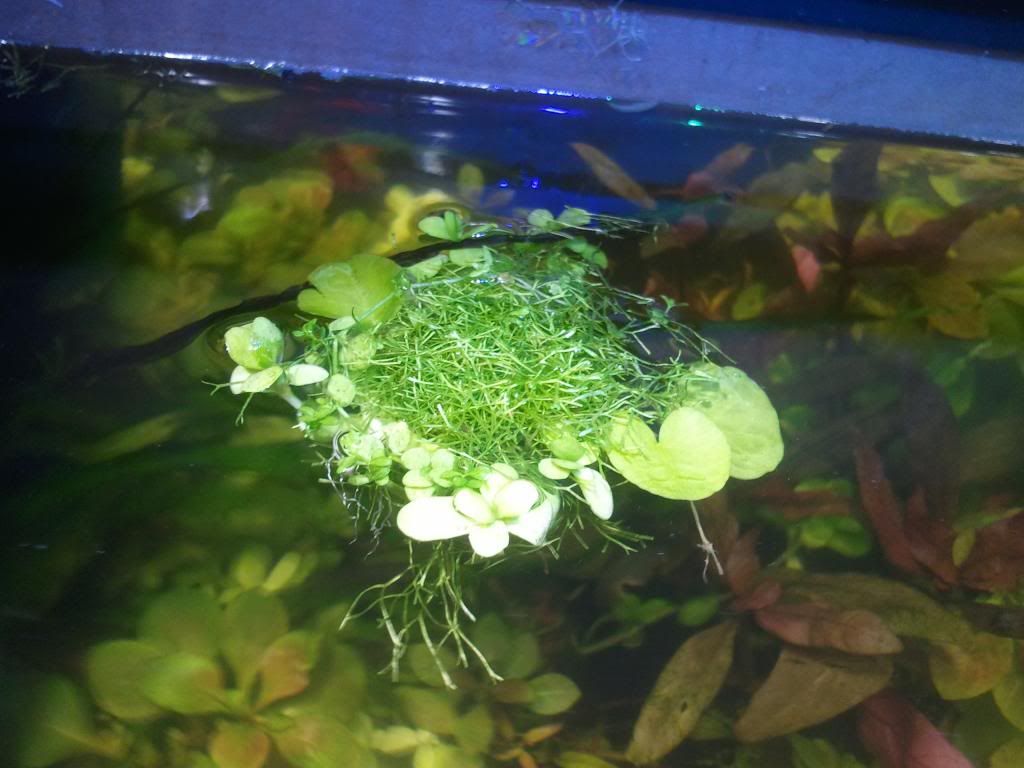 I took a ball of dwarf riccia and wrapped it with plants and stuck some clippings into it. Very happy with it, haha.
Planted HOB: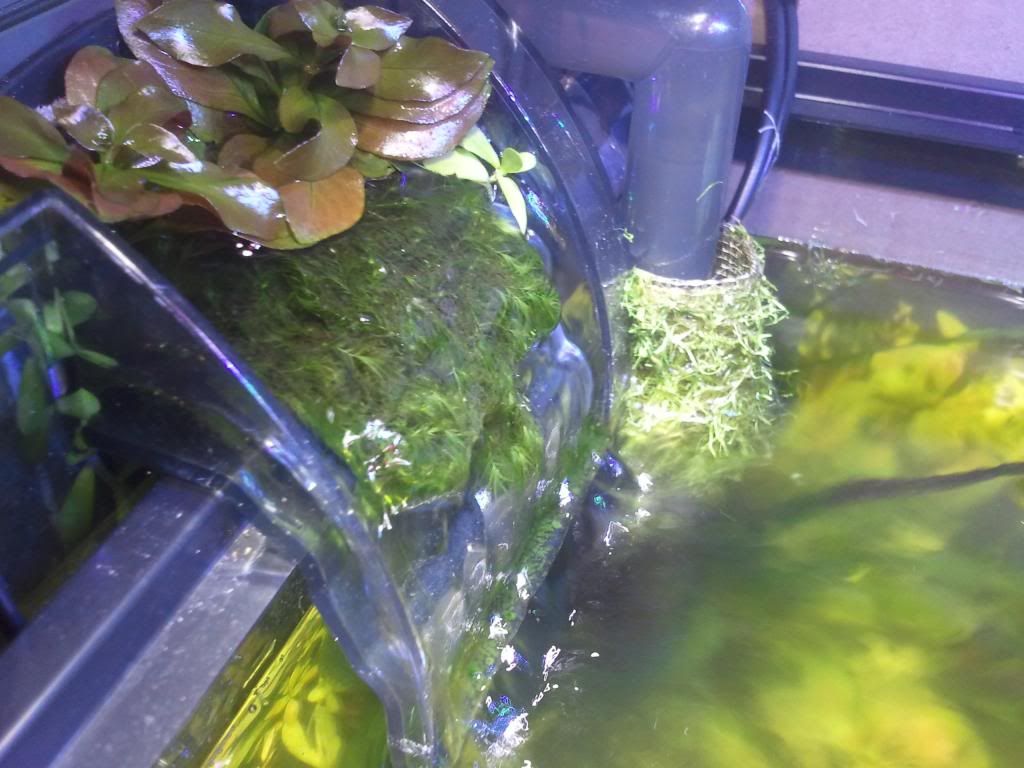 I hope the fissiden will do well here.
So far it only houses two otocinclus, and the occasionally seen scud/copepod. Currently waiting for a good deal on RCS/culls. I can't wait til the tank fills out
Thanks for looking!