Algae Grower
Join Date: Aug 2012
Location: Mont Vernon, NH
Posts: 37
The evolution of a 10 gallon (56k warning!)
---
I was going through some old photos and realized how much my 10 gallon has changed from when it was originally set up to it's current set up. I thought it might be an interesting thread for the others that are just getting into the planted tank world to see how it went. I think I made every mistake possible and am still racking up the mistakes.
So, for those of us that drool on those gorgeous aquascapes while killing our supposedly unkillable plants and battling algae, here is the evolution of my little 10 gallon from June 2012 to January 2013.
First iteration:
It's divided to house two male bettas. Plain gravel substrate with a couple root tabs and a group of plants I picked up at Petsmart. I think the lighting is still incandescent. Yes, those are Amazon Swords in my 10 gallon and microswords in front in big clumps. Not a good setup. I also tossed in a couple of Marimo moss balls. The only survivors of this phase are the two anubias.
Second iteration:
Amazon swords are out, replaced by hornwort and water wisteria. I also added some banana plants. More biomass, yes, but the plants aren't growing worth a darn. I replaced the incadescent with two spiral CFL bulbs, so at least nothing is dying quickly.
Third iteration: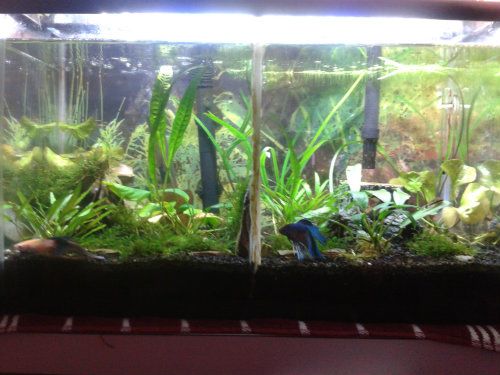 Huge upgrade. I tore the tank apart completely for this overhaul and bought new equipment to make it a real planted tank. The tank now has Eco-complete substrate, crypts (spiralis and wenditii), java ferns, and a java moss carpet started. I've upgraded the lighting to a 20" Finnex Fugeray sitting right on the tank, maybe three inches from the water surface. I started dosing Flourish once a week at .75 mL. Yes, this is a recipe for disaster, as the tank is mature with light stocking, so I just increased the light sharply in a tank with no nitrates to speak of.
Fourth iteration: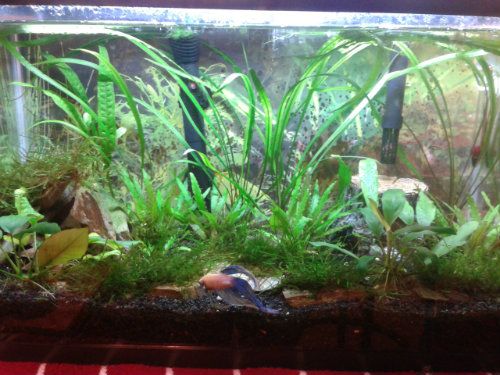 Unsurprisingly, I start having BGA issues. You can see a spot of slime on the heater in this picture. I do some research and realize that I need to improve circulation. Out comes the divider and the blue betta male gets moved to his own 10 gallon. The marble male and the 3 otos take over the whole tank. It certainly doesn't do him any harm, he is the most gorgeous $0.99 fish I've ever seen with a tail that is ridiculously long. I also start to dose Flourish twice a week at .75 mL. Growth in the tank is good, but the BGA starts to hit the spiral crypts that are tall enough to run along the top of the water. More research shows that low nitrates can be part of the problem. The lesson of needing nitrates to actually show up in a planted tank is learned.
Fifth iteration:
Got hit with a round of crypt melt, most likely due to having lots of light but not enough of pretty much anything else along with the BGA issue. I've now added pressurized CO2 and have started an EI fertilization schedule. It was a rough couple of days for the tanks inhabitants while I got the CO2 settled in (pH bounced pretty hard while I made my mistakes) but everyone has survived and it looks like I've settled in around 20-25 ppm. The BGA is falling back as I prune, clean, and get my water parameters in line.
The plants are already bouncing back. I added some pennywort to add some variety to the leaf shapes. I also added some dwarf hairgrass to make my first attempt at a carpet. At this point, I think this tank has run the full evolution from pretty much not at all planted to high maintenance. I have a dosing schedule posted next to the tank to keep me on track and I'm keeping a journal for water parameters. The hairgrass went in last night in these pictures, so hopefully I'll have pictures of the sixth iteration in the future.
Nice progression. Tank looks really mature and lush. Any thoughts of going back to the CFL lighting?
Algae Grower
Join Date: Aug 2012
Location: Mont Vernon, NH
Posts: 37
I'm currently happy with the Fugeray. I'm going to try dosing and CO2. If it still turns out to be too much light, I'll lift it up higher. I just moved my 30" Fugeray 6" off of my 40g breeder, but that tank isn't getting CO2 and I don't want it to become a high maintenance tank. My focus for that tank is on the fish.

My old hood with the CFL lights is on a different 10 gallon full of crypts and they're doing beautifully with very little algae.
Nice progression

What were the time frames between transitions? And where do you think you are going with this in the future (no tank is every truely done I feel lol)
Planted Tank Guru
Join Date: May 2009
Location: MICHIGAN
Posts: 3,475
Algae Grower
Join Date: Aug 2012
Location: Mont Vernon, NH
Posts: 37
Quote:
Nice progression

What were the time frames between transitions? And where do you think you are going with this in the future (no tank is every truely done I feel lol)
Probably a month between 1 and 2 (after I did some research), 3 months between 2 and 3, two months between 3 and 4, and two months between 4 and 5. The tank has been up for about 8 months total. The photos average out to about 2 months between updates. I'll have to keep that in mind when I post the sixth iteration.
My current goals are just to get the water parameters in control, get everything in there really healthy and growing, and to get the BGA out of the tank. I didn't realize how unhealthy my plants were until I started to really examine them and find the holes and yellowing. Once I have the current group of plants thriving, I'll probably look at another rescape to finally lock in a design I'll be happy with. A carpet up front, lots of tall plants in the back, a hidey hole for the betta and otos to share. Pretty standard fare, but since it's my first serious attempt, I'm keeping it basic.
Planted Tank Guru
Join Date: May 2009
Location: MICHIGAN
Posts: 3,475
Quote:
What is 56k warning?
It warns users that if they open would slow down their connection term is of a general use to prenote that there is going to be a lot of content/pictures. It's for those who have dial connection.
The evolution of a 10 gallon (56k warning!)
---
It's archaic though, cause does anyone really have dial up anymore?
Algae Grower
Join Date: Aug 2012
Location: Mont Vernon, NH
Posts: 37
HybridHerp - 56k is another way of saying image heavy. So those with 56k connections may have trouble. I could probably edit it to image heavy.
I finally, finally got my layout somewhere that I really like. Now to wait for it to grow in.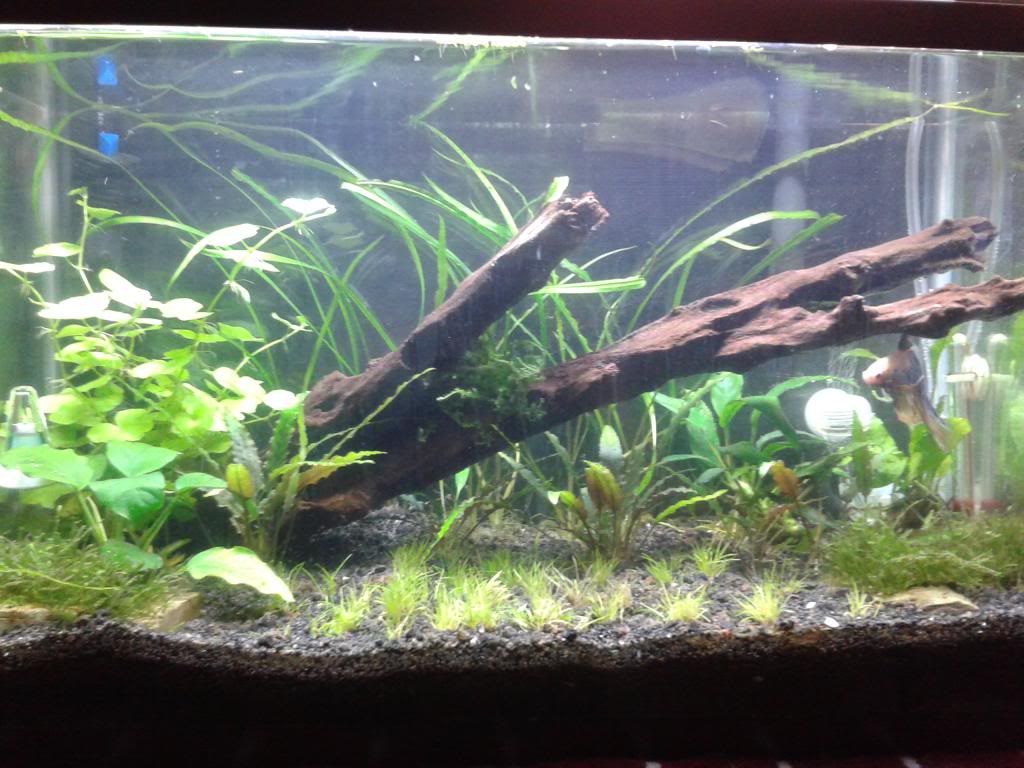 Don't mind the cloudy water, I kicked up a lot of dust getting the driftwood settled and rearranging the crypts. The crypts should fill in under the log, the shade will do them some good, and the lawn will fill in up front. The back right corner has a group of java ferns that will grow in and hide the diffuser. I also tucked some Christmas moss into the driftwood, so that should fill in.
And now the waiting game. But at least the tank is finally somewhere that I feel proud of. Not fancy, but a comfortable, natural feeling environment for the betta. Just in time for my dinner party this weekend.
Planted Tank Enthusiast
Join Date: Oct 2012
Location: ohio
Posts: 827
tank is looking great - like the balance of your plants
Algae Grower
Join Date: Aug 2012
Location: Mont Vernon, NH
Posts: 37
Update time! It's been about two months, so this is the official sixth iteration: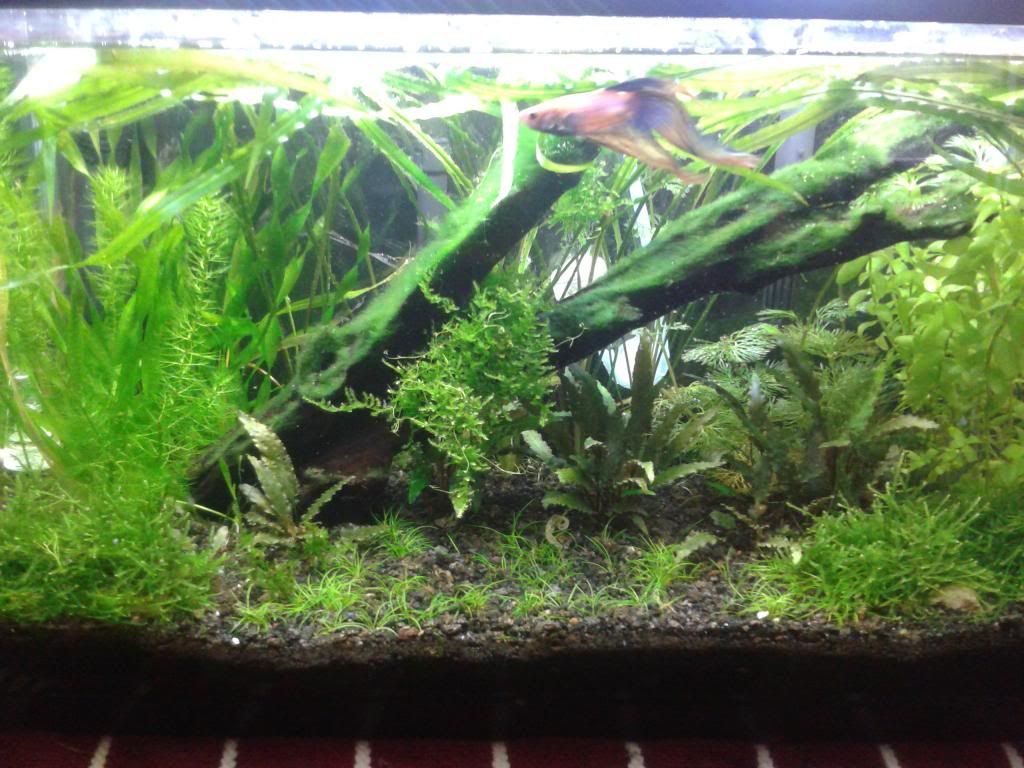 The carpet is starting to spread on it's own and looks a nice, healthy green. The CO2 and root tabs have finally given me the lush look I've been looking for. I also increased the biomass again with corkscrew vals, cabomba, and some myrio. The amano shrimp have kept the algae on the driftwood so neat and trim that I've let it remain. I love the look. My betta loves the way the crypts have draped over the entire top of the tank and give him plenty of resting spots.
The EI dosing was a flop. I nearly killed everything in the tank with nitrate poisoning (and did manage to wipe out half of my betta imbellis in my big tank), so this is now only getting a trace fertilizer and the CO2. Seems to be working for now, so I'm not going to mess with it. All inhabitants are active and in good color. The staghorn and BGA have fallen back, leaving me with hair algae to fight. Much more manageable.
I love the way this tank looks now. It's a wonderful little jungle for my betta.