10 Gallon Wild Type Shrimp Tank
---
Welcome to my Wild Type Shrimp Tank
I grabbed a 10 gallon tank at the LFS and grabbed some eco-complete since it's the substrate in the tank that they're in now. I also really wanted to try out this RocketFilter and grō soil that I got from a RAOK
So here's the primary info:
10 Gallon
EcoComplete
Rocket Filter
~25 lbs of leftover rock that I had laying around
T8 PowerGlo light
Using Flourish product line with this tank (excel, plant food and iron)
grō soil (First time using it)
Plants:
Water Wisteria (Hygrophila difformis)
Dwarf Sagittaria (Sagittaria subulata)
Brazilian Pennywort (Hydrocotyle leucocephala)
Moss Ball
This is a few days behind I took these pictures while I was setting up Just haven't gotten around to posting
So here's the first set of setup to current
The inlet is pretty thin trying to decide if I want to throw some type of sponge around this or not
Initial Layout
Close Ups with substrate in place
Plants and Water in and running:
Prolly going to move the moss ball back to my 55 gallon, it's in here right now to help speed cycling
That's that, I think that I'm going to change the substrate up a bit to give it some depth I didn't realize how flat it looked until I looked at the preview.
Reserving the next few posts for update purposes
Comments and suggestions always welcome
Unique filter! What kind of shrimp your getting?
Quote:
Unique filter! What kind of shrimp your getting?
The filter I acquired locally it looked really different and I was pretty happy to get it (I do have a backup hob available just incase)
The dark ones
They're getting big I need to get them moved....
So I figure time for a super speedy update:
The rocket filter is no more, it actually caused the death of 2 residents (not shrimp) so I figured forget that, so I have changed to an in tank filter with seems to be doing good and hasn't sucked anyone up LOL
I added some weeping moss and that's turning out nicely and the tank is filling in very nicely. I will be trying to incorporate some cholla wood here soon so the shrimp have a place to have fun
The shrimp are doing ok although there's only about 4 of them in there so once I get a good shot of them I will be looking to pick up a few more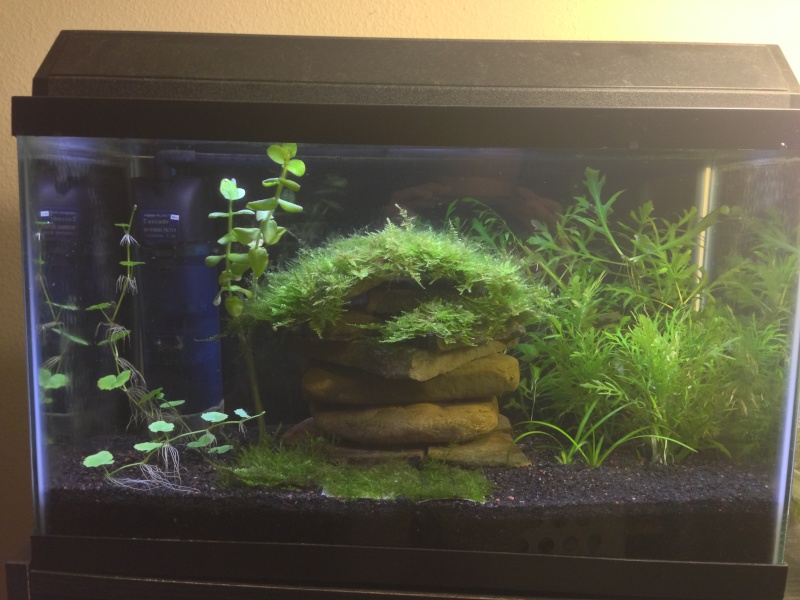 Planted Tank Guru
Join Date: May 2009
Location: MICHIGAN
Posts: 3,475
Nice! The wild-type ones are really pretty... Are you going to try to breed them?
---
http://www.plantedtank.net/forums/sh...d.php?t=679553
My adventures in keeping Indostomus crocodilus, the crocodile toothpick fish. AKA armored stickleback, paradox fish, and freshwater pipefish. Care is (to the best of my knowledge) exactly the same as Indostomus paradoxus.
So after a good long while...and much time thinking that I had only gotten all females, I went in to go to bed tonight and low and behold I've got a VERY HEAVILY BERRIED FEMALE!!!!!!!
Algae Grower
Join Date: Jun 2013
Location: menlo park california
Posts: 22
if you go harvest up some stinging nettle and pour boiling water over it roll it into a ball they will love it also fresh stinging nettle helps to stimulate females' egg production.
Well then! I've been really slacking with this tank and it's major update time.
I was having a HORRIBLE (and I do mean HORRIBLE) outbreak of algae and hair algae in this tank and while the wild types inside didn't really seem to mind, well yea I mind LOL
So anyway here's some images of the pre-rescape. I had some amazing growth on the xmas moss however it's riddled and currently in treatment for the algae. Its not looking entirely happy from the treatment so I may lose it
I'm also in the process of swapping over to RODI for all of my tanks and I've seen that help the water quality and shrimp activity! It's a lot of work but I don't mind it because my tanks are starting to look really good!
Anyways the major issue was a lack of CO2 coupled with light, nutrients and lack of an overly hungry plant (in this case the moss) coupled with a SEVERE outbreak of pond snails. You have no idea how much pond snails can tear up a tank!
Full tank shot: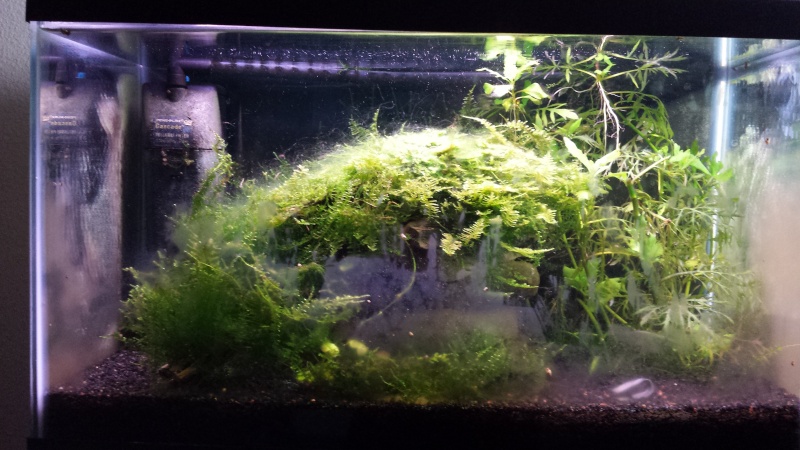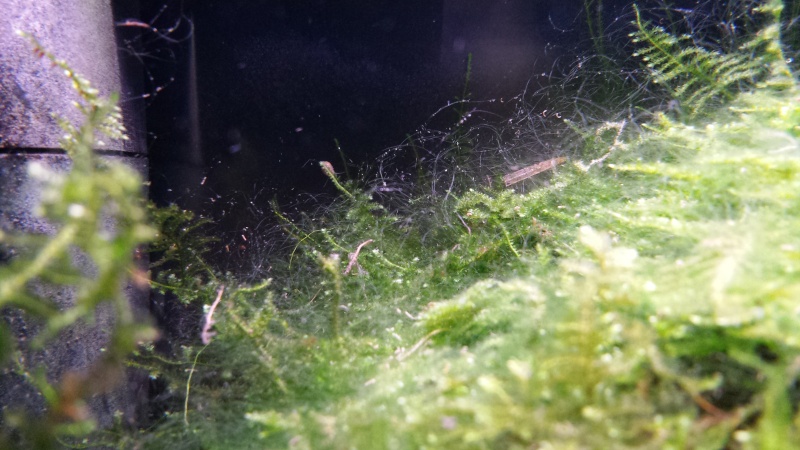 As you can see, the plants were NOT happy with the situation. So I did some searching, and did a lot of information gathering and some research on some plants and made some changes (including a sponge filter in order to facilitate some surface agitation) and have been using excel in the tank every day. Here's the results
Some plant and shrimp shots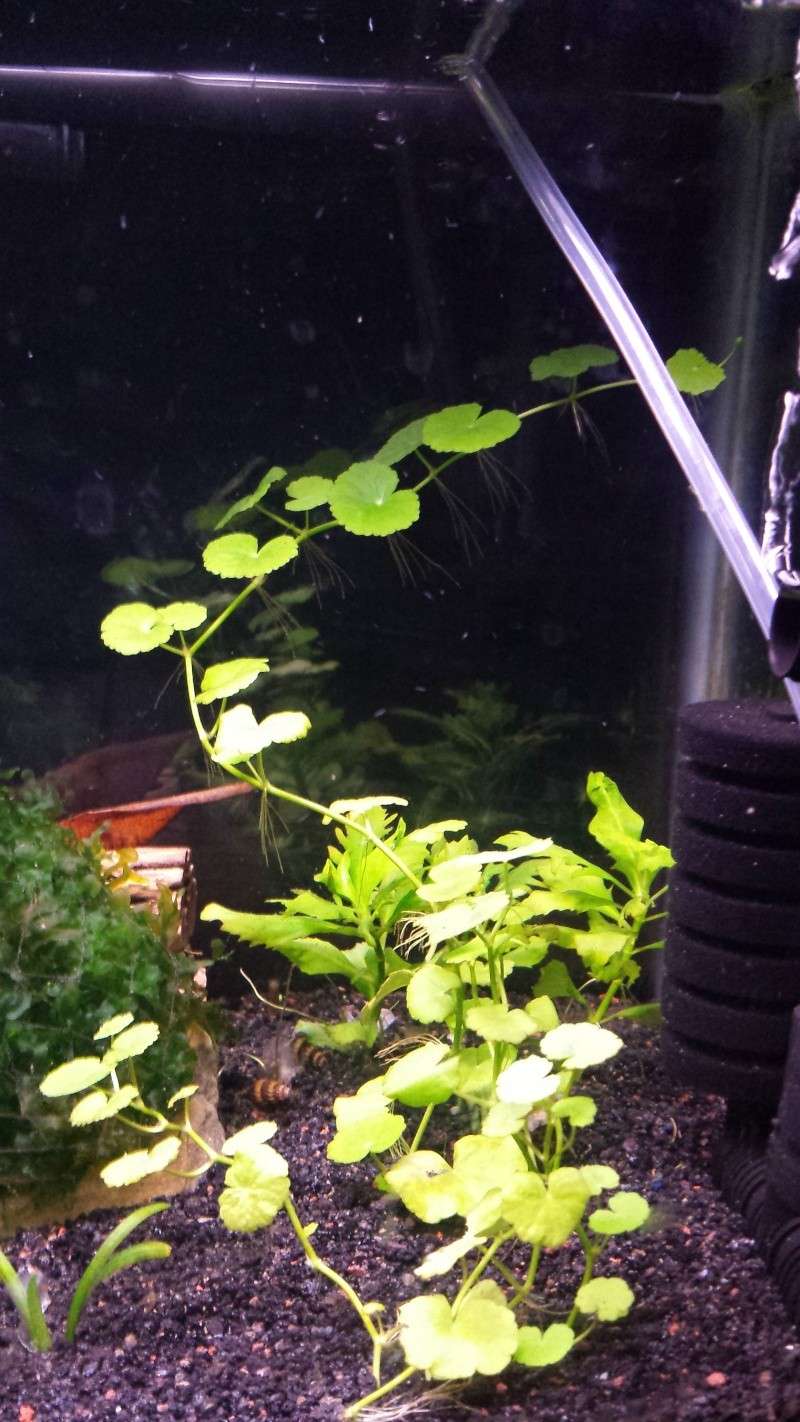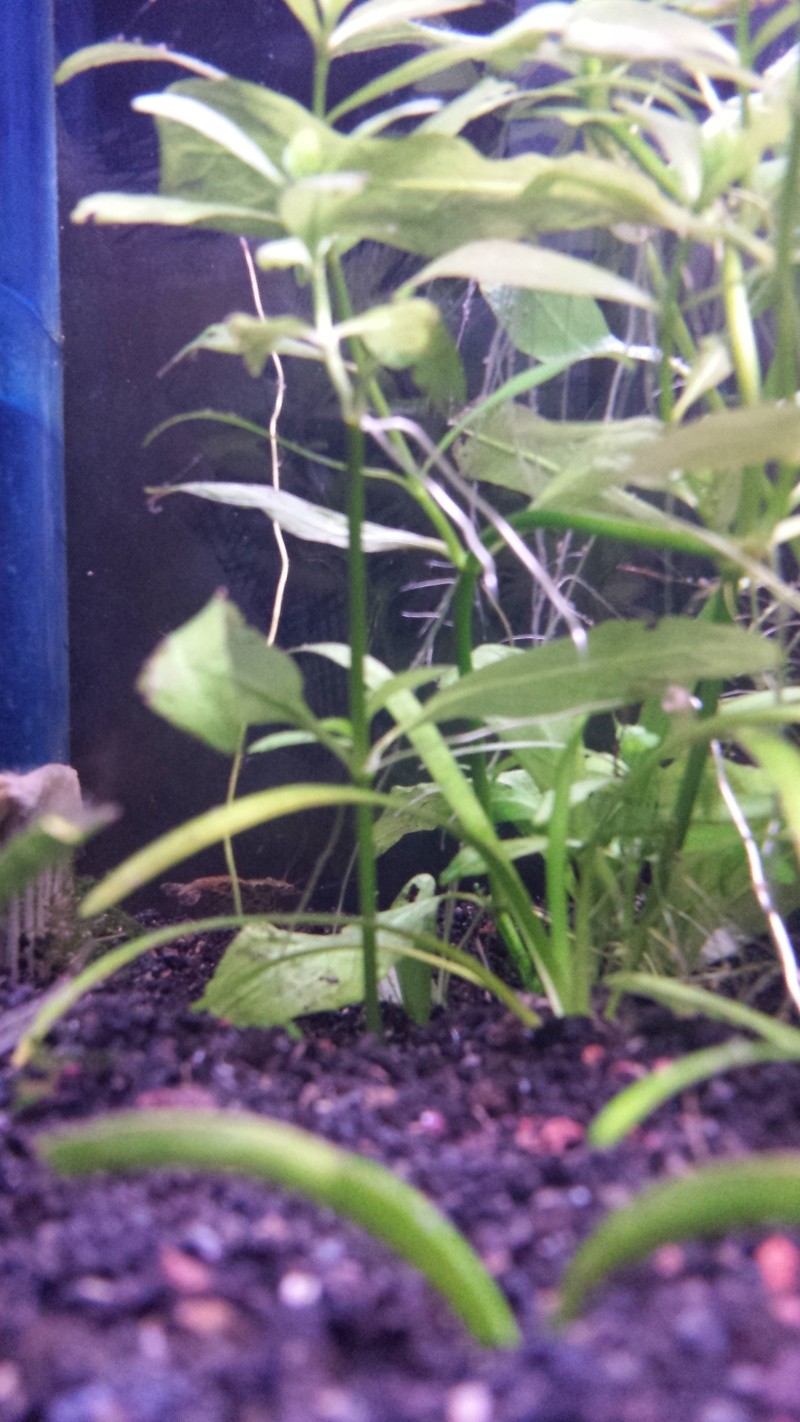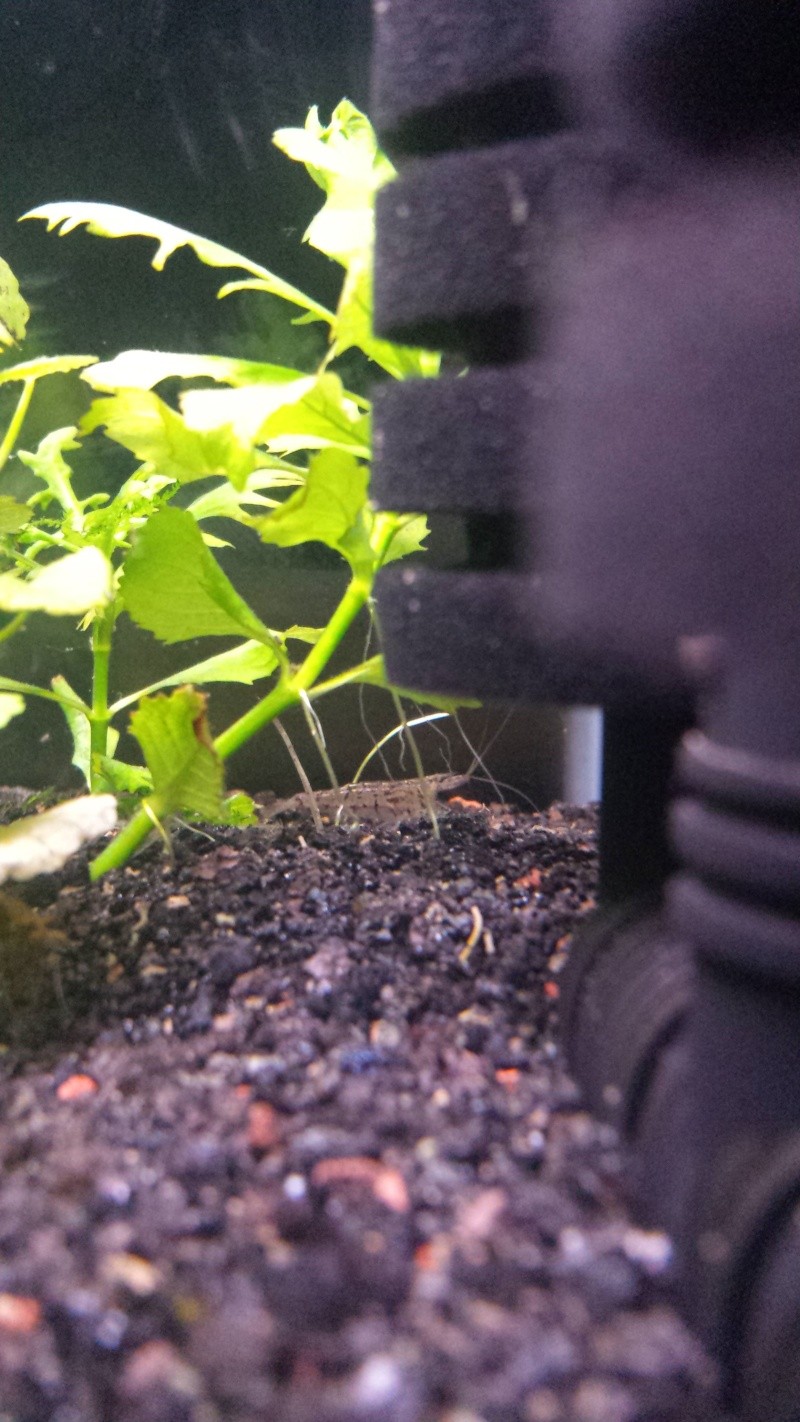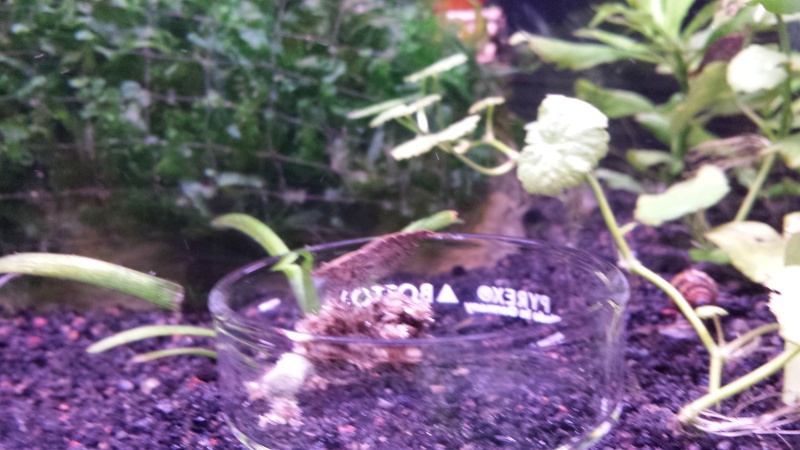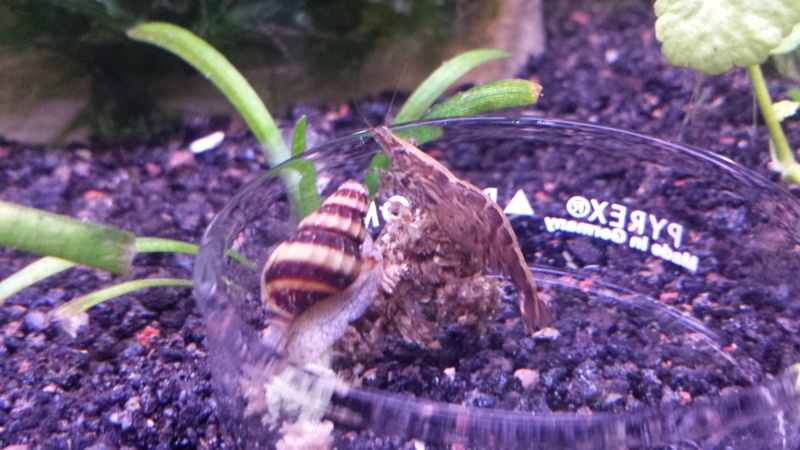 And the Full tank shot! There's still some recurring algae as you can see, but I've yet to add a BN pleco to the tank (I will as soon as it come's in and that will help alleviate a lot of that issue) Plants have been growing very well, shrimp seem happy (I have a berried female somewhere in there who is quite camera shy) and have added a number of fast growing plants.
The plants don't look that big but I did some maintenance today (apparently missing some algae in my scrape >< ) and trimmed and replanted most in order to try to get some rigorous growth going. I'm hoping everything in the tank will be 100% balanced out by the start of the semester. It's already a 100000% improvement. Just need some good growth in there and I'll be in business!
Oddly enough the plants have 0 algae on them...it just seems to be liking the glass. I don't see any stems or leaves affected by what's slowing growth on the glass.
I'm also trying to keep the amount I scrape in the tank to an absolute minimum since I have berried females in there and I don't wan them to drop the eggs like they did when I did the re-work a few weeks ago
Thanks everyone and I hope you enjoy looking at the tank as much as I do! Feel free to ask any questions
Just wanted to give a few small shots to update this. I'm planning on introducing some cull PFR males to see if I can get this shrimp type to breed so it's going to be a project. Planning on moving a few males over to this tank Sunday.
The subwassertang has grown exceptionally well in this environment! I trim it monthly, it's actually due now....
Anyway here's two of the shrimp
This female has berried several times, I want to get a few cull PFR males in here, see if they will start making me youngins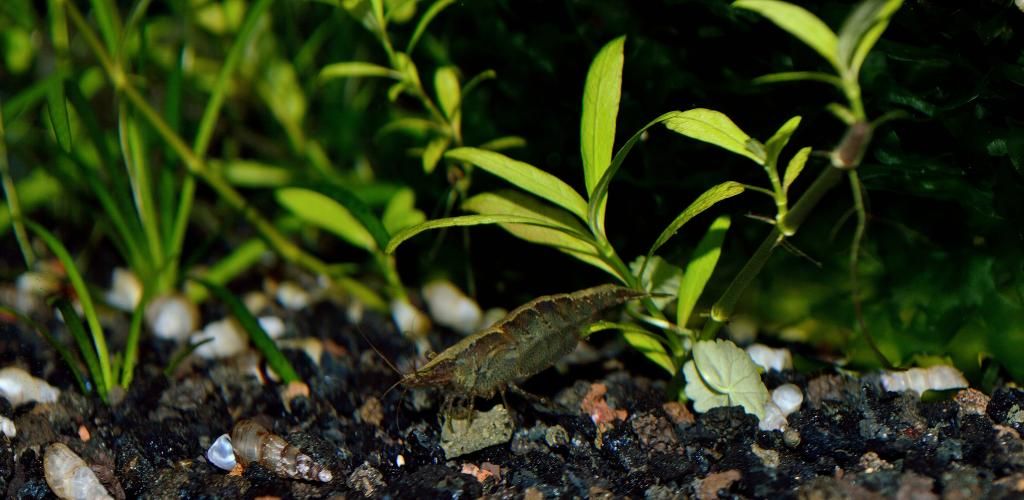 And another female in the tank
I don't have a FTS tonight, did some maint. and plant moving in there tonight....
Anyway please feel free to comment