Planted Member
Join Date: May 2012
Location: Baltimore
Posts: 170
37 Gallon Learning Experience
---
Here is my first tank journal. I started the tank back in March. I had originally bought it to house an oranda and two black moors from a 20 long. I bought some plants and decided that having them eat all the expensive plants was not a good choice. Luckily a good home came along for them and now my wife yells at me for spending 4 hours cleaning and rescaping on sundays. Its come a long way in a short time so i wanted to record everything.
Equipment:
Aqueon 37 Gallon tank 30x12x22
Fluval 304
Top Fin 40 HOB
A heater that keeps it at a comfortable 75 d
DIY CO2 w/ Hagen Mini Elite for diffusion
Substrate:
1.5 inches of Flourite
1.5 inches of Play Sand
Lighting:
2 Home Depot 10" Clamp Lamps with 23W 6500K CFLs
1 Blue CFL "moon light"
Flora:
Water Wisteria
Lace Java Fern
Anubias
Amazon Sword
Crypts, Lutea & Wendtii
Bacopa Monnieri
Ludwigia Repens
Sag
DHG
Limnophila Repens "mini"
Ludwigia Sp "Cuba"
Limnophila Aromatica
BGA (does it count?)
Fauna:
1 Veiltail Betta
8 White Cloud Mountain Minnow
7 Rummynose Tetras
6 Cardinal Tetras
2 Bolivian Rams
4
3 Otos
1 Clown Pleco
14ish Ghost Shrimp
1 Ramshorn (I think)
Pond Snails Everywhere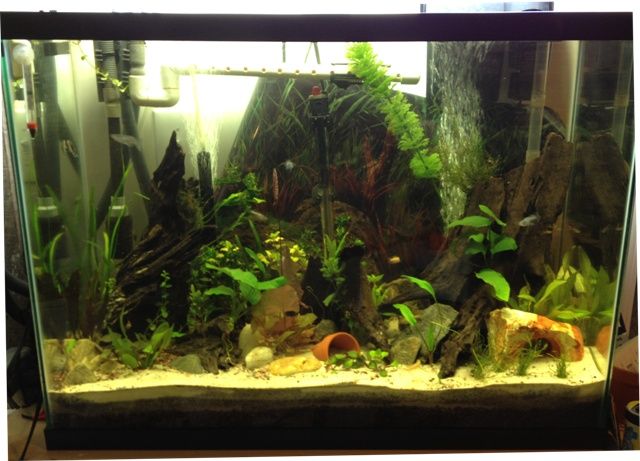 April 2012. First full tank shot. Quite a mess. I had 9 Zebra and Blue Long Fin Danios and 6 Endlers at the time. All but 1 LFBD pass away in one day. The last danio just died this week.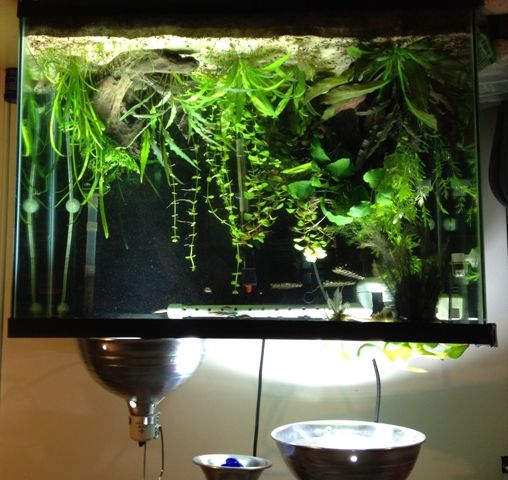 End of August 2012 Rescape. This was also a major prune. The Wisteria and Ludwgia were completely out of control.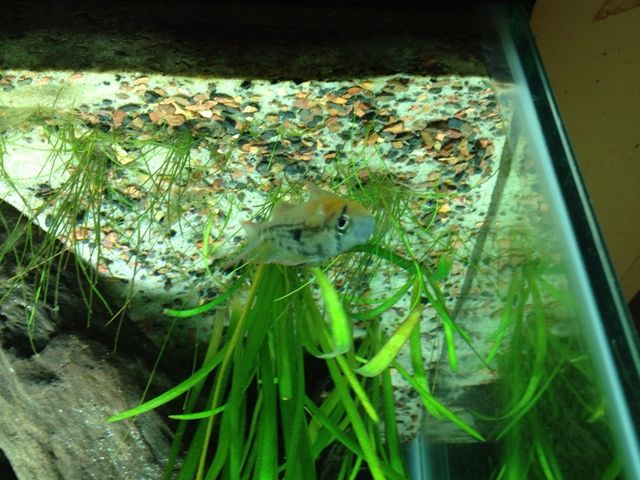 Defending his territory.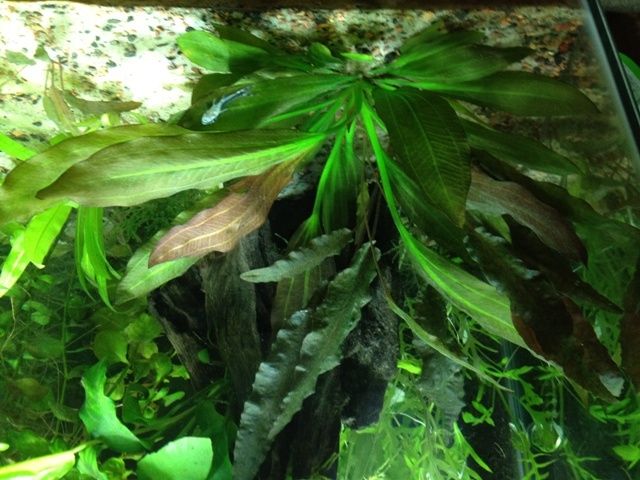 This Crypt was very small when i started.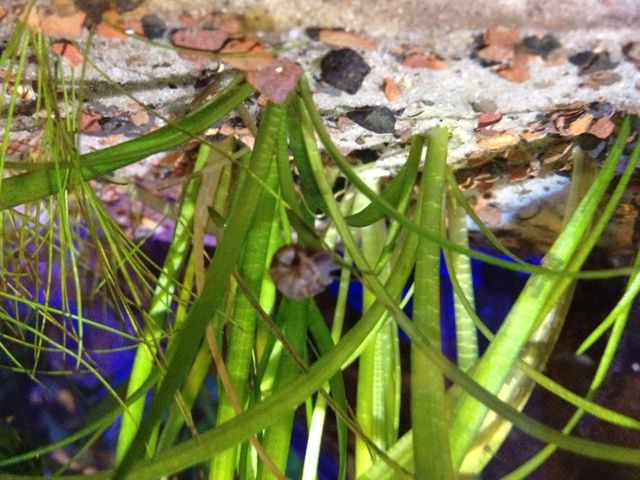 This little ramshorn(?) came along with my cardinals from petsmart. I'd love a positive ID. Haven't seen the little guy in a while.
I hope you all like it. I've been enjoying it and I have learned quite a bit about fish and plants.
---
Last edited by kruzerman; 12-20-2012 at

02:03 PM

. Reason: update tank specs
Algae Grower
Join Date: Aug 2012
Location: Duluth, MN
Posts: 30
Cool, where did you get all those little rocks on your substrate?
I think thats the flourite that has worked its way up if I'm not mistaken.

Nice tank progression, reminds me of how mine has come along. Love how huge your crypt has gotten.
Planted Member
Join Date: May 2012
Location: Baltimore
Posts: 170
You are correct. That is just some flourite on top. I saved some to sprinkle across the top and as I clean the sand some gets mixed in. I really like the look it has.
Planted Member
Join Date: May 2012
Location: Baltimore
Posts: 170
There were some updates to this tank. I started to have some BBA and Staghorn issues so I ripped everything out and soaked it in H2O2 and rescaped everything. The Java fern kept getting covered by bacopa or ludwigia or whatever tall stem plant was nearby so I tried to keep the stems away from it this time and it is thriving. A bigger surprise was seeing a cherry shrimp on it this morning munching away at some algae. Since my betta is chillling in this tank now, i moved the cherry out to my little 3G with the rest of my cherries. All i can say is thanks, Joraan.
I also added a hagen elite mini filter to diffuse the CO2. Its working very well. I have a much finer mist now.
And the obligatory FTS. Sorry for the crappy iphone picture. I just snapped it real quick before heading off to work.