Curt's 20H "Shrimp Cove"
---
Ok guys here is my 20 gallon shrimp tank. Been set up for around 6 months. Just did a replant a couple weeks ago: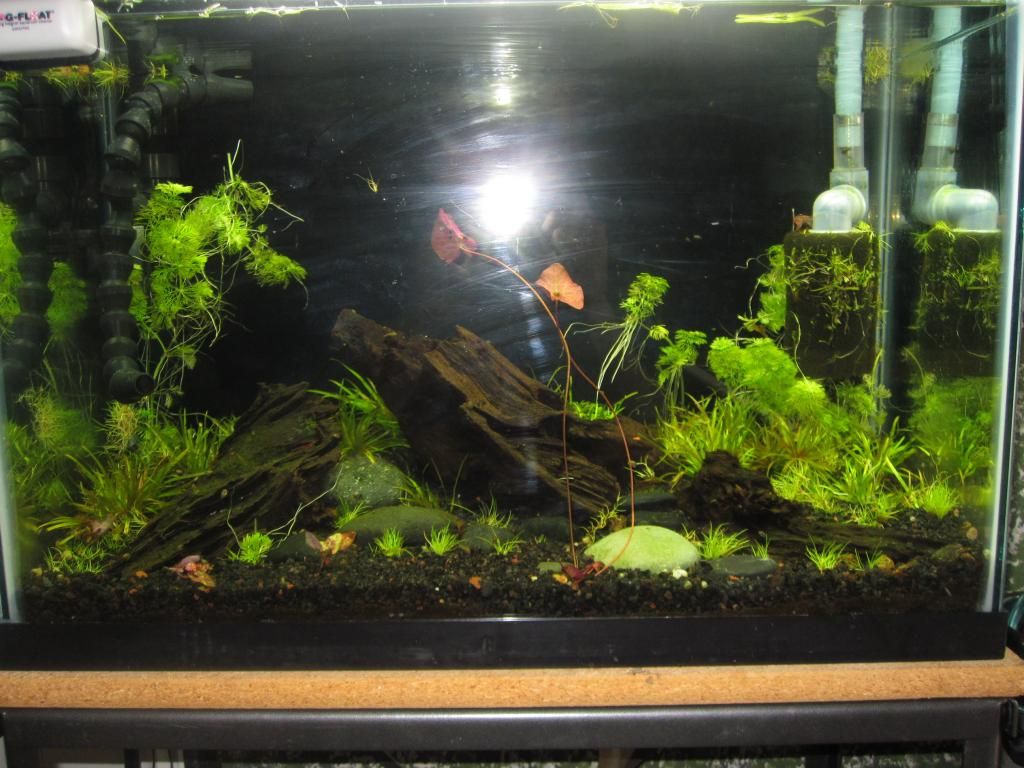 and another;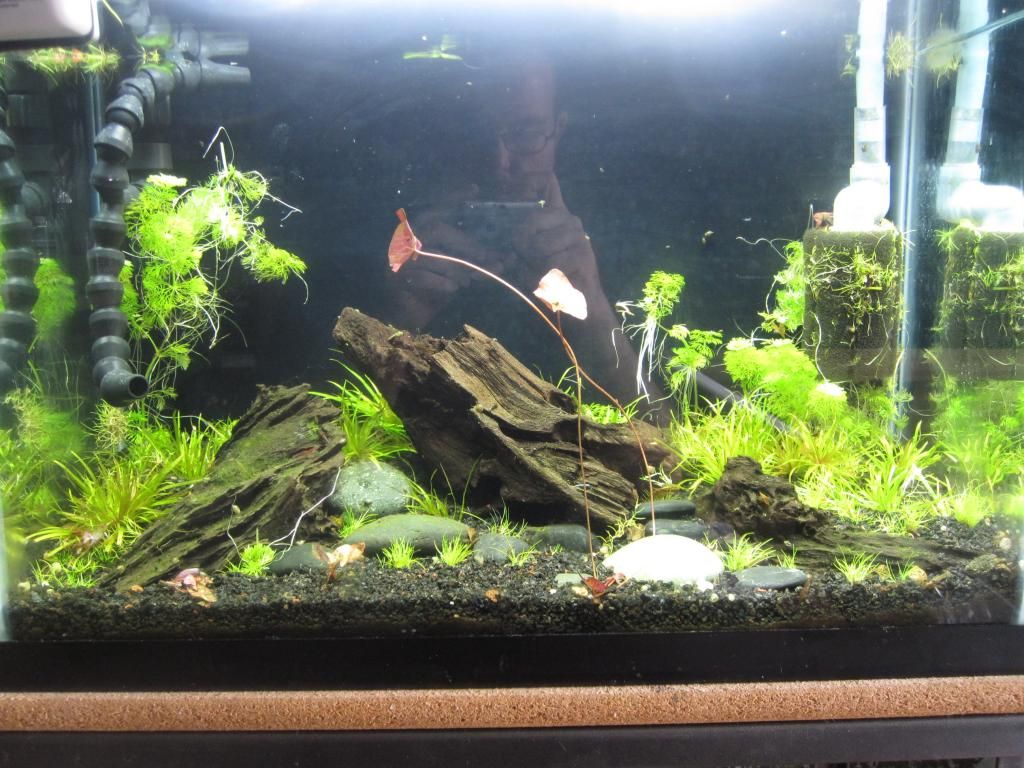 Pics dont do the tank justice, but here is the run down.
All glass 20h
Rena XP2 canister with sponge pre filter
Finnex Planted+ 24/7
Substrate is Caribsea Flora max
Will be housing a colony of PFR cherries mixed grades
At this time it is planted with Dwarf Hair grass, Blyxa Jajopica, a couple Nymphea spcs (if I can get them to grow), And some camboba. will keep you posted with updates as they come along.
Curt
Edit,
Hello Planted tank followers. This tank is no in the re make stages please follow bellow.
---
Last edited by Curt_914; 01-06-2016 at

07:28 PM

. Reason: Title Change
Well, Here it is an update starting with a blank slate. After my timers going haywire and no time. I had a die off. All plants are being replaced, no shrimp any more ( not yet anyway, Save one 7 year old ammano ). Plants are coming from my 55 include, Various Crypts, Hygro Polysperma "Sunset" , Micriantha Lotus, and some star leaf shaped Plant.
I have to take down my 55 so all plants and the 2 plecos have a new home in the 20. Here are the plants;
I just don't have time for running Multiple tanks right now and I have to repair the drywall in the alcove anyway so the 55 has to come down. All stats for this tank's equipment are same as above for now with exception I added a fluval heater. So follow along as I replant this 20 an hope to get back into the hobby even if it is on a small scale.
Curt
---
Last edited by Curt_914; 05-13-2014 at

08:58 PM

. Reason: adding info
Okay so I have been trying to restart in the hobby for a while. Thanks to a couple members here and my Wife I am off to a good start this time. So for my birthday I was able to get a Finnex 24/7 planted plus Fixture . As well as some plants from BruceF, dmare, And Aboutfish.
So here is where I started last week;
Here is a weeks worth of growth in 24/7 mode;
And today's Replant and trim;
The Ludweiga "Ruby", Is in the back behind the logs, With about 10-12 new Crypt Spiralis, and Balinese. I have the Bacopa, on the right and a bunch of different stuff in here. I will be posting on wensdays as I have Dubbed Wensday as "Weekly waterchange Wensdays" so Hopefully I can keep up on the tank and get some new enjoyment out of the Hobby once again
Also Here is a Photo Bomb of the Helper,
She will be 7 soon enough and may get here own tank for her birthday.
Let me know what you guys think
Wow so 1212 views and I am the only one posting... I feel the love
So Here is an update on the tank, Still not sure what to call it but We have some good growth
Here it is on 12/23,
And today 1/06;
My weekly water changes have gone to Bi weekly water changes since I have a colony of cherry shrimp starting as well as 6-8 amano shrimp now. so trying to keep parameter swings to a minimum. Haven't been doing much other then trimming plants and replanting. I am having some issues with the swords up front, My red Ludwigia and what I believe is tonina. But I cant decide if it is lighting issues or Ferts. Everything else seems to be doing okay.
I also probably spent to much But I bought about 6 female High grade Cherries at Petco. There color is solid with little to no clear showing. The best part is most of my females came to me berried and the didn't drop the eggs when they came home! I now have a bunch of 1-2 millimeter long juvies hiding in the tank.
This isn't the best Picture but you can see one of my females and here color;
All my females are similarly colored with little transparency on them just the tips of the tails. I paid $3.99 Each but these are the best colored Cherries I have seen at any of the pet stores in town so I snagged them.
Would appreciate Comments on the tank, Thanks
Curt