Algae Grower
Join Date: Sep 2012
Location: Denton, TX
Posts: 29
25g tall - First real attempt!
---
Yay! My first tank journal!
So this past summer I acquired a 25g tall Aqueon aquarium "kit". I've always been a sucker for the kits since you actually can save a decent amount of money on them, and can always upgrade different components as you please (or in my case, when I have the money lol). It all started for me my freshman year of college, when I just HAD to have a small aquarium in my dorm room. Yes, I was that person lol. So I bought a 5.5g kit and kept a couple gouramis and small corys. When I moved to an apartment the next year, they moved with me. Then PetSmart had a sale so I bought a 10g kit and bought an Angel named Francis. I think that tank ran for around 3 years or so, moved to yet another apartment, and then things got weird. The city was having some serious problems with water main breaks and leaks from the freakishly hot weather so they added all kinds of crap to the water (without telling the public- which they got in a LOT of trouble for) and... BAM. Dead fish. Francis too. =( I now know to check tap water before doing water changes lol. Around the same time, my brother decided to give his pet rat snake to the high school, so I took his 16g and stand and started my first planted tank. It's nothing special- just a moderately planted, uneducated, and cheesy attempt at an aquascape. I'll probably be re-doing that one soon. Me getting into planted tanks was a bad thing. I can't stop now, hence the 25!
They should have AA meetings for Aquarium Addicts. No joke.
First of all I would like everyone (who cares lol) to know that I'm in college and freakishly busy, so I can't promise an update every day. Also, my nice digital camera decided to quit this past summer... so most of my pictures will be iPhone pics for a while until I can get a better one. Sorry! lol
------------
Okay so here it is! The tank has been running for a long time now as a fish only- 2 "African spotted leaf fish", an angel, plain gravel, fake plants, and a lot of petrified wood (I'm also an avid rock-nerd). I've been planning on converting it to planted for a while, and was aware the conversion was going to be a fiasco. This week was pretty crazy and my plants came in WAY before I expected them to, so this set up will certainly change a lot in the next couple weeks.
To start the conversion, I took all the fake plants out and scooped a lot of the existing gravel into my old, empty 10g. Since the 25 sits a lot higher than the 10, I was able to siphon the existing water into the 10 to make the transition a lot faster, since I was seriously crunched for time because my plant order surprised me lol. I also just transfered the filter with existing media to to 10 in hopes that any cycling would be reduced, if not eliminated almost completely. Fortunately, this all worked out just fine and my 3 buddies survived and are healthy =). (this all happened this past Monday, btw). I then prepared the tank the best I could, crammed my plants in it (truly a hodge-podge of plants), filled it up, and had to leave it to its own devices for a while. It looks like a hot mess
but that's okay. I meant for this to be a project after all, lol.
Here are the tank specs:
Size: 25g, 24w x 12d x 18h
Filtration: Penguin 200
Lighting: Glass Versa top, Aqueon T5 HO daul lamp bar (2 14w bulbs) (subject to change)
Substrate: Miracle Gro Organic w/ Flourite black cap
DIY CO2 - ceramic plate diffuser, yeast reaction (soon to be pressurized in some way)
Plants: (also subject to change, not particularly happy with all my choices so far. Also, I have way too many haha)
Eleocharis acicularis
Hemianthus micranthemoides
Hygrophilia corymbosa
Heteranthera zosterfolia
Pogostemon Erectus (might be dead...? lol)
Rotala roundifolia
Echinodorus Angustifolia
Pellia
Anubias, nana
Cryptocoryn wendtii "tropica"
Fauna:
2 "African spotted leaf fish"
1 angel
Eventually some type of schooling fish. Probably larger tetras, since the spotted leafs (and probably the angel) will certainly eat anything they can fit in their mouth.
So that's that. I'll figure out how to upload pics and get this show on the road!
Thanks for reading!
---
Last edited by KatJack; 09-29-2012 at

01:12 AM

. Reason: Forgot substrate!
Algae Grower
Join Date: Sep 2012
Location: Denton, TX
Posts: 29
I started a thread in the DIY section about a couple DIY CO2 equipment questions I had. Trying to get it set up tonight, so if you'd like to take a look and take a shot at some advise, I'd greatly appreciate it!
http://www.plantedtank.net/forums/sh...06#post2025506
Algae Grower
Join Date: Sep 2012
Location: Denton, TX
Posts: 29
Okay so I've decided to scratch the DIY CO2 yeast/sugar concoction decision asap and am currently researching paintball set ups. Probably not going to go the ASA on/off route, since I can't be around all the time to make sure it's functioning properly and also because I don't want to deal with that much pressure... an explosion resulting in a broken aquarium (or bodypart) doesn't exactly thrill me. So... saving up for a regulator! Figure it's probably worth it in the long run to just do it the right way the first time and not have to be totally terrified of the system from the get-go. I need to do some work on my current system though... doesn't seem to be producing enough pressure to actually get to the diffusing part haha. Urgh. Plants also need some serious TLC to get through the melty-stage. Thought most of them were dead a couple days ago but there's definitely new growth happening, so I guess they just had a rough time adjusting. New stem plants are turning out to be kind of a pain. Lots of dead junk in the tank now. Looks like I've got a full evening of tank nerdin' out to do!

Had a friend give me her 5 Buenos Aires tetras since she's moving and can't keep them. They're way to big for my African leaf fish to eat, but they're stalking them anyway. Everybody is still camping out in the 10g for a while.

Just realized I never actually posed any pictures last night either lol. Woops! I'll get right on that.

Happy tankin'
Algae Grower
Join Date: Sep 2012
Location: Denton, TX
Posts: 29
Pics!
---
Woo! Pictures!
Again, apologies for the crappy iPhone pics. It's all I'll have for a while. Doesn't help that I was in a psycho hurry when I did all this last weekend either lol.
Anyways! Here goes-
"Hasty Hardscape" - Stuff on hand - African Mopani 12", petrified wood
From Front:
From front/left
Top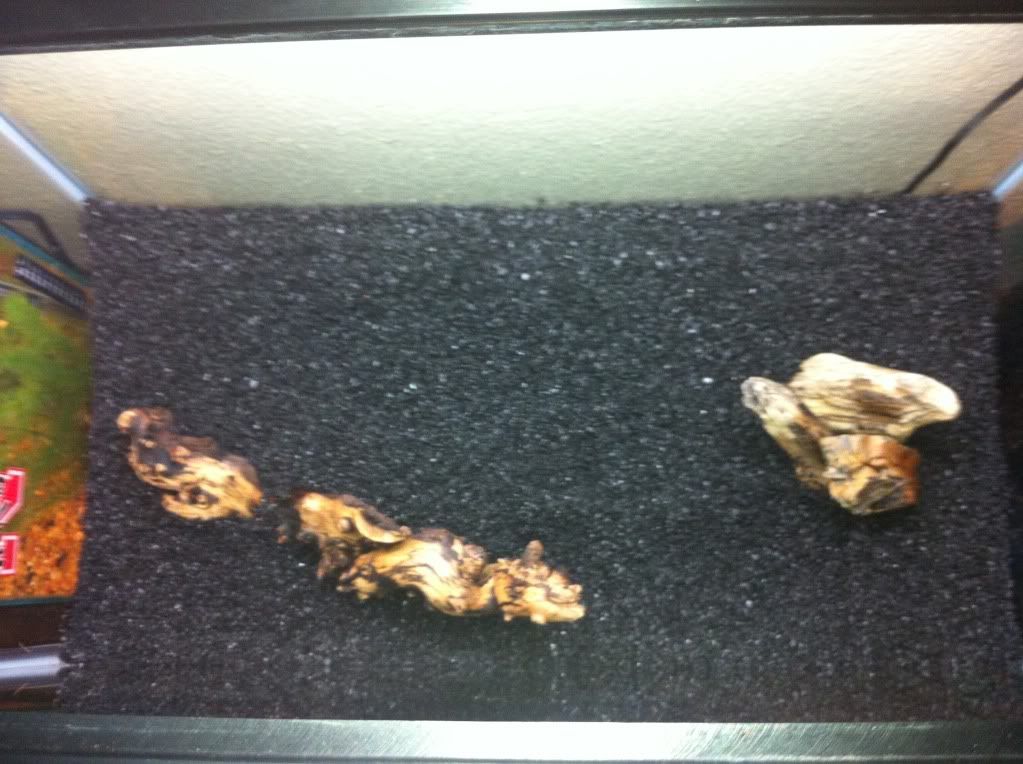 "Plant Purge" (some stuff has been added since these pics from other tank)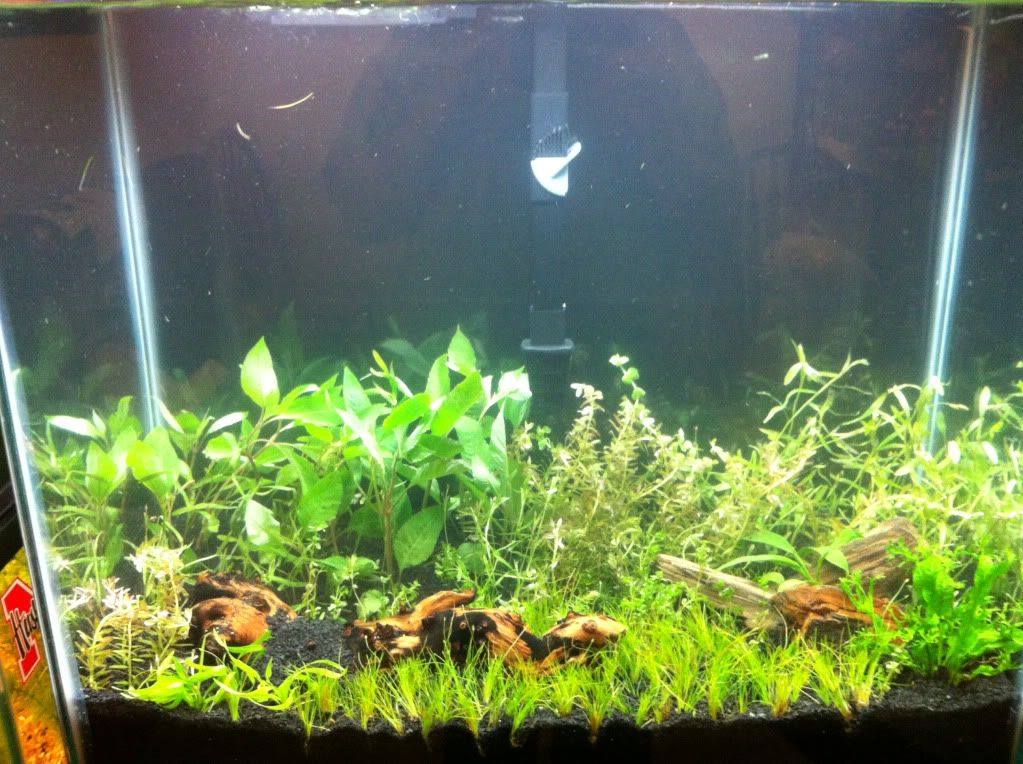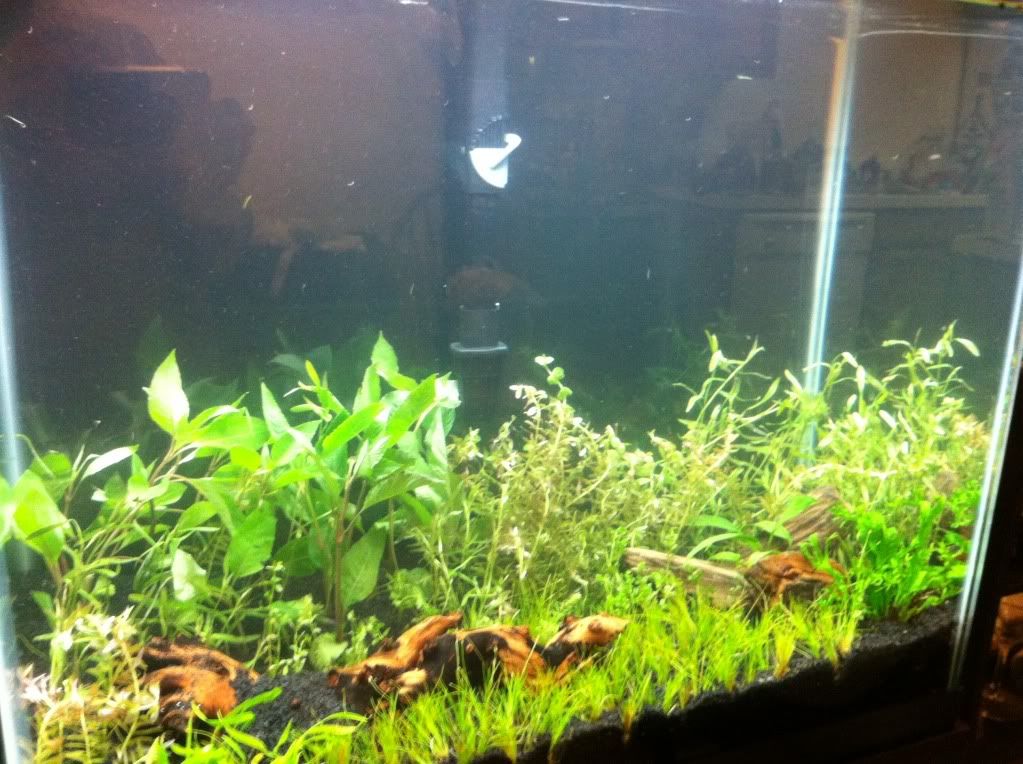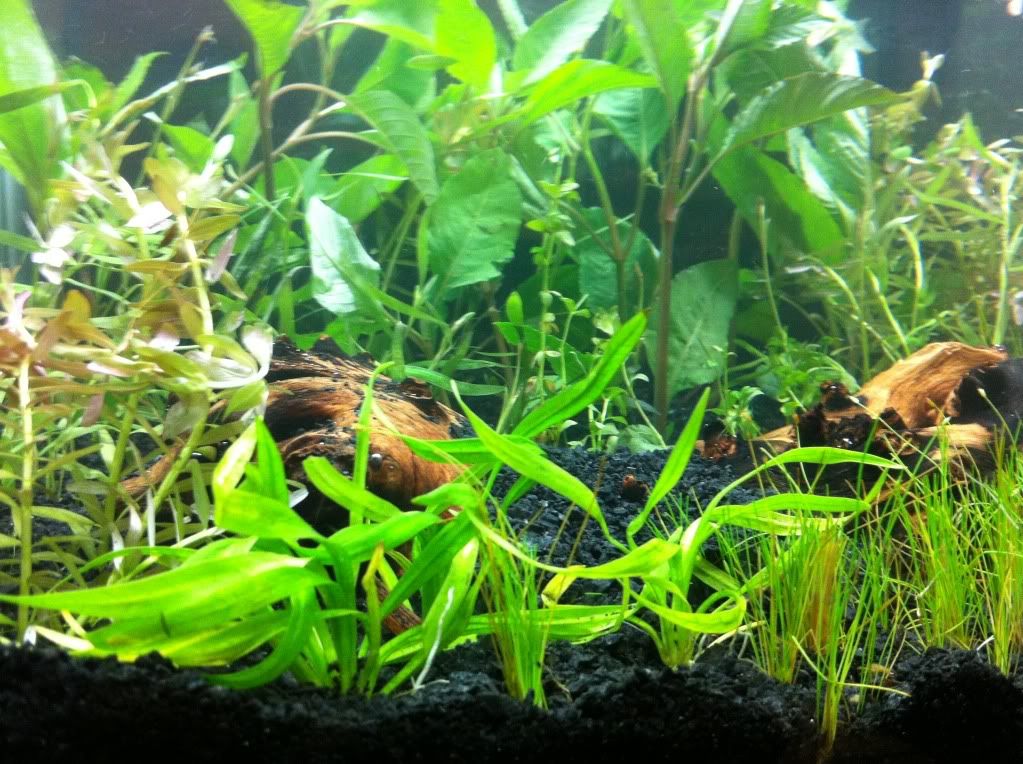 And the 10g (the other Spotted African Leaf fish got camera shy) - this is all the stuff from the original 25g set up btw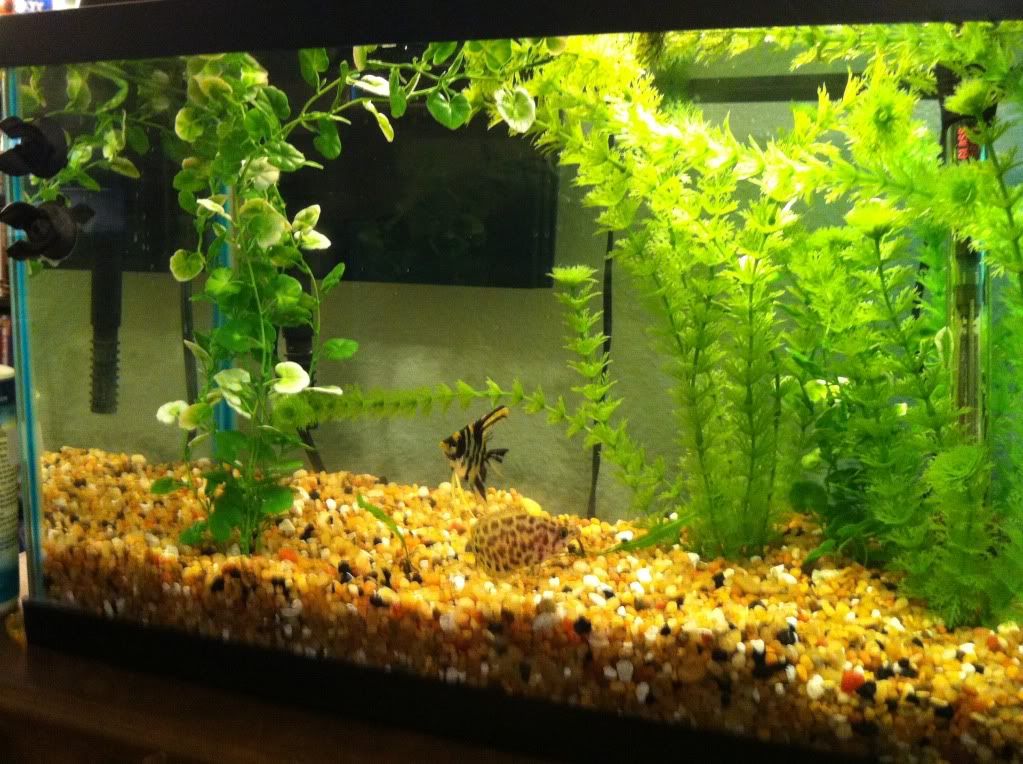 I'll take some updated pics after the crazy adjusting-meltdown gets better. It ain't perty right now, let me tell you!
Gotta run to a rehearsal! Feel free to leave any feedback/comments/suggestions. Everything is subject to change still, so bring it on!
Nice looking tank. I can't wait to see it fully grown. One suggestion though: Keep the rhizome of the java fern above the substrate. Try attaching it to a rock or one of the driftwood. Good job planting heavily from the start. Your hygros are gonna grow into monsters once they get established.
---
RAOK Club #77|The Fraternity of Dirt #112

Cryptocoryne farmer
Planted Tank Guru
Join Date: May 2009
Location: MICHIGAN
Posts: 3,465
Welcome another Texan!!!

Looks good so far! Cool Leaf Fish too! They will really like all of the plants when they grow to the surface!
Can't wait to see how it grows for Ya!

Keep up the good work!
Drew
Algae Grower
Join Date: Sep 2012
Location: Denton, TX
Posts: 29
Thanks everybody! Just another weird Texan fish-nut. That's what my friends think of me anyways!
I LOVE my African leaf fish. They have really cool personalities- they'll come right up to the front of the tank and follow you around as long as you're there. They're also super cool to watch when you feed them live food. I bought them at PetSmart a couple months ago and they're still selling them. Have to tell myself 2 is enough every time I go in there lol. Is it true they're rare? I'd like to try to breed some eventually (although I heard doing so isn't ever on purpose lol, not to mention they're next to impossible to determine gender).
Just did a major clean-up of dead stuff from the adjusting and consolidated what was left to a more organized . A lot of the stargrass was definitely dead... some of the DHG is still questionable, but some of it seems like it'll pull through. Didn't think the P. erectus would pull through, and it didn't. Stunk to high heaven when I pulled it out lol. Almost all of the rotala, the "sunset" crypts (added after previous pics), temple, vesuvius, and other various plants seem to be doing really well though. You're totally right about the temple- it's doing extremely well, only after a week! In fact, it's the only stem plant in there that already has visible roots and didn't have even one casualty. New leaves poking out everywhere! The vesuvius is hands down my favorite plant though. The bright green and the tight spirals of the new leaves are totally sweet, and between the three plantlets I was sent there are already 5 new runners poking out! Maybe I'll have enough to fill a corner or something soon. There's a lot of empty space right now though, so I took the opportunity to order some different stuff to see what I really like and what I'm capable of growing
Quote:
Nice looking tank. I can't wait to see it fully grown. One suggestion though: Keep the rhizome of the java fern above the substrate.
Ah! Thanks! It started to get a couple black spots on it which I thought was weird... glad you caught that so early. That particular plant was actually an impulse buy at PetSmart a couple months ago lol. It was just sitting on the giant rock piles of the previous set up. Just chillin. I'd be sad if I killed it. I like how funky it is. Ha.
Thanks for the feedback! I look forward to getting the paintball shenanigans on the road, and experiencing the effects of a really effective system. Even after toying around with the coke bottles and such, still not getting enough CO2 into the system. Couldn't find a leak, but don't see bubbles coming out of the diffuser anymore, and it's a new solution too. Drop checker refuses to be anything but blue. *le sigh*
Very nice start but be careful as the buenas aires tetras like to eat plants.
Algae Grower
Join Date: Sep 2012
Location: Denton, TX
Posts: 29
Quote:
Very nice start but be careful as the buenas aires tetras like to eat plants.
Oh. Lame. Haha I wasn't aware of that when I accepted them, but at least they were free! Maybe I'll just let everything get established before I let them in and then keep an eye out for a while. Anybody have suggestions for larger tetra species (or other schooling fish) that would be better? I like bright streaks of color, or just bright color in general, but any species that is particularly renown for awesome schooling habits or personalities would be pretty awesome too!
Algae Grower
Join Date: Sep 2012
Location: Denton, TX
Posts: 29
A couple quick updates I suppose-

Found my first pond snail today! I've been wondering why some of my plants kept mysteriously floating up... Also found my first clump of algae. Seems like the space in the corner between the heater and aquarium glass is a popular place for that kind of thing.... I just scraped it off and removed it with a net. One of the anubia rhizome's that I was fairly certain would die seemed to be beyond hope so I pulled it out- whether it just didn't have the chance to begin with or because it was one of the few algae targets and got suffocated, I don't know. The other two rhizomes seem to be hangin' in there, so we'll see. No new leaves yet, but they're still really green and firm so I think they'll pull through.

Anybody got any tips on growing DHG? Mainly, how the heck do you clean up the colossal mess that comes with trimming it?! I can't get rid of the leaves that stick to the water line lol. They slip through the netting and are difficult to siphon with a gravel vac. Starting to doubt my choice there.... I think it would be easier to deal with in a shorter tank.

Also, I ordered some more plants from Aquariumplants.com. Some more stems and some glosso for my other aquarium (might end up replacing the DHG though...). Should be here this week, so hopefully they'll help fill out the tank again and be more of what I had in mind for the tank in the first place. Need to get going on that CO2 set up soon too and get everything more balanced out. Excel is starting to get expensive =P