oh heres a vid of mine when I first got it to feed from a dropper
rocksmom's 12 Long - finally up and running, lots of pics post #30
---
I love DPs. Very much. Neat video
Wow, she is a chubby little bugger! Cute. The only way I know for sure to tell male vs. female is that the males get blue "wrinkle" lines around their eyes once they're mature.
Males also usually have a black line down there belly
Tank is looking pretty bad right now
Diatoms are out of control and making the plants look terrible. Only the newest growth isn't being smothered by them. I ended up doing a little work on it today anyway. I trimmed the stems back pretty far, scraped the front glass, and did a small water change to try to suck out some of the loose diatoms and oto poop.Turns out the shrimp sand is kind of a pain. It's so light that it sucks up before anything else does. Went ahead and planted the l. aromatica after removing most of the melted leaves.
After doing the water change I dosed NPK ignoring the instructions on the bottles and tested the water instead. Well, I tested for nitrate and phosphate, I don't have a potassium test. I'll do micros tomorrow, but I'm not sure how much to add of those since I don't have any way to test for them. Hmm. Maybe I'll just follow the directions for those and see how everything does for now. Hopefully the plants will be happier with the higher NPK and co2 levels.
Couple pics from today. FTS:
Thick with diatoms: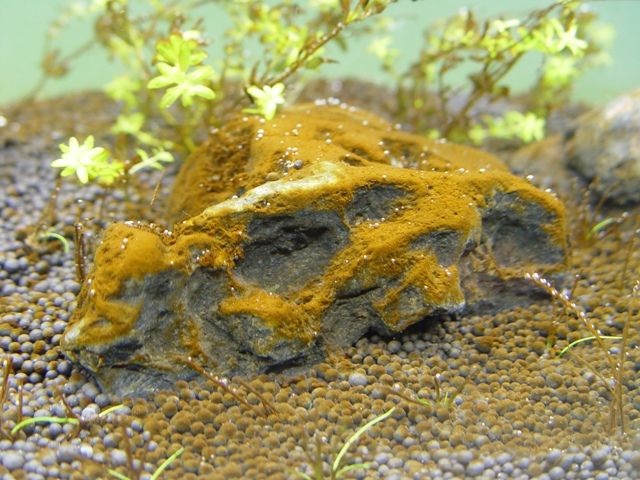 My lone oto: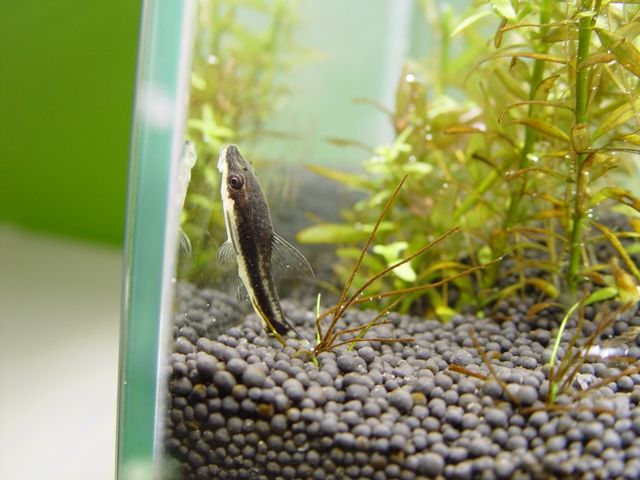 I need to head down to San Diego soon and pick up a few friends for him. One is definitely not cutting it.
rocksmom's 12 Long - finally up and running, lots of pics post #30
---
Ottos don't appreciate lonely living anyways. They're shoalers!
I know they should be kept in groups, but since all but one of my tanks are small I don't want to get more than I can keep fed long term. I haven't had much luck getting these guys to eat veggies or any prepared foods. I want to try the veggie formula repashy though. I think msjinkzd said she had her otos eating it. Maybe because the texture is closer to their natural food or something.
rocksmom's 12 Long - finally up and running, lots of pics post #30
---
Definitely introduce Blanched veggies to them and be persistent. They will begin to eat it, especially if they are hungry.

I wouldn't give up
Haven't updated this in awhile. After fighting a losing battle with the diatoms I decided to salvage the plants I could, clean the tank out, and start again. I put the stems in another tank with my filter and co2. The shrimps cleaned them up nicely and they're currently growing well. I bought some new dhg and restarted my mixed carpet. I think I realized what went wrong about a week into my new dry start. I had been misting everything with tap water which is very hard (400+ tds) and contains silicates. Basically I was making a mineral crust on everything so that when I flooded it the diatoms just went crazy. After realizing this I spent an afternoon alternately misting with RO and sucking the excess water out with a turkey baster. I did this probably a half dozen times or more. I also scrubbed the rocks with a toothbrush each time. Hopefully that took care of the mineral build up. I've only been using RO since and plan to use remineralized RO when I flood the tank. I switched my other small tanks over to RO and haven't had a diatom issue since.
Current pictures: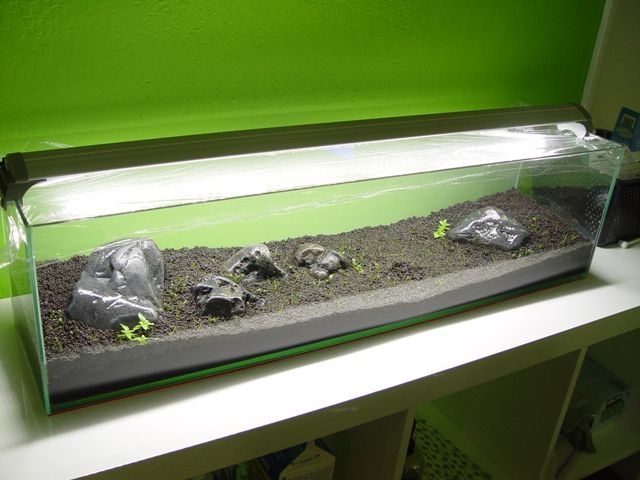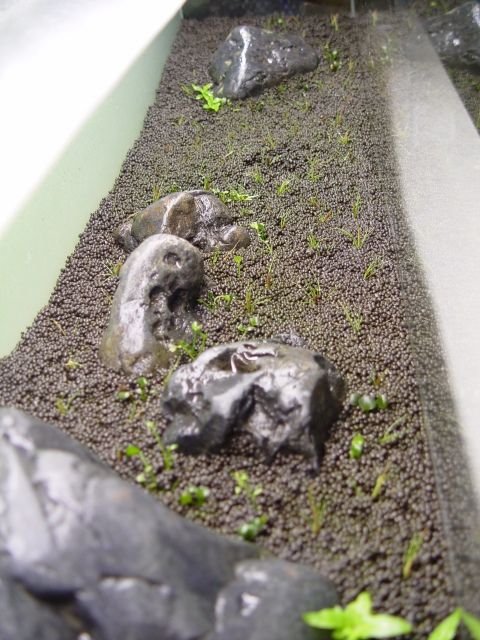 The belem's been growing pretty slow, so I don't think I'll wait until it's filled in to flood. I'm thinking probably in the next week or two. For stems right now I'm thinking rotala mini butterfly, possibly a little brown hygro, and rotala bangladesh as a green background for those two. I think I have some rotala pearl as well, but I may have lost it in the transition.
I have my fish already. I got around 20 boraras maculatus from msjinkzd. They're currently in a qt tank and very healthy. I only lost one despite the cross country trip they had to make. They'll be joined by some neos, but I'm not sure what ones yet. I have bv, red supremes, and pumpkins.