Algae Grower
Join Date: Sep 2012
Location: Fraser Valley, BC
Posts: 12
Talkyn's Low-Tech 10G w/Dirt in the Entryway
---
I had a mad obsession with aquariums as a child, and drove my parents batty as a teen. After I moved out I really didn't have a tank for the longest time. I had a 10G up briefly, but had to move my family out of what turned out to be our last apartment.
You would think finally owning my own home would have meant I'd set up a tank ricky-tick-quick, but the trials of raising 2 young children and having a third on the way makes everything go slower. Well 2 weeks ago I snapped after while in the middle of one of the dustinsfishtank videos. I dug everything out of my crawlspace and chucked the whole tank together. I drove down to the LFS and grabbed a pile of plants they had (I wasn't too impressed, the place used to have some real 'planted-tank' nerds working that were no-longer employed) and 1 Leopard Danio to cycle the tank.
Looking back, it is pretty obvious I rushed the scape. Sticking the driftwood in the gravel at angles like that is by far the coolest thing I've ever done as far as layout. I have been resisting the urge to tweak the plants as I'm planning on adding more later on..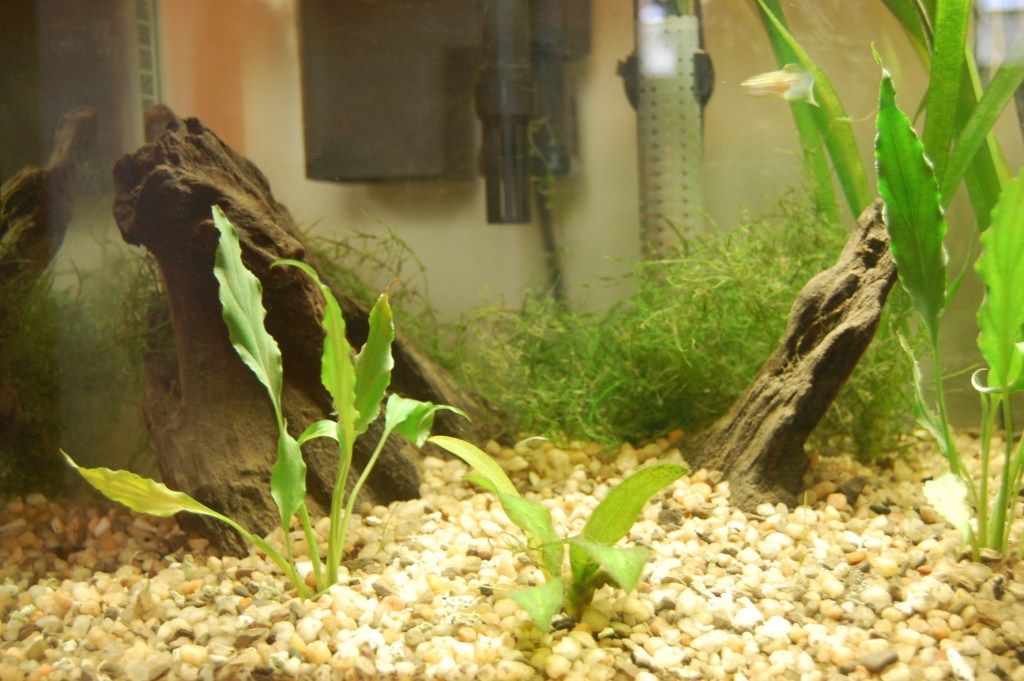 The plants in the foreground are all a mystery to me. The two on either side of the little fellow in front of the driftwood are the same, but I have no idea what they are. The Java moss behind the wood and the Val in the background are the only plants I can identify currently.
If anyone drops by and can identify these plants I'll be forever in your debt!
Current Livestock: 1 Tough and Brave Leopard Danio
Current Equipment: 1 Aqua-Tech 5-15 Filter, 100W Fluval Heater
Crypts, valls, java moss and some kind of rotala indica. i suggest to add more plants. some hornwort, fanwort and eldoea will make lush green growth with nice bright green hues in your tank. Good luck1
Algae Grower
Join Date: Sep 2012
Location: Fraser Valley, BC
Posts: 12
I already identified the java moss and the jungle val. They are pretty unique and easy to figure. It is the foreground plants I'm lost on.

I was sorta thinking the one on the far right was a rotala, but it seemed to small compared to what I kept finding pictures of.

Are the two species in the left foreground both crypts? The two(same plant) tall and vibrantly green ones have nice smooth leaves. The short dark one in between has a ton of short brownish hairs covering its leaves. I'll try to get some better photos.

Thanks for your reply!
Yes both are crypts. If slow growing they are. Rotala can be green or red depending on the light and ferts you give.