Algae Grower
Join Date: Aug 2012
Location: Mont Vernon, NH
Posts: 37
40g breeder - First big project (image heavy)
---
Up until now, I've had little tanks. Currently I have a 10g divided tank for a pair of bettas and a 1g bowl for some CBS. Neither of these set ups have a lot of options for plants or aquascaping, so I've taken the plunge and gotten a big girl tank. My end goal is to have a planted tank with a SE Asian river look that I can keep a group of betta imbellis in.
I'm doing this on a budget, so I'm documenting everything so that others can learn from my mistakes.
Step 1. The tank
This proved to be pretty easy, thanks to Craigslist. I found a 40g breeder with a stand for $50. She did warn me that the stand had been outside in the rain one night, so the price was for the tank and the stand was just going along for free. Since $50 was half the price of the tank new and the tank was in good shape, I took the risk and picked it up.
The tank has been scrubbed with hot water and some vinegar and the back has been panted black. So far? $50 spent.
Step 2. The stand
Turns out that the stand wasn't structurally sound enough for the engineering husband (the particle board warped). It got tossed in the dumpster. A quick browse online showed that getting a stand for a 40g breeder was going to be expensive and it was going to require shipping.
I decided to go to Home Depot and check out my DIY options. Lo and behold, we stumbled across a solution. There was a set of shelves called 'medium duty steel shelving' or something like that measuring 36x18. Maximum capacity - 2000 lbs. With a price tag of $60, I scooped one up.
The uprights were in two pieces, so we had the option to not make it into a full size shelf. At half height, it's about the same height as a standard aquarium stand. Even better, the top and bottom shelves were reinforced, so the tank is sitting on a shelf with a steel rail that runs underneath the edge all the way around. I liked this DIY option because I was able to put it together in about fifteen minutes using nothing but a hammer. Since it's at half height, not all of the shelves went in. The bottom, reinforced shelf went in for stability and to keep the future canister filter off the ground. There was enough room to add one more regular shelf for a bit of storage. The extra rails were added for stability and the spare piece of particle board went under the aquarium for greater strength and to improve the tank's fit. The uprights are just barely taller than the shelf with both boards in place, but the tank fits perfectly.
We put spare 2x4s under the legs to protect the carpet.
The steel and particle board look doesn't really go with the living room, so I added a curtain on the front and covered the exposed side with matching material. This should keep the chaos out of sight. Total spent so far - $110.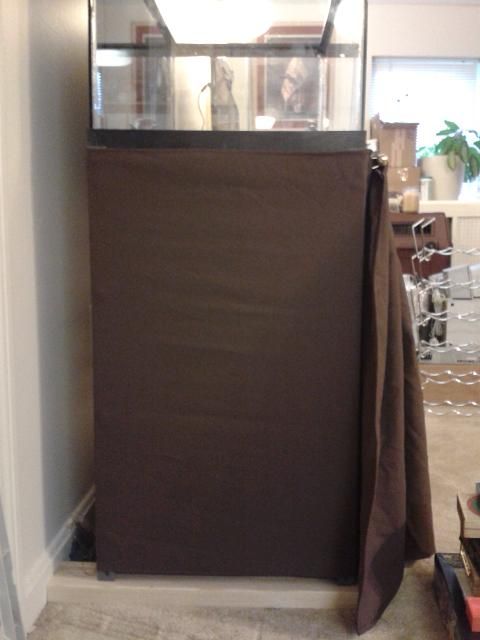 Step 3: Light
After a lot of deliberation and research, I've decided to go with the low/moderate light tank. My current tanks are both low-tech, low-light set ups. The future betta imbellis will be more comfortable and I won't lose my mind trying to manage everything. I've ordered the Finnex FugeRay 30", as that should be a reasonable amount of light and also has the moonlight which is a nice feature. Hopefully it will be here in about a week. Total spent is now at $193.
Step 4: Substrate
I'm a low fuss kind of girl so I went for the Eco-complete. I've got 60 pounds en route, hopefully enough to also add some to my 10 gallon tank and help those plants out. Poor things are in plain gravel and I don't think they much care for it. That's another $50 in substrate (only the two bags really meant for the 40g count toward my total). Total is now up to $243. Why does anyone think fish are cheap pets?
Step 5: Hardscape
This is the part that I've really been looking forward to. I have a lot of room to play with here. I got a really neat driftwood branch off of Aquabid that should be arriving soon. It cost $51, but I was willing to splurge on this point rather than getting resin nonsense at the pet store that was going to end up costing more for the same size. I'm also going to be using granite to build up some structures. Why granite? Because I spend a lot of time in New Hampshire and it's not called the Granite State for nothing. I just started picking it up instead of kicking it off of the trail and now I've got a nice pile cleaned up and ready to use. Sharp edges will be dulled once I know what's actually going to get used. We're now up to $294.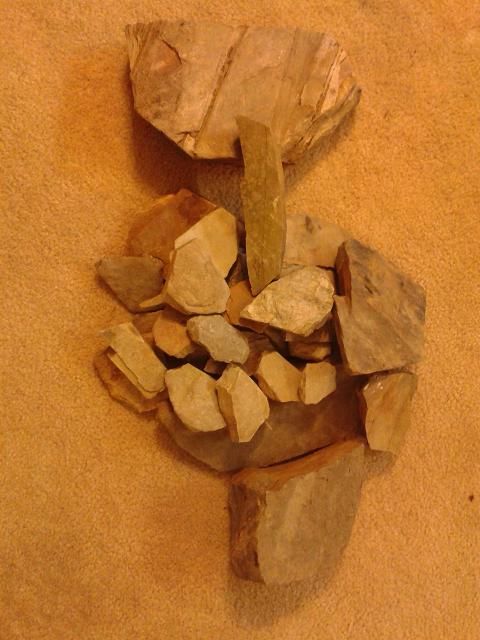 Step 6: Filter
Sometimes you have to take a risk, and in this case, I took the risk with the filter. The SunSun/E-Bay/Aquatop filter was plenty big enough for my needs and at $54 shipped, I was willing to take the risk on a shorter life span. The reviews lead me to believe I've got a good chance of getting a filter that will do it's job for at least a year. It's my first canister filter, and if my history with cars is any kind of indicator, it's in for a rough trip. There's no point in me dropping $200+ on a filter for me to tinker with and bust while learning. If I manage to break it, no tears shed and I'll upgrade to something fancier. This should also be arriving this week. The total is now $348.
Step 7: Heater
After everything else, this was ridiculously easy. A 150W Dark Blue Professional for $18 off Amazon. Done. The total is $366.
And that's where I stand on the project as of today. Lots of things are arriving this week and massive assembly will be taking place. I'll post updates as I go, particularly of the aquascaping and my first attempt at setting up a canister filter. Thank goodness for the engineering husband. Let's see if an analyst and an engineer can figure that thing out.
Step 8 will be a DIY canopy for the 40g breeder (bettas are jumpers so a secure lid is crucial), step 9 will be plant selection/purchase, step 10 will be planting, step 11 will be the fishless cycle, step 12 will be setting up the support crew (otos and shrimp), and step lucky 13 will be my new betta imbellis. Eventually, one day, I will get those fish.
Algae Grower
Join Date: Aug 2012
Location: Mont Vernon, NH
Posts: 37
I ended up taking some of the steps out of order. The canopy was pushed off while I put in an order to get the plants I want. The canopy won't be needed until the very last step: adding the betta imbellis. That and I'm assigning that bit of work to the engineer. He has ideas.

Step 8: Plant selection

After looking at a lot of pictures of the habitats that bettas come from, I've been trying to find taller, thinner plants. I'm also going for hardy plants that are happy with moderate/low light. My first order was:

3 crytocoryne spiralis
2 vallisneria spiralis Leopard
1 vallisneria corkscrew
2 crytocoryne pantederifolia
3 narrow leaf java fern
1 crytocoryne balansae

Most of these plants are new for me, but I tried to pick ones that had reputations for being sturdy. Sturdy is important. Grand total: $68. Up to $434 total.

As I'm heading out of town this weekend, the order won't be showing up until the end of next week. This should give me time to have the rest of the supplies show up. Substrate and light are here, waiting for the driftwood and filter to show up before I take my first attempt and aquascaping my big tank. I've also collected a pile of dry oak leaves, both for the fish and because I found leaf litter in just about every picture I saw of bettas in their native habitat. Since I plan to keep a population of shrimp, they should also appreciate it. A colony of red cherry shrimp can provide some live food and hopefully reproduce at a rate that will keep the numbers steady if they get a head start.
Algae Grower
Join Date: Sep 2012
Location: Texas
Posts: 19
Just a little note, in case your canister doesnt work out for you, amazon has fluval canisters for a really good price. I just bought a fluval 305 (rated for up to 75 gallons) for just 85 dollars.
Planted Tank Obsessed
Join Date: May 2012
Location: San Francisco
Posts: 393
been looking for a stand for my 40BR also. thats definitely a good pickup.
Algae Grower
Join Date: Aug 2012
Location: Mont Vernon, NH
Posts: 37
Looks like I wasn't subscribed to my own thread. Go figure.
JConner3 - I probably would have picked up the Fluval, but alas, I saw your note too late. But thanks for the help!
JohnnyWhoop - It's worked out surprisingly well. My canister fits under there perfectly and I can stash a lot of equipment behind the curtain. My mom was out to visit and even complimented how it went with the living room.
Here's the next update on my project.
With all of the hardware finally here, I was able to make my tank something more than a pile of boxes and equipment in the living room. The hubby was thrilled.
Step 10: Hardscape
The substrate is EcoComplete, the rocks are granite collected from New Hampshire and cleaned, and the wood is a piece of driftwood that I purchased on Aquabid. You'll probably notice a rock resting in a very odd spot on the wood. That's weighing the branch down while it becomes waterlogged again.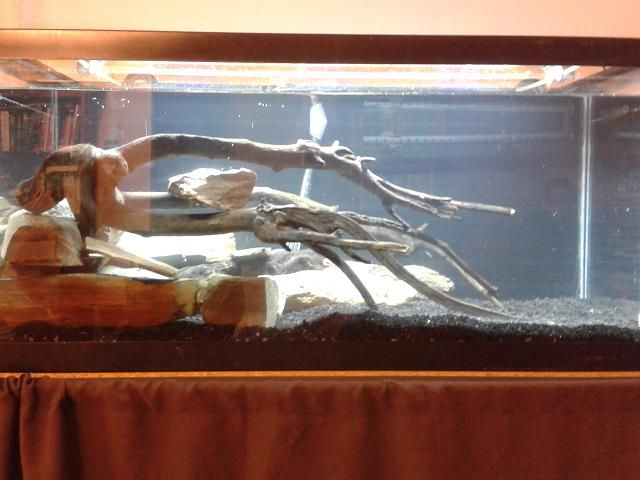 Crappy picture, yes, but the hubby's camera is still on the charger. I'll try to get some real pictures once the plants are in.
The current plan is to have a little jungle of plants on the right with a couple plants growing up between the rocks on the left. There's a gap behind the rocks specifically to allow for some plants to grow there as a background. I was going for something very natural that was reminiscent of the edge of a stream, possibly one that's just a bit flooded. With lots of plants added in, this should give the future residents lots of places to hide.
I also collected oak leaves to add in for the future shrimp and for the ambiance.
Step 11: Fishless cycle
Hooking up the canister filter should have been a disaster. I've never used one and I got a Sunsun, meaning there were basically no directions at all. However, I got it together correctly on the first try and with a helping hand from the husband, we got the thing primed and running in no time. It's so quiet I only know it's running because I can see the water moving. You can see the sprayer bar on the back of the tank in the picture. Since it's a long spray bar and it's bouncing off the front of the tank, the current feels quite reasonable. There's also a sponge stuffed in the intake to keep that from being too strong.
The media is filter sponge for tray 1, ceramic rings for tray 2, and the little white pads that came with the filter all stacked in tray 3. I know absolutely nothing about media, so hopefully I've got something at least functional. I also have a mesh bag with gravel from my cycled tank to seed this system.
My bottle of ammonia chloride showed up and the first dose was added last night. Hopefully with plants, EcoComplete, and the gravel from the mature tank, it won't take long to get this beast ready for some inhabitants. Cycling my first tank was a disaster of epic proportions, here's to hoping I learned something from the experience.
Plants arrive Friday, so my next update should include pictures with the basic layout in place. Then it's time for the tank to settle in and the plants to start growing. Oh, and time to actually build a cover. Aquariums are so darn complicated.
Algae Grower
Join Date: Aug 2012
Location: Mont Vernon, NH
Posts: 37
Planting day! Oh, joyous occasions. I was so happy to sit that UPS box show up with it's bright pink 'Perishable' sticker. It was like Christmas working through all of that wrapping. Aquariumplants.com did a great job with packing up my plants, even if it was a bit intimidating to open it up and see just how much I bought.
Huh. Might need another tank.
Step 12: Planting
After I was done freaking out about how many plants I got, I got to work planting. It certainly wasn't as painful as replanting my microswords that I transferred from the divided 10g. I think I threw out my back planting each one of those little plants. However, planting all of those vals had it's own unique challenges.
No rooted plant has any business being that buoyant!!!!
The trouble with creating my val forest was trying to not bump the things I'd already planted. I had to replant about a third of my work as I made blunders and uprooted things. The java ferns all found nooks and crannies, the cryptocoryne balansae got a nice spot in the back to hide the heater, and I stuck the cryptocoryne pontederifolia up front where they wouldn't get lost in the mad jungle that I've created. A couple pinches of java moss and my first attempt at planting was complete!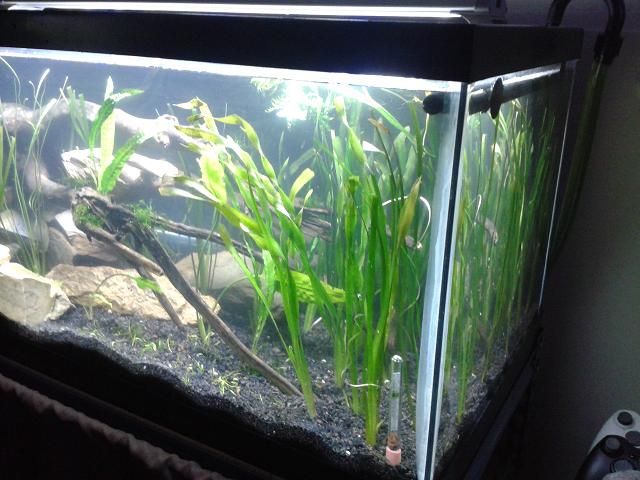 I'm not looking for something that looks neatly planned. I was looking for something that looked like a natural tangle that will grow in enough to make line of sight difficult. Rumor has it that this will keep the aggression with my future residents down to a minimum. The vals will be allowed to grow enough to bend over at the top instead of really getting into floating plants. Weekly haircuts are expected.
Now comes the really nerve wrecking part: Waiting to see what survives. I'm going to give the tank a week or two to see if it's all going to crash or if the plants are going to get established and start growing. If disaster is averted, I should be able to start adding some residents in a couple weeks!
Algae Grower
Join Date: Aug 2012
Location: Mont Vernon, NH
Posts: 37
So far so good! The plants are not only alive, but the vals are sending out runners like they're going out of style. Population control may become vital as all of these baby plants start to grow in. Also, did anyone else know that leopard vals flower? I didn't know that until I went by my tank and noticed several of them had tiny, light purple flowers. Very cool.
Unsurprisingly with a tank that has been set up and cycling for about a month, there was algae. Everywhere. Since the plants were sucking up as much ammonia as I would dump in, I added the support crew. I settled on a BN pleco and a school of albino cories. The BN pleco is so ridiculously shy that I ended up tossing in two apple snails to take up the slack. I've also started dosing CO2 booster along with my Flourish and that seems to have the algae situation under control.
With everything stable and happily growing, the betta imbellis went in. They're coloring up beautifully and seem to love all of the plants they have to hide in.
Algae Grower
Join Date: Aug 2012
Location: Mont Vernon, NH
Posts: 37
I haven't updated this since I added the bettas. Time to rectify.
This tank has really grown in nicely. Growth did stall out until I got really good about dailly CO2 and started to dose the macro fertilizers. That set the growth off again.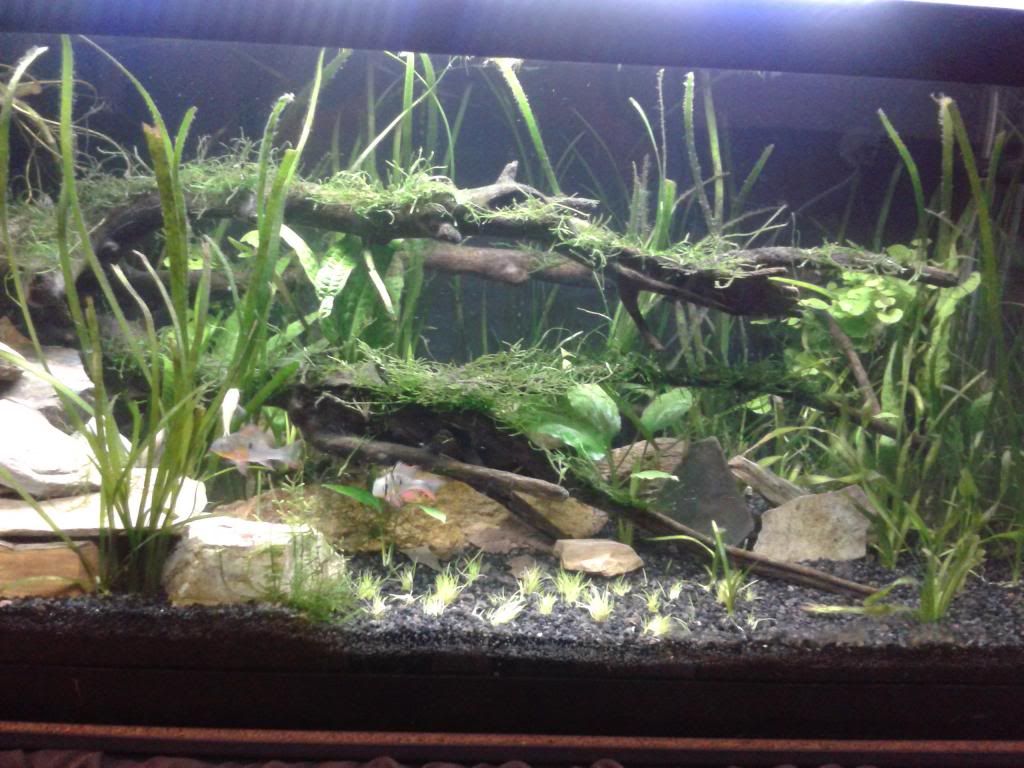 I also added a quartet of Bolivian rams. Not a common species combination, but the rams ignore the bettas and the bettas ignore the rams. They hang out on different levels and give each other confidence. It actually worked out very well.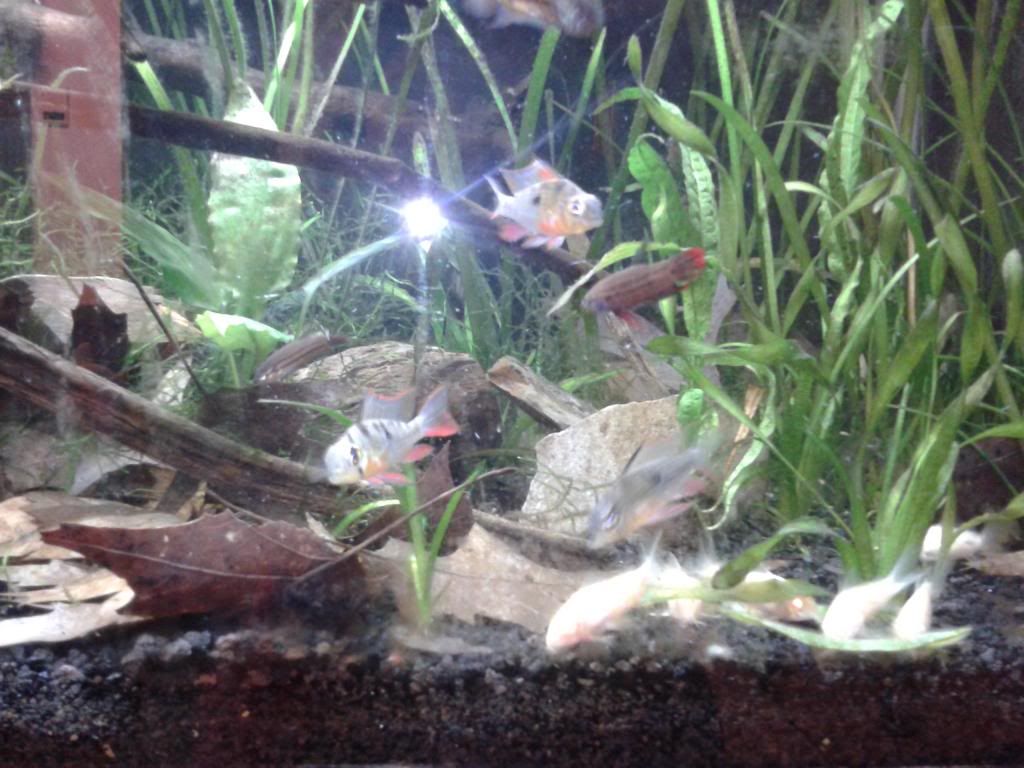 The driftwood is now being covered with moss and some dwarf hair grass has been added to the blank area in the front. A little carpet there would look nice. Assuming my cories and rams don't just uproot everything. It's quite possible, the rams are certainly busy bodies.
And a few pictures with a real camera.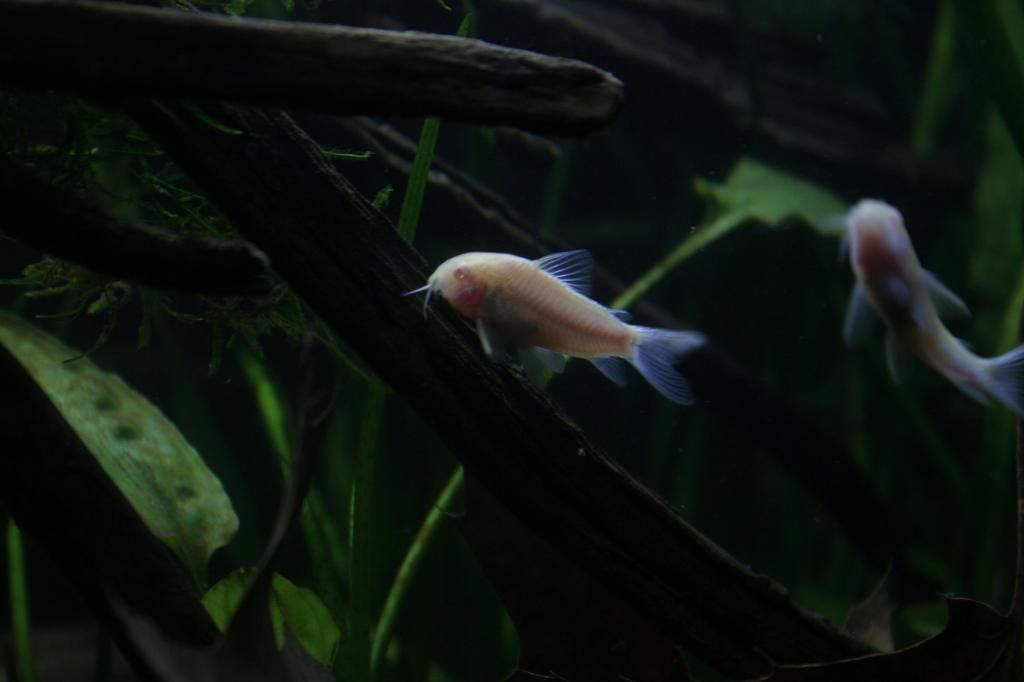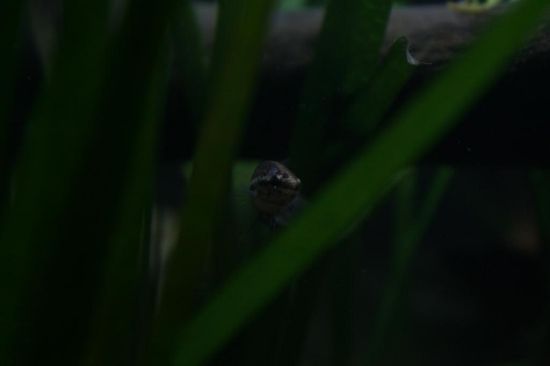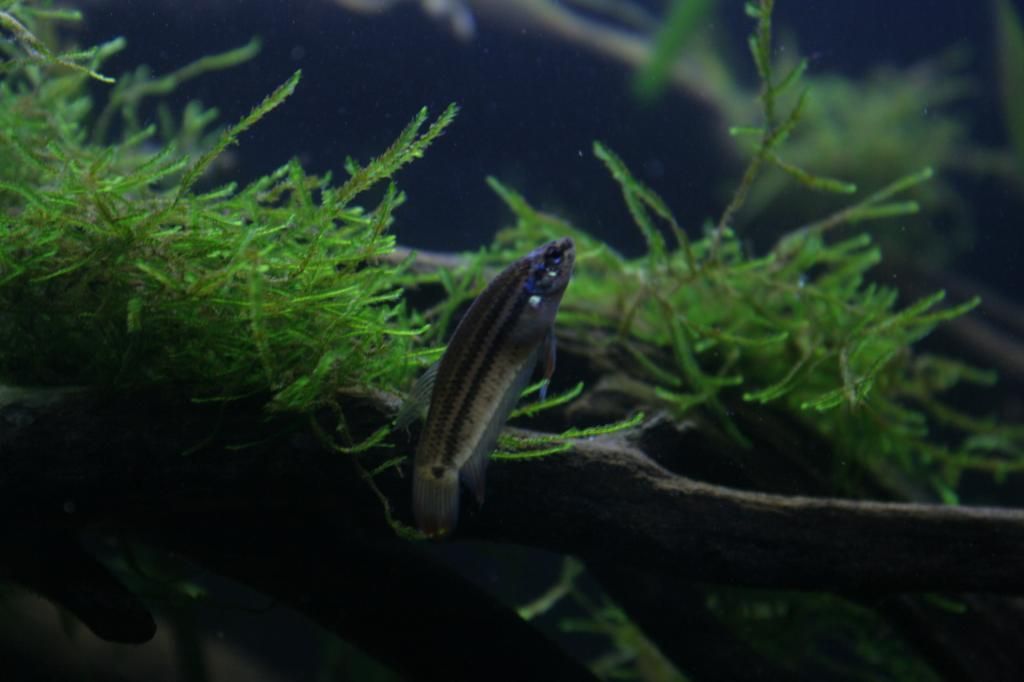 Planted Tank Guru
Join Date: May 2009
Location: MICHIGAN
Posts: 3,475
Your tank is coming along nicely. Also you have some good looking fish.
It looks wonderful so far! I love the hardscape, and your bettas are beautiful
The rams are quite attractive, too--I'm glad they and the bettas don't bother each other.
Welcome to the 40B club! Looks like you're off to a good start.
Algae Grower
Join Date: Aug 2012
Location: Mont Vernon, NH
Posts: 37
Thanks, everyone! I really love this tank. It's such a great shape for the crew that I have in there. None of them need height, but they need room to roam. The rams and bettas are a combination I've never heard of, but not very many people have betta imbellis. Both species seem completely unconcerned about other species and the cories are happily oblivious to everything. The bettas rule the top, including the floating pennywort I added, and the rams rule the bottom including the caves.

I'm struggling a bit with the lighting over such a wide tank. The back always seems a bit dim and I worry about the vals in the back getting enough light. Filtration is also a challenge. I'm running two airstones to help water movement without adding current that the bettas can't handle. The Sunsun has held up well, still nearly silent, but I'm questioning my media set up. My flow is down and I think it's my media. Time for experimentation!

Also time to steal the husband's camera again for more pictures.
The lighting on this size is a bit awkward sometimes. What I ended up doing it putting together a canopy that has my fixture in it, and then added two LED strips to light the back and front a bit better.