35 tall first serious attempt...beach/planted hill
---
Most recent shot
Equipment
35 tall ACME aquarium (thought it was just a normal 29)
Fluval 305 canister filter
Green Machine in tank UV filter
Clip on heater
Coralife dual T5 HO fixture w actinic and 10K lights (need to swap the actinic, i know)
Rim mounted marineland led strip with added tint (using the blue setting as a night time light)
Mixed substrate (about 30% fine gravel, 70% flourite and eco complete) and play sand
Flora
Anubias
Crypts (couple different kinds)
Java Fern (small shoots that were planted)
Java Moss
HC mixed throughout
Fauna
4 Guppies (various strains)
1x Dalmatian platy
5x Otocinclus
6-7x Ghost shrimp
4-5x Cherry Shrimp
The boring backstory
Well, my son inadvertently got me back into the hobby after about 10 years of having no fish. This is my personal tank and it's been a bit of an uphill battle with angry goldfish and ick and learning about plants in general. What I'm left with after some tank upgrades is a 29 tall tank of guppies, ottos and shrimp
On to the photos, etc...
Started off like this basically (ick) but my son LOVED the diver
After a while, folks were separated and the tank was rearranged
goldfish are living happily in their new home
Then I ran into some problems with some gnarly black mold forming on the decorations in the guppy tank, so I flipped out and tore everything down and disposed of everything fake (good excuse as I'd been wanting to do it for a while) I cleaned out the substrate for a while, picked up some play sand and rinsed it well and began the setup of a 29 that I found on the side of the road after letting it sit outside full of water for a couple days
the hill...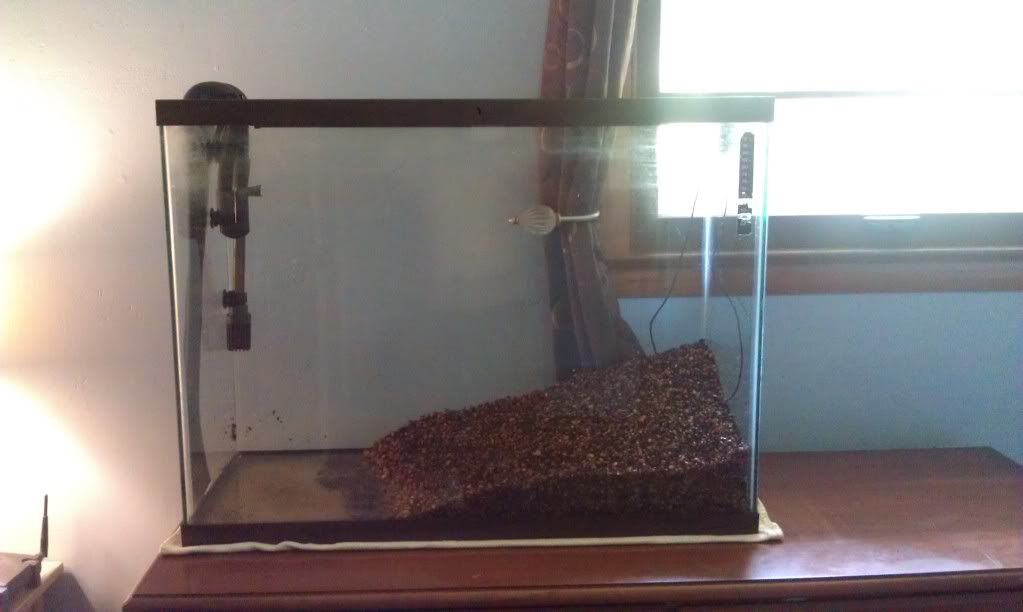 setup the beach and added bigger rocks and driftwood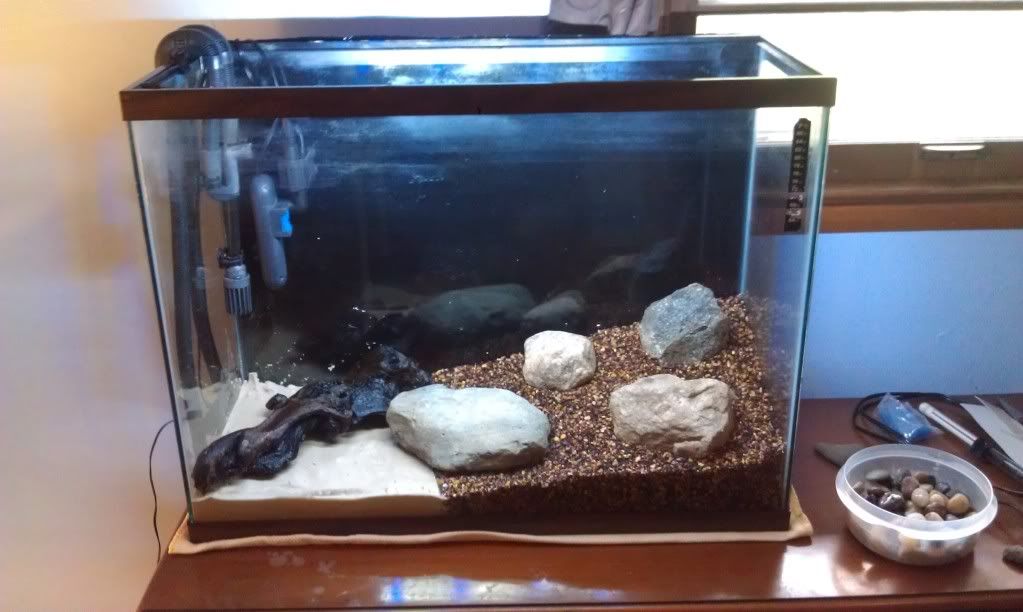 first planting/uber slow flood
added some river rocks and some smaller plants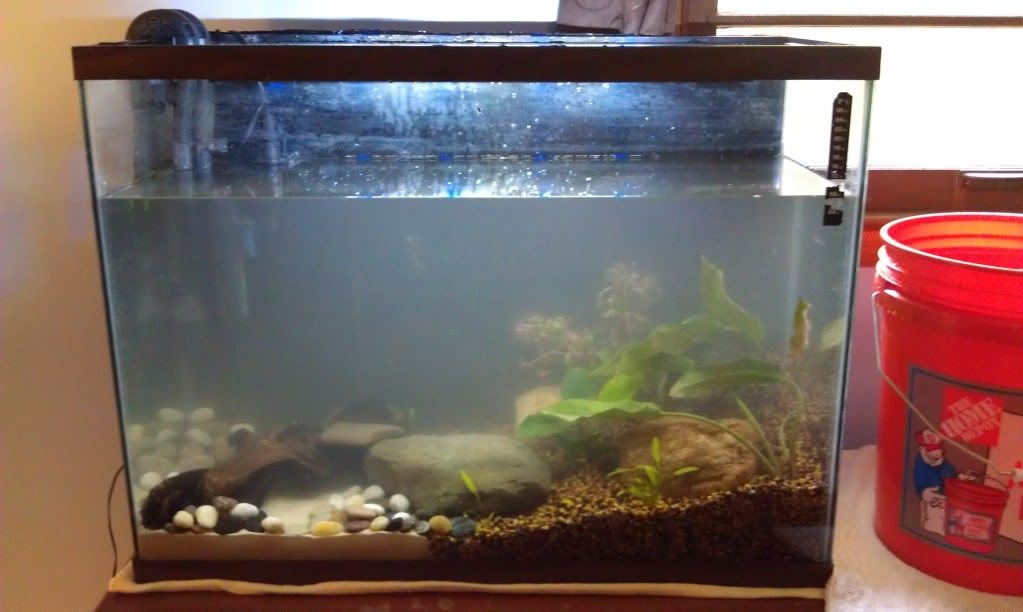 setup the coralife HO T5 I scored for 23 bucks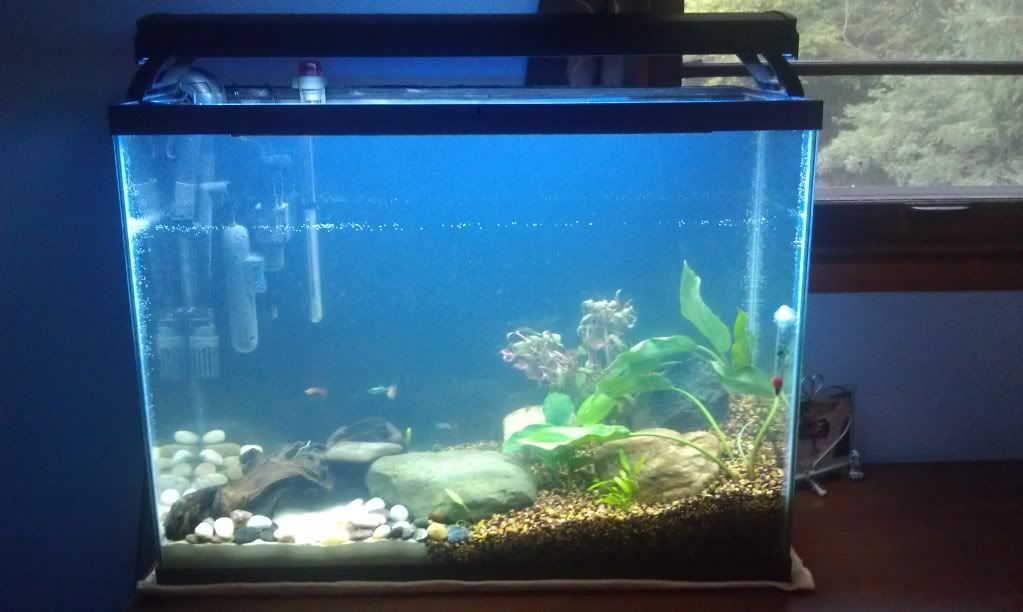 shot from the right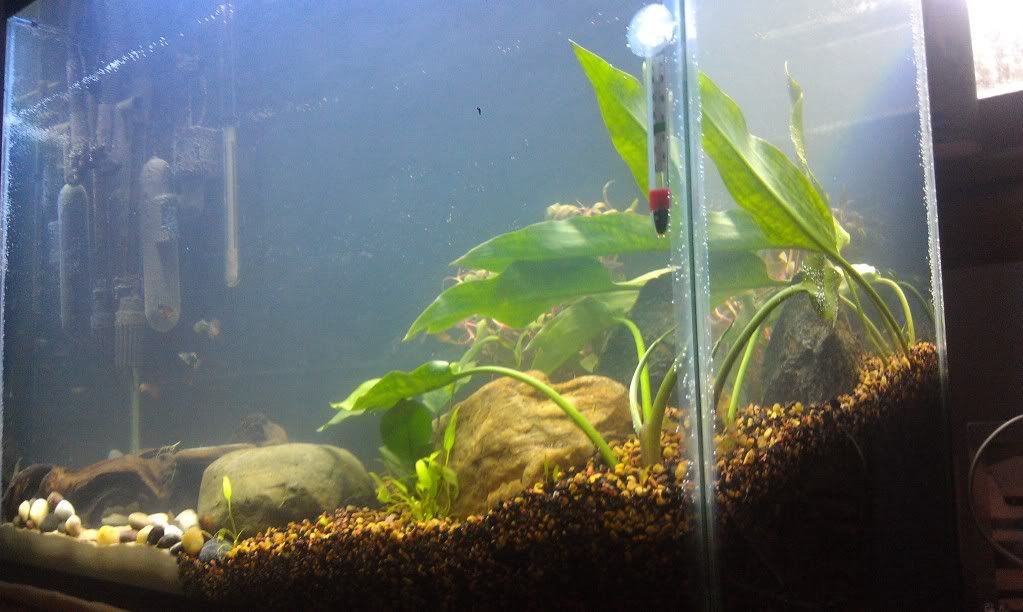 since then i've added some java moss and baby's tears scattered through the hill and replaced the telanthera (was slowly melting) with some broad leaf ludwigia that seemed to be doing well at work under similar excel/fert doses. i also lucked out and found 5 juvenile red cherry shrimp in with the java moss who are still acclimating/hiding
some up to date pictures with my new camera later (son is napping now)
---
Last edited by nerdariostomp; 03-05-2013 at

01:12 AM

.
I've also been trolling pretty heavily into equipment and I'm going to be going PB CO2 by early September. I'd like to pick up the aqualife dual stage regulator/solenoid to keep the CO2 fairly automatic and a little safer.

I'm already thinking about dropping the water and creating a riparium type hybrid tank, so we'll see what happens. a new custom stand and a sump might be in the works to make that idea a little easier too haha. for now i'll probably create a little sandy hill on the left front to kind of balance things out a little more and eventually i'd like to find a very nice piece of driftwood to make that side stand out more
Planted Tank Guru
Join Date: May 2009
Location: MICHIGAN
Posts: 3,475
I like the dinosaur tank. The beach tank looks good with the two different color substrates.
Thanks! I really want to see the plants do well. For now I'm just dosing once a week with flourish complete and am using some root capsules. Doing a daily dose of Excel in the morning. Hoping the babys tears take off and carpet the hill pretty well eventually. Next week I should be coming across 300 bucks so it'll be going to new equipment for home and work tanks.
Here's the 10/5 gallon at work. I'll probably be mixing cuttings back and forth here and eventually planting the 5
---
Last edited by nerdariostomp; 08-25-2012 at

07:50 PM

. Reason: fixed code
Well I've been walking my property a lot more lately and I really like the aquatic lansdcape here. Several streams and a spring feeding a marsh that drains to a pond. That's the whole reason I originally moved so far out haha. I decided I'd scape my tank completely with rocks from my streams.

Fast forward to today. My wife is out of town with our son for the next 24 hours so naturally I woke up at 7, and as the thunder boomed, I gathered as many interesting rocks as possible. Filled my sons wagon about halfway with them and am now enjoying the cleaning process. Almost finished and I've even managed to cobble together a new piece of driftwood. Tank has been semi de-scaped and more sand being added and a couple new anubias nana for the driftwood too.

Blasting type o negative through the house, drinking cream soda and aquascaping...what a killer Saturday!
Well, I started off by making a better piece of driftwood to fill some of the empty space on the left side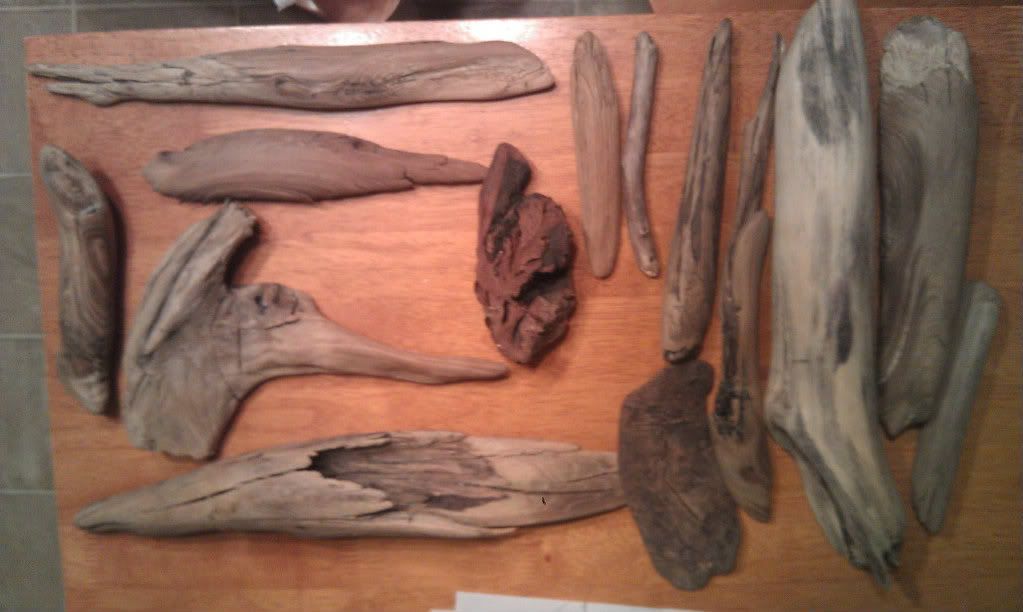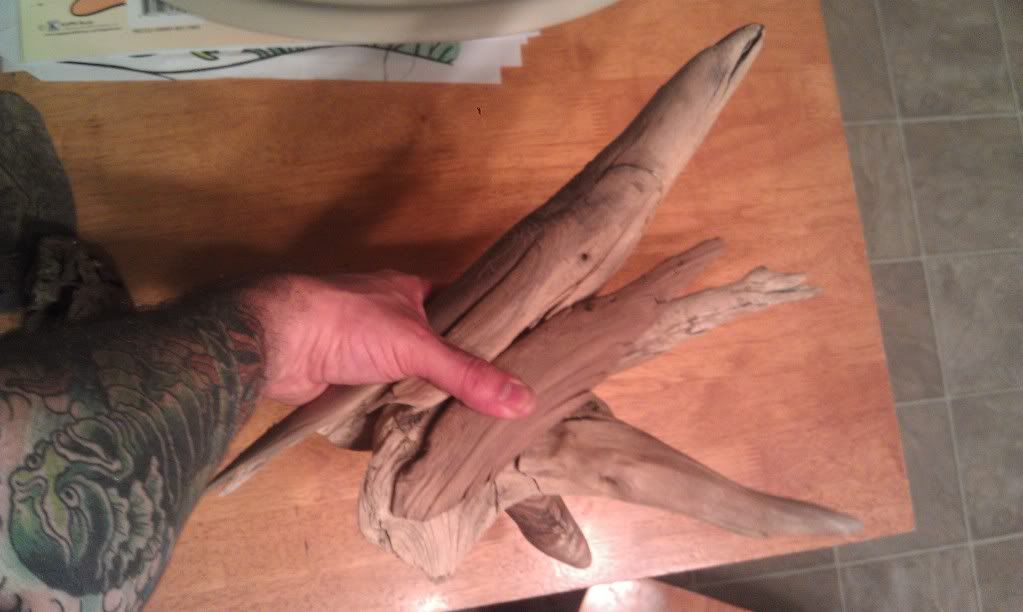 After boiling, it soaked for a week and I rotated the water out daily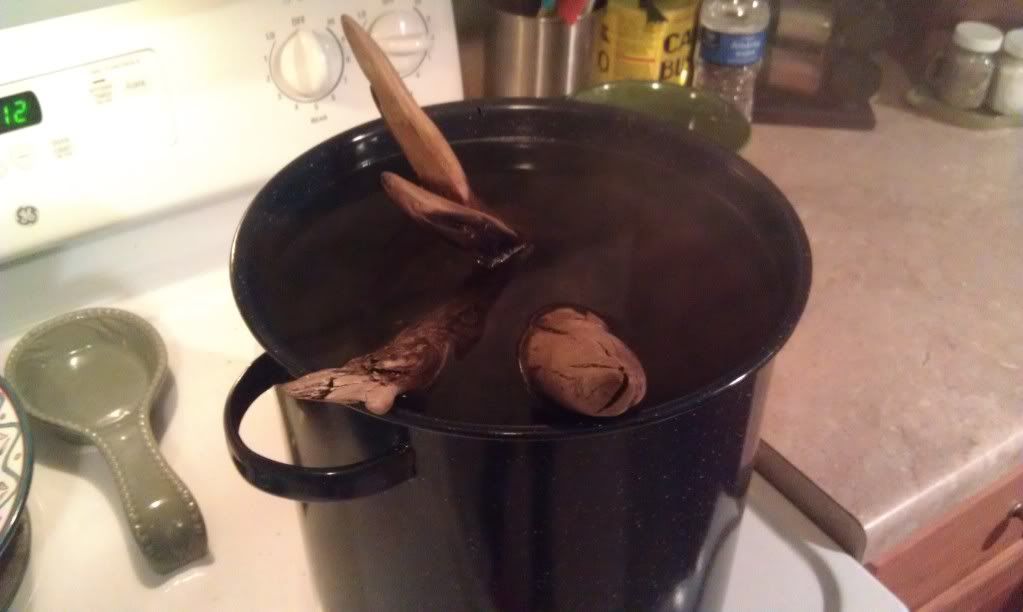 Voila!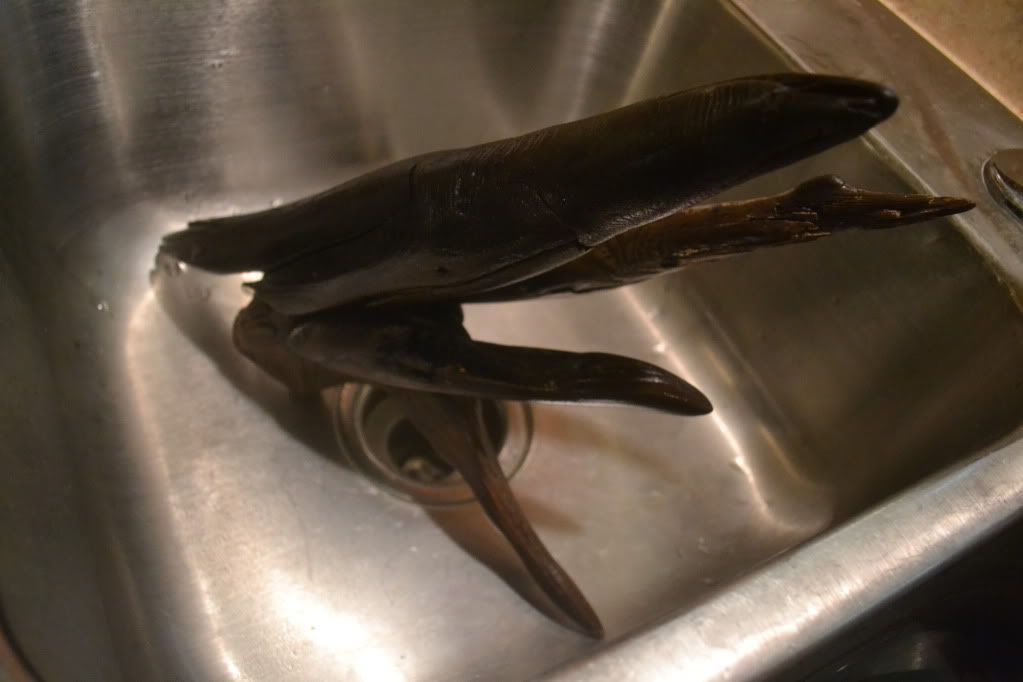 ---
Last edited by nerdariostomp; 09-01-2012 at

08:09 PM

. Reason: added photo
Then the task of gathering some rocks from the stream...went a little (OK a lot) overkill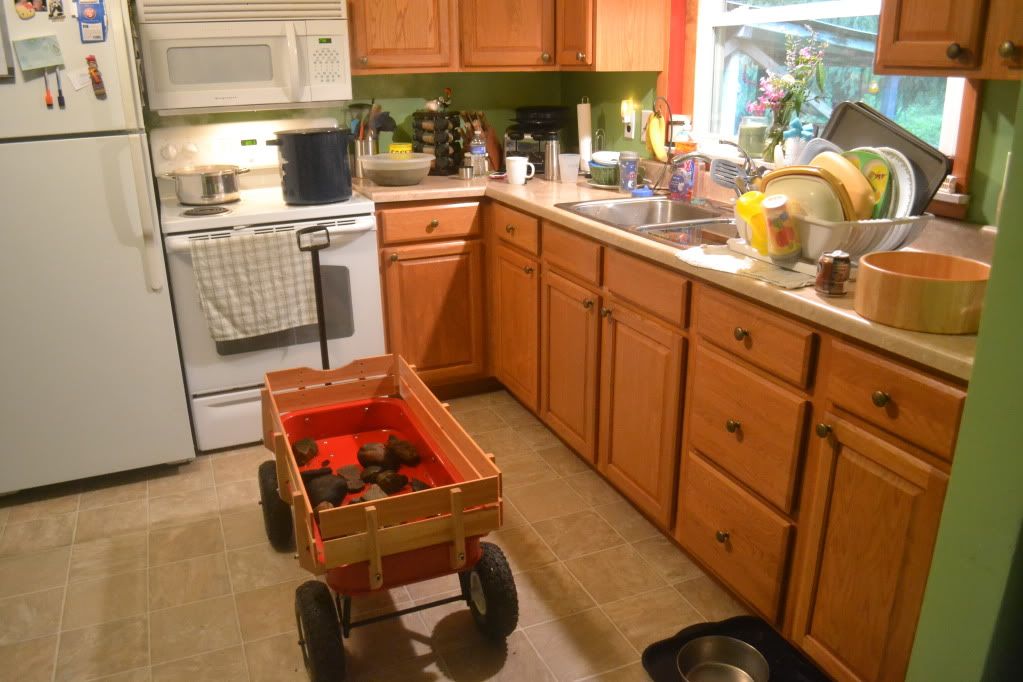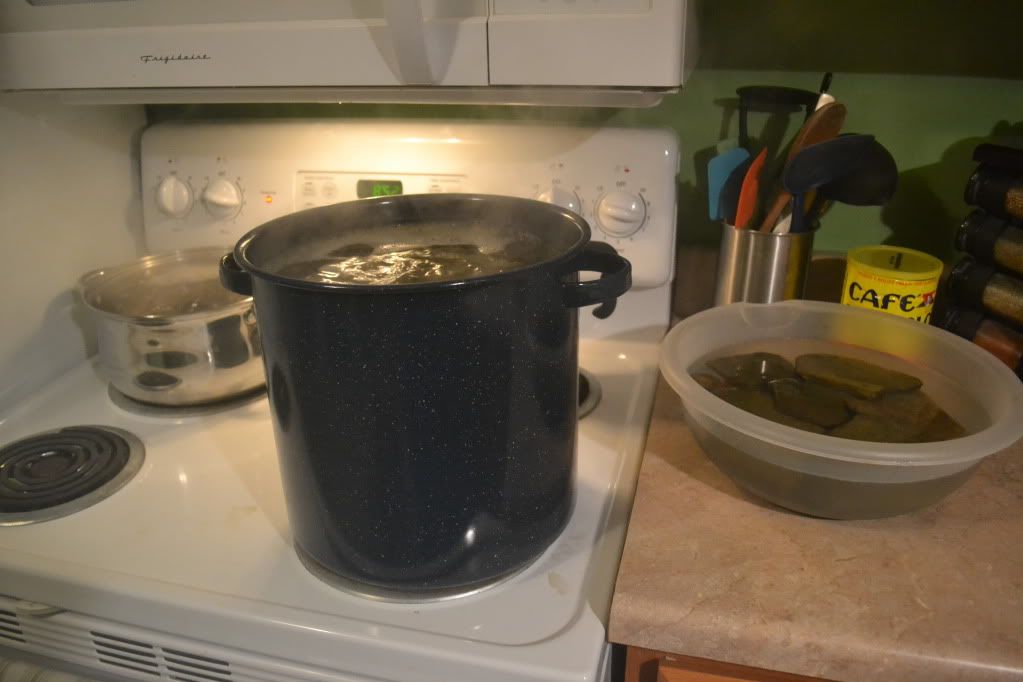 then cleared the old beach side of the tank and laid everything out...so much more than i need, but hey now there's clean rock for any other tanks hehe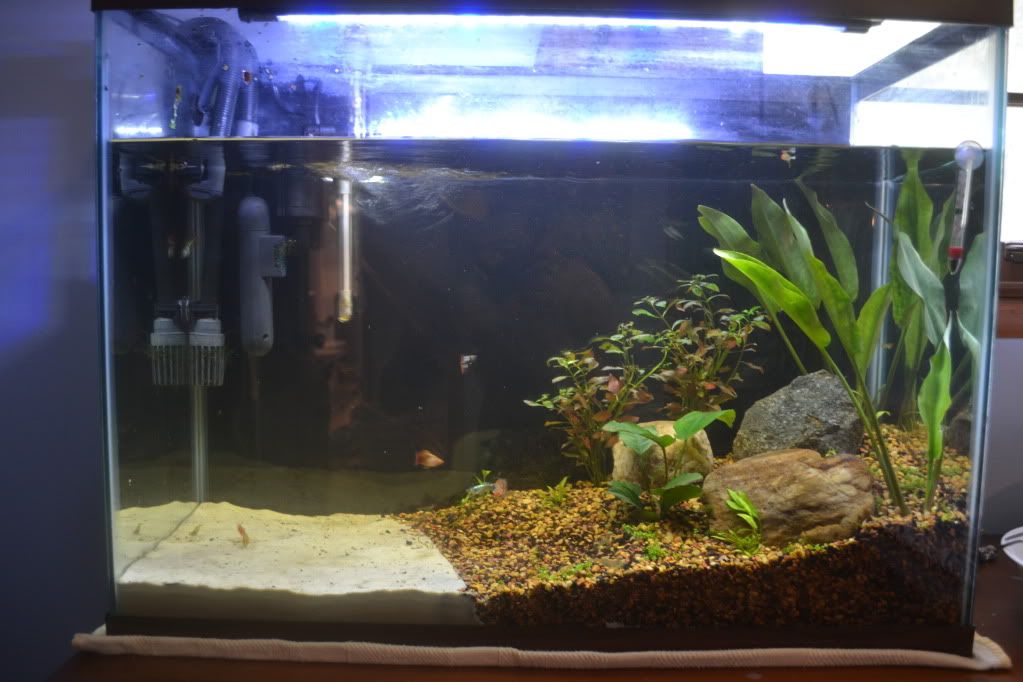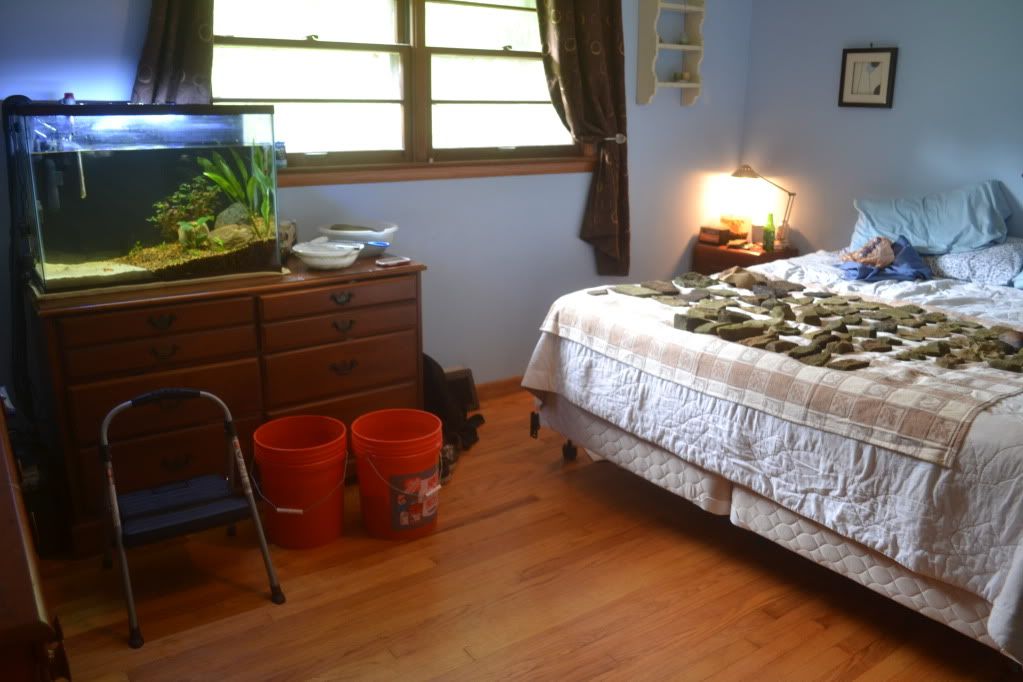 ---
Last edited by nerdariostomp; 09-01-2012 at

08:08 PM

. Reason: added photo
I think I've finally done it some justice and it doesn't feel like a cavernous disaster and the tennants seem to agree. I know my ottos will be happy to have somewhere to hide out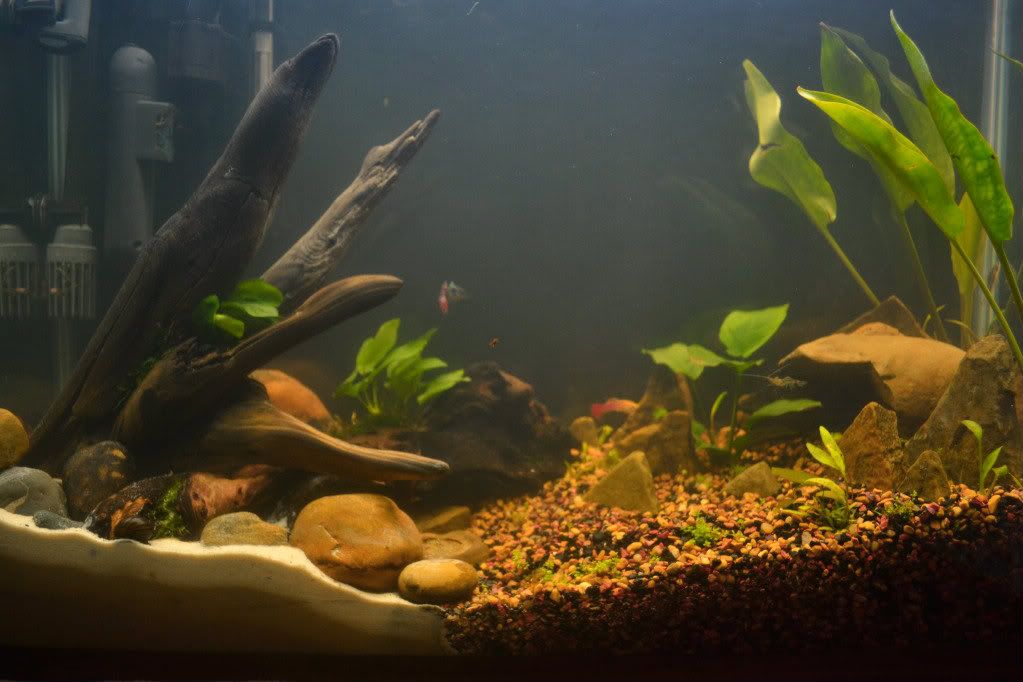 A shot of the 2 new anubias nana and the reason the ludwigia was pulled. little platy totally destroyed it, so I figured screw it...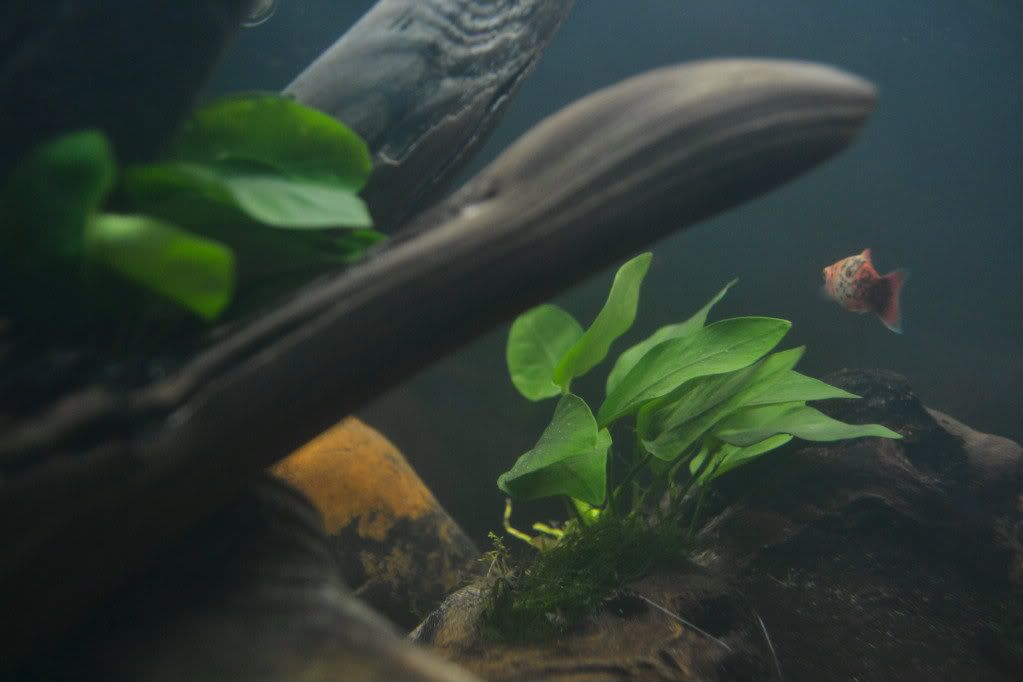 Let me know what you think. I'm a bajillion times happier
Was at home sick today and caught one of my free hitchhiker shrimp out of the driftwood pruning some HC. They migrated over to some java moss before hiding again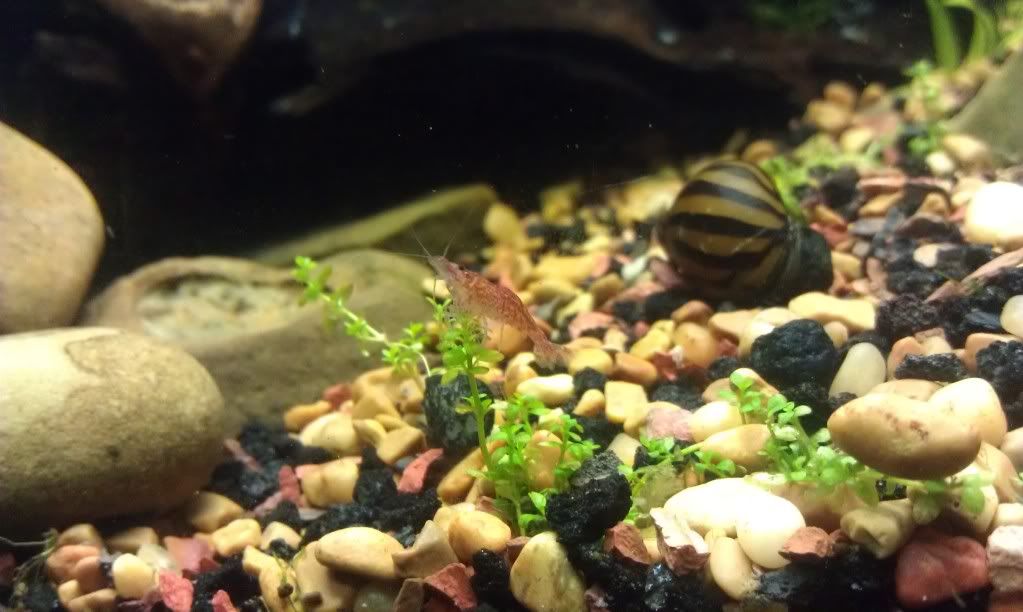 Also the large crypt (parva?) Has a bunch of new shoots coming. Some yellowing is happening though. Not sure what I'm lacking but its something its not getting enough of between root tabs and flourish comp.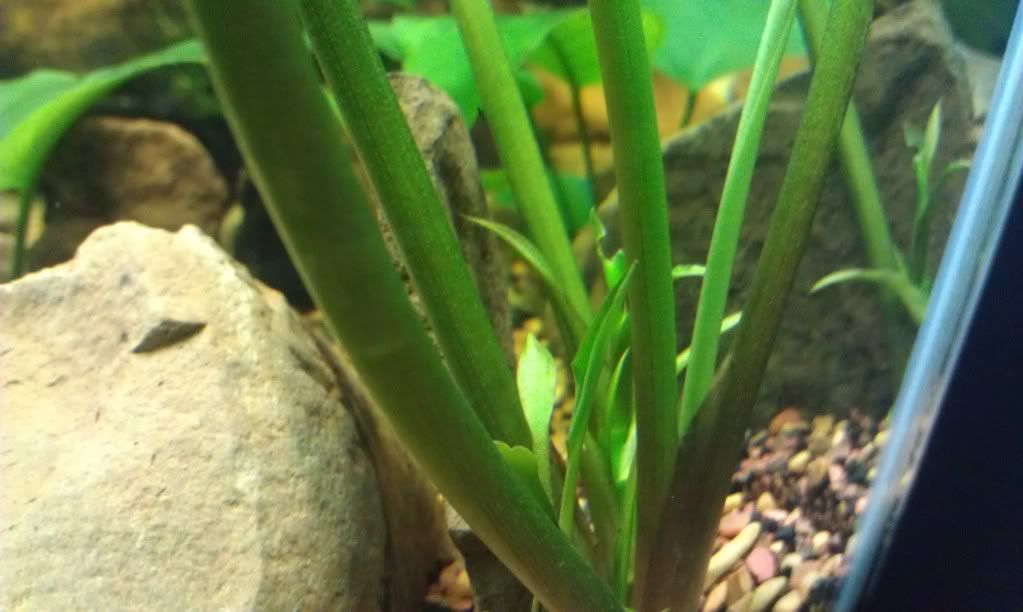 Also as a bonus, i rescaped my sons Dino tank last weekend. Took out slate and put in all organic localy sourced sustainable free trade stream rocks and pulled most fake plants. I refuse to try and plant this with the goldfish in there that are known for being huge jerks to plants haha.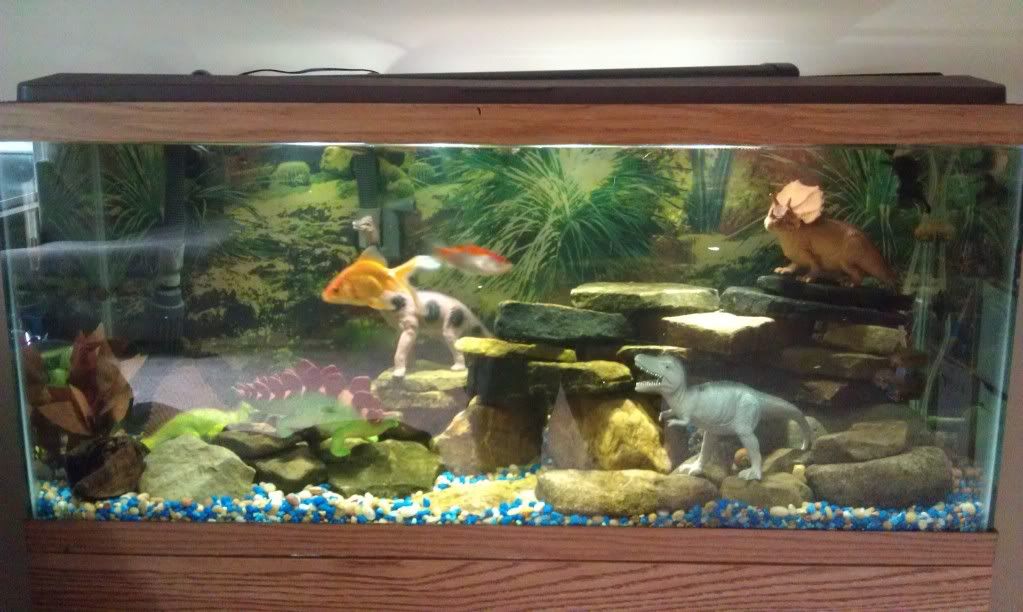 It's been a long time so I figured I'd post a new few pics. I have left the scape alone as much as possible just adding in a couple things (fish included)
Heres the latest FTS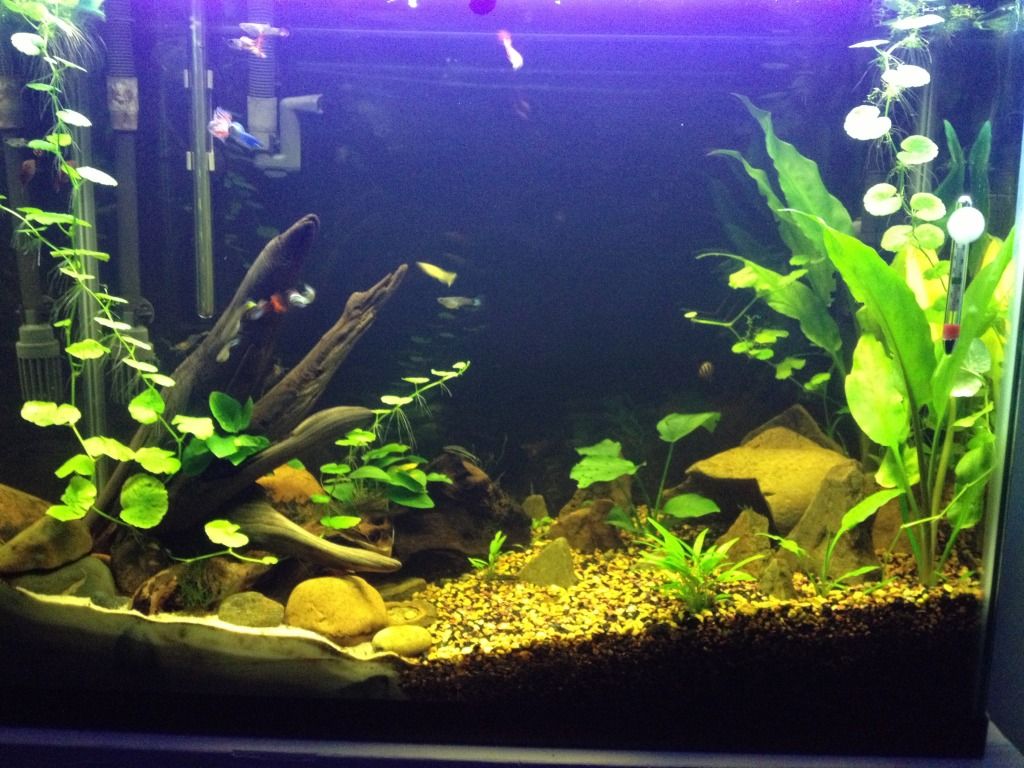 And the gang all excited at the false hope of food.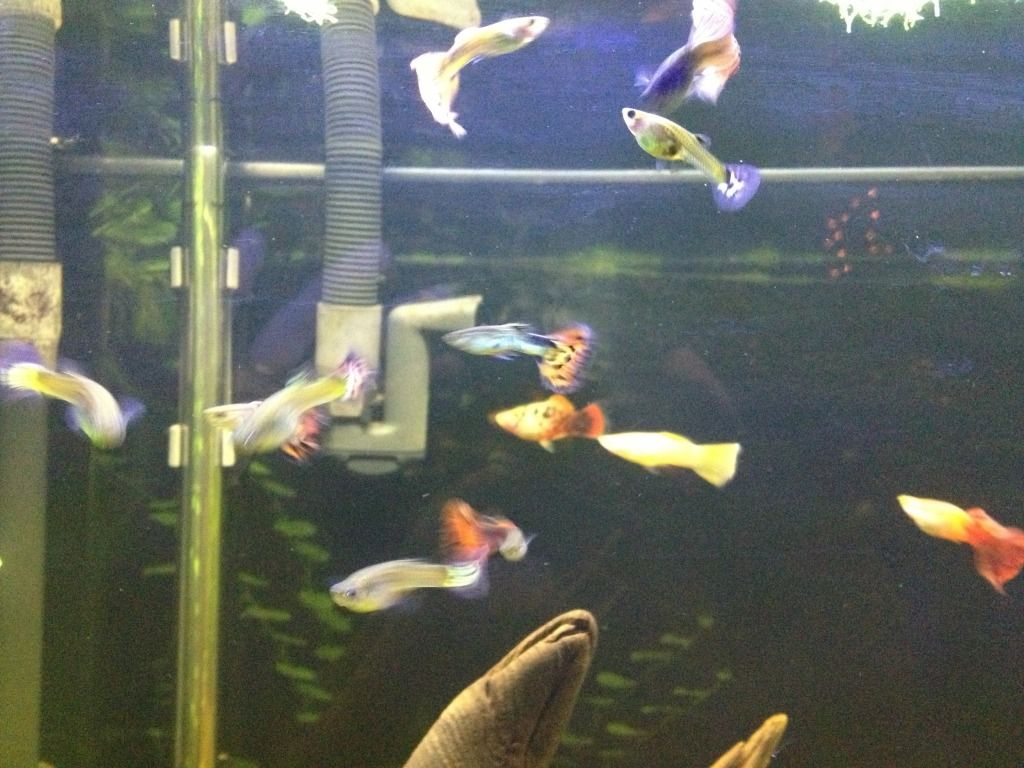 And the shrimp that hung out. Really reddened up and now has a cool white stripe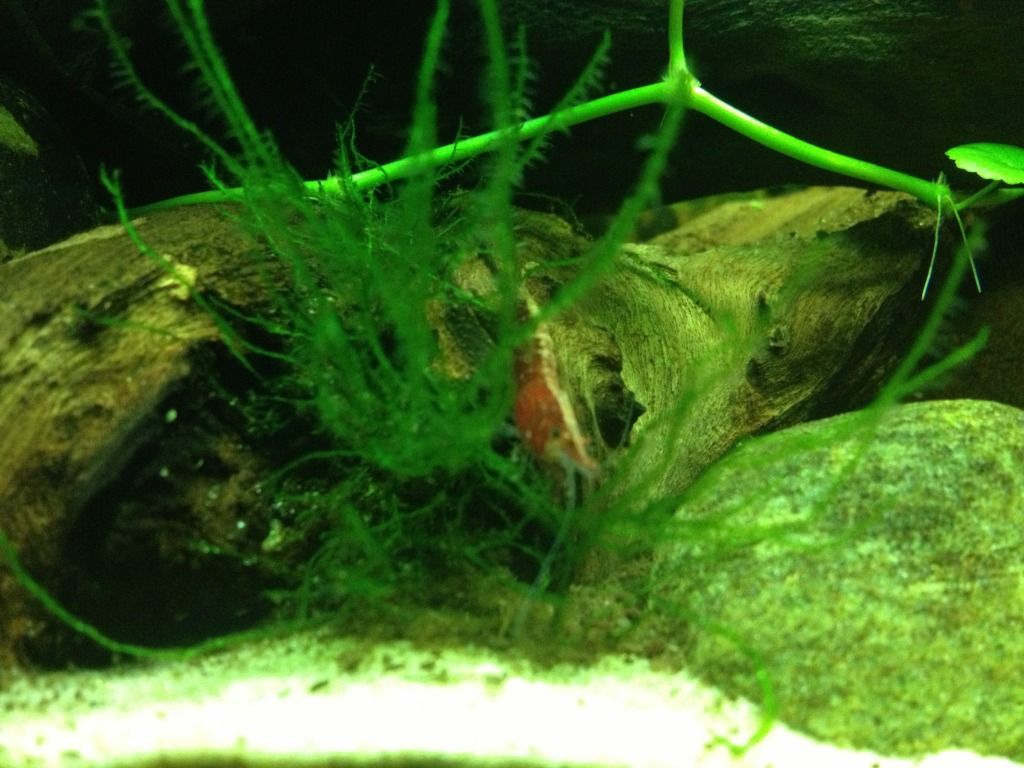 Very nice tanks, its good to have your sons take to throw stuff around in to figure out what you like/dislike. That way you can move stones to your tank if wanted. Wish I could score some hitchhiker shrimp! Keep up the nice work!
---
The worst defeat in the world, is when you give up.
Thanks! I actually spend most of my time looking at his tank since its in the living room so I think it's pretty cool despite its plantlessness.

I really want to get a small shallow tank with a couple of tanganyikan shell dwellers now as well but I don't think the wife will allow anymore in the house. My 12 long was already banished to work haha.
35 tall first serious attempt...beach/planted hill
---
Well, a couple of things have changed. First, the shelldweller tank was OK'ed as long as it stayed in my basement room. Done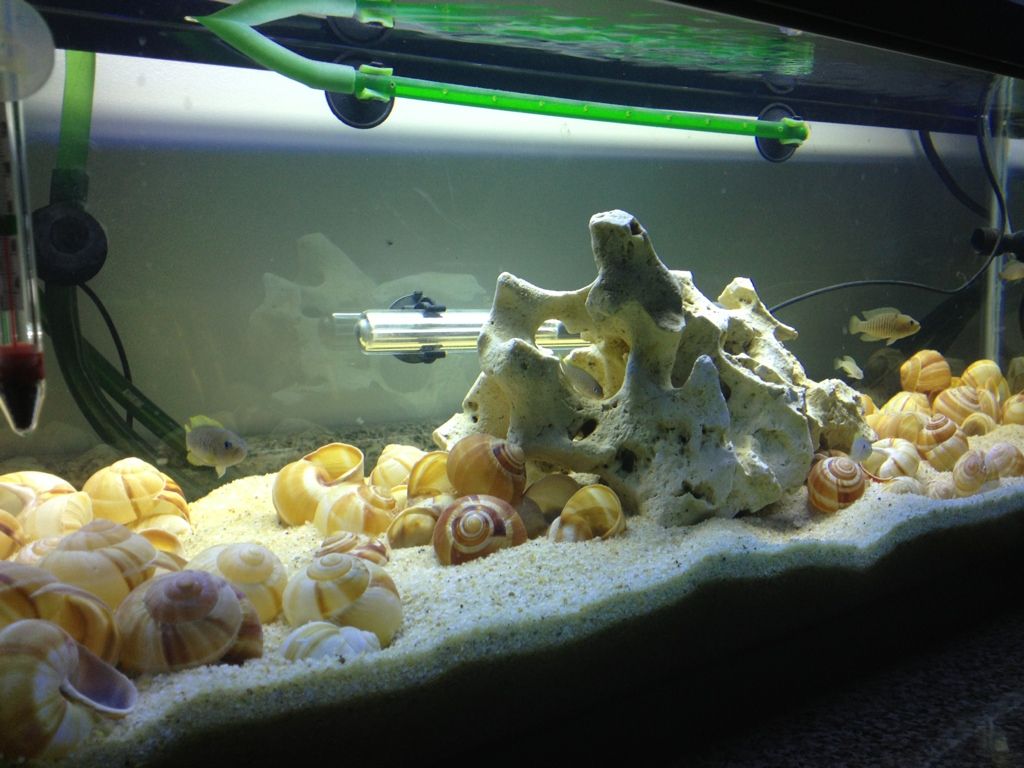 Also the 35g was shuffled around and is now running CO2 via aquatek PB regulator