DoubleT's 20g High CRS/CBS Tank
---
Current FTS (11-9-12)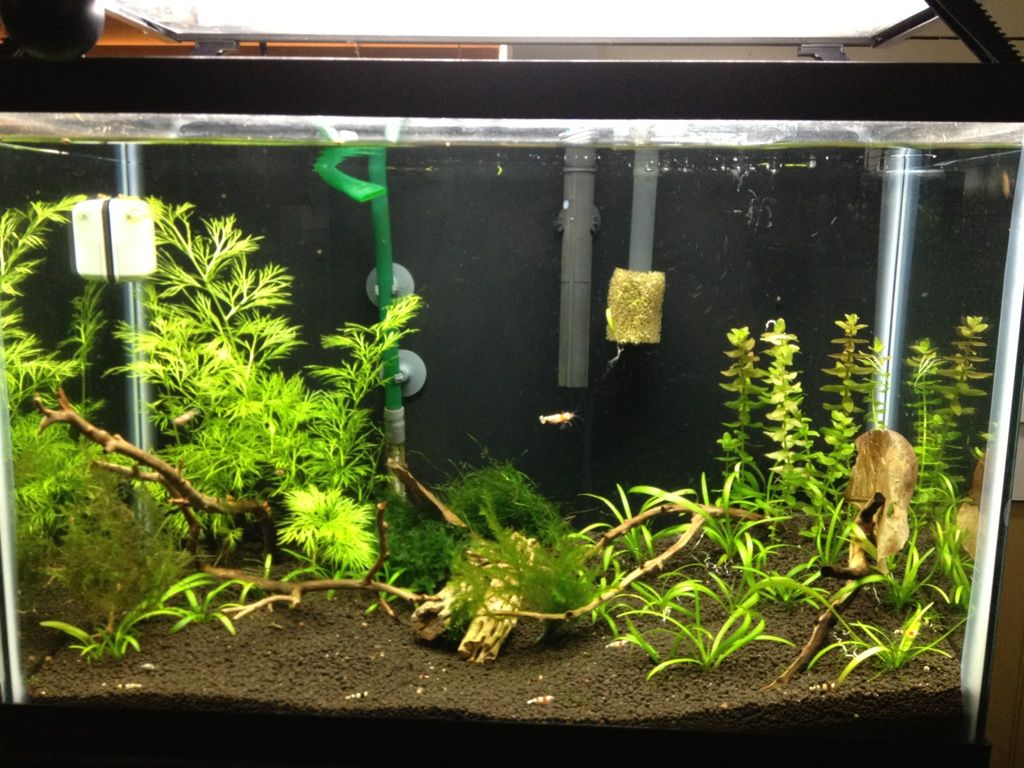 FTS (10-28-2012)
Equipment:
-20g high tank
-Substrate is ADA new amazonia
-ehiem 2215 with shrimp prefilter
-Aquaclear HOB 30
-50w aqueon heater
-24" 4 bulb aquaticlife t5ho fixture only using 1 bulb (24w 6500k)
Flora:
-̶W̶i̶l̶l̶o̶w̶ ̶m̶o̶s̶s̶ ̶m̶e̶s̶h̶ ̶wa̶l̶l̶
-Dwarf sag
-Willow moss
-Java Moss
-Subwassertang
-Water Sprite
Fauna:
- 8̶ ̶S̶u̶p̶e̶r̶ ̶T̶i̶g̶e̶r̶ ̶S̶h̶r̶i̶m̶p̶
-10 CRS S-SS
-10 CBS S-SS
-2 otos
Water parameters as of 10-4-2012
pH: 6.4
Kh:1-2
Gh:5-6
TDS:155
Temp: 73 degrees F
Ammonia:0
Nitrite:0
Nitrate:5ppm
---
Last edited by DoubleT; 11-09-2012 at

04:48 PM

. Reason: photo added
Looks like an awesome tank!
---
"Simplicity is the ultimate sophistication." -- Steve Jobs
**Update**

Added 2 otos and a manzanita branch with some baby java ferns tied to it. The moss wall is filling out nicely. Sorry for the cloudy water, I just got done sloping the substrate.
Another update**** I decided to divide the tank in half and keep super tigers on one side and CRS/CBS on the other side. Write now Im waiting for the tank divider to come in the mail. Also added 8 super tiger shrimp a couple of days ago.
Water Parameters (9-29-12)
Ph: 6.4
TDS:155
Gh:6
Kh:2
Temp:73 degrees
---
Last edited by DoubleT; 09-30-2012 at

11:26 PM

. Reason: added water params
Planted Tank Guru
Join Date: May 2009
Location: MICHIGAN
Posts: 3,475
Ok the divider thing didn't work out so well...Tigers ended up on CRS side and some CRS are on the tiger's side. So now I set up an 8g evolve for the Super tigers, and this tank will become strictly a CRS/CBS tank. The tigers are still in this tank, but Im not worried about them breeding with the CRS....I think the pH is a little too acidic for them at 6.4. But if it happens it happens. The 8g is almost done cycling probably only one more week before the tigers go to there new home.
Here is an updated picture:
Finally got 10 s-ss grade CBS for the tank here are some pics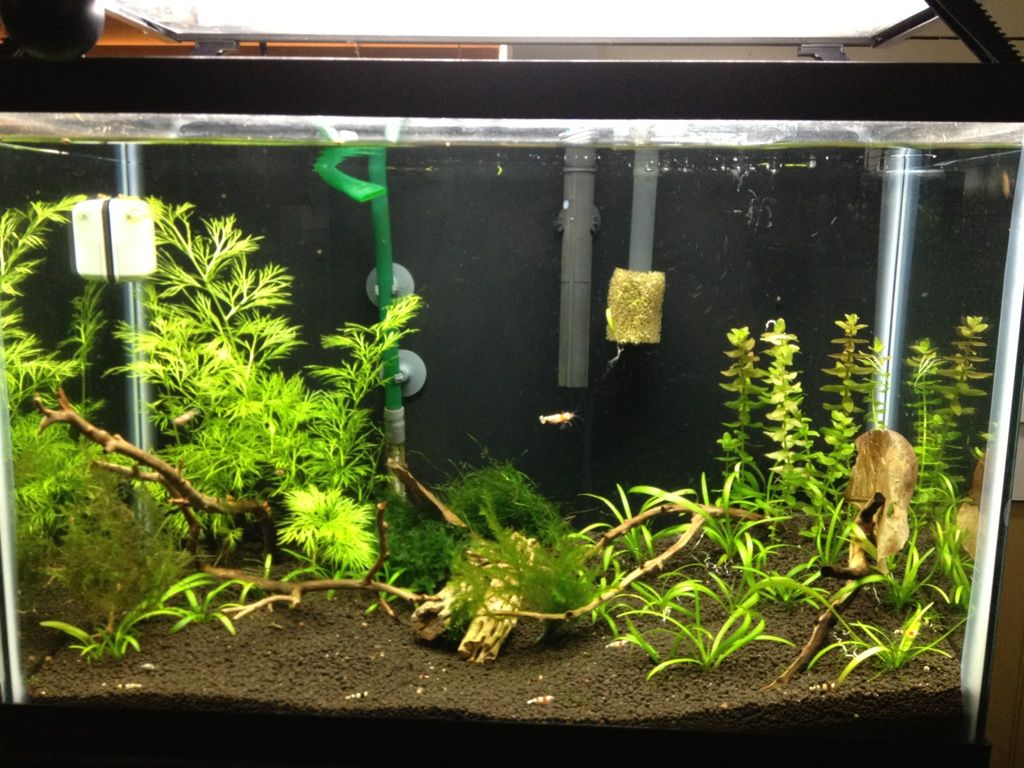 Planted Tank Guru
Join Date: May 2009
Location: MICHIGAN
Posts: 3,475
I finally have some shrimp that have berried up. 2 CRS and 1 CBS(should be dropping some shrimplets any day now) Will gets some pictures when I get back the house after this weekend.
Here is a recent pic of the tanks inhabitants =)
Yay lots of juvies! Nice tanks you have. What material did you use for the moss wall?
---
How I feel about non-planted aquariums.
I used gutter mesh, you can get it at lowes.