-=Tempest Stone=- Fluval Edge 6 gallon
---
It's called Tempest Stone because I accidentally scaped it where the HOB output pushes directly over the tip of the main stone. It's actually pretty awesome to watch air bubbles being pushed over the top and seeing the underpass get deeper from the natural current.
Main goals for this tank is to:
Full carpet of DHG,HC with a good spot of Flame moss (for shrimp)
Mods:

Co2 into the HOB
Extended hood with LED lights

Some sort of shrimp co-exist with Betta (i know )
Somehow get intake filter converted to overflow box?
So after getting upsold on crap gravel, a leafy plant and some driftwood - I felt I would never be able to achieve an aquascape. My betta was happy (same with my girlfriend) but I was not satisfied. (I know the brown water is from DW - also don't look at the artwork haha)
*also you can see my betta giving me the evil eye because he knows what's up
*
So here's the list to-date:
Fluval Edge 6 gallon
ADA amazonia II soil (powder + normal)
Power Sand Special
Dwarven hairgrass, Baby Tears, Flame Moss, Dwarf Sag (which actually isnt - don't know what it is yet)
So after a day of scaping I actually stuck with the first attempt. Thought it looked ok and plus my hands WERE hurting from that small *** opening.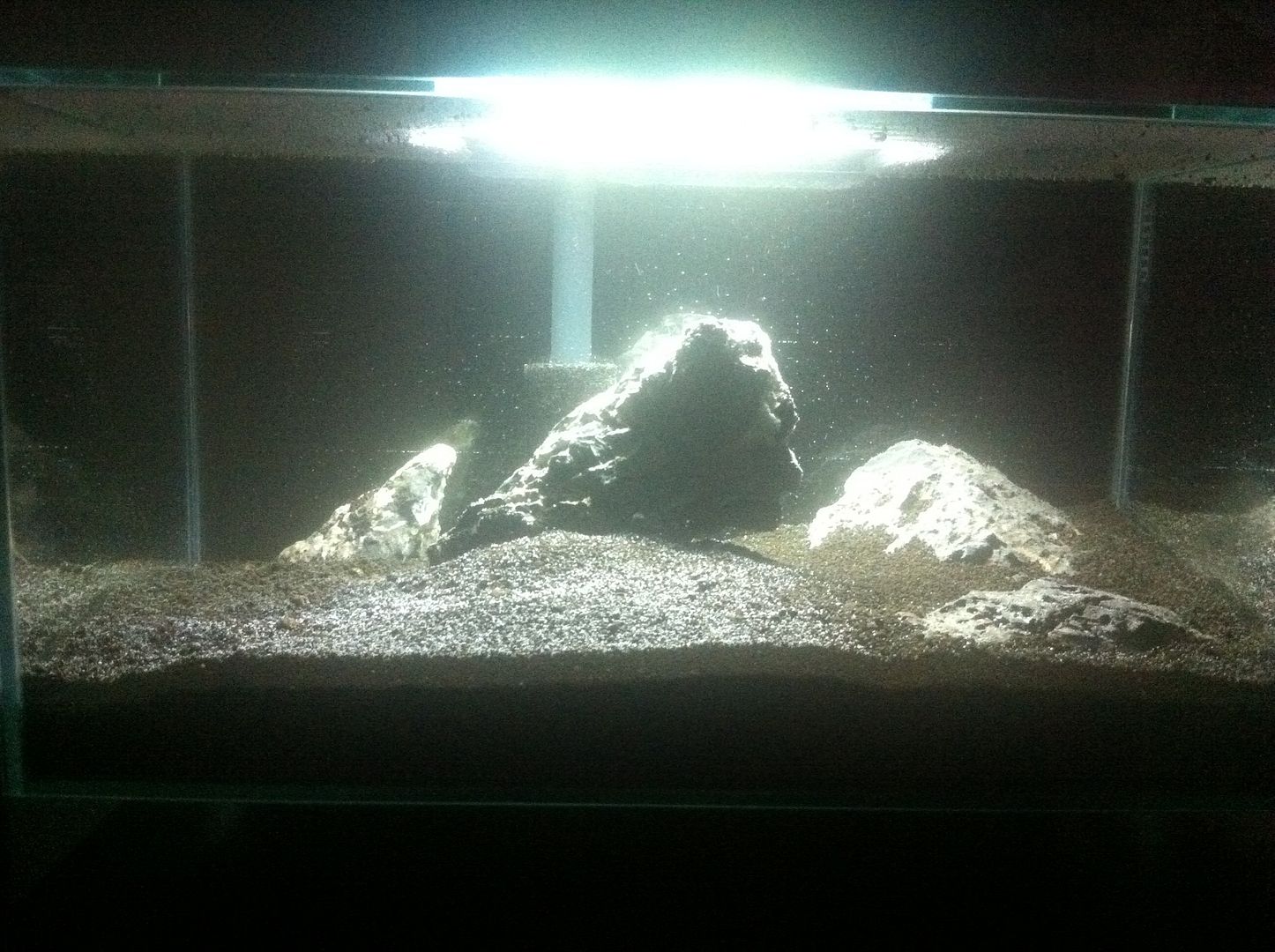 I personally felt no flow or depth in my tank - so the next day I re-worked the substrate a bit to give it a few valleys. (trying to figure out where I wanted to put plants at)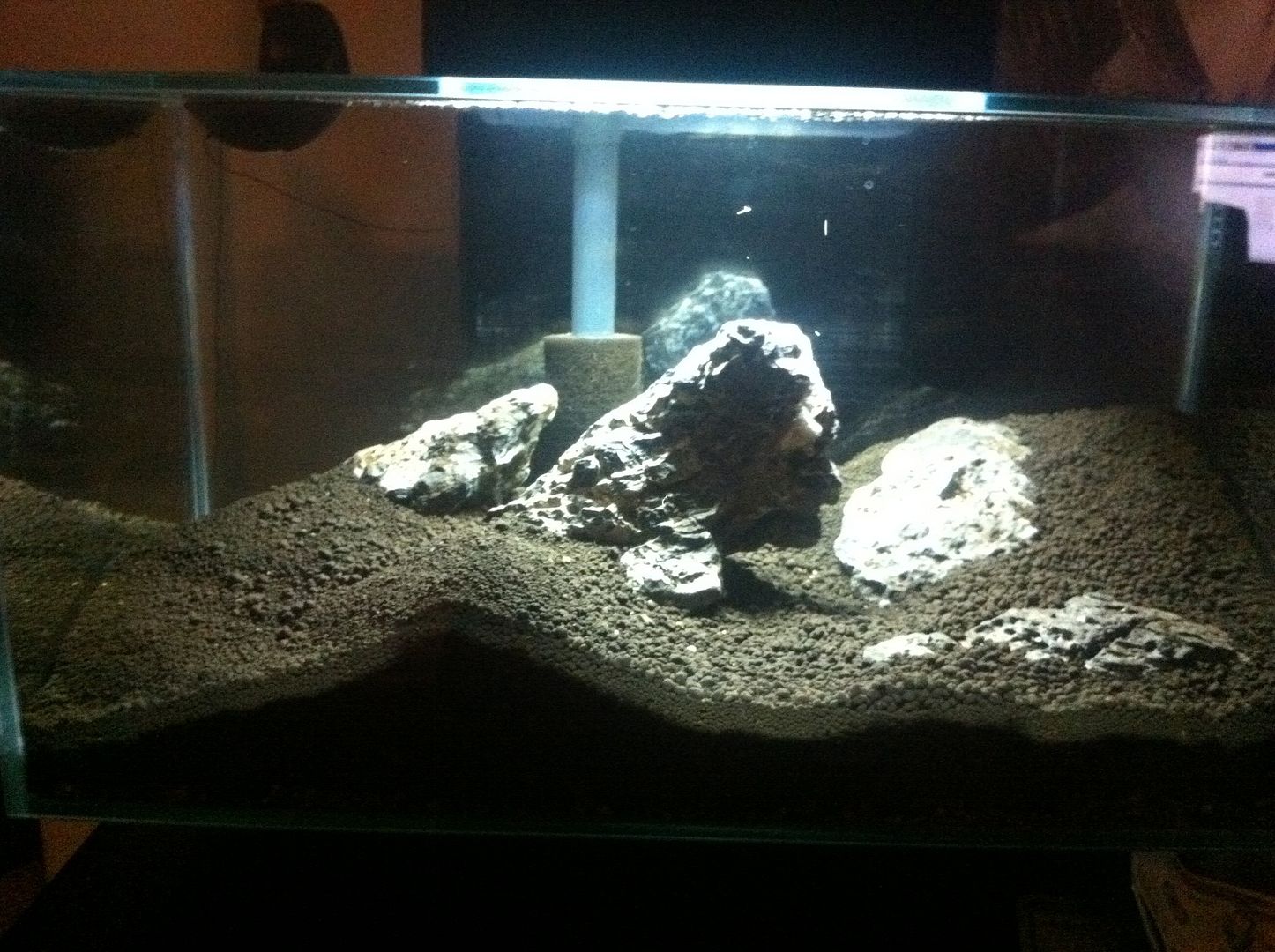 You can see I couldn't keep the powder substrate on the top - seems like it loves to fall into the cracks of the normal substrate. Anyways a week of mini-cycling with 50% WC first & second day, 20% third & and fourth and about the seventh it was fully cycled. I finally got my plants in and added Blurple (which is the Betta) to the tank.
Blurple loves sleeping in the corner of the DHG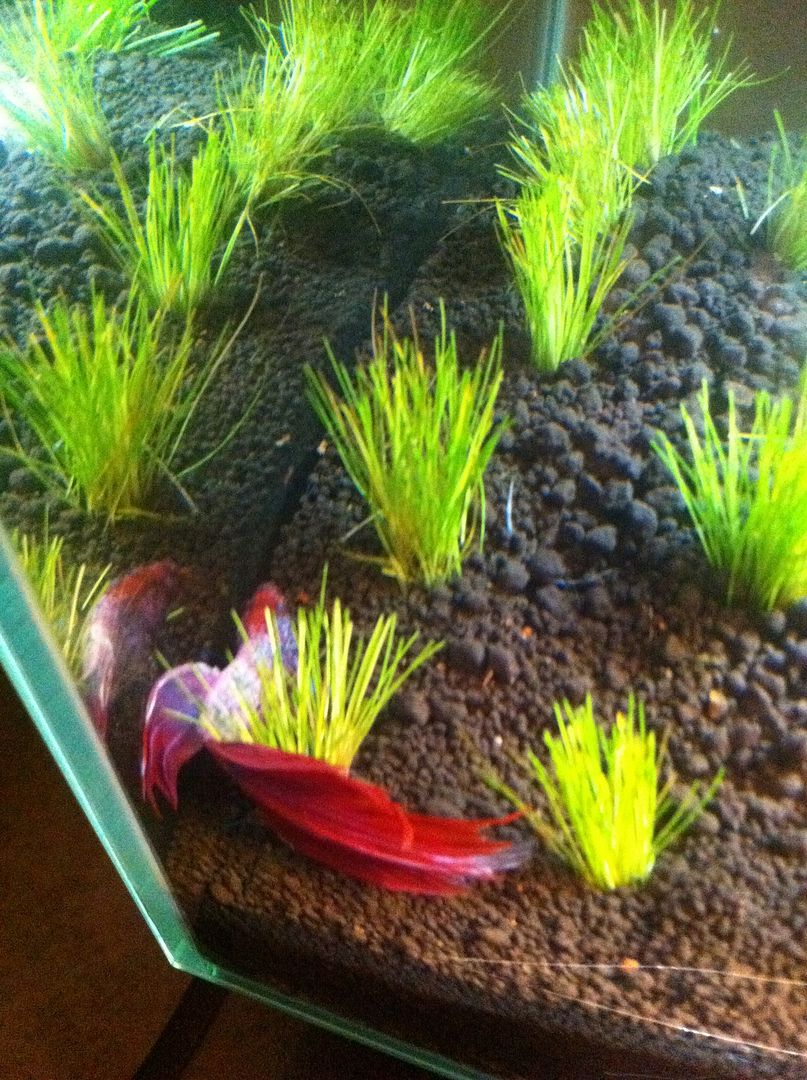 Today I worked on getting the flame moss onto the frontal rock (I will probably keep it pretty trimmed because it's foreground and don't want to ruin the view)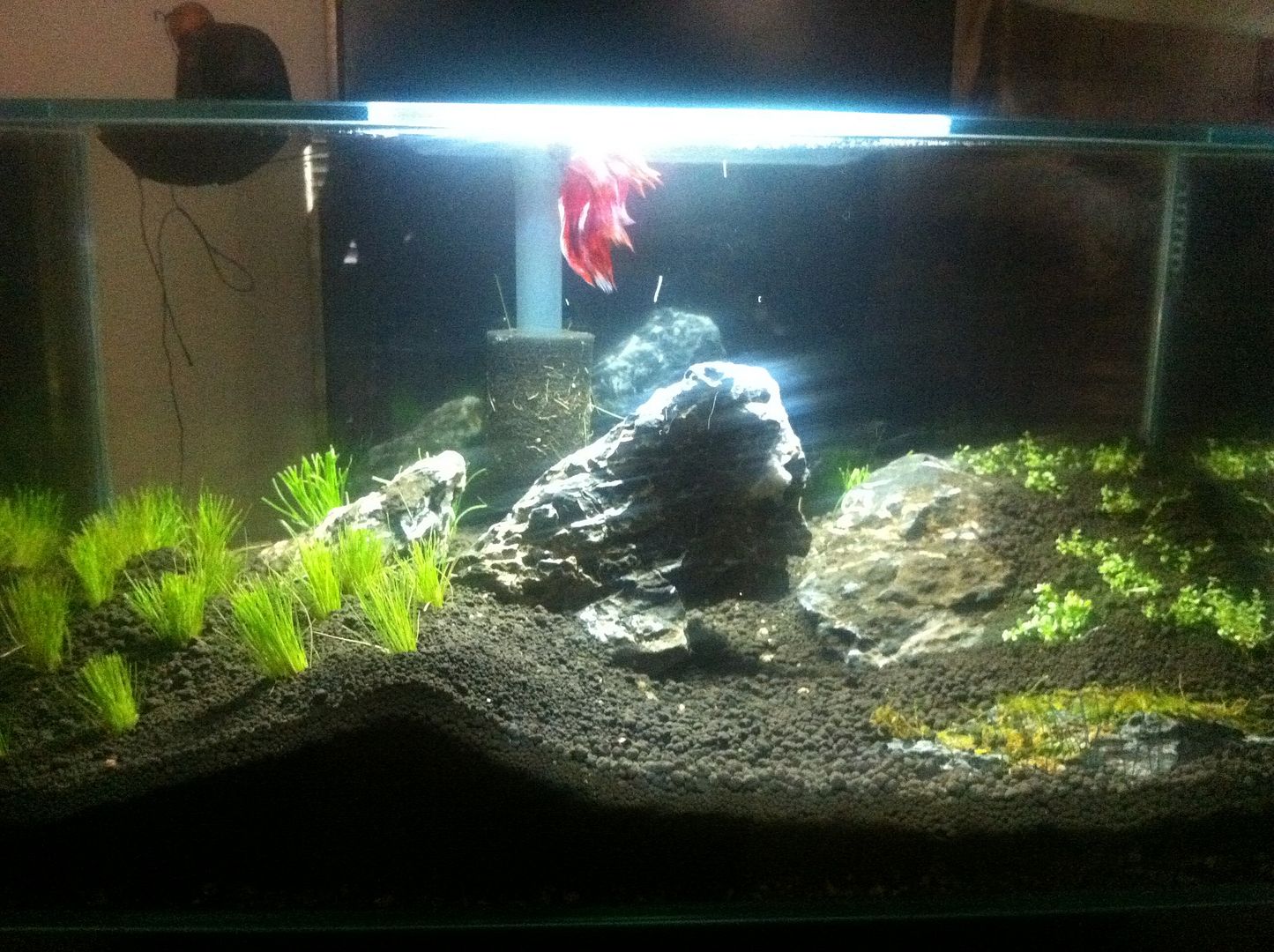 ---
Last edited by Vermino; 07-19-2012 at

07:04 AM

. Reason: more info
Looking very nice! you doing any moss or anything on the rocks?
---
Sump Pimp #8
RAOK Clubber #28
Quote:
Looking very nice! you doing any moss or anything on the rocks?
I might do willow moss on the tempest rock (i hear willow likes a strong current) but I'm going to see how the flame moss goes with the stone in the front first. I know the light isnt suffice enough to grow HC (still trying to order the LED's and Co2 kit)
Planted Tank Enthusiast
Join Date: Feb 2012
Location: Edmonton, Alberta
Posts: 571
Looks good.
I like the art but can't decide if it's a Royo or Frazetta lol.
Quote:
Looks good.
I like the art but can't decide if it's a Royo or Frazetta lol.
damn, You know your artwork - yeah, it's Luis Royo. Love his style. I wish could get an original of his old stuff like millennium.
Planted Member
Join Date: Jun 2012
Location: Usa
Posts: 260
Blurple is a great name! Good luck with your tank
Quote:
Blurple is a great name! Good luck with your tank
girlfriend named it
(she wanted a fish and came home with blurple - but i felt bad that she wanted him in a 1/2 gal fish bowl. So here we are)
Planted Member
Join Date: Jun 2012
Location: Usa
Posts: 260
Everyone's a winner
Planted Tank Guru
Join Date: May 2009
Location: MICHIGAN
Posts: 3,465