Drema's 90 Gallon Gourami Garden
---
Upgraded to a 90 gallon from a 46bow and 20L.
48x18x24
odyssea 48" 4 x 6500k lights. Back two lights 7-2, front two lights 12-7. 12" above aquarium. (for now)
Dose a cap full of flourish comp and flourish trace every week or so..
Eheim 2117
Fluval 306 and 206
Fluval aquaclear 110
90 gallon
Stock List
Opaline Gourami - 1
Pearl Gourami- 3m 2f
Weather loach - 4
Bristlenose Pleco- 1 black M LF, 1 albino F SF (breeding)
clown pleco- 2
Betta- 3 F
Panda Garra- 7
Ottos- 7+
Kuhli loaches- 6 brown
Zebra Danio- 3
bumblebee cat- 2
..and 100's of mts.
Amazon sword
ludwiga repens
brazilian pennywort
java fern
trudent fern
anubius congensis, nana"petite"
crypt wendtii "green", "bronze"
crypt parva
crypt pontederiifolia
Dwarf Hair Grass
Water Wisteria
dwarf sage
junge val
glosso
Alternanthera reineckii roseafolia
microsword
java moss
peacock moss
hygrophilia compakta stricta
hygrophylia augustofolia
Parameters
ph- 6.4
ammonia- .25 ppm
nitrite- 0 ppm?
nitrate- 3.0 ppm
kh- 20 ppm
gh- 20 ppm (adding agramilk to boost buffering)
---
Last edited by Drema; 05-05-2013 at

11:32 AM

. Reason: update with chart
thanks ! It's mostly Golden Pothos and rush
The pothos grows like mad and the fish really seem to like the root system it puts down.
very nice looking
The golden Pothos was bought at a lowe's garden shop for half off. It is usually in a hanging basket
or in a pot
.
The rush was collected locally from a pond and is pretty common.
added a little here , took away a little there. Still trying to find a happy place between my fishes' comfort and my own aesthetic preferences.
added some more wood to the right back so that my little bottom dwellers could hide better.
( the show boater in front, not included)
MTS.. much? Added more plants to my Betta tank as well as some more plants hanging out of the top.
and a close up of my blue devil.
I broke down my 20 and 46 after having them up for a year and a half. I combined my fuana and flora into a 90 gallon. The dimensions are 48x18x24. I went to look at a 120 gallon, but for 200.00 I couldn't pass up the 90 gallon!
When I broke down the 46 gallon, I found a whole cave of Long-finned, BN pleco babies! Half are albino and half are black.
I've put them in a DIY breeder box in teh 90 gallon. So here is to them surviving my curious fish , and hopefully I can give them away when they get a good bit bigger!
The 90 gallon with plants and fish in. I'm hoping the crypts, sages, and vals don't melt too much...
And becuase I'm a sucker for these little guys... some more pics of my BN's first batch. He was a very protective daddy.
Cute babies, and lovely crowntail!

Sent from my Nexus S using Tapatalk 2
I came home yesterday to my kribs protecting some eggs. This tank is turning into a nursery.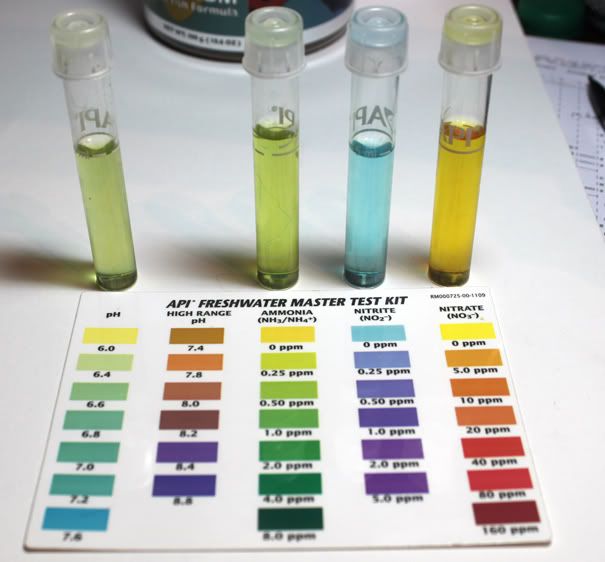 ph- 6.4
ammonia- .25 ppm
nitrite- 0 ppm?
nitrate- 3.0 ppm
kh- 20 ppm
gh- 20 ppm (adding agramilk to boost buffering)
---
Last edited by Drema; 08-30-2012 at

11:15 PM

. Reason: image
FREAKIN AWESOME!!!

Man you are sure doing something right!!! Tank looks good too!!! I wouldn't mind taking a few of the BN off of your hands when they are ready!!! For that matter the cribs too!!! Really like both types of fish A LOT, but they are hard to find here!!!

GOOD LUCK!!!
DREW
Nice looking tank! Did you end up with baby kribs?
Just waiting for things to grow in
Had a horrible battle with ich. Never dealt with it before, but it managed to devastate my fry
.