New Tank
---
This is my first attempt at a freshwater planted tank. I have generally kept reef tanks (hence the drilled corner on this tank). It's about a week old now.
It's a 55 Gallon, 36" wide x 20" tall x 19" deep (front to back). I'm currently using the drilled corner as a filter. The pump intake is attached to the drain line and cycled back into the tank. This will most likely change. It takes too long to clean the filters and the water level drops quickly.
The lighting consists of 4 30W fluerosent bulbs.
2 - Philips Daylight Deluxe 1950 lumens; CRI;79, Temp. 6500K.
1 - GE daylight 1900 lumens; CRI 75; temp 6500k.
1 - GE Cool white 2200 lumens; CRI 60; Temp. 4100k
The substrate is a mix of 50% 2-3mm gravel from a well established planted tank and 50% Fluorite (pre-rinsed my rear lol, this stuff is 10% mud!)
The water is 80% R/O and 20% tap. My tap here is off the chart for hardness and a PH of about 8.6 from a large city water supply so who knows what else is in it.
Currently PH is 6.6, ammonia 0, nitrites 0, nitrates about 3ppm at best. Temp is at 78F.
I am still juggling the DYI CO2 delivery. This also appears to be a future purchase. Balancing the CO2 input is harder than I anticipated and would hate to forget I opened it W/O to find dead fish in the morning.
Plants consist of...
Dwarf Hair Grass
(Eleocharis parvula)
Telanthera Cardinalis
(Alternanthera reineckii 'cardinalis')
Green Cryptocoryne
(Cryptocoryne wendtii 'green')
Water Wisteria
( Hygrophilia difformis)
Crested Java Fern
( Microsorium pteropus "windelov")
Compacta
(Hygrophilia Corymbosa Stricta)
Java Fern "narrow leaf"
(Microsorium Pteropus)
Aqua Fern
(Trichomanes Javanicum)
Assorted Anubias
(Anubias SP.)
Amazon Sword
(Echinodorus Amazonicus)
I went a little crazy buying plants that day. I will end up moving and replacing in the future. But it still looks okay for now and the rescaping never ends anyway.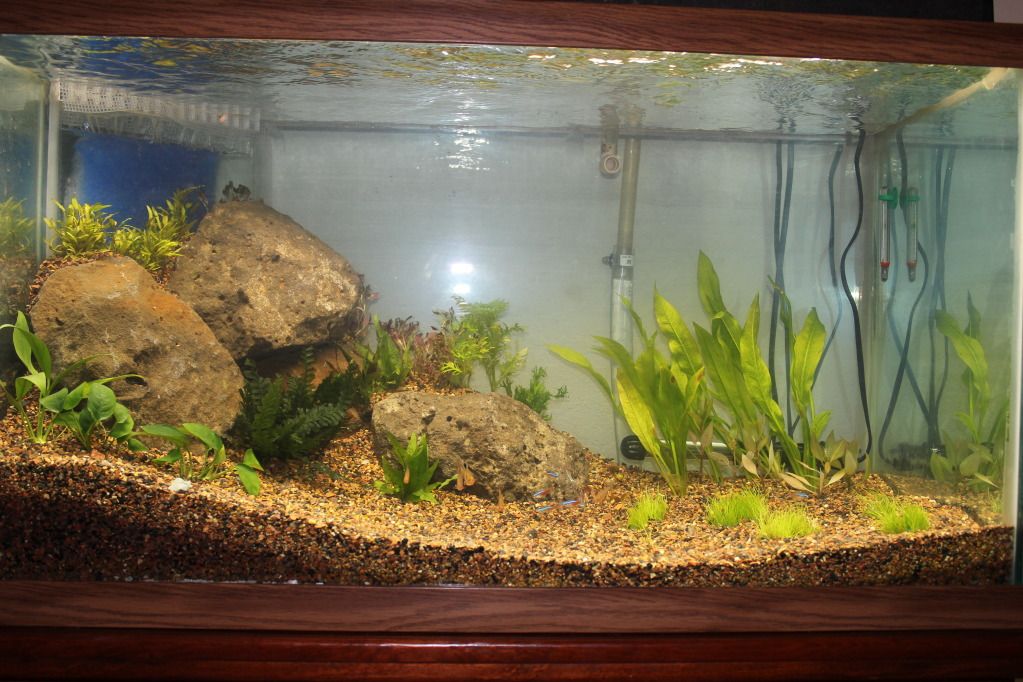 So I have a few neons and what was labeled as a red finned tetra, images below. I can't seem to find them on the web anywhere that match these. Any ideas?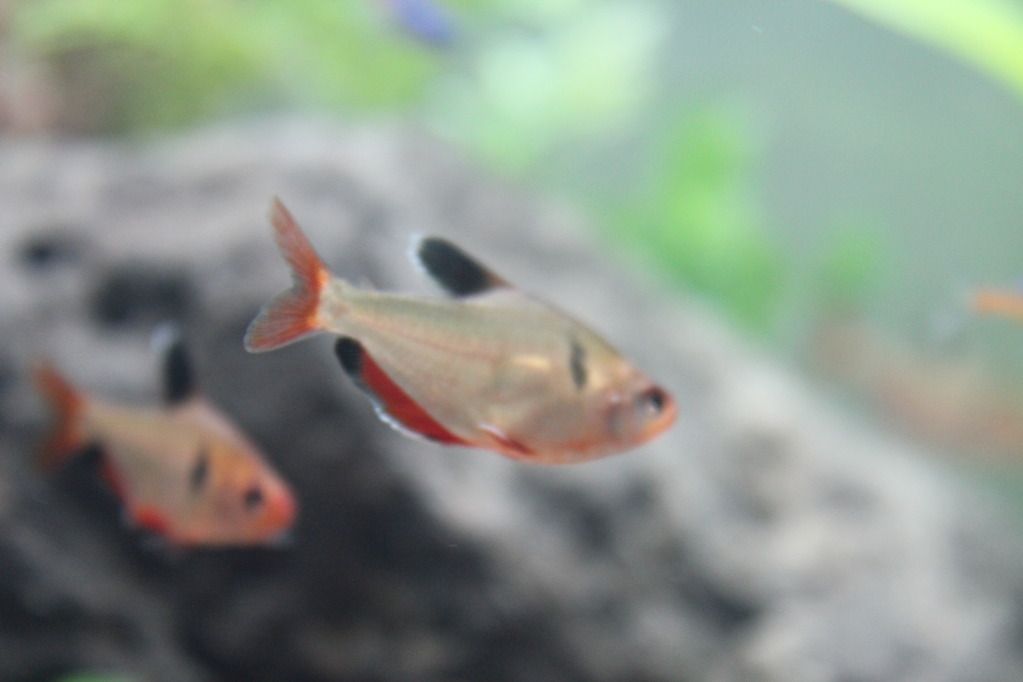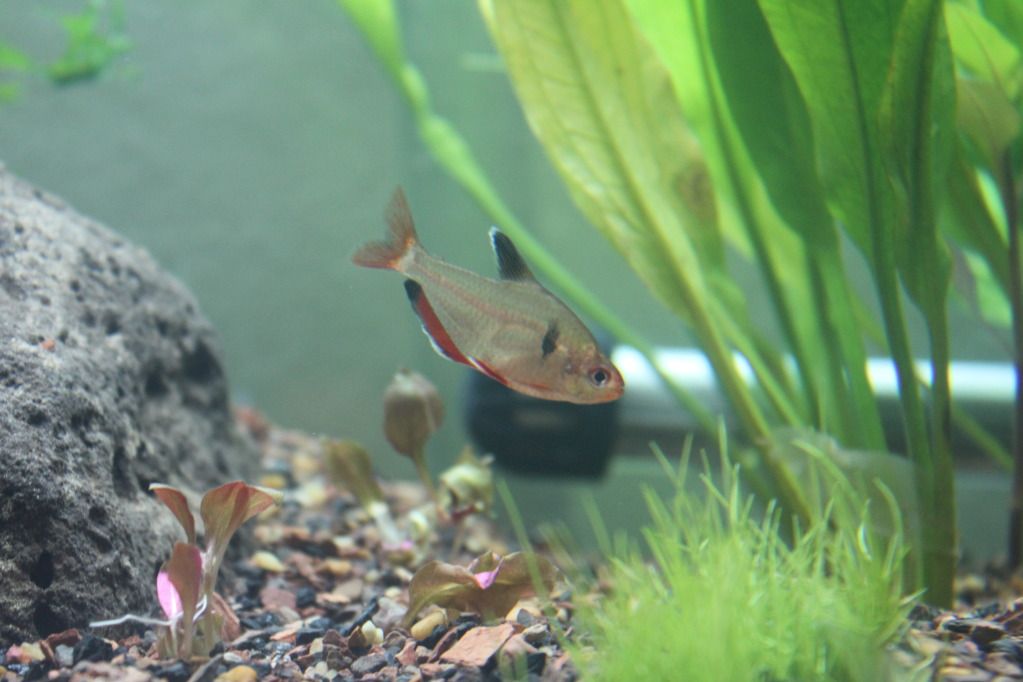 Planted Tank Enthusiast
Join Date: Jul 2011
Location: Ameri,CA
Posts: 619
Wow I like the Rock work! This will be a great scape once those plants fill in. Just a couple of suggestions... If you want to DHG to carpet faster, I would either break up the current ones you have and spread them around or buy more of it. I think you won't have to trim it too much since this tank is really high. You might also want to tie your java ferns to a rock for better growth. I've never put mine in the substrate so maybe it might work?

I know you mentioned that you're planning to move or replace some of the plants in the future. Those Aqua ferns (Trichomanes Javanicum) are actually not fully aquatic. Also those swords on the right may create a very large wall of green.

I see a great potential for this scape. You did a great job! Also, your fish look like Serpae tetras.

Good Luck!
Nice!
My two cents:
Black background ASAP. Lol! Can be whatever solid color tho, I like black!
Skip the DIY co2 and get a paintball system. It's worth the investment.
---

A heavily planted shrimp tank is possible!
Wannabe Guru
Join Date: Mar 2012
Location: Tacoma Washington
Posts: 1,578
Great job man I like it a lot.

Sent from my HTC Evo 4G
---
40B - Shrimp tank
~~~
Looks like you've got some Serpae Tetras there. Very nice looking fish once they get settled in.
http://en.wikipedia.org/wiki/Serpae_tetra
I also like the idea you have for your layout. Reminds me of a hillside maybe.
David
---
---
Last edited by DBridges; 07-13-2012 at

09:22 PM

. Reason: added link
Like I tell my better half, "It's a newly planted garden" she gets that
Those pics are a couple of days old. A couple of the sod pieces are turning translucent brown. I am hoping it's just an immersion response from being grown emersed which it was.
Thanks I had no idea that was the preferred location for them.
Huh, did not know that, thanks.
Totally! I just have not decided on color. I like the look of black but it also absorbs those spectrums of light we try so hard to put in.
I too love the rockwork and the way you built up the substrate in that corner. I would suggest if you decide to do CO2 get a 5 or 10lb tank. A paintball tank will not last very long in a 55 and you'll soon grow tired of going to the sports store to refill it.