Real nice.
---
I don't know where I'm going but I'm on my way.
29gal
Long overdue update !!
First the pics: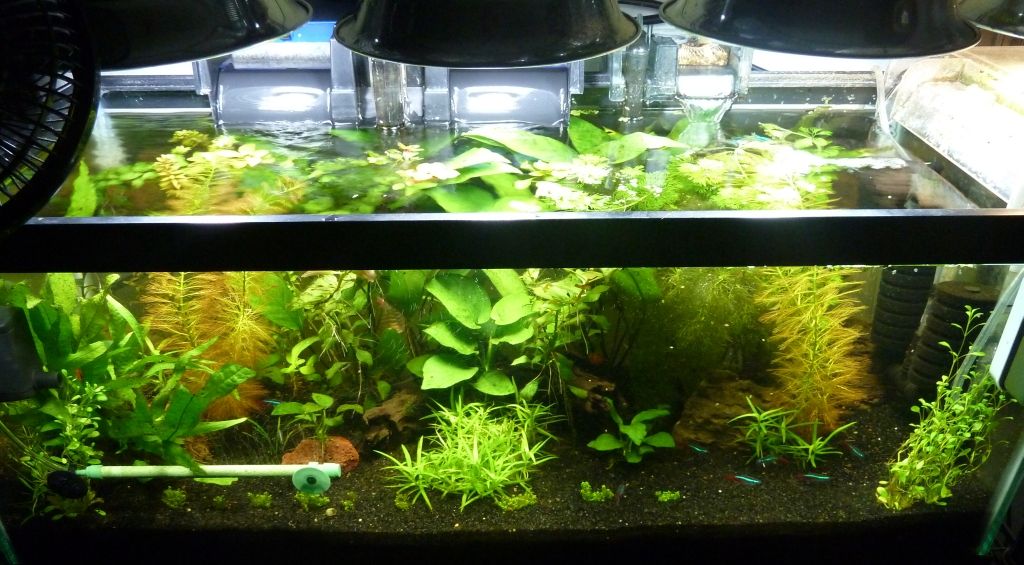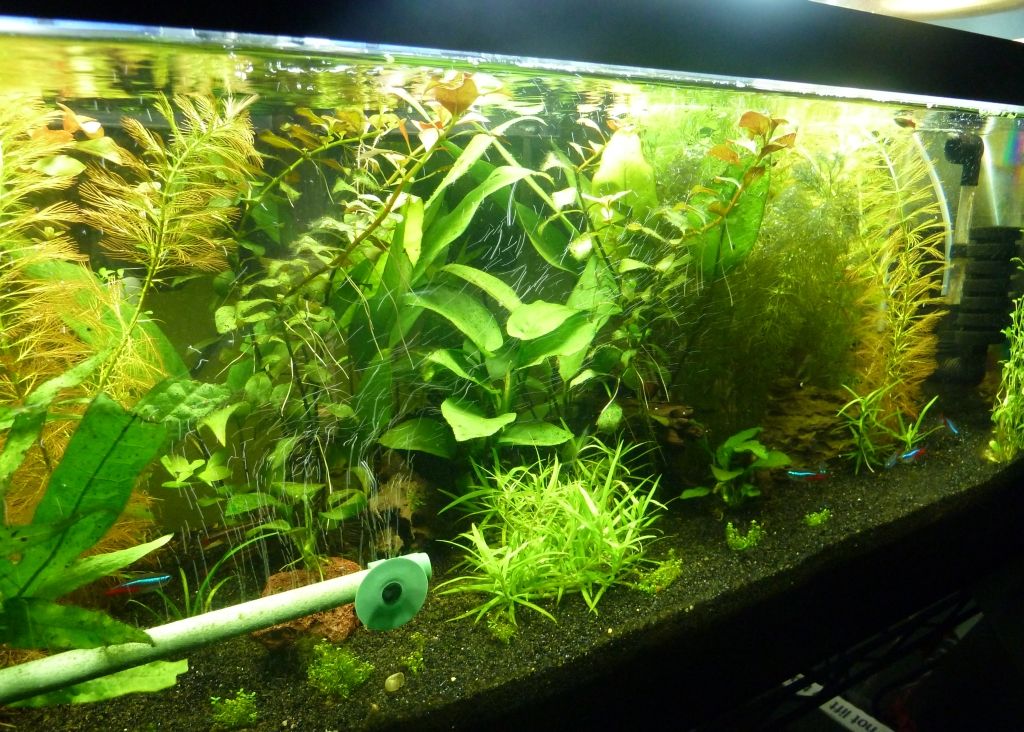 The details:
Has you can see, lots of changes here
1. First the hairgrass is gone, all of it. Got tired of the half assed look. I pulled out some crazy runners though.
2. Added a few more plants. please dont ask me the names cuse I always forget, if you can identify them more power to you. I like those red bushy stems great contrast with the green.
3. Found a Whisper 60 at a thrift shop. $3, amazing. Lots of volume filtering without the surface trashing. Adjustable flow too. Love it.
4. Downgraded to 13watt bulbs, and added a lights out period to the timer midday too much algae . Hopefully the next thing below will take care of it.
4. The major change , pressurized CO2!! 5lbs tank , Smiths single stage regulator , cheap Lowes needle valve ( got some SMC AS2200 on the way) , bubble wand diffusing ( glass diffuser/bubble counter on the way) . Its a bit hack right now , but its doing the job. Need to grab a drop checker, pronto.
Added fauna:
1. Crown tail betta ( Walmart rescue)
2. One banded and one spotted Nerites.
3. 8 ghosties on the breeder HOB
That's it!! Comments appreciated ...
Quote:
It's looking good.
Its still a bit chaotic, the plants are everywhere. You cannot tell foreground from background, but I kinda like it. The fish love it . I already need to trim, that CO2 really kicked in and I can see tiny bubble streams coming out of the leaves.Awesome!
This looks really nice. I wish I could get a hold of plants like that.
After the RAOK decided to do a little trimming and maintenance.
tank looks very good, everything looks super healthy.
Fish are digging the additional swimming space, I think I'm going to trim heavy from now on, I like the clean look.
Beautiful tank! Good job!
Latest picture before heavy trim/ rescape.
Needless to say, my dirt tank experiment was a success. All of the plant I've thrown in there have grown successfully. I will be moving to a bigger place in March, so I will try and keep this one has clean has posible until the move.
To be continued...
very nice everything looks very healthy
Another update.
Rescape in progress, trying to flood and do something with the manzanita. Moved the cories down here since they where running out of playground with the crypts.