Algae Grower
Join Date: Apr 2012
Location: England
Posts: 63
Took atomizer off now and replaced with my old ceramic diffuser .
Running at about 2-3 bps now right under a new wave maker 2000l/hr ,added to get the tank water moving a bit better . Took drop checker straight to yellow , but fish and shrimp don't seem to be bothered at all. got a week off work so i can monitor levels closely and adjust as needed .
No pics of the main tank , but here's a few of my shrimp tank ,no CO2 and its occupants.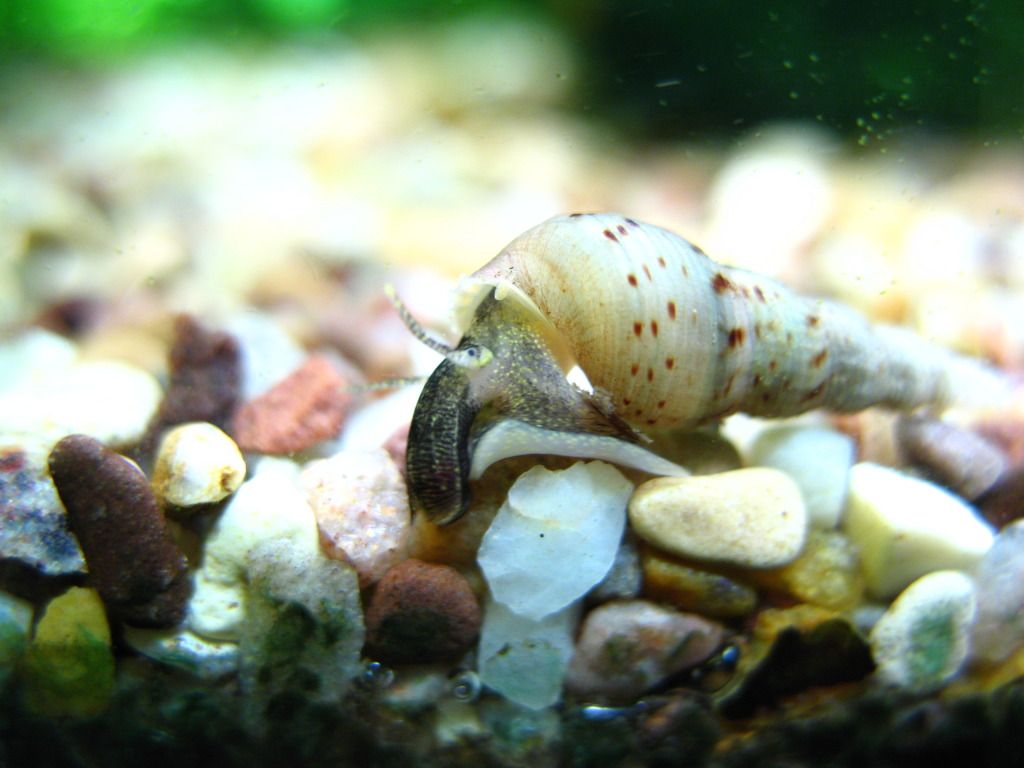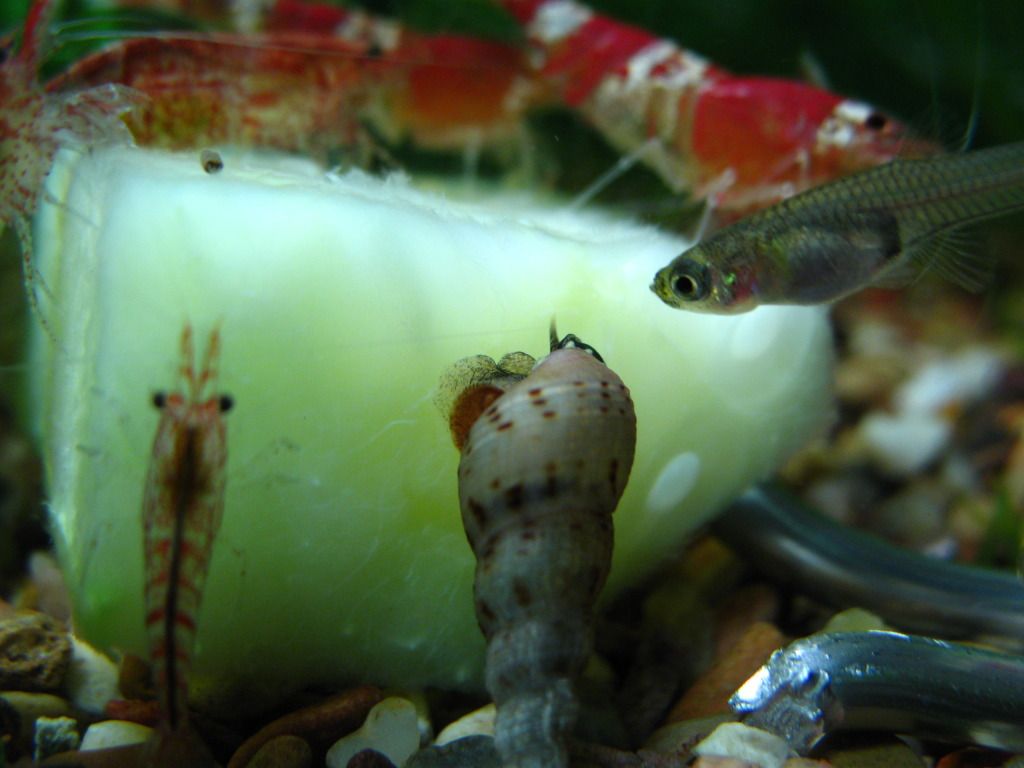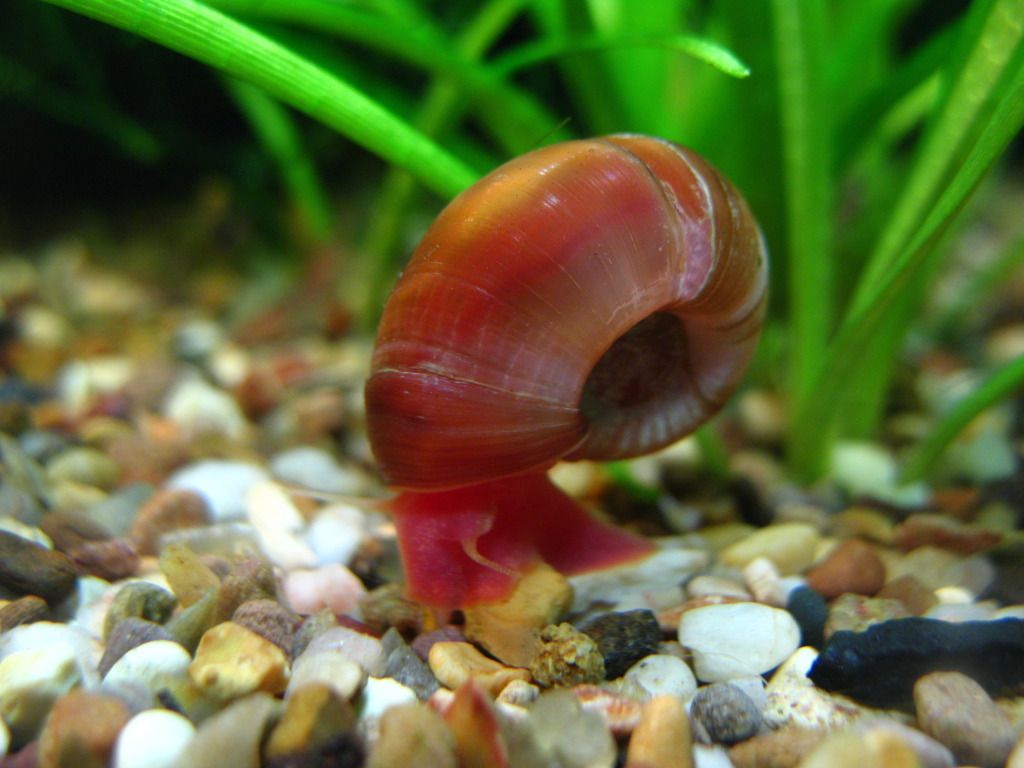 had theese shrimp a week and they have berried up already
edit - Just purchased another 5 x Crystal Red shrimp ss+ grade Double Hinomaru to get some nice babies
looking for some black crystals also
---
Last edited by morgan; 08-26-2012 at

07:20 PM

. Reason: edit
Algae Grower
Join Date: Apr 2012
Location: England
Posts: 63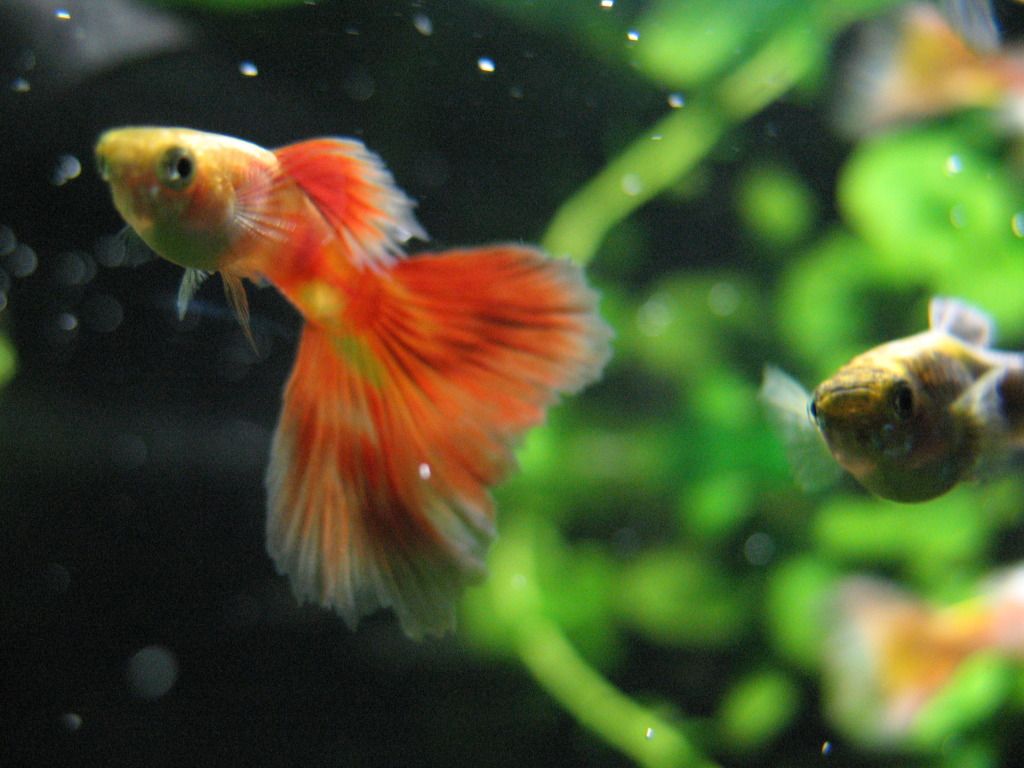 Cherry shrimp going a nice red as she gets older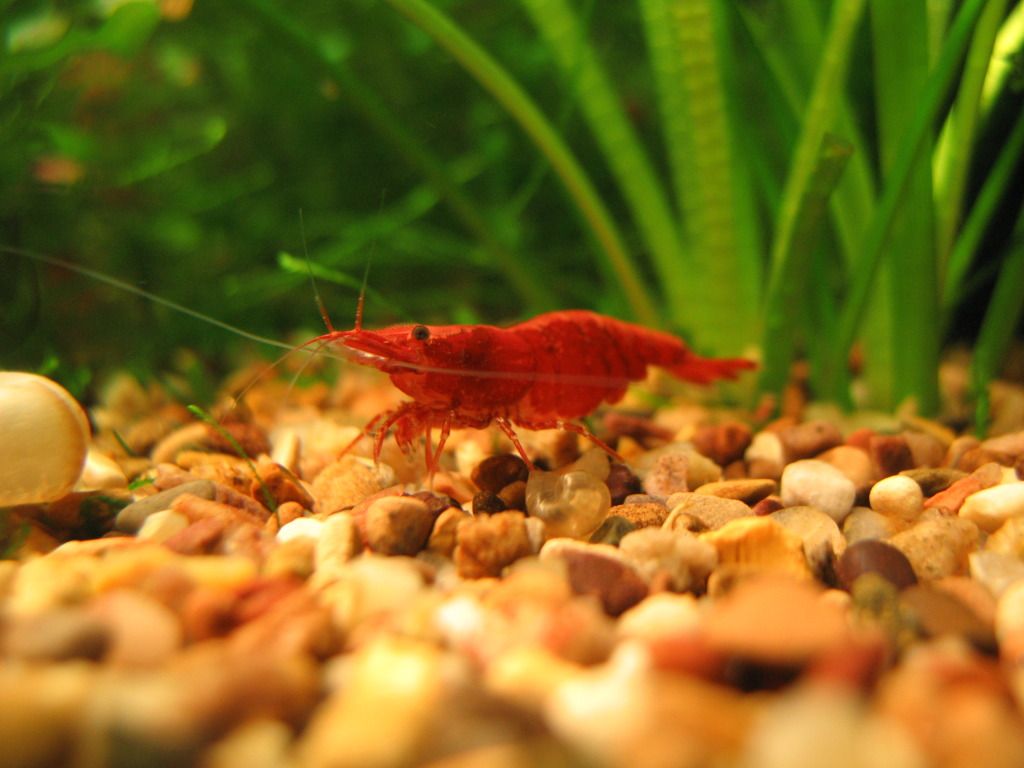 Going to start tidying the tank floor up now as pelia and java moss is taking over
Algae Grower
Join Date: Apr 2012
Location: England
Posts: 63
Had a random crystal death in my shrimp tank 3days ago . May have been old age , but i decided to get a tds meter.

Tap water - 245 ppm
Main tank 1 day before weekly water change - using E.I salts - -540 ppm
Shrimp tank - 387ppm .

Im not gonna mess with main tank cause the weekly 50% w/c will keep the ppm in check.
The shrimp tank has had a 25% w/c and is now reading 301ppm.
Purchased 50l of asda still water @ 17p for 2 litres with 100ppm and are slowly introducing that to the tank . May do another 25% on sunday

I am aiming for about 200ppm on the shrimp tank
Love the wood and all your livestock look great but--have you ever considered leveling the front substrate? I think I get where you were going with the hump, but, to me, it detracts from the look of that great driftwood tree, especially being dead center.
Algae Grower
Join Date: Apr 2012
Location: England
Posts: 63
Hey thanks Knotyoureality . Coincidence was i had just removed all the java moss/riccia from the gravel just before i read your post . Ive kinda smoothed the hump out , but the driftwood has a nasty front edge on the base so ive had to hide half of it with gravel.
Tank is starting to look more and more overgrown now , and looks a little untidy .
Was kinda planned tho . I want my plants to grow out nice and fat before i trim real heavy . That should leave me with a decent bit of trim which i plan on re using or replacing new with old .
The big re scape will prob happen nxt month , if i get a few days off wrk ill go for it .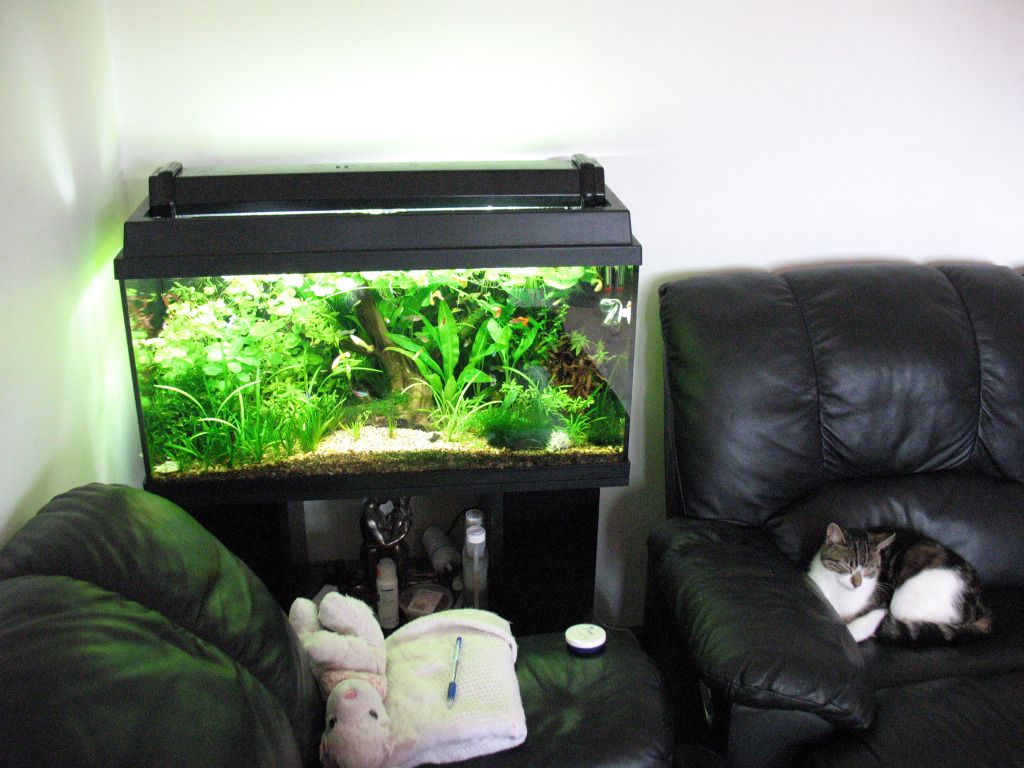 I did have a nice open top tank , until my cat fell in the tank ....twice .No damage done.
Ive had to put the old trim and diy light back on temperary until i train the cat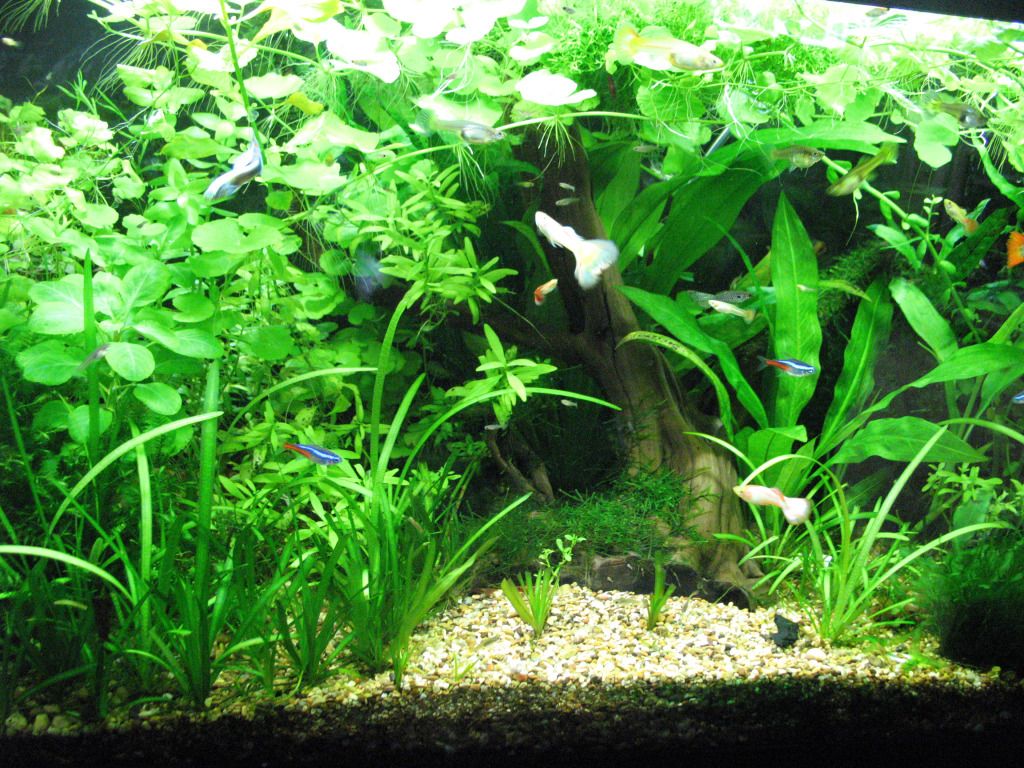 Algae Grower
Join Date: Apr 2012
Location: England
Posts: 63
Just purchased a 3 stage RO filter . Only a cheap one but it makes 230ppm water come out at 12 ppm . With a ratio of my tap water i can easily sort my ph and ppm out now.
I tested the dorset pea gravel yesterday , and it is buffering hard at ph 7.6 which is not good.
i put 2 peat balls in the tank but to no effect , lovely tannins but straight back to 7.6 .
so ive purchased some black sand and made sure it has no buffering capabilities and a water test kit .

Gravel substrate in the crs/rcs tank will be 100% removed on sunday , hoping to get all shrimp back in by the end of sunday . big job it looks like it is gonna be .but its gonna be worth it in the long run for my crystals

Only down side is there is about 10-20 cherries only about a week old in the tank , and possibly new born crystals , my preg crystal went the full 4wks with the eggs but i cannot see any babies that dont look like cherries.Total shrimp population is around 40 - 50 shrimp plus 20 - 30 ramshorns and lots of trumpet snails

fingers crossed that all shrimp make it safely will post pics sun night .
Algae Grower
Join Date: Apr 2012
Location: England
Posts: 63
The big day
---
Well the substrate swap went pretty smooth
started this morning with my daughter keen to earn her pocket money .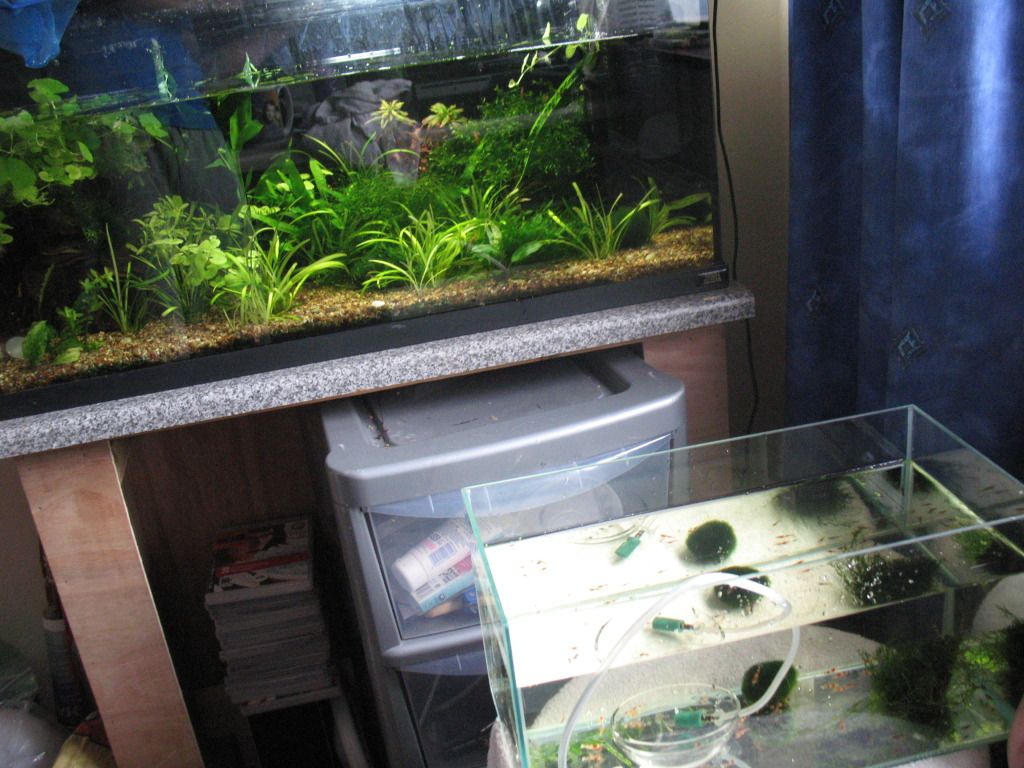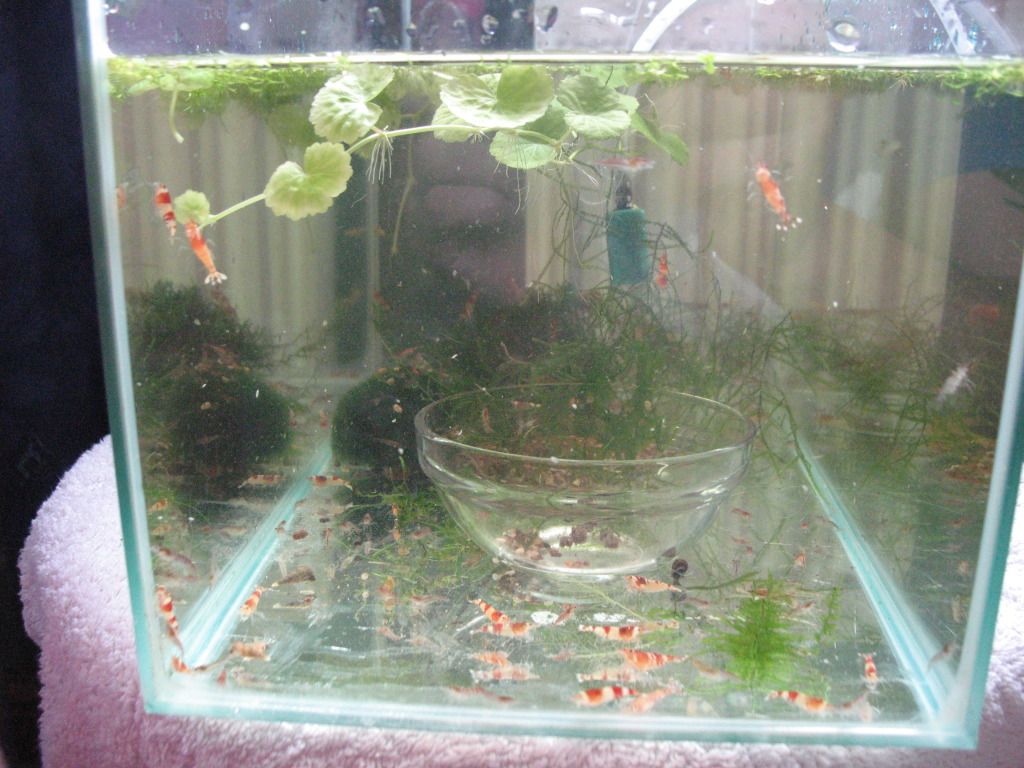 all the hard work was done for me lol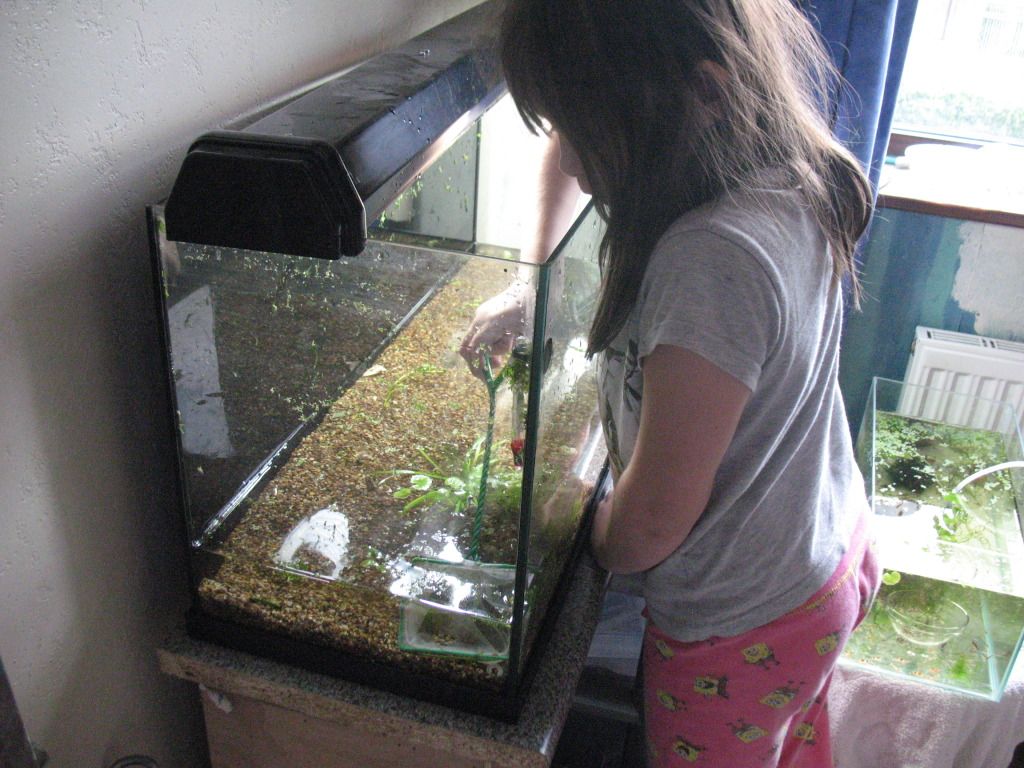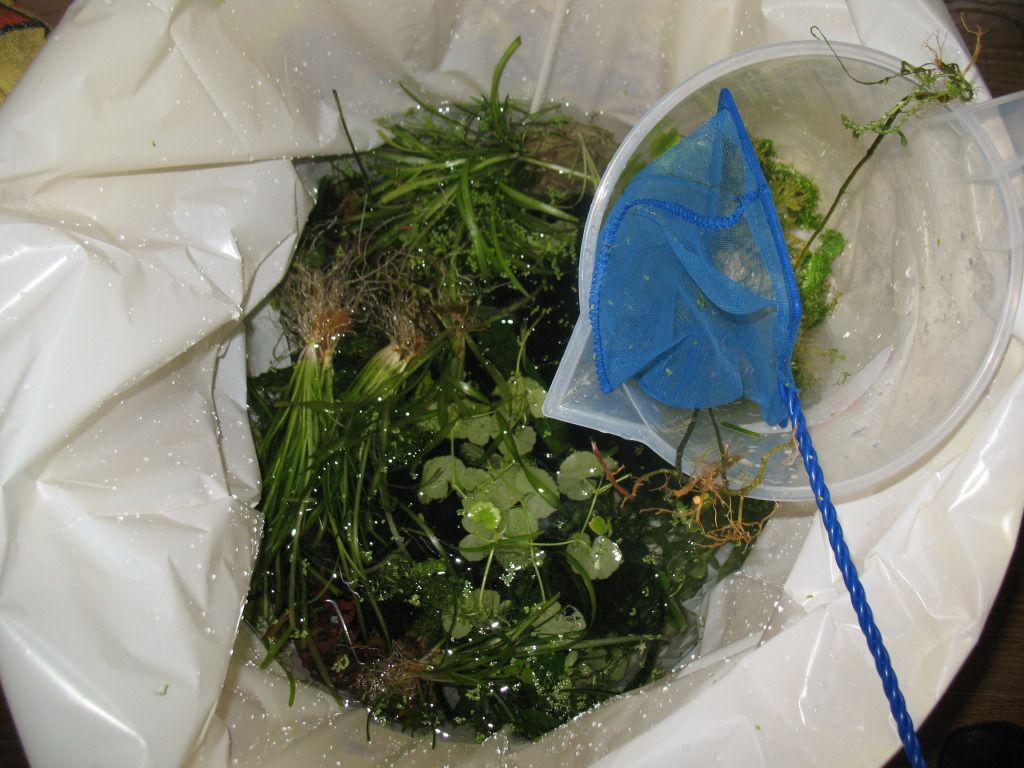 tannins in my water from the peat
sand substrate. not as black as i was hoping for.
filling up
All shrimp and snails are back in now Total time taken - 5 hrs , RO maker is very slow
So im happy now that i have control of the water perimeters, which I havent notched it down too rapid , over the nxt week the PH will be brought down to 6.5 and TDS 130
current stats
PH 7.0 with tester 6.8 with test strip
TDS - 174
KH 70 mg/l
GH 200 mg/l
nitrate 10 mg/l
nitrite 0 mg/l
Planted Member
Join Date: Jun 2012
Location: Oxfordshire, UK
Posts: 186
Gorgeous tanks!! And I've learned quite a lot from you this thread as well, never heard of peat balls before!! Thanks so much for posting!!
Planted Member
Join Date: Jul 2010
Location: ringwood nj
Posts: 177
I like how you built up that hill in the middle, you don't often see that in an aquascape. Very nice looking tank!