First planted tank... Simple Danios
---
So I'll be honest... I have no idea what I'm doing. BUT I've done a ton of reading and I love love love micromanaging so this seemed like worth a try.
So here it is, a small 10gal I started, i did a test run on a 1.5 gal with 3 snails to see if i dont kill everything and after cycling this one and getting a few fish i figured i could show it off a little (with everything not being dead and all)
Im ordering some loaches tomorrow (I think 5-6 kuhli loaches yah?), as well as some ground covering plants, I dont really have the desire for a co2 set up or crazy lighting regulating so some low light moss and the like i think would make for a nice carpet when well trimmed and cared for.
any who..
It will be fun to take regular pictures then come back to see where I started
so.. so far, 6 pearl danios <3
2 mystery snails (that are always hiding)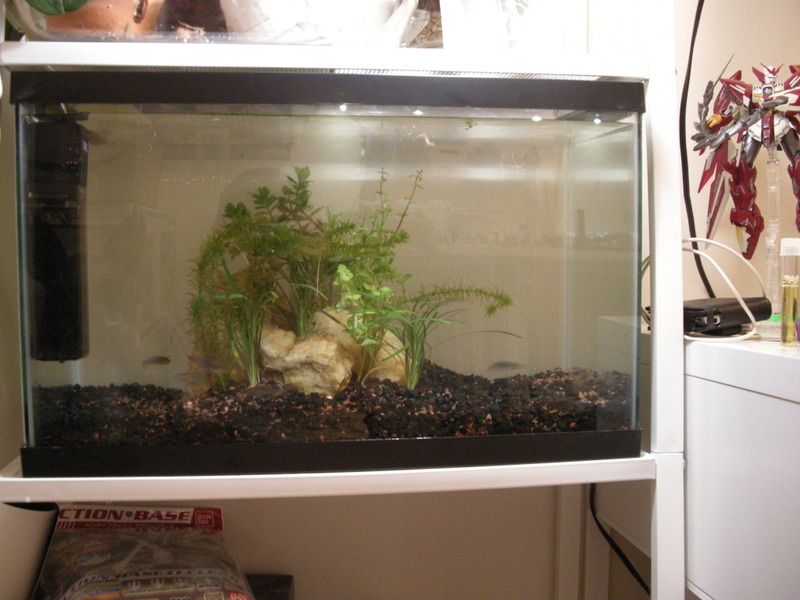 So far the danios really seem to enjoy a subtle current and chasing floating plant bits now and again. Love these little dudes attitude!
Nice start!!

I would just move group more to the left. Also the mongo grass is not a true aquatic plant. I would replace it with dwarf Sagittarius.

What is your light?
Quote:
Nice start!!

I would just move group more to the left. Also the mongo grass is not a true aquatic plant. I would replace it with dwarf Sagittarius.

What is your light?
ohh the sagittaria is very cool. I was wondering what type of grass it was, no one was able to put a finger on it. And yeah.. i might just go ahead and shift everything over tonight. thanks!
My light is something left over from starting some seedlings this year, its just a 60watt grow light, and it supplements my north facing window right to the left of the aquarium.
Im sure any hanging florescent light would be better than this set up, but for now it does its job.
recommendations?
Just some inhabitant updates. Ive been rearranging so much ill wait for pictures, but once i found out i caould add tanis to the water i went straight for it! I love the river look and now with a little gold water everything looks so calm!
Currently im baby sitting a betta of my friends. We all just got laid off over at BHG 38 studios... so a bit of crying and her not ending up getting her betta set up means i took the little lady in. Shes doing fine, though nipped the feelers off one of my snails! she seems to enjoy watching the kuhlis clean around, and likes to eat the danio eggs off the java moss
the only thing is recently ive notices these white/blue stripes on her fins and didnt know what they were. they sheen like they might be part of her pattern but i wasnt quite sure?
any who.. just some pictures. i ordered some dwarf sag, 6 kuhlis, and some java moss, did a lot of replanting then today at a herp. show found some AMAZING drift wood and have some cool stuff coming in from amazon. Its only 10 gallons... but i want to spoil them and really make this a project!
Oh! and if found these guys at the herp show, just put them in a side tank and am enjoying the look! and dont worry, the mongo grass is just to make me feel better at this point.. till things grow in hah.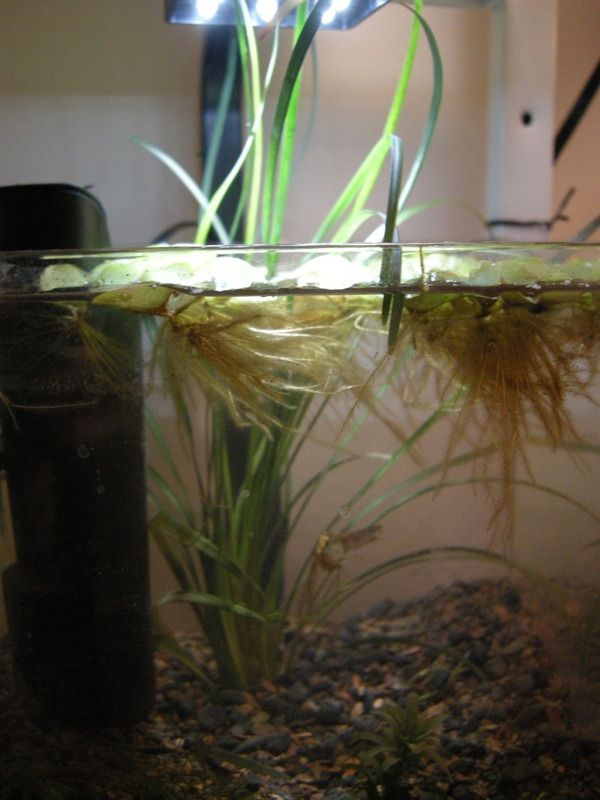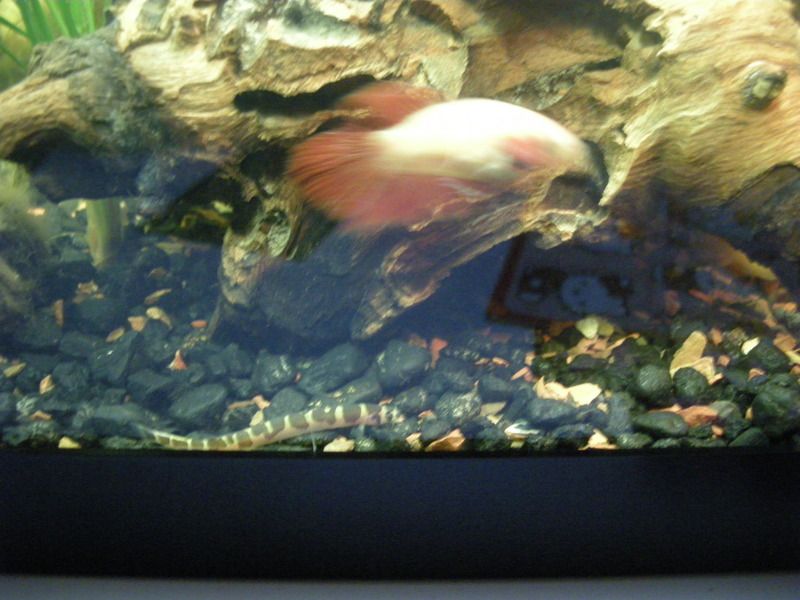 I just really like this picture, especially sense i got real lights!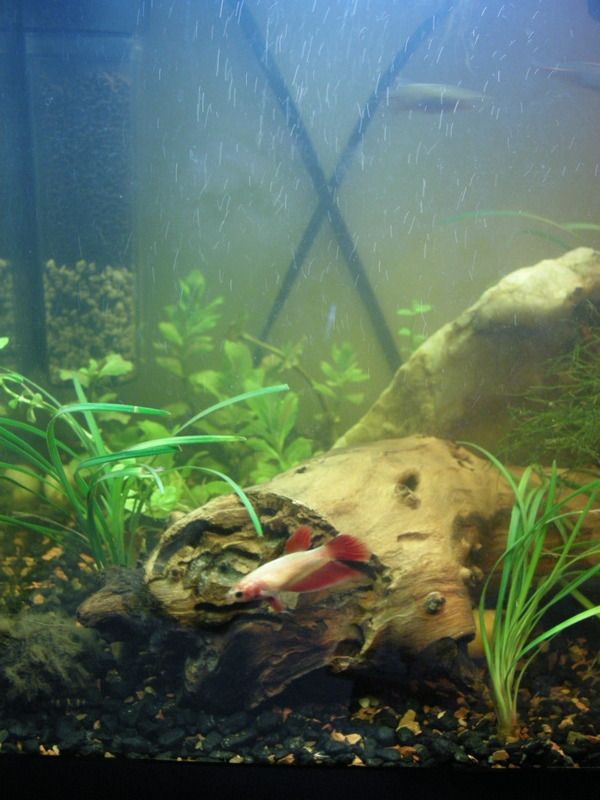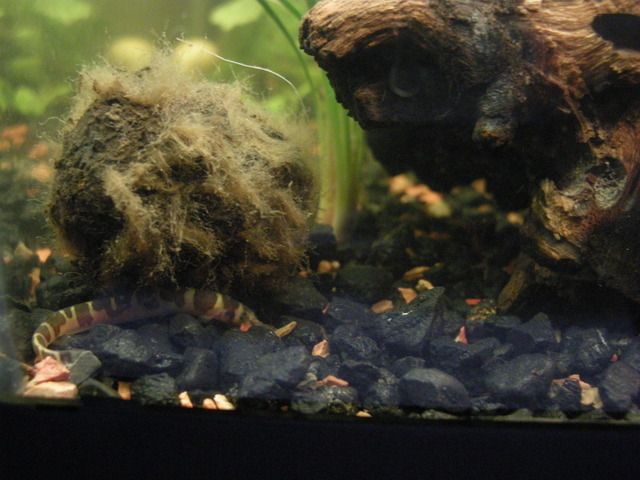 Looking good, normal coloration of a happy Betta on the color change
Update time!
a few changes to the tank
its in need of a trim <_<
the male betta is new, i moved the female to the larger one, and he seems to really be enjoying his new danio buddies as they follow him around
Nice growth and a very unique Betta.
Tiny bump with a horrible twitter pic, just to show some growth (and a plant that has escaped its substrate... Moved this tank to work with auto lights and things of the sort! Just gotta pick up some excel I think to help out my hair grass.. it just wants to grow SO slowly......
more pics inc later this weekend!
Oh wow! This is a really cute set up, and that betta is gorgeous.
Wannabe Guru
Join Date: Apr 2012
Location: United States
Posts: 1,748
good start and cool bettas!
This little dude was set up at work and I found out the water at work was killing my plants. Moving everything home tonight so it will be next to the 29 gal and should be doing some rescaping! I think option B is my fave
ahh it feels so strange to update this after so long!
it doesnt look just like the picture any more and has been slowly growing in
It got a trim the other day because it got so tall but im wanting to fill in some of the holes in the back with another plant, maybe some ludwigia? hmm! ive got clippings abound from my 29gal that I could use...
ponder ponder!
also, am I a bad person for liking the algae on the rocks? also i love the red oak color so im def thinking about upping some of the litter! just a touch though