Algae Grower
Join Date: Aug 2011
Location: La Verne, CA
Posts: 7
20L Uh... Mystic Tree scape?
---
Just finished scaping (minus cleanup and cycling, etc) my 2nd tank ever, and I must say what a difference a plan makes. This may not be the best looking tank, but compared to my first 10g, this is light years ahead. Anyway, just thought I'd throw it out here because seeing that I was a terrible husband all day yesterday and spent all night to the early morning to set this up, maybe I might need to find some consolation here if she ever gets sick of me and my hobby... and ditches me or breaks the aquariums... haha.
So since I couldn't decide between a nature aquarium or trying to do an Iwagumi I had a bunch of random materials which became a uh... some sort of huge tree (on the left?) where the root is so large it would create a bridge? And uh... those random branches on the right are supposed to be the tips of the branches hanging down from above. I actually had moss to make small leaves like everyone does, but I was thinking from this "really big mystic tree" the branches would be far from the base of the tree and really close from the vantage point which is why the leaves are big (java fern)... sort of. Kind of too big. The reason is I was trying to play with depth by placing the bigger plants in the front and making it look like the "same plants" would look tiny (hc) from farther away... sound doable and really cool in my head but it'd be very difficult for a 20L and realized a little late (the middle of planting) that it would take major skills to pull that off that I don't really have yet... I'm hoping that it still looks cool later once the hc and hairgrass fill in.
Anyway, enough talk.. It's still cloudy because I just set it up and some of the water stirred, but here's a glimpse of what it'd look like once the water is clear... this was while I was planting:
and here's the semi finished product: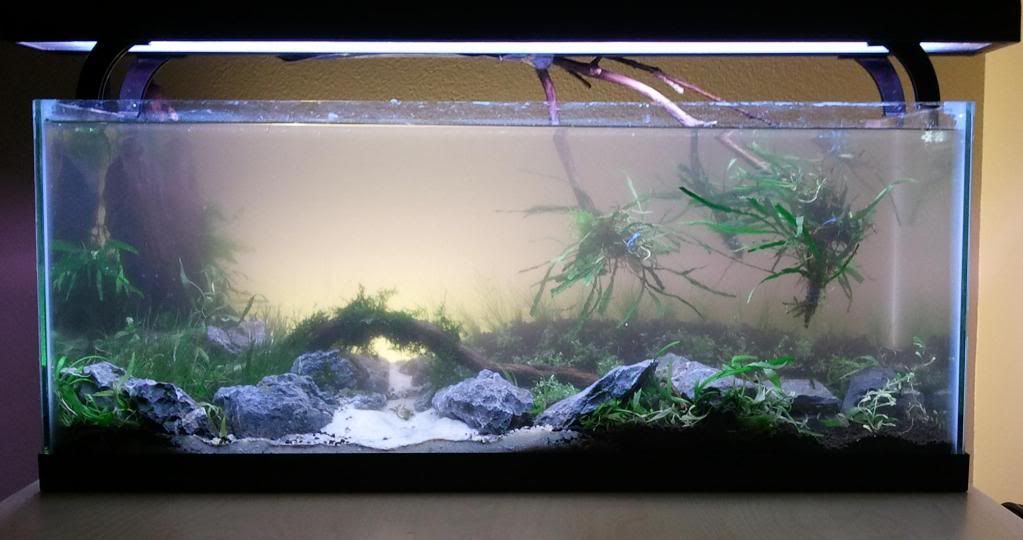 Learned a few lessons about working with sand and aquasoil too... make sure there aren't gaps between rocks unless you want brown liquid to leach all over your sand...
Anyway, if people are interested, maybe I'll post updates, if not, here's a post to make me feel better about myself for ignoring my wife and getting no sleep. haha...
Thanks for reading if you read the whole thing.
I like it, will be interesting to see how it fills in!
is the branch taped to your light?
---
Eheim Pimp #296
Canon Pimp #67

almost looks like the sticky blue tack stuff.
It looks good. Have you considered putting large rocks in back left? I think it would fill it out nicely. You could do some stems too, or wood, but I see a nice rock grouping fitting in perfectly.
Algae Grower
Join Date: Aug 2011
Location: La Verne, CA
Posts: 7
Thanks all.
@marko - it was taped to the light, but I found it coming undone this morning so I'm not sure how I'm going to handle it long term yet. I might remove it altogether.
@talontsiawd - actually, I was trying to do something like what you mentioned, but couldn't get it to look how I wanted. Also, there are some rocks there that you just can't see because the driftwood isn't flat and has a hole on the lower left. One of the rocks is hidden in there holding the driftwood up. But I have the same feeling that the left could have a little bit more filled in... I may have to retouch that area. I'd love some more aquasoil there too for a bigger slope, but I already used a bag and a half...
so expensive..
Algae Grower
Join Date: Aug 2011
Location: La Verne, CA
Posts: 7
So after the initial setup, I made a few updates:
- added co2 and filter
- the taped branches kept falling off the light so I've brought them closer to the "tree".
- added some amano shrimp
- rearranged the hc and dhg, added some riccia in the front to remove excess nutrients (will be removed later), and added glosso and micro swords.
I'm a little worried about the micro swords being overrun with algae in the long run and was hoping that I could create a bit more depth by putting a thicker leaved grass in the front and dhg in the back, but not quite what I thought it'd be like... it's always better in my head. Same goes for the glosso in the front... was hoping glosso close and hc further away would look like one plant with a better sense of depth but right now just looks kinda nasty... oh well. Live and learn.
Hopefully I'll be able to keep this scape for a bit to let it mature but cleaning trimmings from left "trunk" and branches is a nightmare and I can see problems starting there. We'll see how it goes and I'll try to update.
Thanks for looking!