Farmhand's Bewilderment
---
-20 Gal Tall
-Light = Glo 1x 24W T5 HO Hanging 21.5" off Substrate, 8" off top (If I'm reading Hoppy's chart correctly, about 55 PAR)
-Substrate = ADA with added Osmocote Plus as the soil was used for 5 months.
-Plants (Here is the list of crypts Layout420 sent me with my order. Great Seller.)
*Ciliata
*Undulata
*Pontederiifolia
*Beckettii
*Wendtii Tropica
*Wendtii Red
*Wendtii Green Gecko
Also in front; *Hydrocootle sp
My bewilderment comes in that I have NO idea what is what. Also I find info on the web contradicting as to how large these plants get. Time will tell if plants need to be moved around later. Or if I have planted too heavy or light??? Extra plants are growing emersed in a clear tub using shaded natural light.
I plan on letting the crypts settle in emersed before flooding the tank. At that time I plan to add some colorful stems in the back.
---
farmhand aka Clifford aka Grandpa
I'm sure everyone already saw this in the Drudge Report, but I was a recent winner of hydrophyte's RAOK drawing for a Riparium Kit. My plan is to let the crypts settle in, flood the tank, add some stems and place one or two Riparium kits from Hydrophyte in the back left corner which will help cover the filter hoses.
---
farmhand aka Clifford aka Grandpa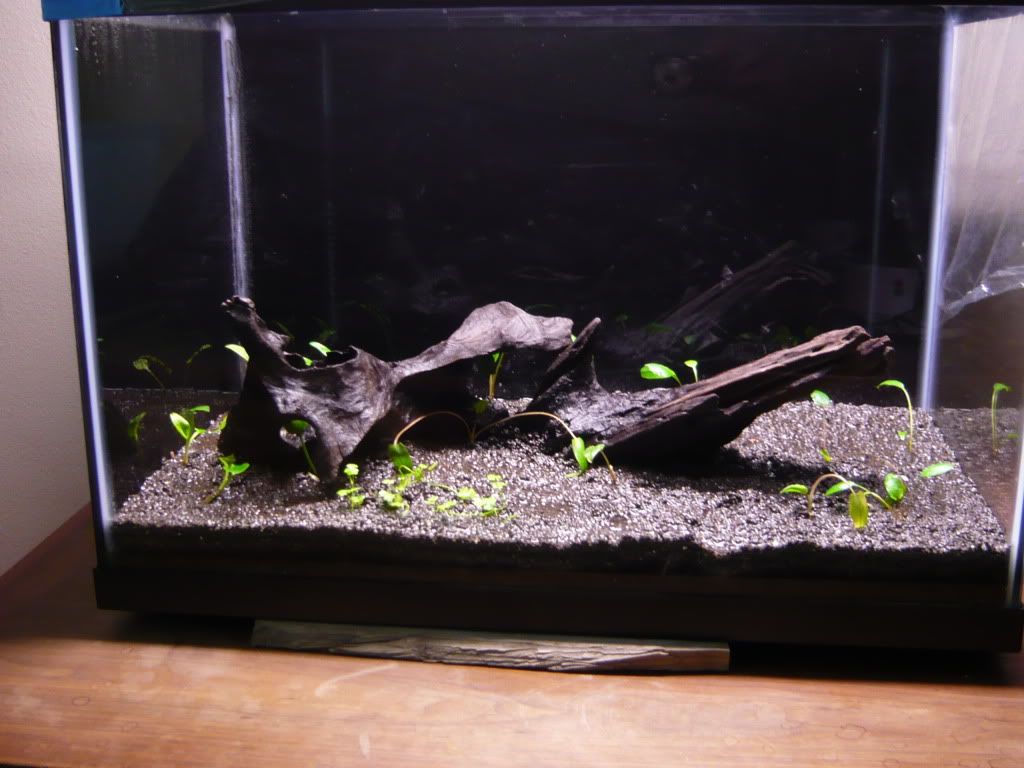 One week of emersed growth.
---
farmhand aka Clifford aka Grandpa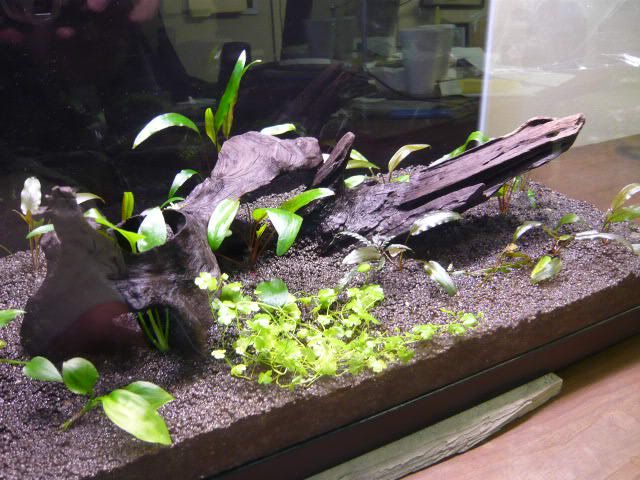 Almost 4 months into this Dry Start and everything is easy does it. Which is good because life has not been so easy. At least this tank has been. I show up once or twice a week, give it a misting, and everything grows and is looking good. Now only to figure out how to make this work in the rest of my life.
I've also added some Hygro pinnatifida (Front to Mid Center) thanks to Neoshrimp's ROAK.
---
farmhand aka Clifford aka Grandpa
you are definitely getting growth!
Wow, lots of growth! Awesome! I can't wait to see it filled.
---
Hey!!! I LOVE CORYDORAS!!!!!!!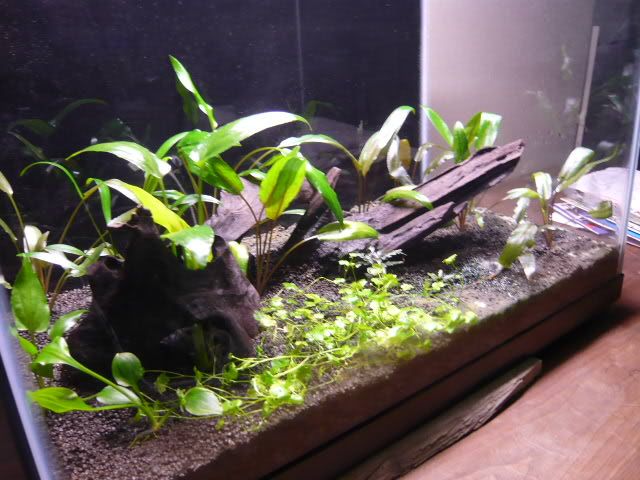 Four months of dry start and I am beginning to wonder if I'll ever fill the tank in. As my current job keeps me away for days at a time, it's easier to watch it grow all by itself. I am beginning to look for a better employment situation which would allow me to attend to this tank, fill it in and add some fishie friends.
Thinking some of the crypts will have to go. Yes that is mildew growing in there. I killed it last month with H2O2 and raised the light one inch, but it came back. Just raised it again.
---
farmhand aka Clifford aka Grandpa
I can't really see for sure but I think the center piece of wood/slate under your tank would cause a lot of pressure on the bottom panel of glass. If it's wood you can just split it and use each half on opposite sides to distribute weight better. Other than that....very pretty
Sent from my iPad using Tapatalk HD
The reason for the wood piece in front is to tilt the tank backwards allowing for a flat substrate while dry and then remove it before flooding causing the substrate to have a gentle slope towards the back. Read about the idea here on TPT.
---
farmhand aka Clifford aka Grandpa
It's really starting to looks nice! What do you have in mind for the bioload?
---
Hey!!! I LOVE CORYDORAS!!!!!!!