Jmike's 140 gallon Mishmash
---
Hey All,
Here is my 140 gal Planted tank. I'm currently getting it back on track so any comments and/or suggestions would be great.
Specs are as follows:
50-70% water changes every week or two 50% per week if I'm feeling like it.
Water Parameters: (Water Plant Analysis) -
Total Dissolved Solids (TDS) - 173 mg/l
Calcium (Ca++) - 45.8 mg/l
Magnesium (Mg++) - 9.86 mg/l
Sodium (Na+) - 7.4 mg/l
Potassium (K+) - 1.32 mg/l
Bicarbonate (HCO3-) - 162 mg/l
Chloride (Cl-) - 13.4 mg/l
Sulphate (SO4--) - 21.5 mg/l
Fluoride (F-) - 0.83 mg/l
Nitrate (NO3-) - <0.05 mg/l
Iron (Fe++) - <0.003 mg/l
Dosing per Chucks planted aquarium calc and yet another nutrient calc - I add the dry ferts directly to the aquarium in the morning
KNO3 - 2-3tsp 3/week MWF (pending test kit results)
KH2PO4 - 1/4tsp 3/week MWF
K2SO4 - 2tsp 3/week MWF
MGSO4 - 4tsp 3/week MWF
CSM+B - 3tsp 3/week TTS
Flourish Excel - Rec dose
Yamoto Fe - Rec Dose
Flourish Root Tabs - Every other month (added one round so far)
CO2: Aquarium Plants.com Solenoid/pH monitor contolled injecting (timer controlled during the day only) into an inline reactor which feed through the output into another in tank reactor, GLA Dual drop checker, lime green 2hrs after lights on
Lighting: 8x T5HO 6-6700k, 2-10,000k bulbs... Running only the middle four bulbs usually for 8hr/day
Filtration: Fluval FX5 with all Bio and 2 bags Purgen, Fluval 305 all Bio, Fluval 405 all Bio output to an inline CO2 Reactor
Subsrate: Seachem Black Flourite with some extra Pure Laterite mixed in (was layered down but has gotten stirred in) not very deep anymore 2-3" in most areas
Misc: 25C temps, Aeration night and day, filter outlets aimed at surface to give a slight ripple, circulation pump to keep things moving
Aqauscape: Large Malaysian drift wood, river rocks
Flora:
-Large amazon sword Echinodorus bleheri (first plant I ever bought! was in the 33g over 10years ago)
- Cryptocoryne, Wendtii, Green (Cryptocoryne wendtii)
- Anubias
- Java Fern (Microsorium pteropus)
- Cryptocoryne, parva
- Micro Sword "Narrow Leaf" (Lilaeopsis Mauritiana)
- Taxiphyllum barbieri Java Moss
- Pogostemon helferi
- Tonina sp. 'Belem'
Fauna:
- 20+ African Cichilids (started with 2)
- 3 Firemouth Cichilids
- 3 SAE
- 2 Clow Pleco
- 3 Raindow Shark
- 4 Otto
- 2 Corys
Pics (just before water change, trying the wait it out GDA battle)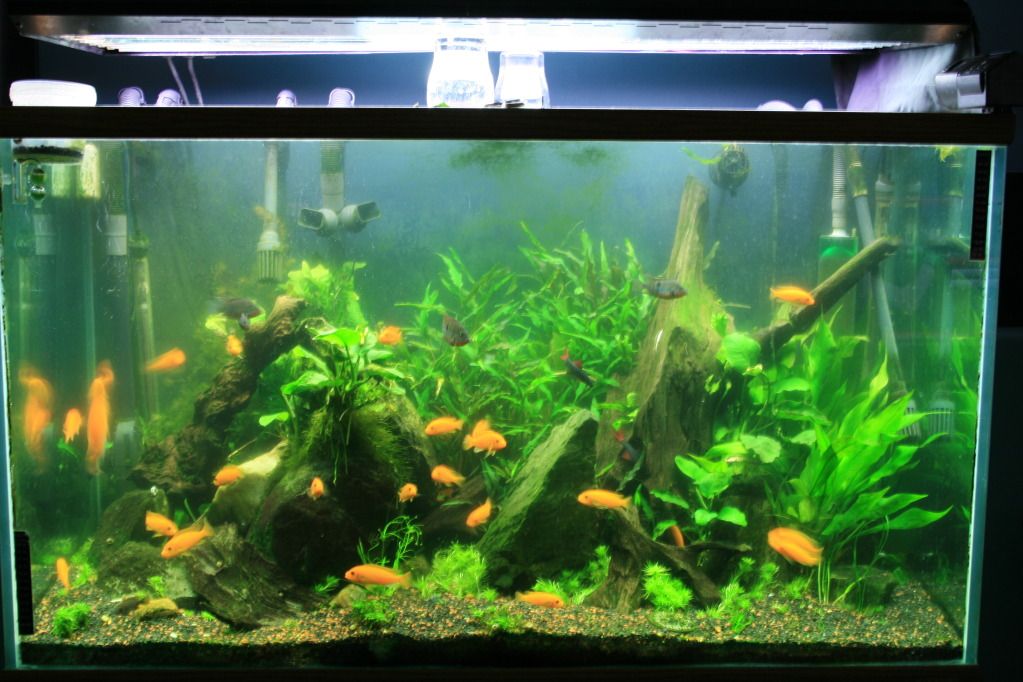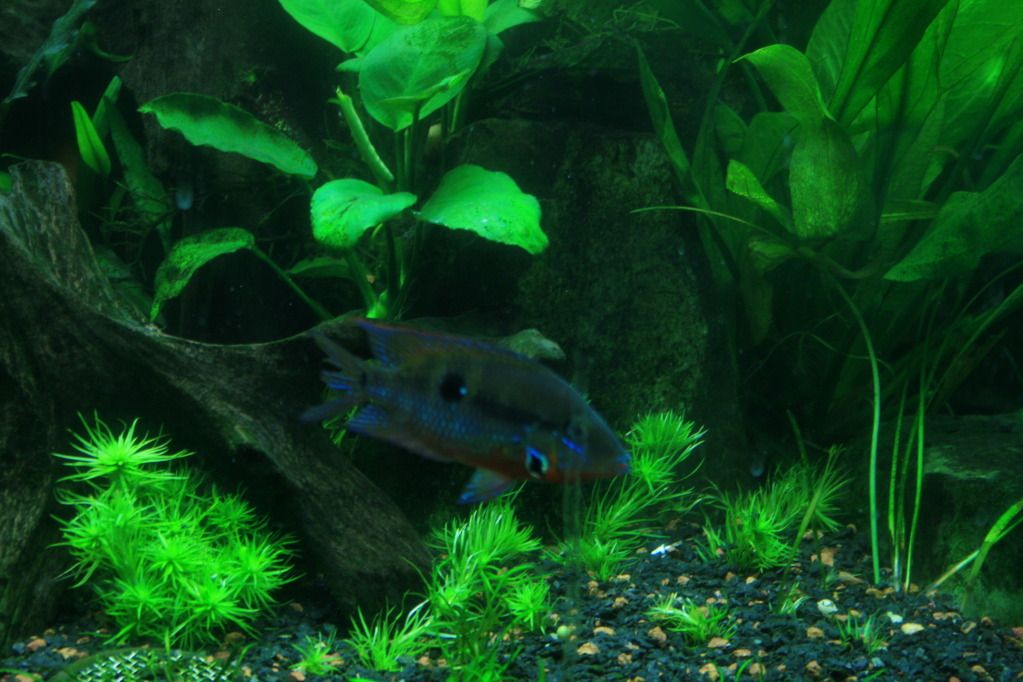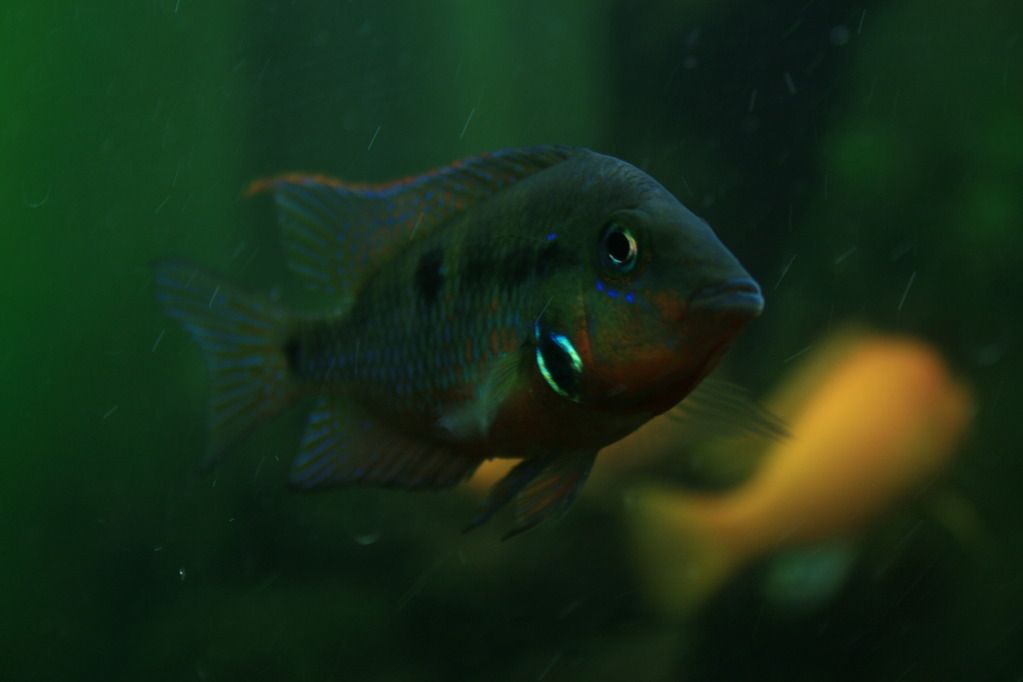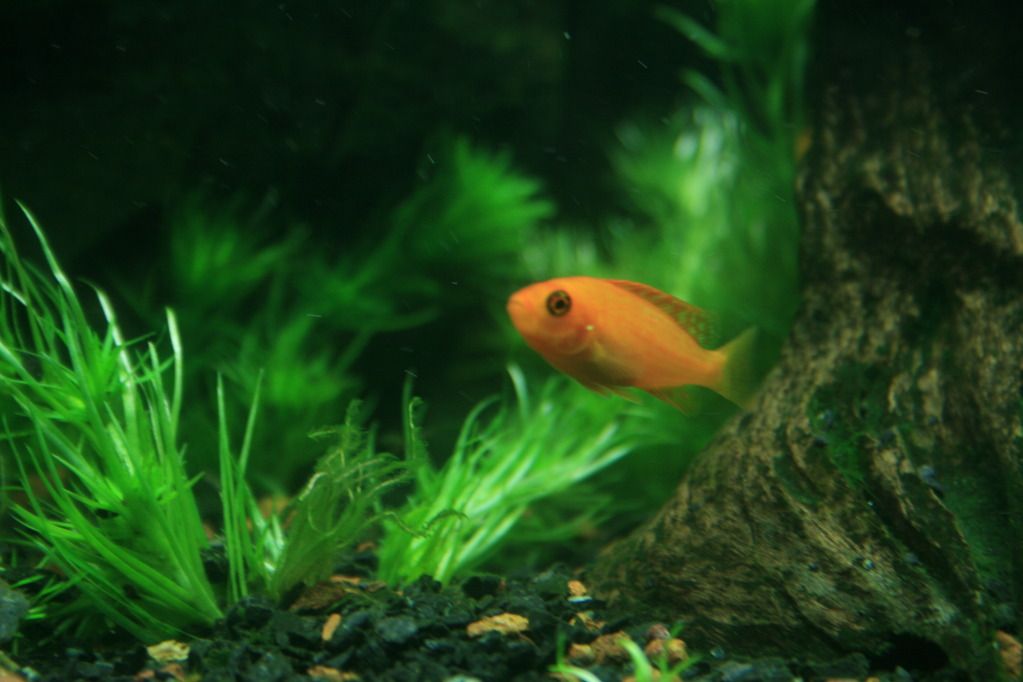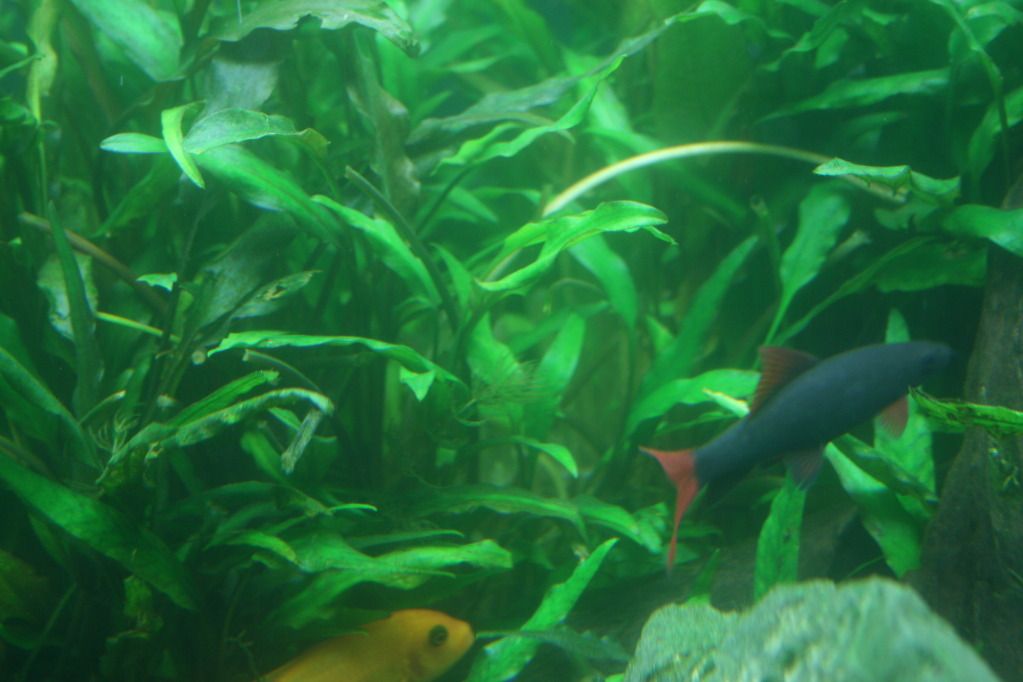 This is my other little project, a 5 gallon doing the DSM
---
140g Planted Algae Machine..