Algae Grower
Join Date: Jan 2012
Location: Sacramento California
Posts: 48
Fishiefanatic's 20G long
---
Iíve been lurking here since I can remember and just decided to start up an account and post. Donít know why it took so long Ė TPT is an amazing site and is incredibly helpful. So, hello all.
Equipment:
Lighting:
LED lighting: Cree XP cool white with two blues (will be adjusted later)
Heater:
small hydor near the outtake of the filter, just to insure the water doesnít become chilled at night.
Cannister
type of filter, donít remember the name.
Substrate:
Mix of Eco Complete and sand (will be changed)
CO2:
DIY CO2 system (will be changed)
Fauna:
10 cardinal tetras
4 Scarlet Badis
2 Otocinclus
~20 baby cherry shrimp
Flora:
Java Moss (I.E. the bane of my existence)
Hygrophila difformis: Water Wisteria
Sagittaria subulata (I think)
Dwarf Hairgrass
A large anubia (Not sure which type)
A dwarf lily
Two unknown plants
Plans for the tank:
Adjust/add lighting
to cover the sides and change the blues.
Substrate change
Ė this will be the most arduous of all the tasks. Iím going to replace it with Fluval Stratum either shrimp or plant.
Aquascape change
Ė Going to add manzanita to it, or maybe some rocks. Going to the LFS today to buy substrate, test kit, and perhaps something for the scape.
More plants
Ė I would like some more red in there eventually, as well as some Blyxa Japonica and maybe some type of an Erio.
Pressurized CO2
system eventually~
I do not have a testing kit yet Ė I have a PH test but thatís it. Iím going to buy one soon, I just never got around to it.
History of many tanks:
This tank has been around for quite a long time. Over a year, Iíd think. Started with an Eclipse five freshwater for a betta (planted with java ferns and moss), changed it over to a saltwater, then got this 20G for two goldfish, moved, and then started it over again. I couldnít grow/keep anything alive for months and I didnít know why. Guppies lived and had fry, but they had a parasite and died off. The plant thatís lived outside of everything has been Java moss. Found out that my brother used the siphon and the bucket for saltwater and didnít rinse after each time Ė so I had saltwater going into the tank, which explained why the plants didnít last too long. Did massive waterchanges, rescued some plants, got new equipment Ė bucket, siphon, filter Ė and started over again. Added plants first Ė they lived. So I added tetras, and they lived. So I added scarlet badis and they lived, and then the final test were the ottos and theyíre fat and healthy.
Everything has lived for over three months, and Iíve had lots of growth.
Now the eclipse five is back in my room as freshwater, though itís scratched and old. Itís been cycling for a couple of weeks. Iím going to make it a shrimp tank I think, because I do love shrimp. The total tank count stands at six: We now have two 29G cubes as saltwater tanks, my 20G and 5G freshwater tanks, and two 5G salt/fresh water quarantine tanks in the house.
Please excuse the photos: It was during the minor rescape and a cellphone was all I had available. I'll take better ones tonight with a real camera.
Pics from a week or two ago:
FTS: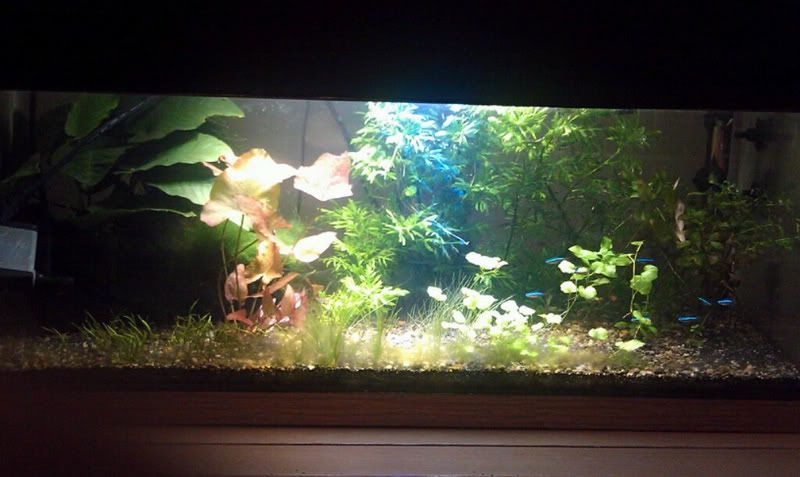 I couldnít figure out why my sagitaria stopped growing, so I tried to replant it and first moved the lily and discovered this:
Talk about major roots. They were incredibly long, so I trimmed them and moved the lily to the back.
The bulb to the lily fell off and I just left it in the tank. It hasnít rotted yet, but should I remove it?
And then the replanting of the Sagittaria began Ė look at the runners: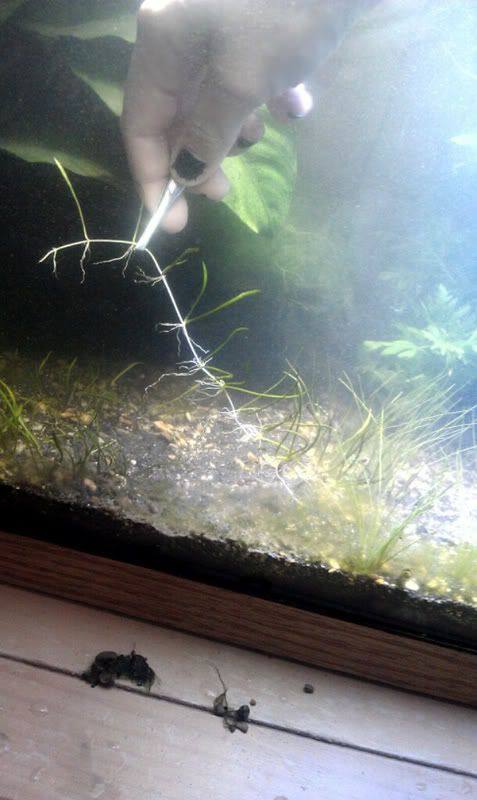 Though itís a terrible picture, can you spot the shrimpy?
I had a die off of this stem and now new growth Ė I donít know what type of plant it is, though.
Thatís all for now. I will take some better pics tonight with a real camera but at least this is sort of an introduction. I figure it's a newbie tank but I must be doing something right because everything has lived and grown and spread runners
Thanks all for reading!
Algae Grower
Join Date: Jan 2012
Location: Sacramento California
Posts: 48
Also, a couple of questions if you don't mind me asking them:

I have relatively hard tap water. Our PH is 7.5. If I add FSS as a top layer to my 20G, will it harm the fish? I heard it buffers PH to some degree - is there some way to ensure the fish will be alright with it? I will move them into a temporary bucket during the change but I was worried about the potential harm to them.
Also, I have a cannister filter and a sponge in there for the bacteria - I am aware of the threat of a miny cycle. If I kept a layer of old substrate in there (perhaps the top layer of it and just move it to the bottom?) would it help to further minimize the cycle? I was thinking I could put them in the quarentine tank but it's five gallons for 16 fish and some number of shrimp so I don't know that it would be the best idea.

Any suggestions?