inareverie85's 15G Journal
---
So, having one tank is never enough, it would seem!
I pulled an old 15G out of the garage after finding an extra bag of substrate and got to work! I had plenty of unused, extra plants from trimming and moving plants from my leaky Biocube. I have this terrible tendency to get too many species and then have a plant collection rather than an organized aquascape, so this extra tank allows me to place my trimmings and extras elsewhere
. That's how I justify it, anyway.
Tank specs:
Dimensions: 24"x12"x12"
Substrate: API First Layer Laterite and Eco-Complete
Filtration: Hagen AquaClear 20 (x2) (HOB)
CO2: Fluval 88g CO2 pressurized system
Lighting: 4x14w T5 Lighting, 3 6700k bulbs and 1 pink Floramax bulb
I am feeding my two little otos some zucchini at the moment, so I'll post photos later on.
UPDATE: Pictures!
I haven't finished fully planting, but here's a full tank shot of what I have so far:

I plan on planting something red behind the wood in addition to the green rotalas that are there. In addition, I'm adding some Blyxa to a few spots I left open in the front, and I'm going to have a glosso carpet, probably with a path of substrate left bare in the center.
And these are my inhabitants. I read that guppies were hardy, so I'm cycling my tank with them and using prime regularly to ensure that they are as healthy as possible. I really love the coloration of these. It's a shame I don't have another tank to raise babies in
Maybe a few will survive out of every couple of spawns. Lol. Probably not though :P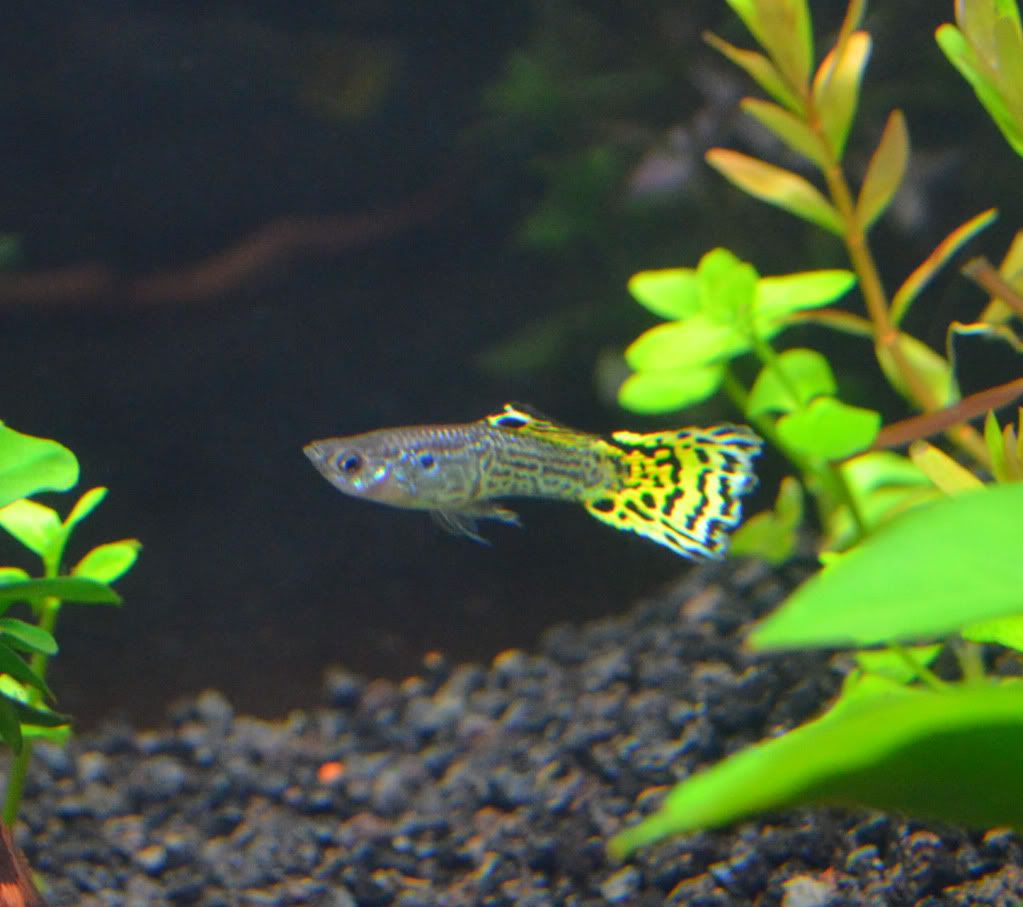 As always, comments and critiques are appreciated.
Thank you for looking!
Well, this WAS fast. Every single female guppy has a black mass under their bellies. Looks like we'll have babies. :P
Algae Grower
Join Date: Jul 2011
Location: south hill, va
Posts: 20
nice way to put an old tank to use
UPDATE: Picture!
The tank is mostly planted now. Added the glosso, Blyxa, and Lobelia Cardinalis. I have some extra E. Vesuvius in my 27G that I might work into this scape somewhere as well.
Any comments, critiques, and suggestions are, as always, appreciated.
Great way to justify. Looks awesome.
Does your nerite go after the zucchini too?
---
The nerites are new, so I havent dropped in more zucchini yet. I probably will tomorrow though, so I'll find out! :P The guppies seem to like it as much as the otos do. They're such piggyfish.
UPDATE: (Again)
Babies!
Seems one of my females was VERY pregnant when I got her.. Today I have found, so far, 5 surviving fry. I set up a 2.5 gallon that I had in the garage, and I scooped them out and put them in there. I've never raised fry before, and I imagine it won't be easy with an uncycled tank.. But I'll try. If they stay in the 15 gallon, theyll definitely be eaten. I have a betta in the tank, who is rather peaceful with the adult guppies, but he has a very fat belly today, and I haven't fed them yet. ~_~
Any tips on raising baby guppies is appreciated
Thanks!
7 babies now.. ~_~ My my, I hope they survive!
Congrats!
By the way how many tanks do you have in your garage?
LOL
---
Haha. Good question :P
When I was doing planted tanks for the first time 4 years ago I had a 29G. a 15g, a 10g, and a 2.5g. :P
I have my 27 cube, my 15g, and now a 2.5g set up..
And I have a 14g Biocube waiting to be repaired..
And I have an Aqueon Evolve for another betta of mine. :P That is actually getting replanted today :P I want to save all the bettas in the little blue containers.. So I have a lot of nano-sized tanks, it seems :P I just feel so sorry for them
Yay, tanks!