Algae Grower
Join Date: Dec 2011
Location: Philly
Posts: 87
planted semi-newb journal. 20/10 gal
---
Hey guys im still pretty new to the planted scence, but not fish keeping in general. I have been keeping fish for over 10 years and only now have i decided to start a planted tank. This is mainly since i live in a dorm now and cannot have anything larger than 30 gallons at the moment. Anyways here are my tanks
Tanks at home which are more about functionality rather than aesthetics since im at school/ cant clean them frequently.
120 gallon 4x2 2x xp3 filters and a cfs500
stock: 2x datnoids 2x lima shovelnose 1x senegal bichir 1x rapheal catfish/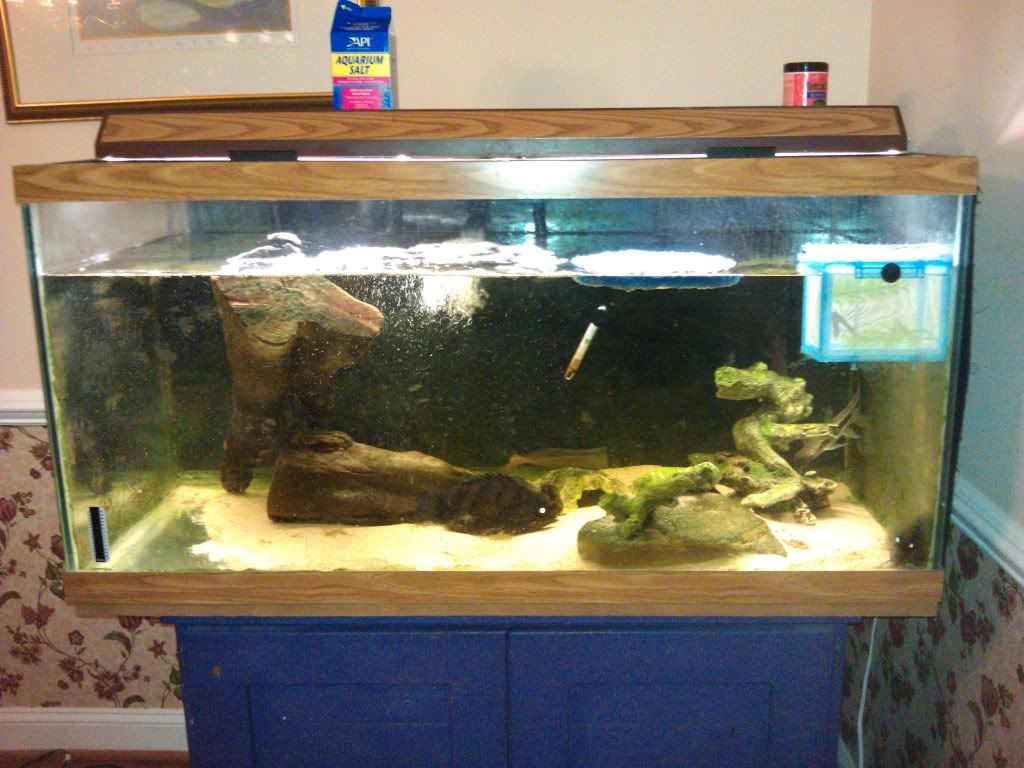 46 gallon
ac110
stock 1x parrot cichlid, 1x convict
Now into the "planted" tanks
I recently only got into them into planted tanks due to appeal while also keeping water quality more clean and consistent. So i had a rather regular 20 gallon setup, ac20, xp3, regular sand, plastic plants.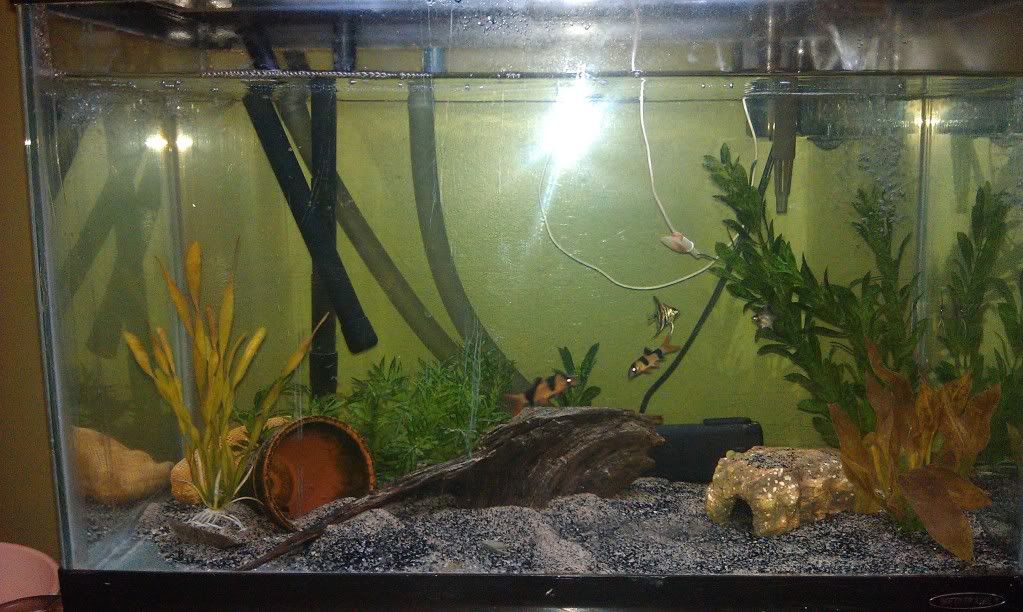 This was the look of the tank until i decided to get some amazon swords and a cabomba, and some random petsmart grass that ended up dying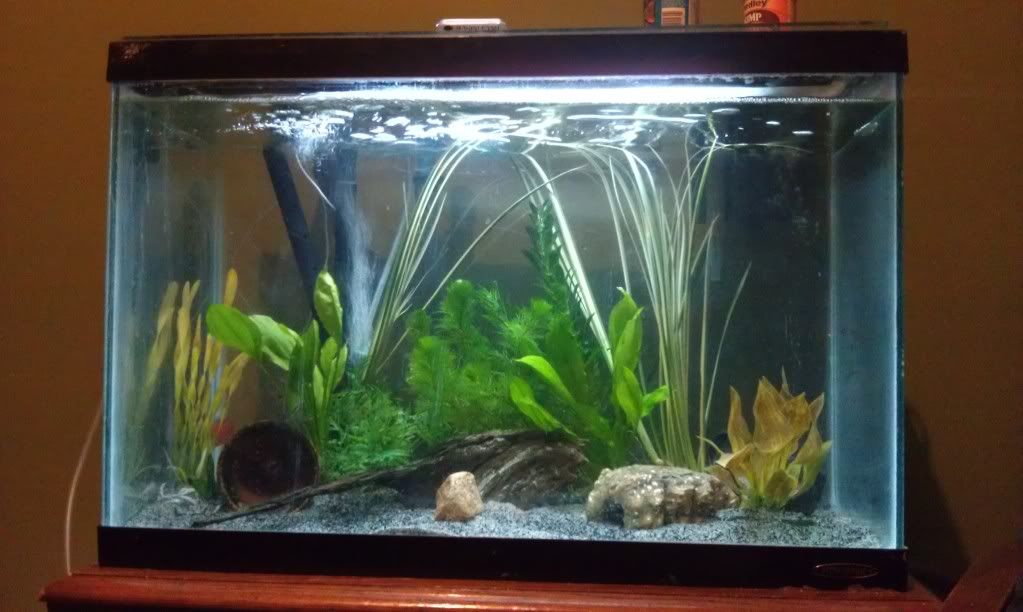 This is when i started to get into the plant scene and realized my tank was not setup properly for plants. Till this day i havnt changed much except now i am dosing with florapride, liquid co2, and have a t5no ontop. Many plants have changed and so has the fauna. I had the tank like this for a while, Cabomba and the grass died and i changed it to what i have now.
and now it sits today like this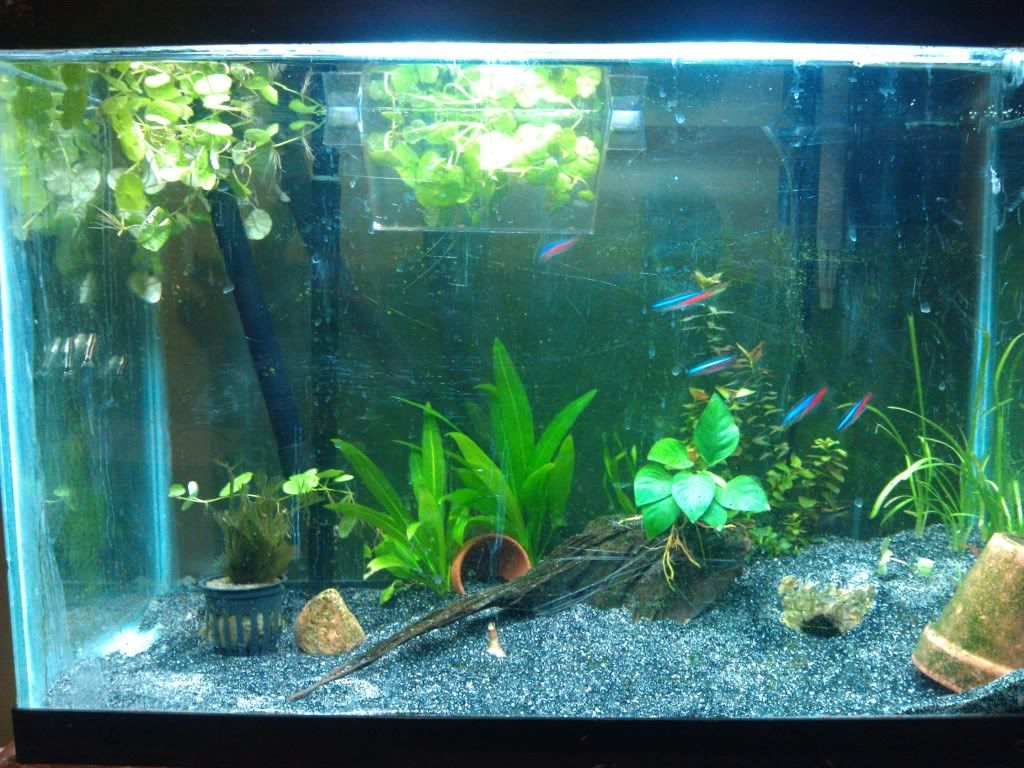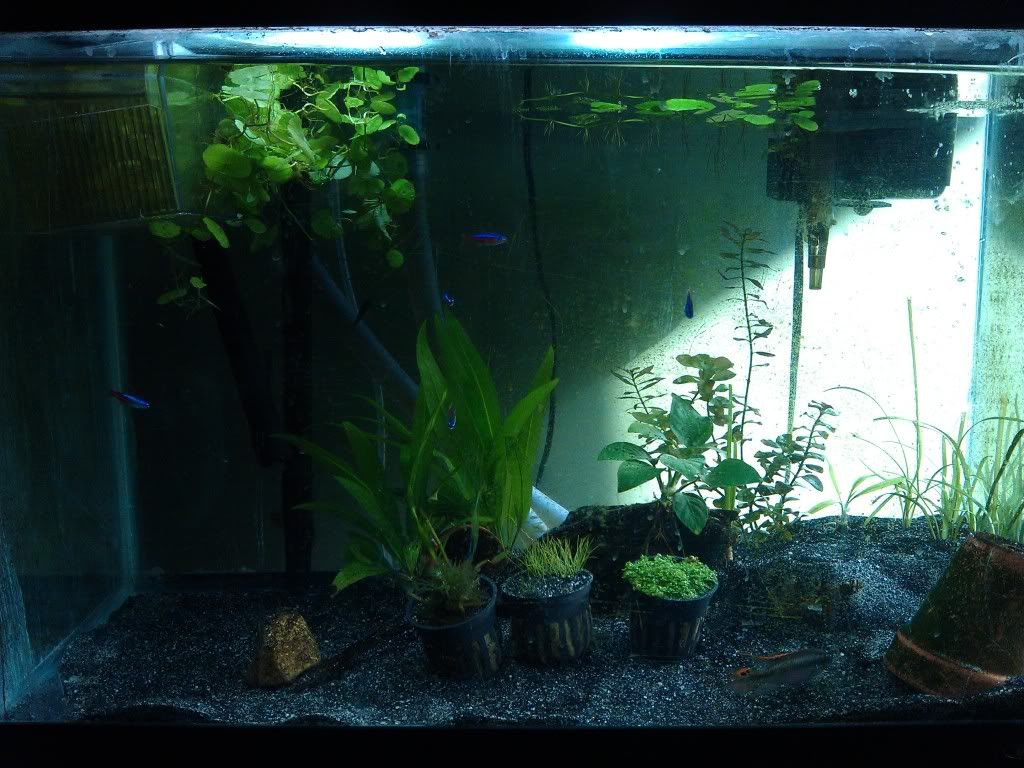 A 10 gallon dual light with 2x 14watt 6500k lights were added when i bought the HC and DHG. The tank now houses a pair of kribensis, 3 oto cats, 3neons 2 cardinals and some kribensis fry. This tank will continue to evolve and will probably stay a semi planted for a while, using liquid co2, ferts, root tabs and the such. This tank wont be converted since i see it as too much work with a current stocklist. I do however, wanted to start a planted 10 gallon.
I have decided to go the dirt route.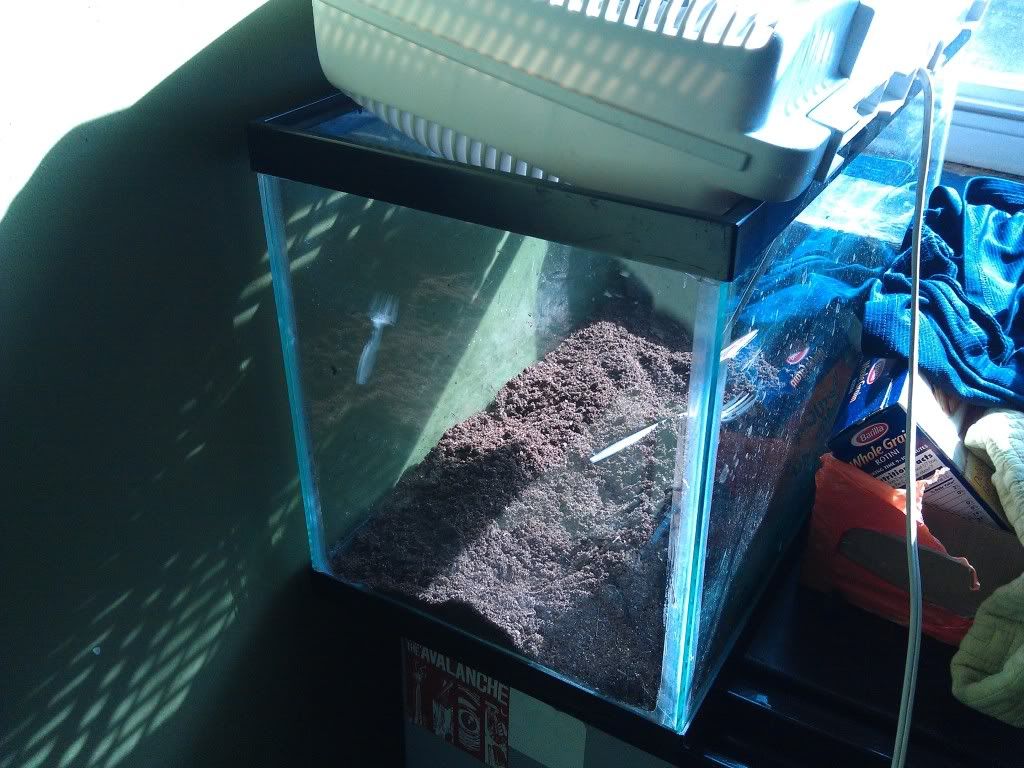 I bought MGOCPM and i rinsed/ washed/ screened it twice. In this tank i would like to have DHG and the HC that is seen in pots in my 20gallon. Heres my questions and i need help from all of you guys. The tank will be a 10 gallon, light dual 14watt 6500k cfl, dirt with sand cap, no pressurized co2, maybe diy? or liquid dosing? Will this work for both the DHG and HC. How do these look btw? HC had some brown from the store, possibly transitioning? and the DHG was in horrible condition from petsmart, just wanted to give it a shot. Both plants have been in my tank for less than 1 week.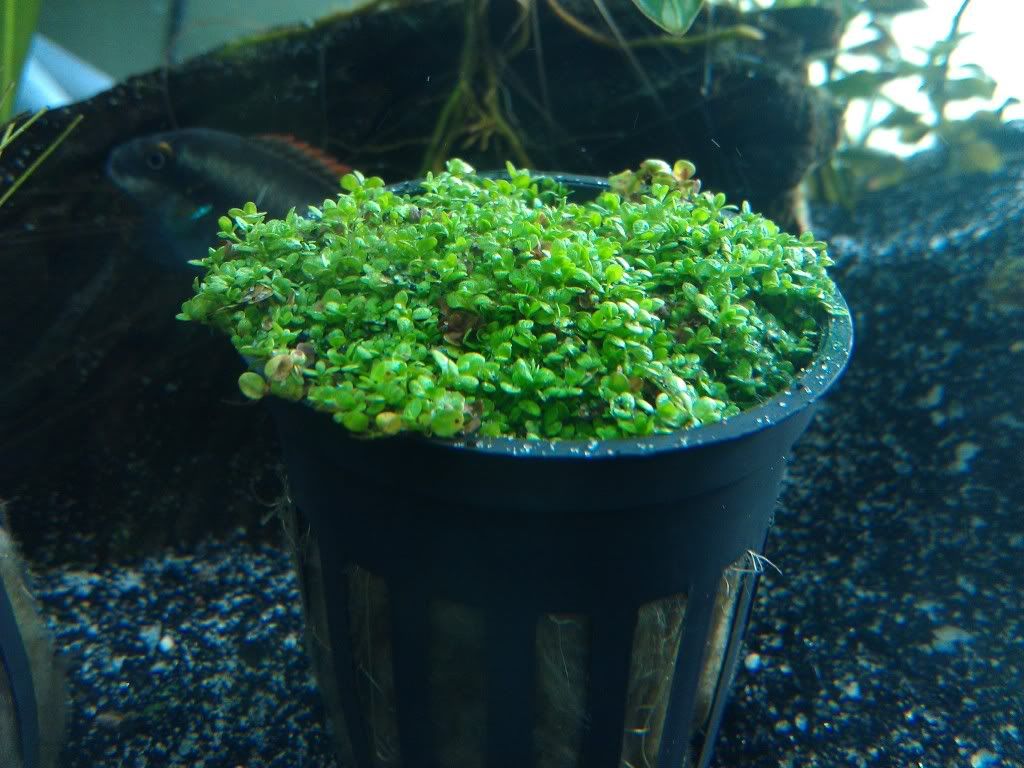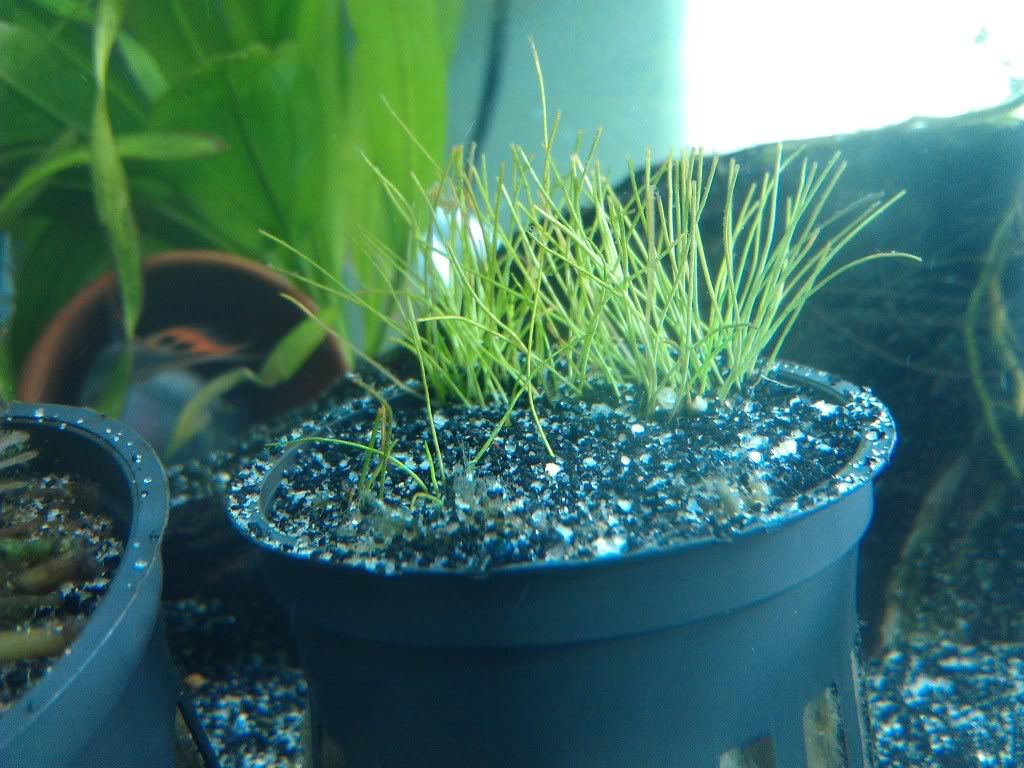 The DHG has shown some growth after trimming though
I would like to see decent growth but im not trying to make it grow like wild fire. I would also like to keep it on the cheaper side as being a college student, well you guys know. I possibly would be able to do a paintball co2 as i already have a co2 tank or possibly a full co2 system since i live in a frat house and there are extra 5lb co2 tanks lying around. I would like to do a co2 system but the costs just seem very high for my current position. Let me know what you guys think/ what i should do.
Also i hear that a DSM method will not work without co2? I would hoping to try a DSM method out but if it requires co2 when you submerge the plants then i guess it is out of the question?
Thanks a lot and im excited to hear any suggestions!
---
Last edited by chomper149; 02-10-2012 at

08:18 PM

.
Algae Grower
Join Date: Dec 2011
Location: Philly
Posts: 87
Here are just some other pics of the tank along the way.
my favorite betta that was just dead one morning in the tank, unknown cause.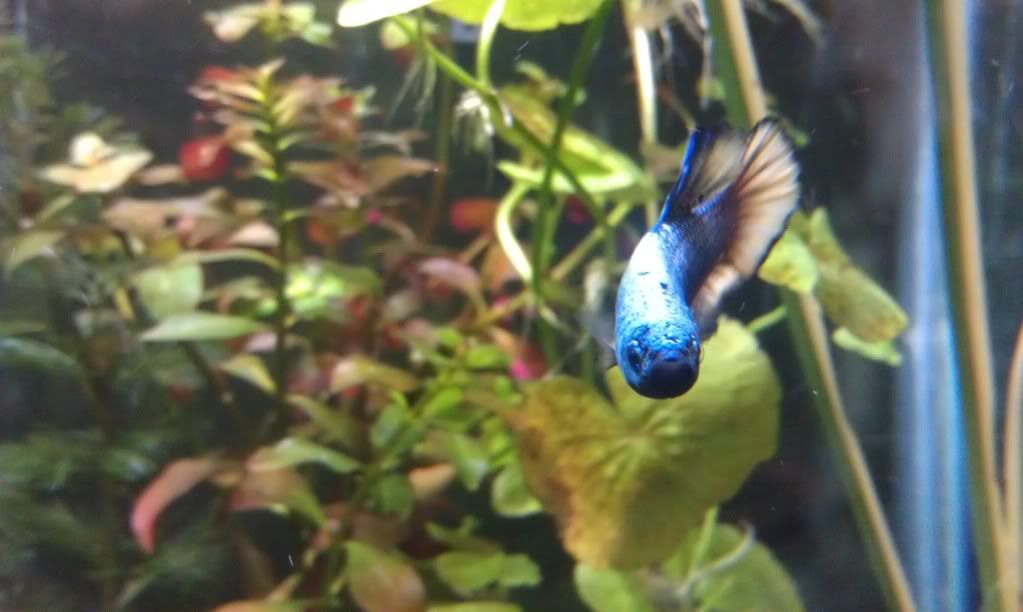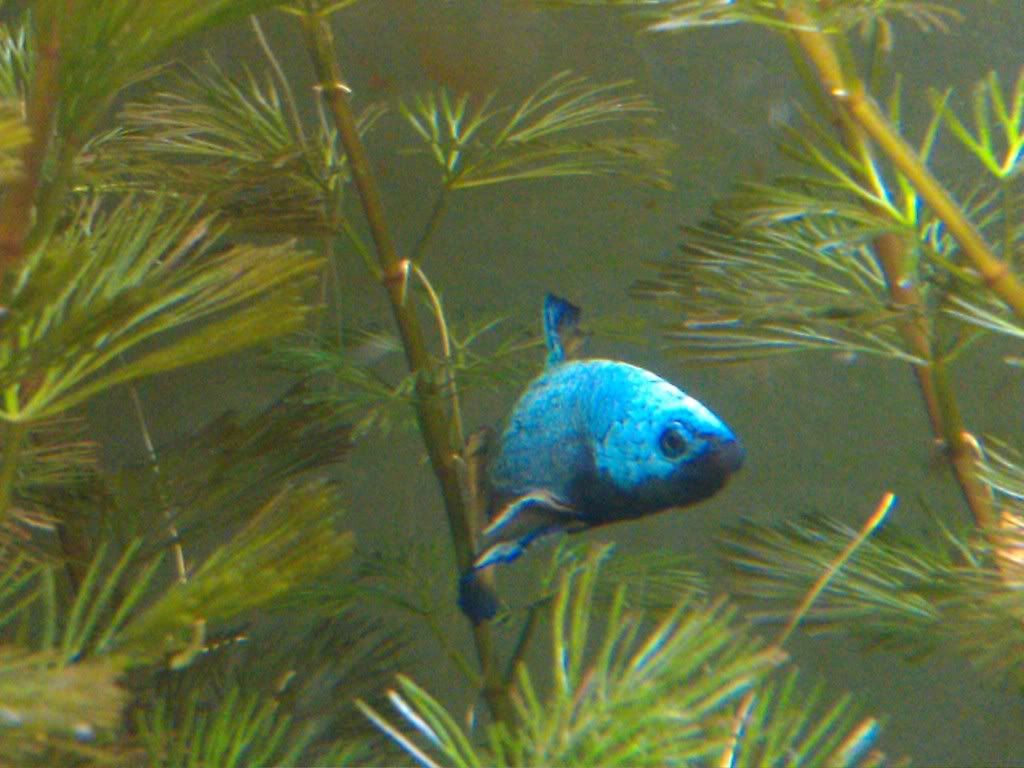 attempted replacement, hes much bluer in person
video showing the setup maybe 3 weeks ago. kribensis and fry, only 2 survived in that and are floating at the top. the female is now protecting another batch.
http://s1052.photobucket.com/albums/...123_162216.mp4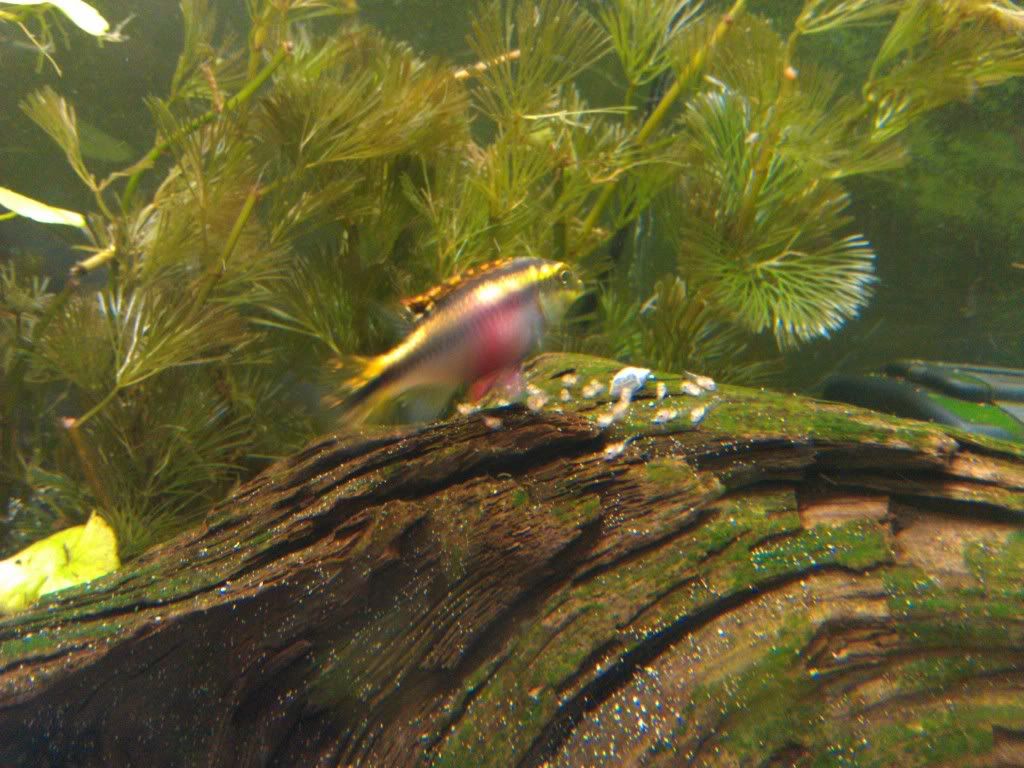 anyways let me know what you guys think and what i should do with my 10 gallon as i would like to get that going soon and have a growing journal.
Flora pride only contains - Iron sulfate , potassium chloride. Brightwell FlorinAxis is more beneficial. The nutrients have helped my difficult plants to adjust. Doesn't contain as much Co2 as Seachem excel.
What are you using for Co2?
Seachem Excel contains 1.5%
Glutaraldehyde.
Cidex 2% Glut matched to excel is dilluted 3:1
solution
which is 75% metricide/ 25% water (post 31). A quart is approx $25 on Ebay. At dealmed.com 1 gallon of Metricide 2.6% glut. selling for $18.20. shipping $9.99
Algae Grower
Join Date: Dec 2011
Location: Philly
Posts: 87
hey the florapride was a gift so until the bottle is gone i will be using it. i have just beeing using APIs liquid CO2 doser. not sure of the exact concentration though.
But i did decided to go ahead with the DSM as i figure by the time i fill up the tank that i would have put enough money to get a co2 system of some sort.
here are some pics from setting up the 10gal. unfortunately i was storing the 10 gallon on the a minifridge near the window. the rim of the tank fell over he rim of the minifridge and cracked the bottom of my tank. So as of right now i am only doing this to promote growth until i grab a new 10 gallon. At that point i will probably add more soil and sand cap as i thought this time wasnt enough. but regardless here are some pics.
setting up the sand boarder to cover the dirt
dirt in!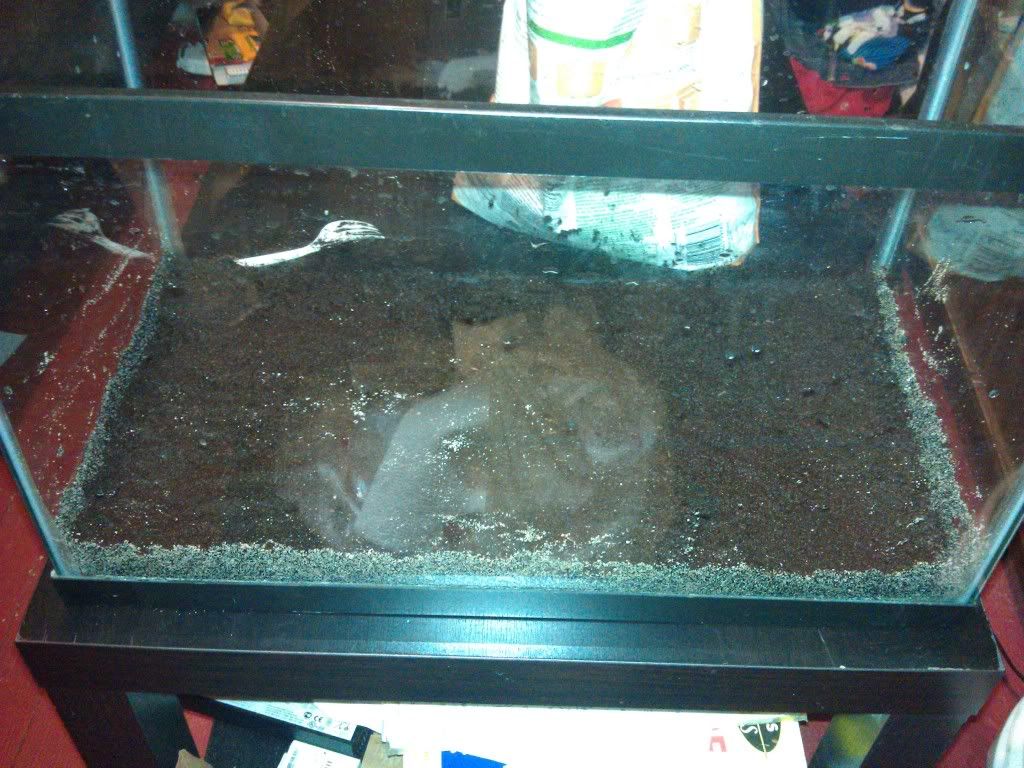 here it is all done and capped and everything. I dont have any wood/ rocks as this is more of an experiment to see how well dhg and HC does for me rather than anyhting, i also thought a full planted tank might look nice.
But here are DHG and HC pots sitting inside the tank, did this until they showed new growth, then i started to plant. Im keeping the humidity high with a airstone in a cup while the top is sealed. Im trying to keep humidity as high as possible so the later transition state is not as large.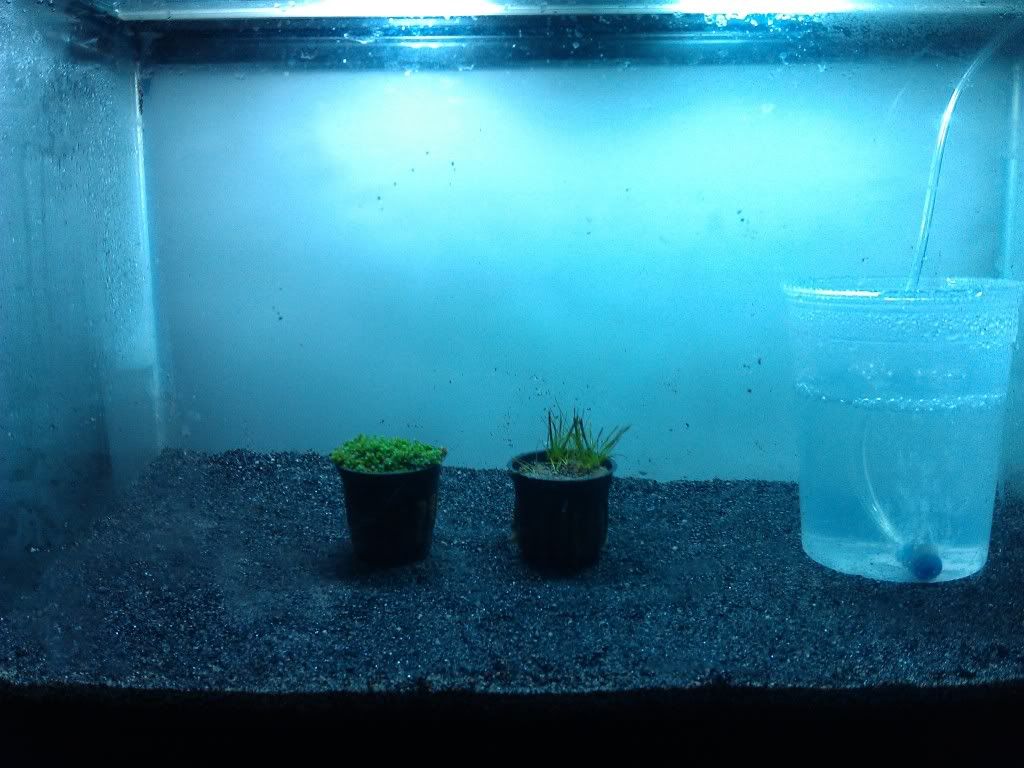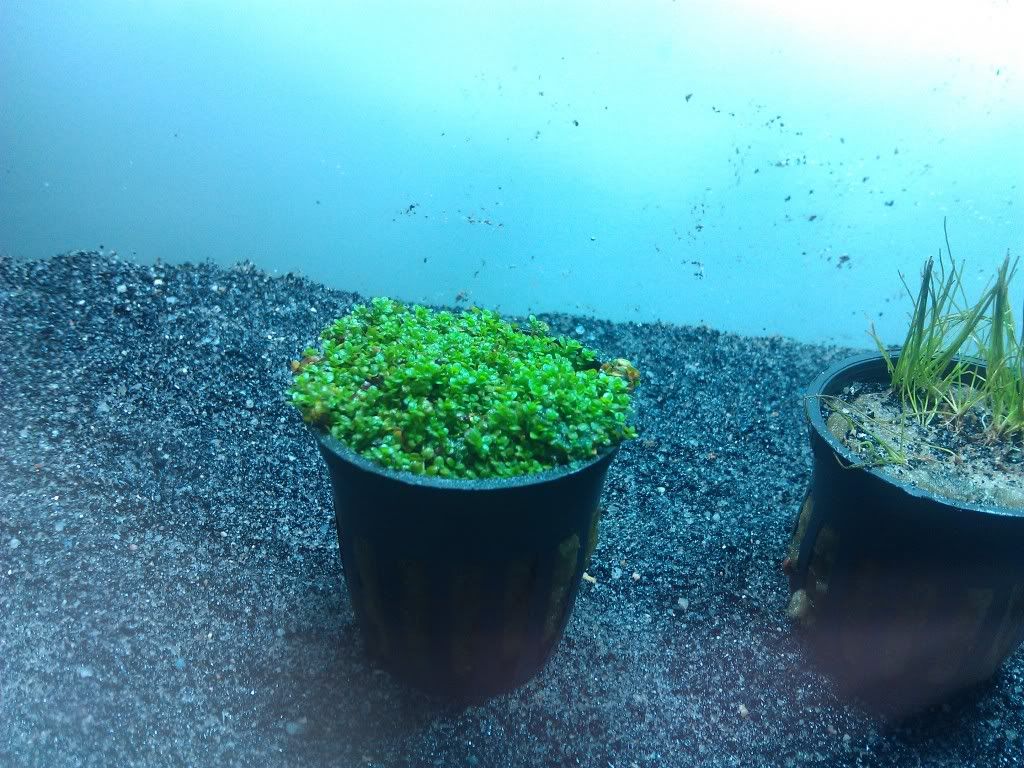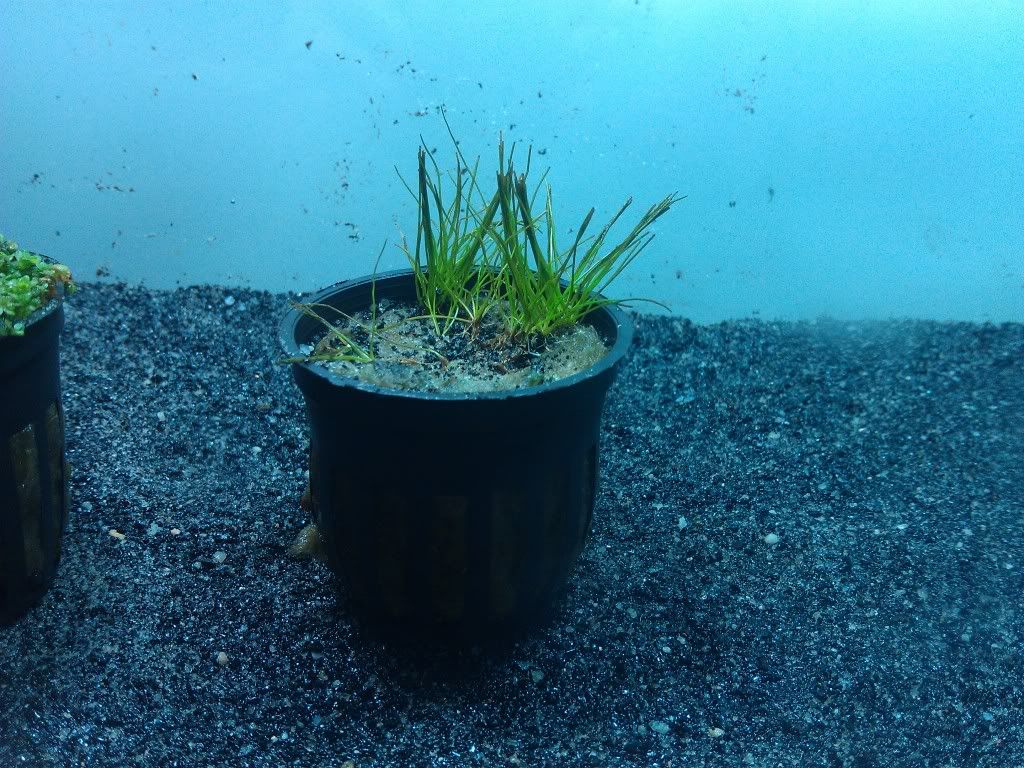 the larger piece of HC has been broken up and planted. i put dhg in the back two corners and the HC lining the front. i am almost tempted to keep this a terrarium now and keep frogs or the like in it depending on how it looks later. But let me know what you guys think! my first mistake was probably not cleaning the HC well enough.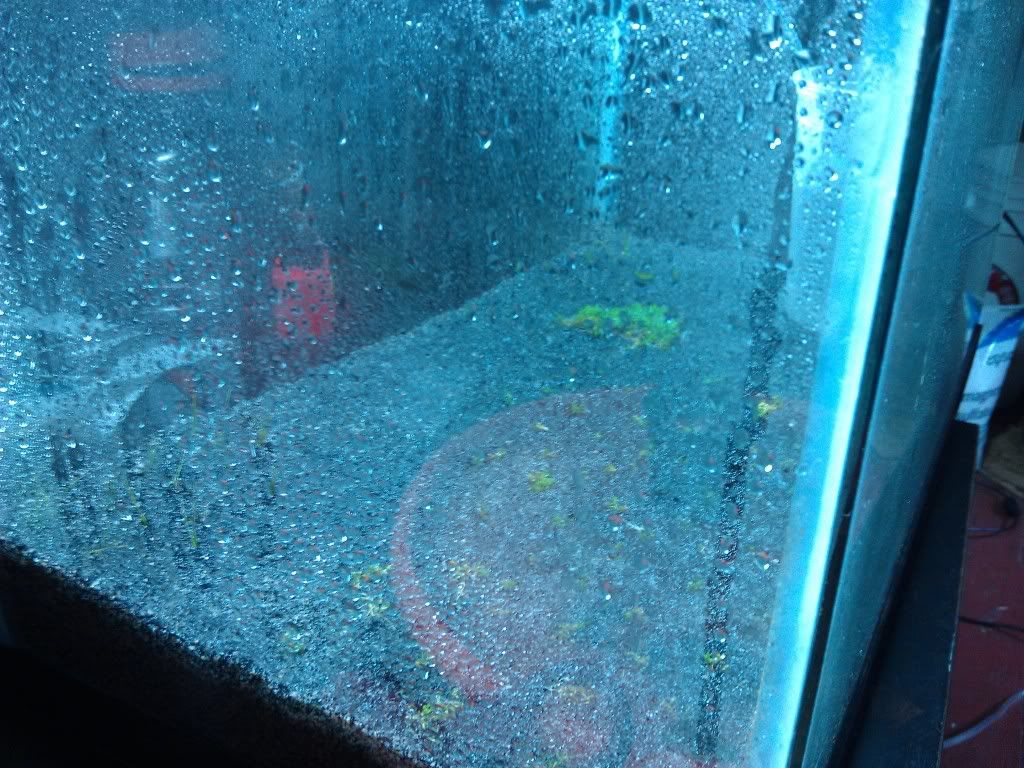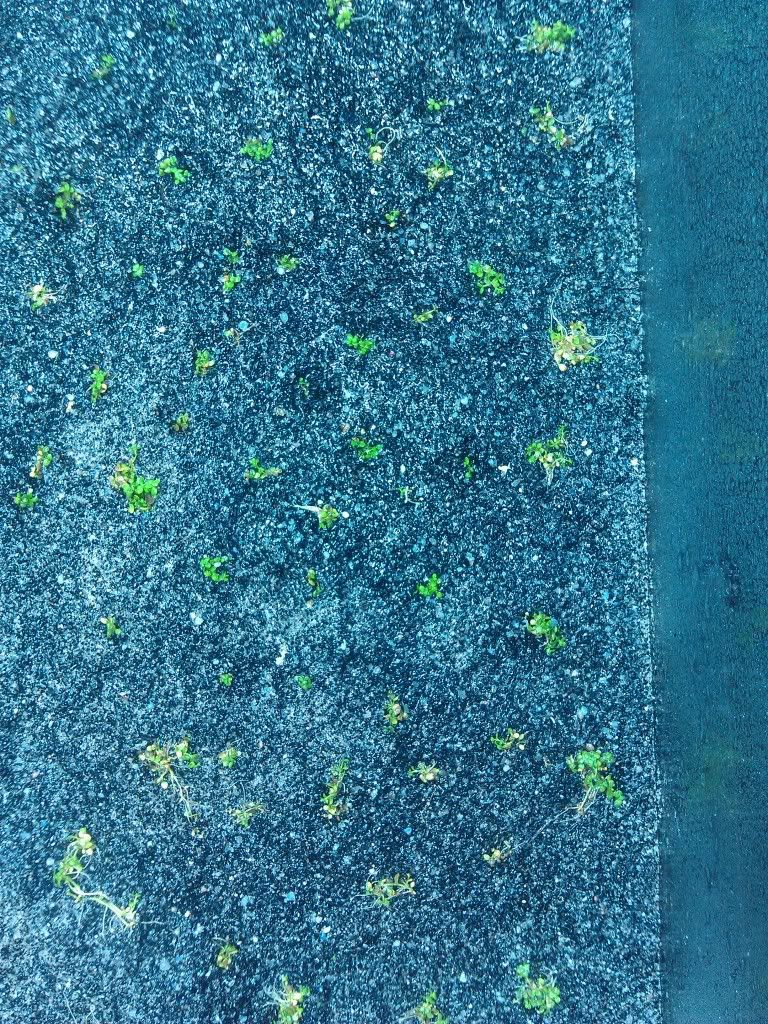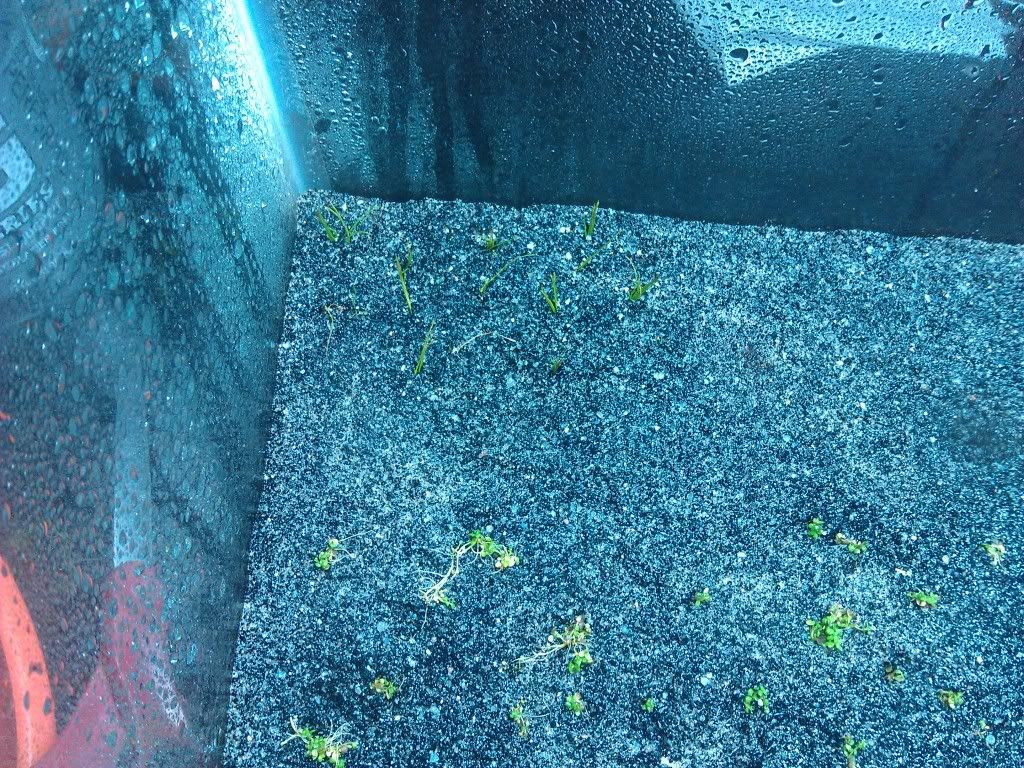 Algae Grower
Join Date: Dec 2011
Location: Philly
Posts: 87
hey i got some updated pictures!! these pics are about 2 weeks after completely planting everything. The DHG started to explode on one side, showing new growth within a few days of planting. The DHG at the rear right hasnt really sent out any runners or anything but has shown you growth. The HC has shown a lot of growth also. It took about a week for the HC to take on roots, then it started carpeting pretty quick. I picked a single stem of HC to watch and when i remembered to go check i couldnt tell which was which since all of them started to grow so much.
So so far the DSM has been working out real well. Im hopping to grab a new 10 gallon tank next week and move it over. But overall dsm is an excellent way to cover a carpet.
So here are some updated pics of the process.'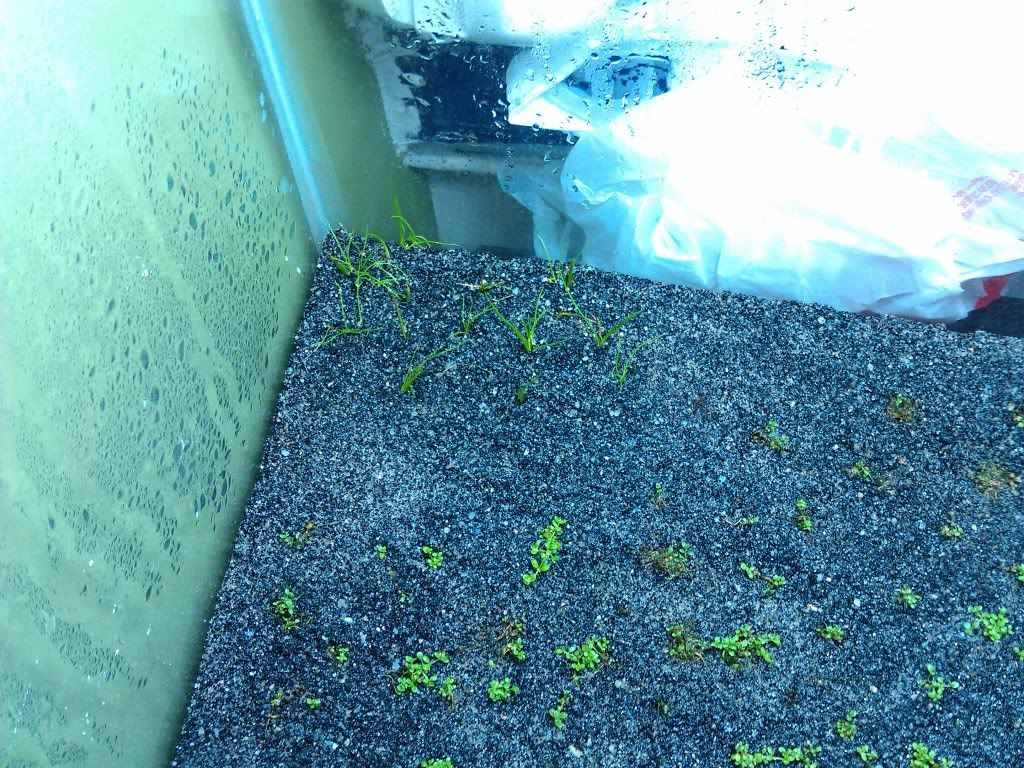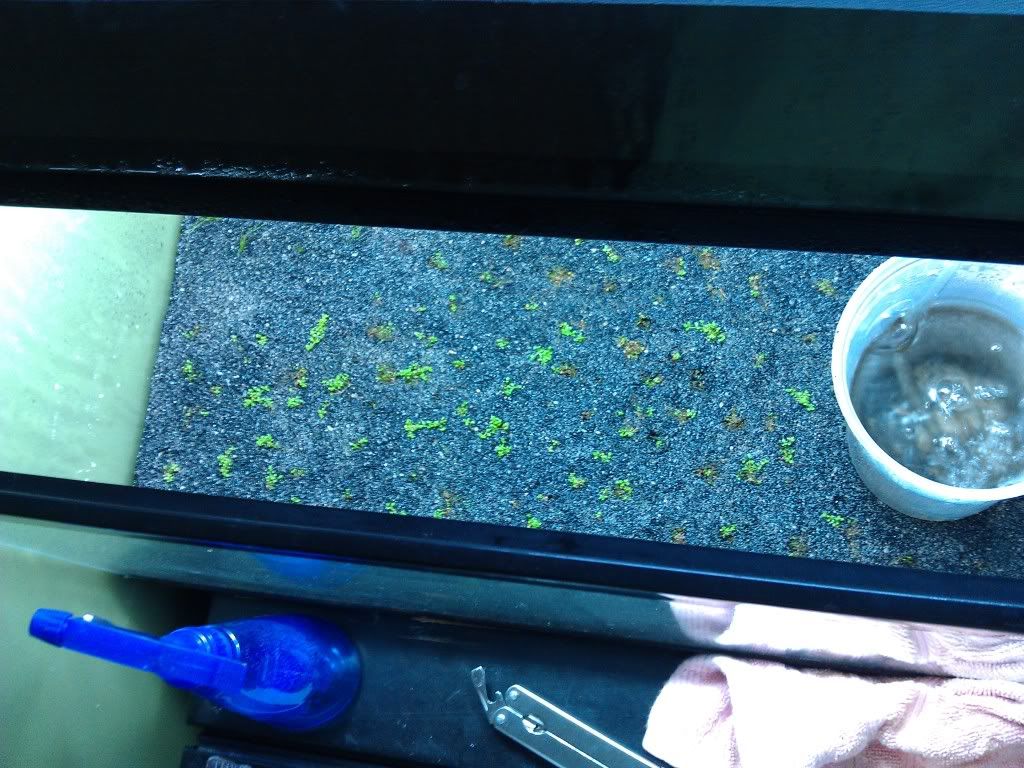 let me know what you guys think! thanks
Algae Grower
Join Date: Dec 2011
Location: Philly
Posts: 87
I almost forgot about this thread. I have changed the 10 gallon up a little and added a rock and also planted a pennywort along the back side. I cut of the end trying to maybe make a pennywort wall?
anyways here are some pics from today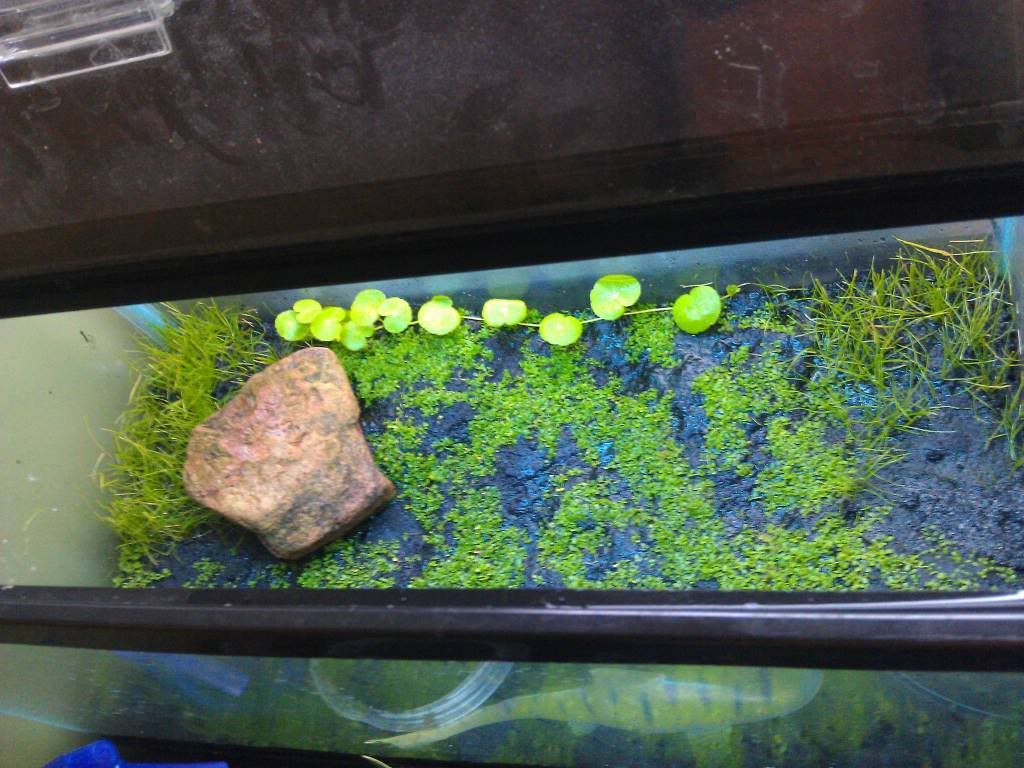 Heres an update of my 20 gallon also, nothings really changed except the plants filling in a little more and a few more kribensis fry. got a 4 bigger guys and about 14 fry currently. First time im using a sponge over the filter intakes. My coralife died this morning, hopefully it gets replaced. Im using the 10 gallons dual 13w cfl on it until i get a new light. Threw a regular t8 on the 10 gal for now.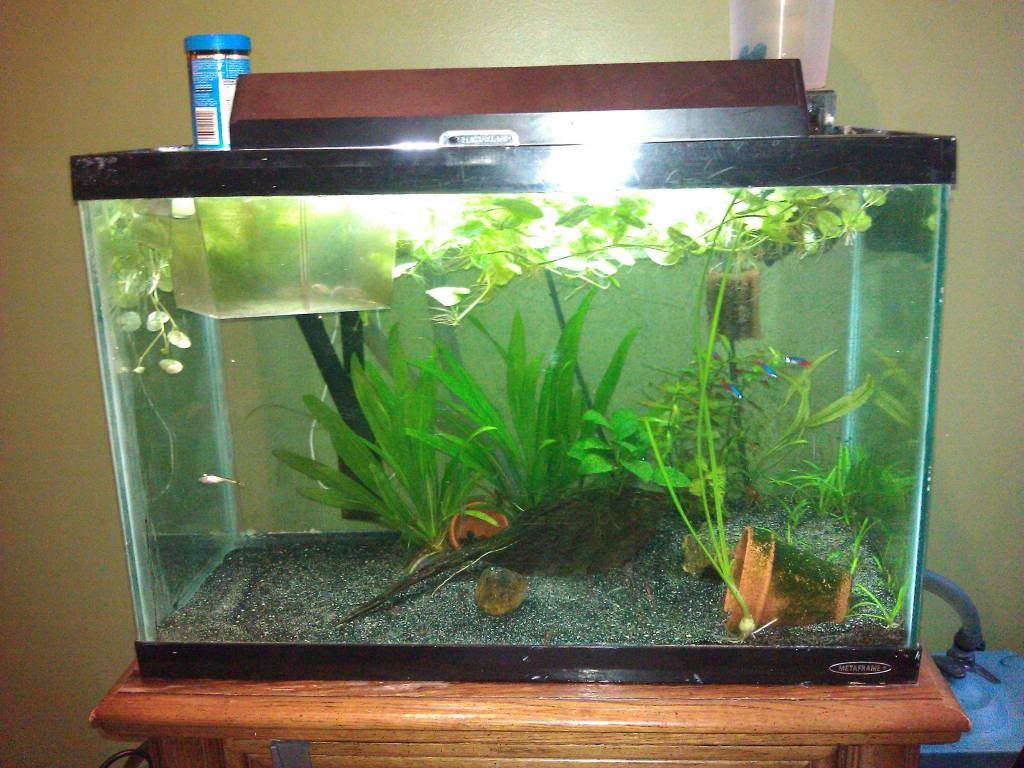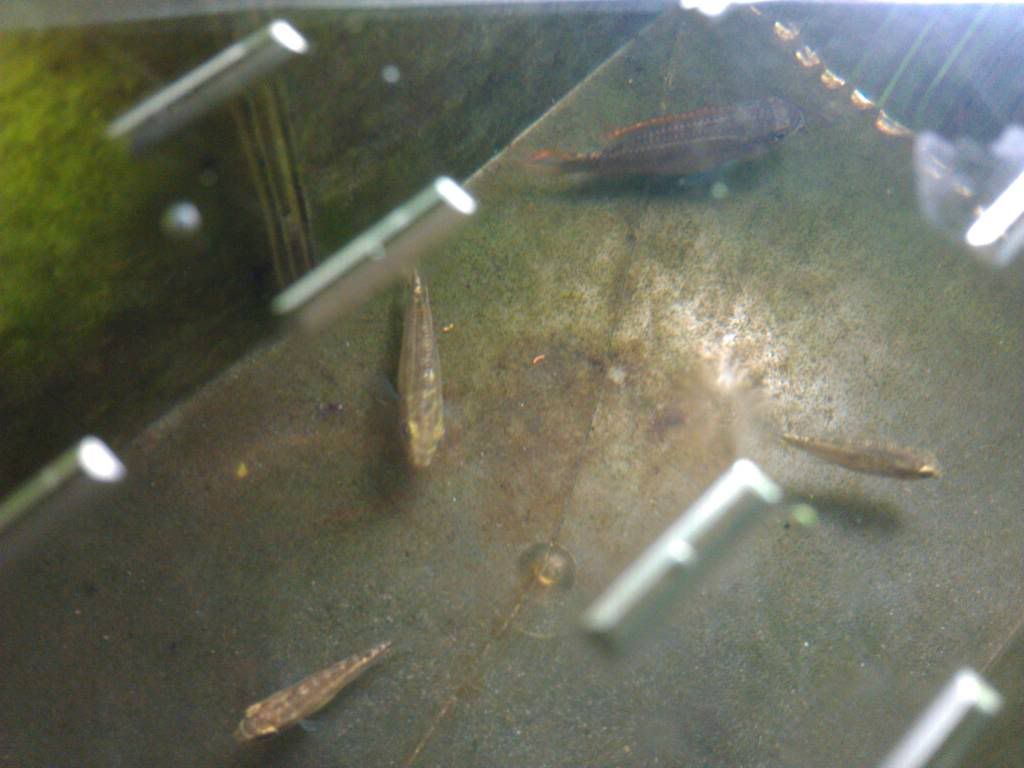 I also set this up on the side. MGOPM with an estes sand top, i hate how small these grains are, im probably going to redo this tank anyways soon. All it is is a drawer from a mini fridge. I havnt calculated it but its probably a gallon or so. I set it up as a mini plant nursery/ farm. But also to grow some cabomba since i can never keep it alive in the 20. hopefully the soil works well. also doubles as a betta tank/ may decide to throw the kribensis fry in for a little till the 10 is up.
Tank has a aponogeton bulb, cabomba, ludwigia, HC, DHG, d. sag, and pennyworts to suck up the initial nutrients/ fight algea.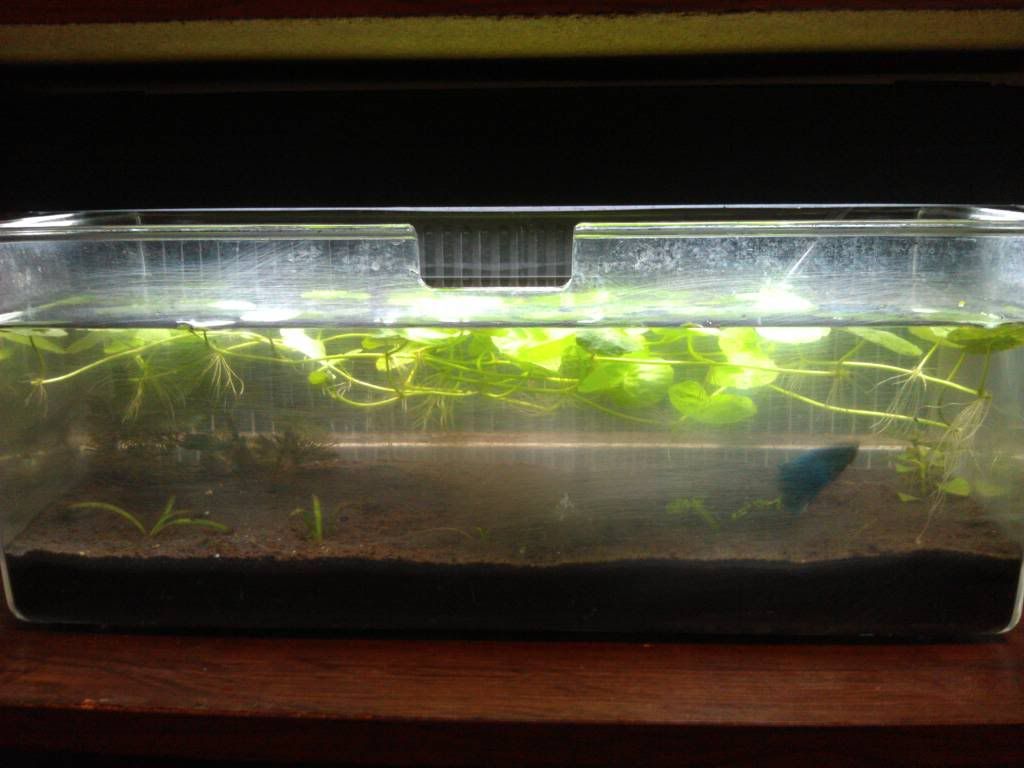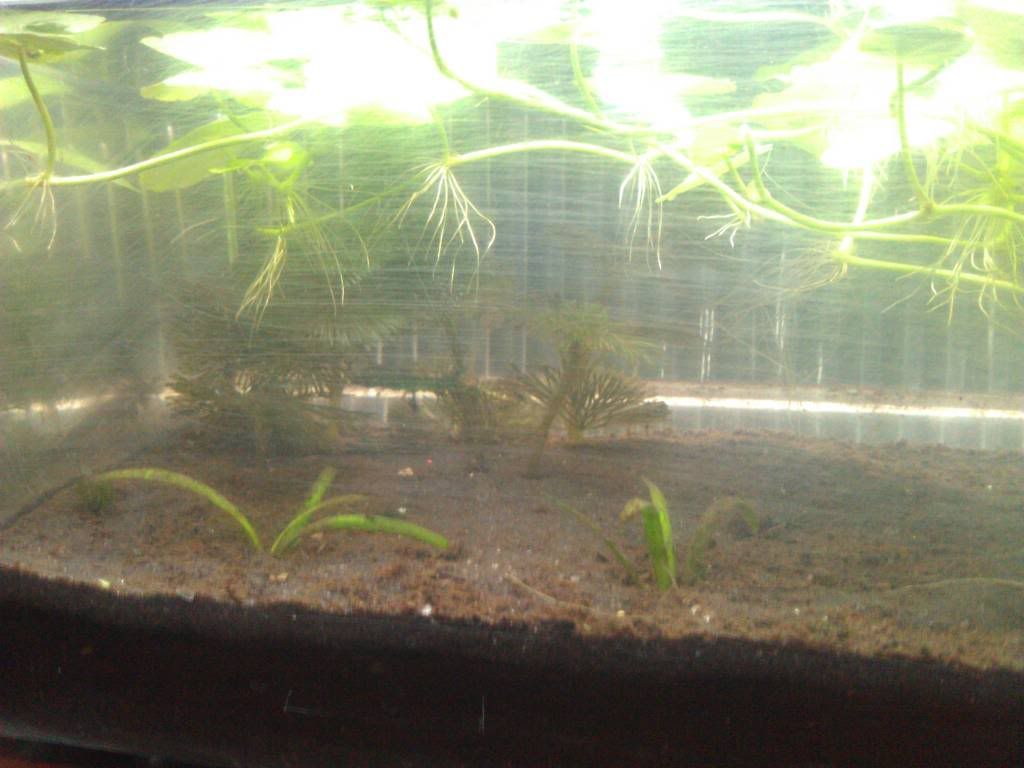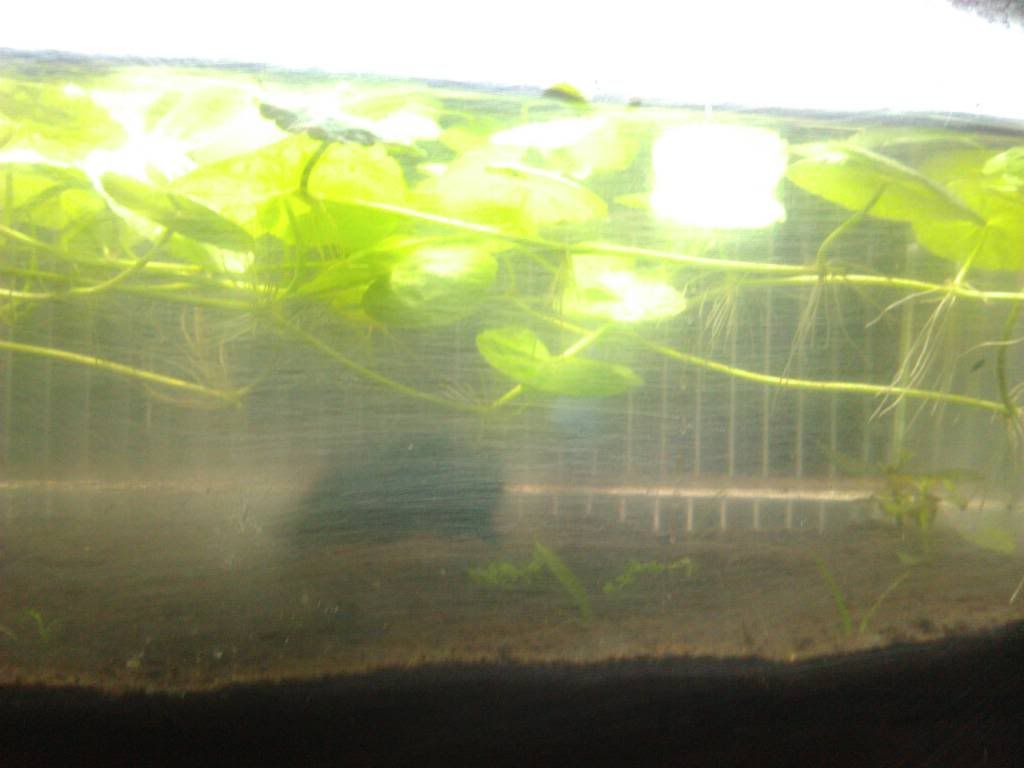 I hope to update this more often, Im also thinking about getting a 20L with dual stand or possibly a 40b or 55 when i move rooms in a few months.
anyways check back often!