I don't understand Bettas sometimes. The oldest one I ever had spent most of his life in terrible conditions, but every one I've had in ideal conditions has lived less than a year. Tank looks good.
I'm thinking that I'm going to move the plants, shrimp and fish in this tank to my retired aqueon evolve 8, however the led lights that came with it are dying, would the 13w fluval clip on light be enough for this tank and these plants or should I get another one so I have two?
Still wondering about this, any ideas?
So came home today after not being home for a few days....my girly Betta was dead. I have no clue how though, and all the shrimp are thriving.... =[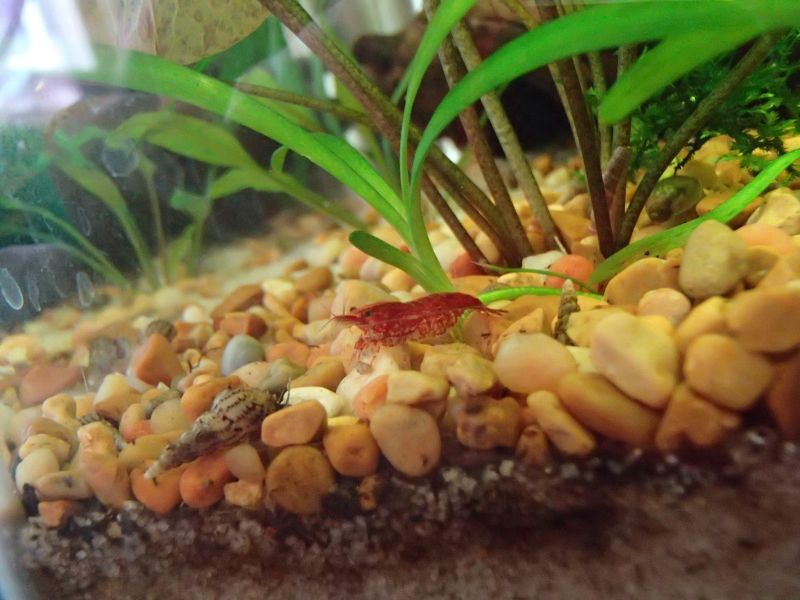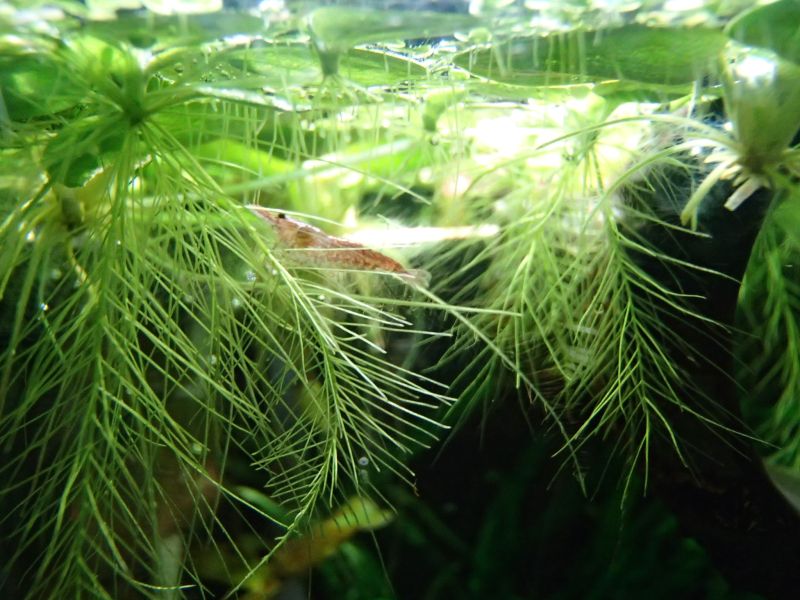 Lots of babies running around....this is one of the more red ones, I also have a more solid red shrimp....she is currently berried and very elusive.
I have been thinking about what fish I would like in this tank, maybe corydoras....pygmaeus or habrosus?
I like to see a fellow regular 10 gallon guy, if you know what I mean haha Looks good!!
I do! It a great size for by the bed! I'm am going to be switching it over to a ten gallon metaframe tank though, so not quite regular!
My plans to move into a ten gallon metaframe tank have been put on hold, my metaframe has a crack in it...so I have to fix it...more bad news is that the current tank has a crack in too now, I must have whacked on accident when moving stuff, it's a stable crack, and small but I'm not taking any chances, I bought new crypts and pulled the ones from
this tank and now have a planted aqueon 8 with them all, so as the plants have established them selves and it's really going to town I'll officially year down this tank and put the evolve in its place.

I also now have a fish for this tank, I found an elephant ear plakat male Betta at petco that was meant to be...he is beautiful, he is living in the partially torn down ten gallon till the evolve is done.
Aqueon 8 is almost done, dosing with liq fenbendazole now for planaria type worms that are in there....shrimp are coming in on wednesday, some fire red culls! Going to transfer the cycled media from my ten gallon to the aqueon evolve wednesday too and going to add in some purigen too to make sure all the fenbendazole is gone plus ensure good water quality! Then in a few days i will add Hircine, AKA the Daedric Prince of the hunt from Skyrim...the beautiful whiteish elephant earred betta i found months ago when i wasnt looking for one...lol. Pics to follow when all is settled!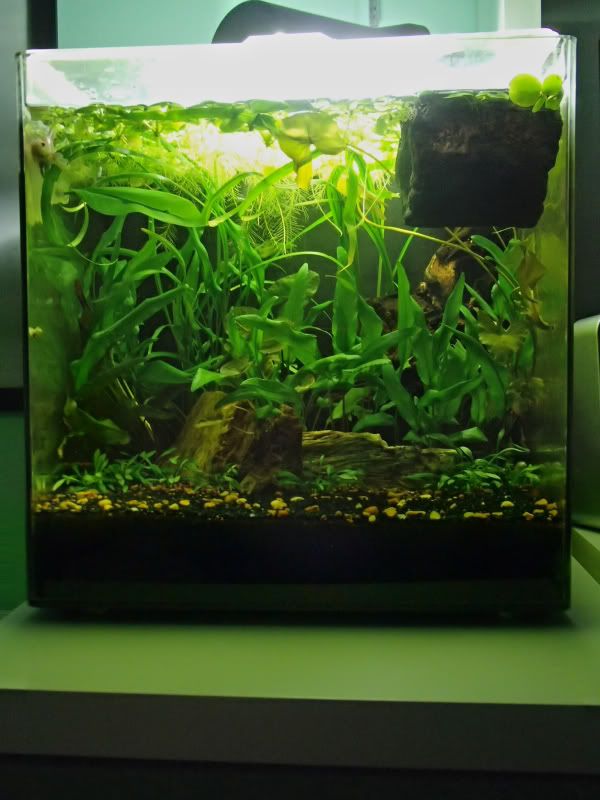 This is now the tank, it has my white elephant earred Betta in it along with at least one rcs thy hasn't been eaten yet...