Quote:
Got a pic of the Cleft-lipped Goby :
Also, I totally understand with the modern look, some of the stands with the extra trimming touches look too "fancy" or excessive. Simplicity in furnishings can really be beautiful alot of the times.
As i've learned with hockey goalie gear - sometimes doing it yourself is best (alot of my gear is customized and hand modded by myself to my own likings) - so it can definitely apply to the aquarium hobby as well with some vision applied.
It can definitely be seen with some DIY projects i've seen here in the past when i was more active.
He looks kinda emo with those eyes haha
Quote:
He looks kinda emo with those eyes haha
Thats funny as hell!
some updates from his tank. too lazy to post them up =D taken via his cell phone.
I finally fixed his Co2 now its back up and running. Hopefully that will spark growth in his dwarf sag again.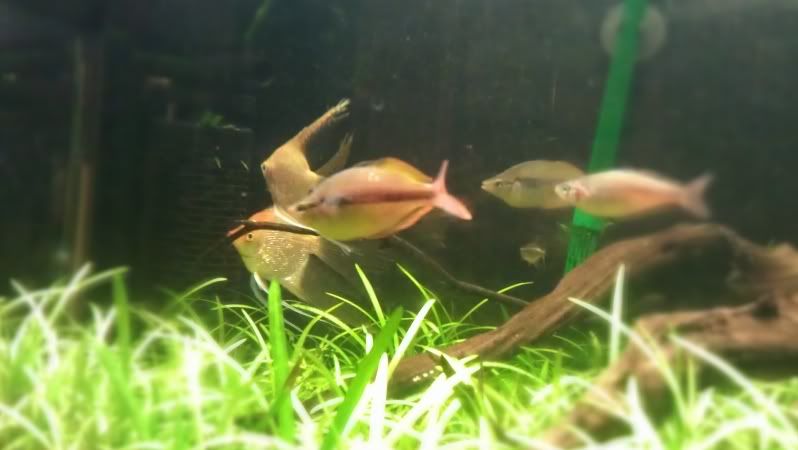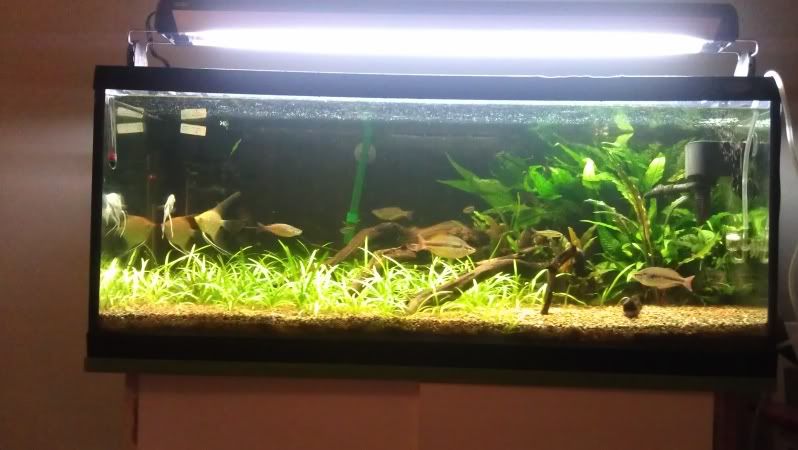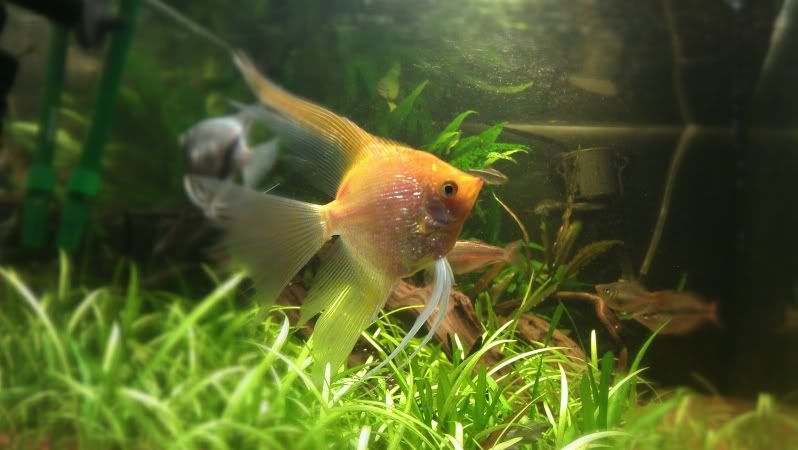 Wannabe Guru
Join Date: Oct 2008
Location: Austin, Tx
Posts: 1,810
Hold on...since when do you have an aquarium with water in it?
Quote:
Originally Posted by
Francis Xavier
View Post
Hold on...since when do you have an aquarium with water in it?
Since forever.
That said - This tank hasn't had an update, nor maintenance.
Last time it got a trim was in march. That said cloudy water is an issue, any inputs - has been cloudy for 3-4 months.
I apologize for poor quality smart phone pic
Algae Grower
Join Date: Jun 2011
Location: Brooklin, ME
Posts: 7
This tank reminds me of one of my tanks right now! (Except my tank is 10 gal, and up to its ears in sagittaria rather than tenellus.)
I'm excited to read this thread because I'm dreaming of getting a 40 b myself. What I love about this size tank is the depth from front to back. Most other tanks seem so narrow to me. I think the problem is that I actually want a pond in the house!
But anyway, what I wanted to say, which is actually related to your tank, is that I wish you would use that depth a little more to your advantage. When I look at the pictures, if I didn't know this tank is a 40 b, I might not realize it - though you have a lot of plant mass there. Especially over on the left side. Somehow I'm wanting more variety in texture or shape from the plants there, maybe something less grassy for contrast with what is there. I was a bit less bothered by it in the pictures from March, as you left the plants in the back a bit taller, but even then I crave more contrast so that I can see how far back the tank really goes. The right side is better with this because of your hardscape and crypts and whatnot in the back to give a point of reference for the space.
Of course, I can't really talk - right now my 10 gallon is kinda just a jungle of grass with zebra danios flashing by every once in a while. But hey, at least it's all growing!
Also, I agree with what bsmith said about hardscape.
Also also, that gold colored angel fish is super pretty!
Yeah, it's a bit of a less, and I have less ferns there now. I'm thinking of removing some of the dwarf sag at the front for something else that's shorter to give it a better contrast, but given tank conditions I don't think I can support much else in terms of foreground plants.

So will be background plants now. Any suggestions? I do agree that it is too bare (hardscape) on that one side and it will be need some plants to help bolster it.
Planted Tank Enthusiast
Join Date: Sep 2012
Location: Denham Springs, La
Posts: 764
I love how these tanks go 9 months without an update and then boom here we go again. I m no expert by any means but I think your idea to remove some of the sag from the front (just a bit) will make a world of difference. It looked IMO a lot better when the bit of substrate was bare in the front.
Yeah, updates do take awhile sometimes! I need to find a nice foreground/background plant to swap in... need to be undemanding.