Planted Tank Enthusiast
Join Date: Oct 2011
Location: Bellevue, WA
Posts: 871
40 gallon breeders
---
Show 'em if you got 'em.
By the way, I've always loved the 40B. I'm not sure why. Easy to light?
...or, it could be the dollar-per-gallon sale that PetCo often has.
Algae Grower
Join Date: Nov 2011
Location: USA
Posts: 89
Planted Tank Obsessed
Join Date: Sep 2008
Location: Midwest
Posts: 363
Here's mine. It's the one on the bottom. I got it at Petco during the $1 sale.
Love-love-love the dimensions.
I'm rescaping it next week and will post another pic then. I've got crypts, bacopa, willow hygro, java moss, a small red sword, tiger lily and a pile of anubias. Animals are pygmy cories, one small angel (to be moved into the larger tank), amanos, and glowlight tetras along with snails. Lots of snails!
[URL="
newer tank, only setup for a couple months.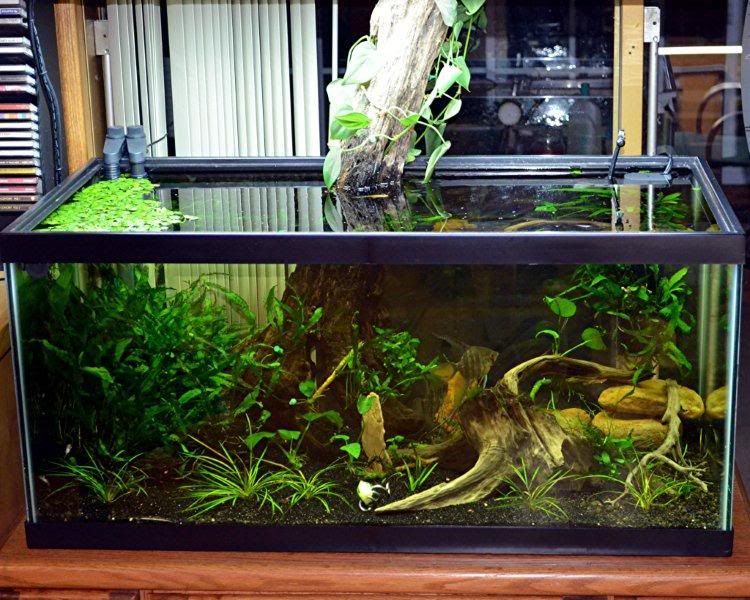 ---
The Fraternity of Dirt
If at first you don't succeed,,, keep kicking it
RubberSideDownOnTheLanding,
2-75g planted, 5-55g planted, 5-20g planted, 110g w/30g sump, 8-10g,
Refugium,
doghouse/newbie
2012 update adding table top pleco pans & a 90g (Nutz)
Planted Tank Enthusiast
Join Date: Oct 2011
Location: Bellevue, WA
Posts: 871
You know, I'm starting to get really interested in that driftwood coming out of the top of the aquarium thing. I'm going to have to go on a search for an appropriate piece.