I'm speechless, what an awesome setup you have. And the photo's are breathtaking. Great job!!!!
This is a really beautiful tank...the aquascaping is just perfect
Fusiongt - first of all I love your tank. I'm just about to start my first true planted tank.

I'm getting the bits and pieces together.

It's my only tank that I've had for years and has been ultra stable as a fish tank but the plants I added did the usual 2 months or so then died as there was no thought to providing what they needed.

Tank is Juwel Vision bow fronted 260lts with internal filter.
I want to add an external filter for more filtration and flow.

I like the look of your Metal jet pipe and Lily pipe.

Could you do me a massive favour and advise the internal and external diameter of these pipes.

I will be adding an Eheim Ecco Pro 300. It says hose size is 12mm diameter. I don't know if that is outside or inside diameter.

I can get hold of high spec stainless tube in 1/2" outside diameter. (I expect I would need to get the thin walled stuff though). If the sizes are about right I can bend it myself, drill or slot cut the inlet and make some sort of diffuser for the outlet. Also means I can use compression fittings and full bore ball valves for ease of use and maintenance.

Thanks

Gaz
Algae Grower
Join Date: May 2012
Location: GA
Posts: 143
i would use some heat shrink on there, if you are still iffy. Tanks looks good though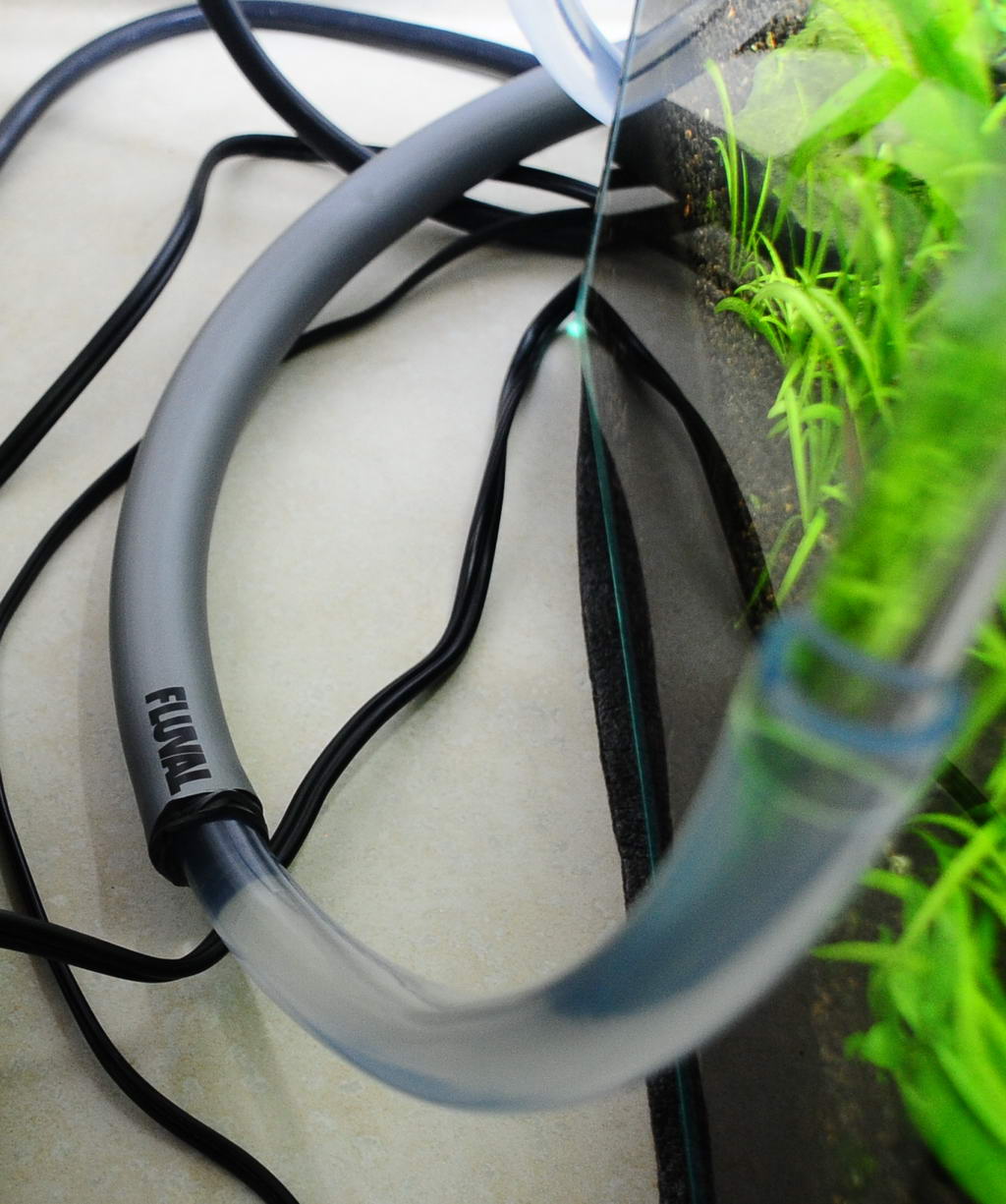 Planted Tank Enthusiast
Join Date: Nov 2011
Posts: 828
I haven't updated my journal but to make sure the 5/8" to 1/2" tube conversion didn't leak I put a rubber band on the outside and made sure it was twisted tightly. Right now though I've moved the fauna over to a new 25g tank and I'll be making a new journal for that shortly. The tank now has just a HOB filter and plenty o' shrimps
Quote:
Could you do me a massive favour and advise the internal and external diameter of these pipes.
The ADA Metal Pipes are 13mm ones. They don't come in other sizes I believe. I don't know the Ecco Pro lineup that well but saw this review after googling it,
Eheim ECCO Review
-- I'm most certain it'll fit 13mm pipes. The tubing is flexible so it might be a tight fit if it's indeed only 12mm, but fret not as you can tip it in hot water and it'll be very flexible and definitely fit around that 13mm pipe.
One thing I would recommend if you like the look of stainless steel pipes is this thread I saw on the buy/sell board.
http://www.plantedtank.net/forums/sh...d.php?t=185620
It's some really awesome looking pipes that are more flexible than ADA's version - the intake with shrimp prefilter is great (ADA's version would still suck up baby shrimps as it's big enough openings). And assuming you don't need crazy flow, I would get the cross cut flow which looks sweet and it'll still provide a fast enough current. I haven't tried these pipes but their price is so much better than ADAs and they look basically the same (if not better). I would choose these if I were going for aluminum pipes. Good luck!
Algae Grower
Join Date: Mar 2012
Location: San Francisco
Posts: 10
Did the stand used to hold your light come with the fixture? If not could you link the stand to me? I've been looking every where for something similar.
That's some thick substrate! two, three inches?
---
Nothing Ventured. Nothing Gained.
Algae Grower
Join Date: Apr 2013
Location: Kaneohe, Hawaii
Posts: 81
your tank looks amazing. *inspired* and you might've just solved my tubing problems