Wow a lot of work, can't wait to see everything grow back in
the strange thing is that it happens faster than you would think.
Quote:
the strange thing is that it happens faster than you would think.
LOL, I know it is as if they plants want to get back to the same place as quick as they can.
new pics plz
Well its been almost 2 months and seeing the request from Zenche I thought I'd post some updates/comparisons between the replant and the growth we have after almost 60 days.
I like to start my updates with where we were because its always good to have the reference point in the current post instead of having to bounce back and forth. Lets step right into carpet growth. When I did my replant I found a bunch of dwarf sag hiding among stem plants and decided that I'd use that plant for my carpet instead of dwarf hair grass because the hair grass just started to look horrible and stringy.
Here is my replant dwarf sag followed by what it looks like today. You can also notice the single, almost dead stem of pogostemon stellatus on the left hand side of the top photo. Even though I find this plant very difficult to work with because it is fragile I am continually taking clippings from that sole plant and making a border of pogostemon stellatus in front of my giant vals. You can also see that I removed the onions and the M. lace as focal points because they were located dead center of the tank and it just didn't look good (I'm trying to study the finer points of aquacaping now and put theory into practice). All in all the carpet growth has been explosive but its never fast enough is it.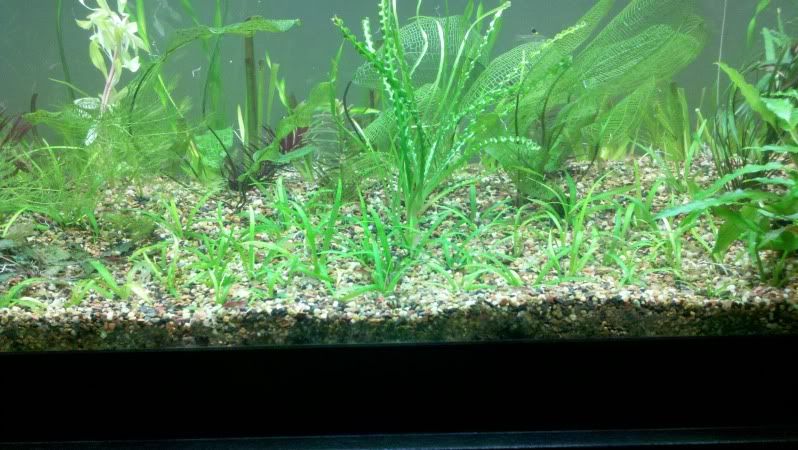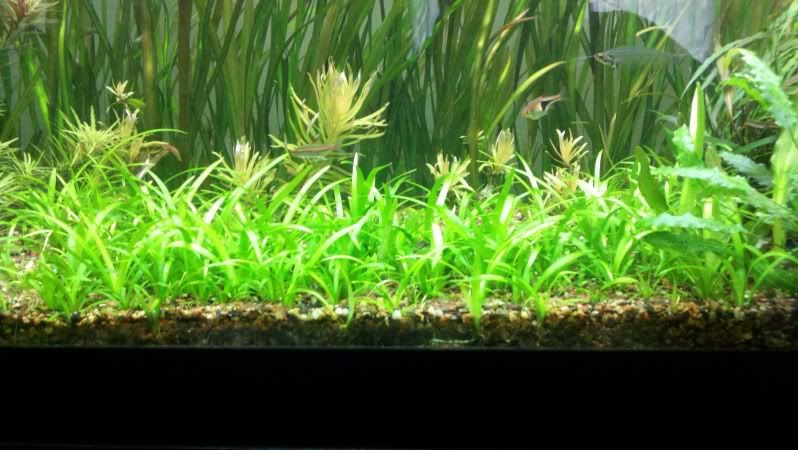 Moving away from the carpet lets take a look at some other plants that I had come in for the replant. I had some ludwigia peruenis and alternanthera reineckii come in for the replant and you can see those stems also dying in the following picture. All of the plants that I had come in from that shipment were on the verge of dying.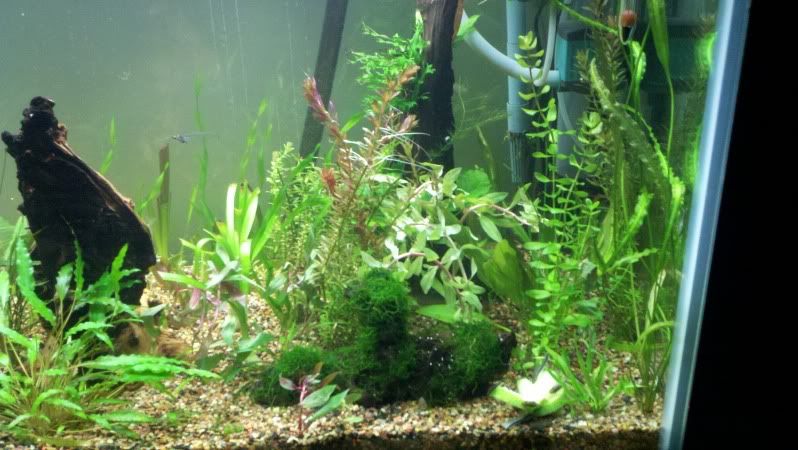 And a close up, the alternanthera reineckii can't be seen as it is behind but it is in just as bad shape. You can also see the awesome flame moss I picked up from our very own swap and shop and I had just put it on that wood. There is also small aponogetons in the corner of the tank that I need identified because they are now giant.
Lets look at our growth in that corner today.
The aponogetons are now about 40" to 50" and lay across the top of the tank. If you can identify these bulb plants shoot me a PM because I would love to know. The bacopa is shooting right up and you can see a nice bed of rotala that I have cut and replanted about 4 times.
The flame moss is just doing GREAT. This has got to be one of the faster growing mosses that I have had experience with and the green is just georgous. In 60 days it has straightened up and covered that entire piece of wood. I added a little pellia cherry on top because I didn't have anywhere else to put it.
Those 3 to 4 dying stems of ludwigia peruenis and alternanthera reineckii bounced back and I started parting out the new growth to make a nice bed of both seen here partially covered by a crypt lucen that will not stop growing.
I have also continued to top and replant my limnophila aromatica until I have a nice little bed. It is thin but I already have a few of the back plants that can be cut and moved forward.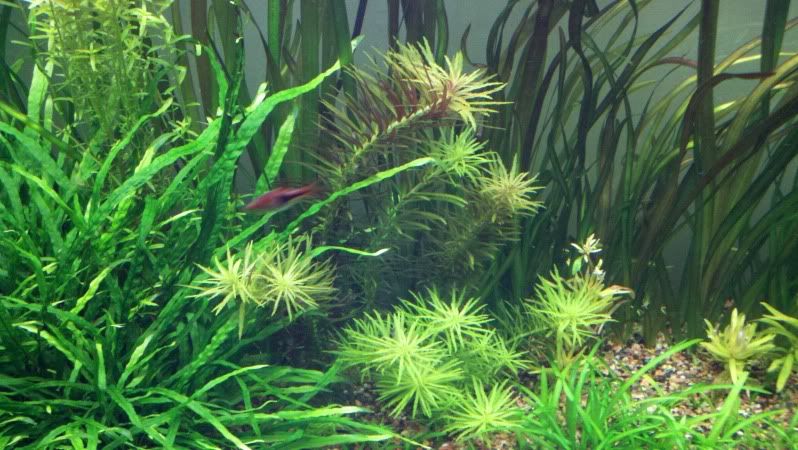 I was also lucky enough to pick up 4 stems of hygro pinnatifida and it is coming in beautifully. Each stem was about 4" when I purchased them and now they are all almost a foot tall with some deep colors.
Welp that is the majority of the growth that I have experienced and I am somewhat impressed because each plant was removed, cut down to nothing or received and put into a new environment so all the plants had an approximately 3 week adjustment period. I have some full tank shots that really show my giant val growth but I have to trim those weekly because if I hadn't they would of blocked out the sun for the majority of my tank. Enjoy the full tank shots and we'll have an update sometime after christmas.
Left front:
Right front:
Right front with daughter:
So to do a final comparison we have the replant:
and we have today, isn't it amazing:
Until next time happy planting,
Abe
I am also hoping to get a good picture of my red shrimp/assassin snail populations. I have yet to find one that does either colony any justice.
looking real nice
Your tank is growing in very very nicely.
WOWWWWWWWWWWWWWW....this is a monster tank. You mentioned that you got CO2, correct? have you had a smaller tank with CO2? I am curious if the concept of CO2 is the same between the big tank and small tank.

AMAZINGGGG Growth you have there.
My only Co2 experience is pressurized with my 125 gallon, I have other planted, low-tech tanks in the house but none with Co2. I know that I only have 1 entry point for the Co2 so due to that my Co2 reaction and tank flow is monitored closely to ensure uniform dispersal.

I would love to attach my extra 10 lb canister to my 20 gallon long but I don't have another rig.