Wow Glenn, I forgot about this thread until I saw one of your posts and was reading your silly sig
Hows everything going? Your last pic you posted looks great! I see you decided to "manage" the vals. Mine were a PITA so I ditched them. All of the crypts look great. I hope you get us some close ups WHENEVER your wife gets that camera back home
Ironically, I was scheduled to have a club meeting at my place last Saturday and was going to do a "before" and "after" shot of the tank. I had planned on doing a bit of a facelift on this and then get this journal up to date. Ironically, we had a premature snow fall here that pretty much devastated the area and I had to cancel the meeting. So... the tank is just an overgrown mess. LOL.

Vals are tough. They look good for a while, then just invade everything. I am making some big changes to this tank soon, but I'm in no rush. Had to help out a fellow club member who lost power for four days by taking all his fish. Its like a circus in this tank. I think there are 15 Torpedo Barbs in there and some are full size. Its hysterical.

Thanks for checking in. Glad my sig is still getting laughs. I may need to change it soon, the joke has warn thin.
Quote: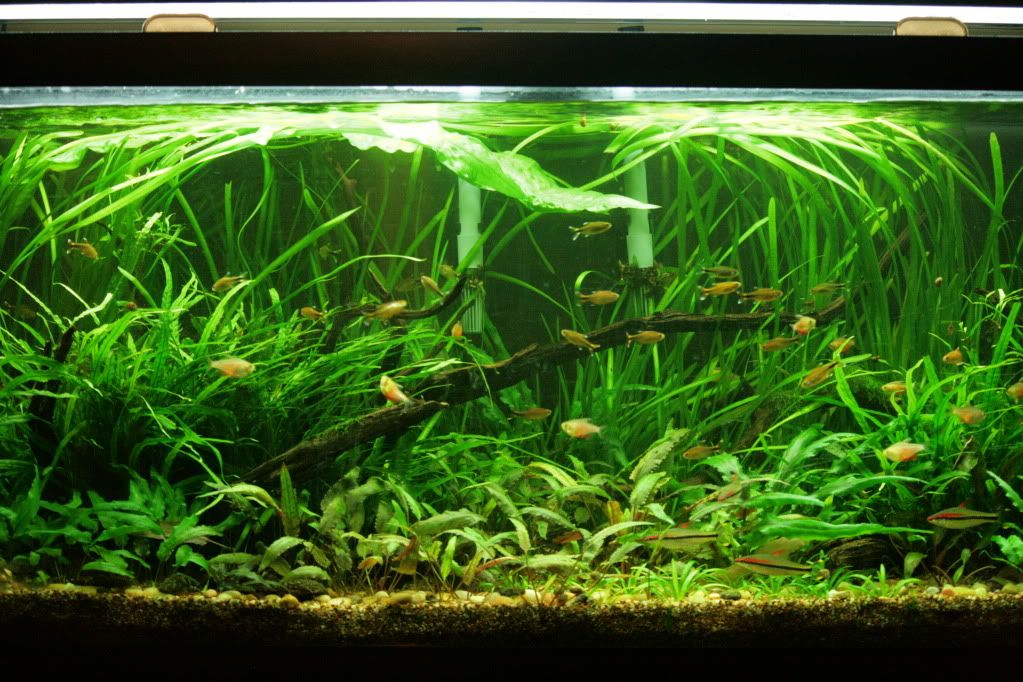 Great thread. I enjoy tank journals. Your fish must love their tank! Beautiful. I notice you have Denison Barbs, Silver Tip Tetras and Von Rio Tetras. I want to ask you a question about your Von Rios. I'm going to pm you so I don't "invade" your journal.
I've got 8 Denisons in a 45 gallon tank. Getting kinda cramped in there for 'em. Gotta get a 125 or larger soon.
Planted Tank Enthusiast
Join Date: Oct 2012
Location: ohio
Posts: 827
great looking tank - very lush
Mine are in a 48" long and they are not fully grown yet; they are aready cramped in that one! 125 gallon would be a great move
Pm'd you back Amanda!

This tank is still going but it needs a face lift. Maybe something coming in the next few months. I am still debating filtration and whether I want to drill this tank and another to go with a sump system for easier maintenance and better filtration.

Fish are still doing well, even with some of the late addition fish that came in about a year ago. Tank is way overstocked but have had very very few loses (maybe three fish since the tank was setup).

Stay tuned, should be something coming soon.
Algae Grower
Join Date: Jul 2012
Location: virginia beach
Posts: 120
Quote:
Tank ran a bit crazy with growth over the last few months, so I thinned it a bit. Looks pretty decent. Will be looking for big changes this winter. Going to start hunting for new driftwood and rocks soon.
Here is a camera phone pic.
Will take a better picture when my wife remembers to bring her camera home. LOL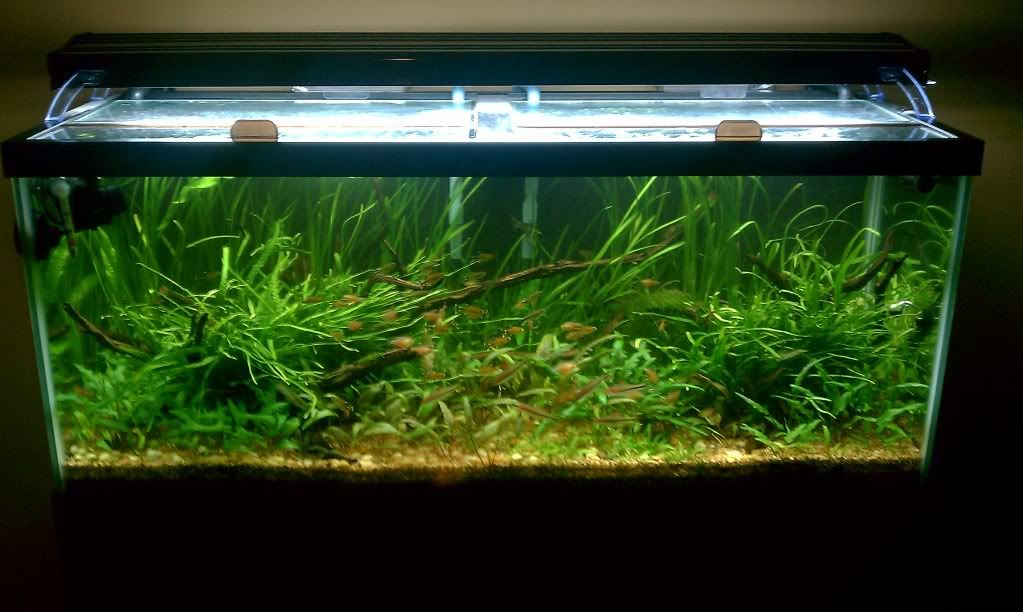 your tank looking good