View Poll Results

: Canopy or No Canopy

Yes with the Canopy looks best (Pg 1)
14
73.68%
No better without (Pg 5)
5
26.32%
Multiple Choice Poll. Voters: 19. You may not vote on this poll
New year new pics!
---
New year new pics! Very happy with the tank
. Plants growing like crazy! Still need to add a good foreground plant....planning Dwarf Tears. Wondering why my fish hide for pics
. I'll have to get some new shots of Discus up soon they're growing fast!
1/7/12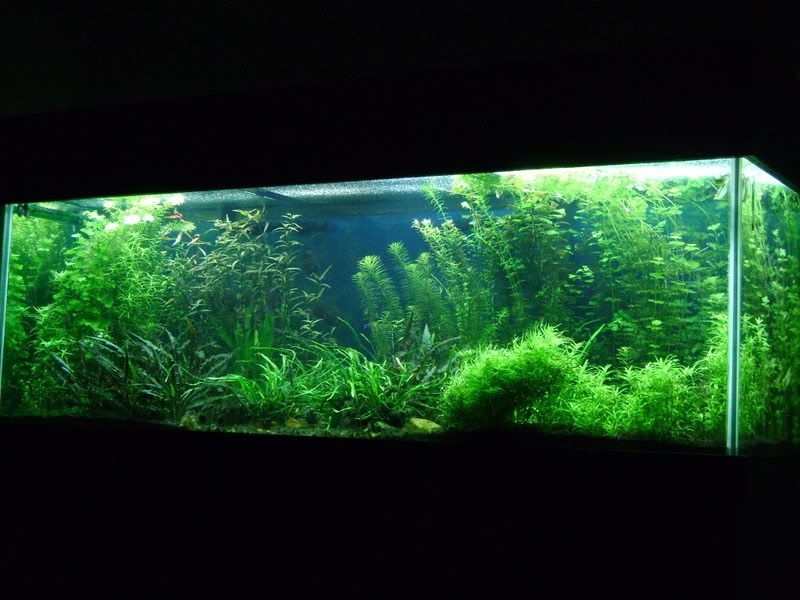 1/7/12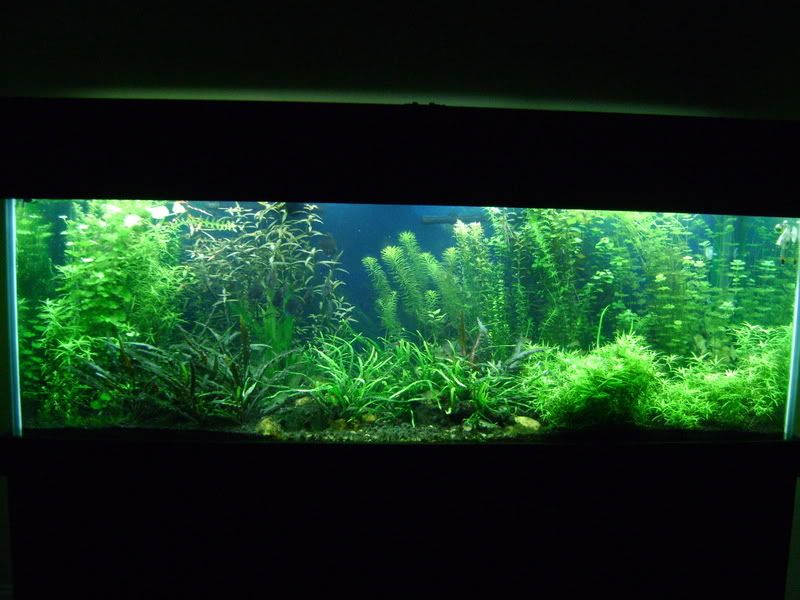 well done.
looking nice,clean and healthy.
md
Beautiful tank. Are you happy with the Eco-Complete?
---
Last edited by smiller; 01-18-2012 at

01:42 AM

.
Algae Grower
Join Date: Jan 2012
Location: willowbrook il
Posts: 40
wow i hope my 120 build turns out like this..... gorgeous
Quote:
Are you happy with the Eco-Complete?
I am very happy with the Eco-complete. The only disadvantage is the discus color would be better if I had a lighter colored bottom. However, if I were to do it again I would still pick eco.
One thing to consider....in my non co2 low tech no ferts 55G the Eco negatively effected the Cherry Shrimp. I think the Eco released micro nutrients into the water faster then the plants could uptake causing nutrient build up. The shrimp died in that tank. After I removed Eco and added sand the shrimp are happy living in the 55G. In the 180 with Eco I don't have this problem.... Co2 enriched and EI dosed the cherry shrimp live happy there probably... due to fast plant growth and nutrient up take.
Quote:
wow i hope my 120 build turns out like this..... gorgeous
Thanks
The reason I asked about the Eco-Complete is that I have a friend who has a small tank and using it and she said she has had an issue with the plants coming out of it on their own. I have not seen the tank or know the Eco depth or any other particulars, just going by her experience. In my long search for substrate to go into my 150 I was leaning toward Eco but wanted to know if others had had this problem. Thanks!
I'd say those plants filled out nicely. Hah.. Wow. Any recent pics?
LOL you are reading my mind. Just snapped a few new pics last night and I'm getting them up today! You need to start a tank journal for your 55. If you're ever in Wake forest let us know.
New pics (about time!)
---
Here are some new pics (yes it's about time!)... The tank is doing great. Relatively low maintenance and the plants are growing like crazy.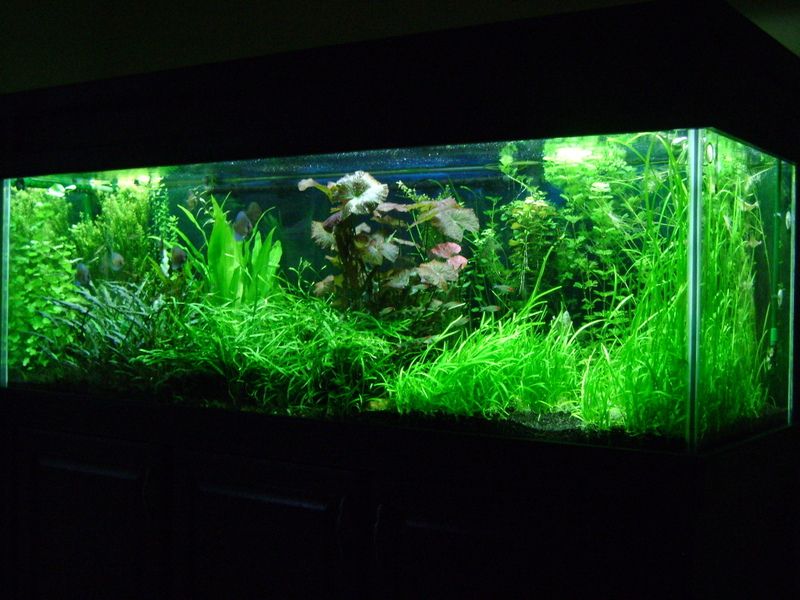 The Discus are starting to cooler up and are fully adjusted to the tank (less shy). Rummy nose are flying around like always.
It's looking very nice. Good job.

What temp are you running with the discus?
Quote:
What temp are you running with the discus?
82 degrees
Time for a new picture. Some new additions to the tank and a few kicked out....
Added 40 Cardinal tetras and within a few hours the Discus decided they were lunch. So out with the Discus. I want a tank where I can have small schooling fish so this was not ok with me. The Discus now live up stairs in the 55G and are actually happier living by themselves. Also got 11 Roseline Barbs at a sick price of $5 each. I love love these fish!! They are a new favorite! They are always cruising around and so beautiful to look at. They also love the strong current and are always playing in it.
New night lights LED... They make a really nice glow. We got them from lowes they're actually under cabinet lights.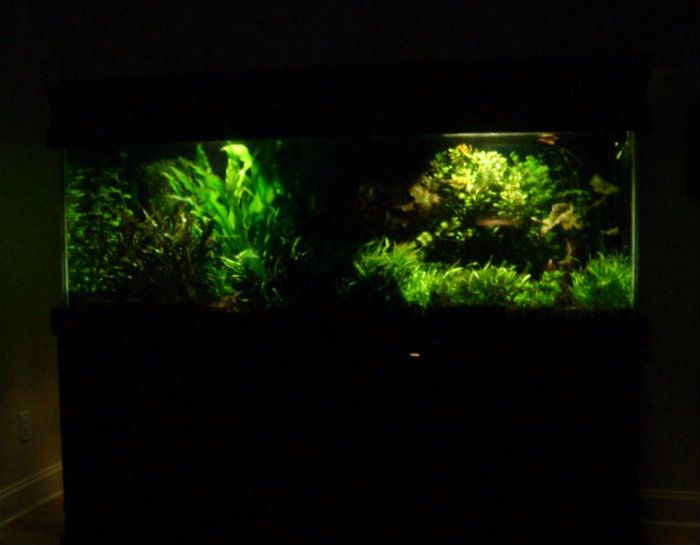 Also if anyone who has input on good settings for a cannon power shot to take better pictures please share I am still trying to figure that out.
The tank looks awesome! Sorry about the Cardinals.
I also have a Canon Powershot (model SX110 IS). First off, you need to use a tripod. After that, I typcially use the 'M' mode. Once there, I use the rotating dial on the right side of the camera screen to adjust shutter speed. To adjust the 'F' stop, temporarily go to the 'Av' or aperture priority mode and change the setting there. Switch back to 'M' and make any further shutter speed adjustments and take a picture. A longer shutter speed will also blur the fish, so it's a compromise. I would suggest taking notes as to what settings you used for each picture to determine the best settings for you. I'm still a bit photo challenged myself and I suspect others will chime in that have way more experience than I do.
Good luck!
---
155 gallon (low tech) planted (not at the moment, after removing the Eco-Complete) Discus aquarium with 3D AquaTerra background, started in July 2010. EcoComplete substrate is now gone, replaced with sand, Rena XP3 and XP4 for filtration, Catalina 35" T5HO retrofit - 2x39 watt (two units) mounted in overhead canopy. Link to my
journal
for the 155.