Here are some needed pics! Tank is going pretty well. I have a little bit of some kind of green scrubby/stringy algae growing a few places. Mainly it is on the wood in a few places. It is east to pull it off, at least most of it anyway! It looks like the Miramo Ball algae, but it doesn't grow in balls! Other than that and the usual green dust algae ya get on the glass it is going OK!
The Crypts, especially the Green Gecko is still having problems with holes in the leaves! I really think I got the Sand cap too thick, and the roots of the crypts aren't reaching the dirt! I removed some of the sand cap during the last water change, but it is still pretty thick on the large stump end! So the next time I do a water change I am going to remove the wood and change the plant layout some after I remove even more of the sand to see if that will help! I still NEED to replumb the tank, but I have been at the family farm for the last 3 weeks with pneumonia! I have to get a few things done around the house before I can really work on the tank, or my wife might banish me to the Farm PERMANENTLY!!!
I will updates with pics when I start the plumbing!
Thanks for looking! Let me know what Yall Think! PLEASE!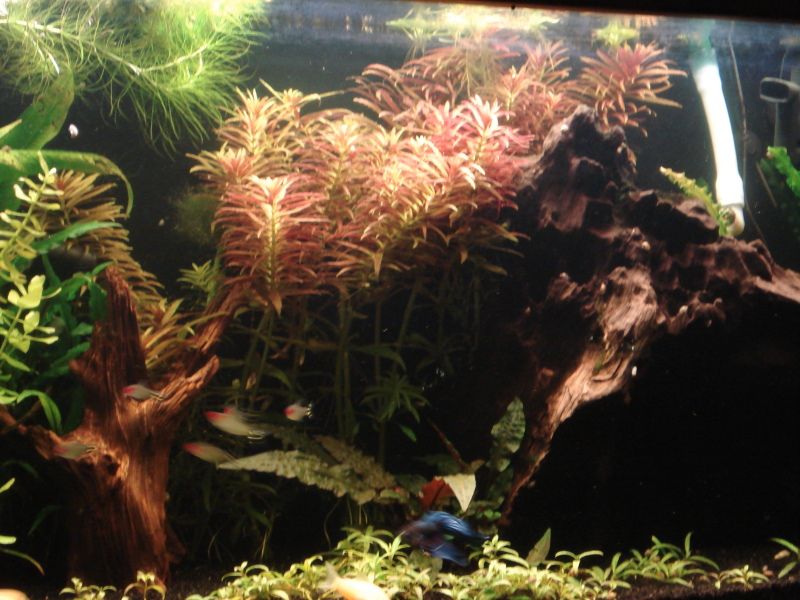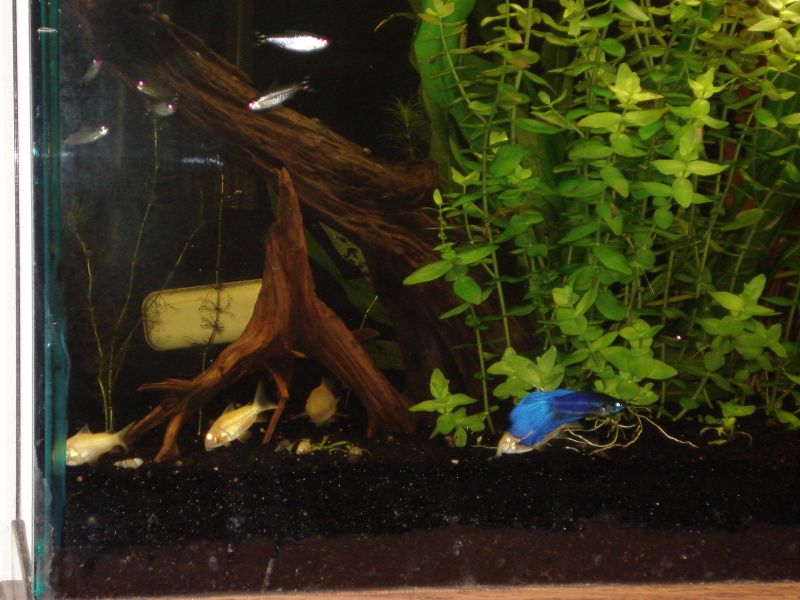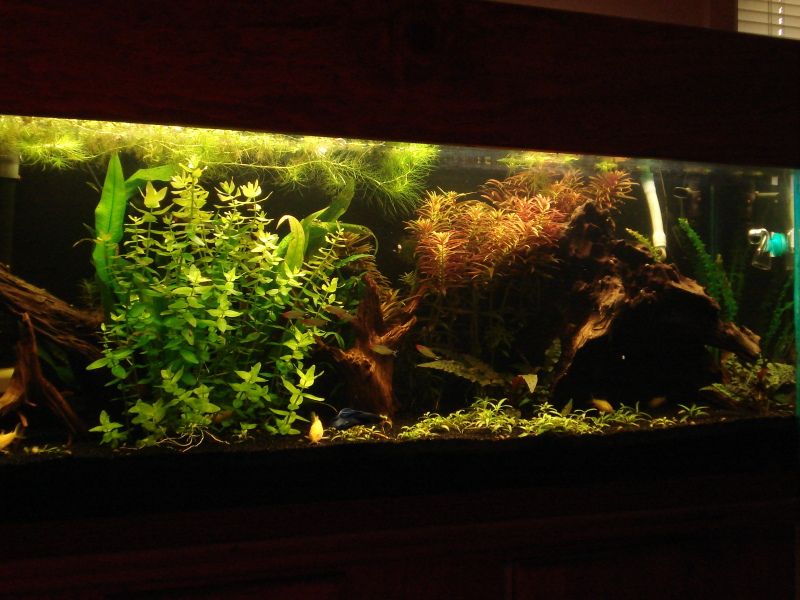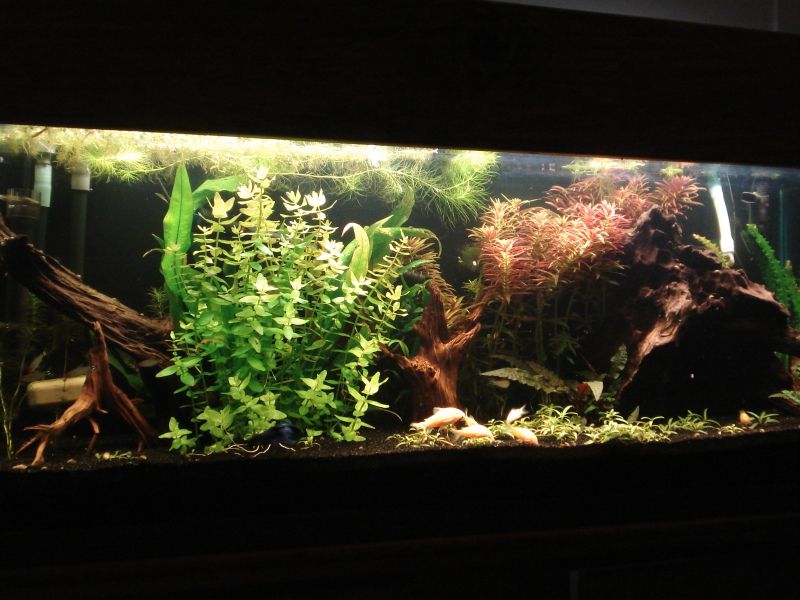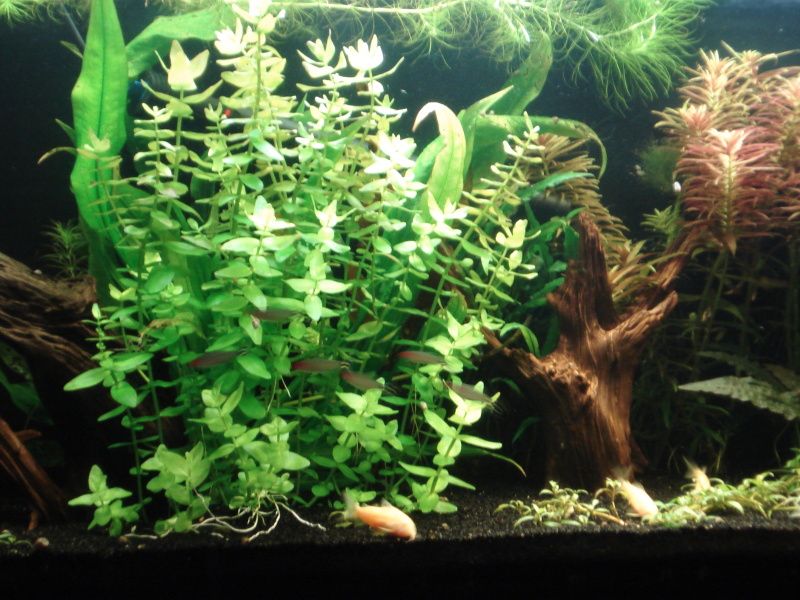 If Ya look at the substrate in a few pf the pics you can see where I have been using a bamboo skewer to poke down into the dirt to release the bubbles! There are very few bubbles being released any more.
Thanks Again!
Drew
Forgot to say that the floaters I got a while back have really taken over the surface!!! There is a stem of Hydrothrix gardneri floating on the surface too! The floaters gather heavily on the left side due to the surface agitation and block the light to the Hydrothrix gardneri, so it is really slowing down its growth! So it will be moved around when I replumb and redo the scape a bit!

I am also needing to do a trim, but I wanted to update first!

Again Thanks for looking!!!
Drew
made myself just sit and enjoy a journal read for the first time in months this morning

Went back to the 9/19/12 post and read through to the current updates.

Good details and I enjoyed it (TY).
---
The Fraternity of Dirt
If at first you don't succeed,,, keep kicking it
RubberSideDownOnTheLanding,
2-75g planted, 5-55g planted, 5-20g planted, 110g w/30g sump, 8-10g,
Refugium,
doghouse/newbie
2012 update adding table top pleco pans & a 90g (Nutz)
Thanks Racer!
Well the tank is doing ok! I have put in my 11 Golden Pencil Fish, there are 6 Rummy Nose Tetras, 6 Albino Cories and 1 was born and raised in the tank!, 1 Blue Betta (from my son's Aquatic Science project, and 3 Ottos. Also at tons of Ramshorn and Pond Snails
The 2 problems I am dealing with now is a type of algae I have never had before, and I seem to have my sand cap too thick, and I am not getting water flow into the dirt under it!
Problem# 1 some kind of Green String Algae that forms into clumps! I never had this before I introduced a Miramo Algae Ball last year some time, and a few weeks after adding it I started seeing a little tuft here and there. It is very slow growing and is easy to remove the majority of it, but it keeps coming back! I have tried treating it with Excel, and the Excel has done nothing to it at ALL!!! I don't know if it is actually Miramo or something else, but it is starting to annoy me!!! Here are some pics of it!
And the second problem I am running into is, where I have been poking a bamboo skewer into the dirt to release any gas bubbles that form when first submerging the dirt, I am now seeing that no water is filling into the holes!!! I wanted to be able to see what the dirt was doing, so when I "dirted" the tank I didn't put the sand up against the glass like most do! I just put the dirt in all the way across the bottom and along the front and sides of the glass , then I capped it with Black Diamond Blasting grit (20/40 size). Now I am seeing no water flowing back into the holes where I poked the holes along the front glass! The holes I can see are basically empty! I can poke the skewer into the "dry" hole, and no gas bubble is released, but no water will flow back into it either! So I am going to remove the plants and rescape the tank, but while the plants are out I am going to remove some of the capping sand too! That will hopefully solve the problem! I put to much capping sand to start with (about 1.5-1.75"), so I am going to try to get it to about 1", and see what happens! Here are those pics.
You can see some whitish looking bubbles above the long holes in the dirt, and those are gas bubbles! I don't know why the camera makes them look milky, but they aren't in person. BUT the actual holes left from the skewer have no water in them! VERY STRANGE!!!
Well those are the only real problems I am having at this time! The Tank and Fish are doing good! I am seeing holes in the heavy root feeders such as the Crypts and Sword, so I bought some Red Natural Clay at Hobby Lobby, and I am going to make some fert balls like Sara has posted about, but I know what is causing that, so I don't really consider that a problem!
Anyway on to the LONG needed pics!
Well I just realized I didn't upload any full tank shot to image shack, so I will post some FTS in a bit! In these pics you can see the group of Albino corys, and the smallest one is the one who was bread and raised in this tank! Also the male Golden Pencil Fish are always displaying for the females, and their color isn't done justice in these pics! The dominate male will be almost solid Ruby Red in the mornings!!! If I remember correctly I have 4 good males, 6 females, and 1 male who has a bent spine, and is always having trouble staying in one place! He is always sinking!!! It is very sad, but he still tries to display for the females, and will color up and try to swim in competitive circles with the other males!!! So until he can't do his normal routine I am going to let him be! When he starts having too much trouble I will then put him to sleep!
Well THANK YOU for LOOKING, and if ya have any ideas about the algae, or "dry" holes in the dirt, feel free to let me know!! I would appreciate it, BIGTIME!!! Oh, I almost forgot, I also pulled the BIG piece of drift wood on the right side of the tank, because I always had stained water! Then when I was removing some of the Algae tufts I noticed that the algae that I was pulling off of the big piece of drift wood had a strong smell to it! So I was worried it was having some rotting problems, so I took it out! And MAN DID IT STINK!!! BUT it was still very dense, and I couldn't find any soft spots in it either!??? I have some more drift wood I am planning to add to the tank when I rescape it and I have also built some new spray bars and intakes for the tank, but I am needing some warm weather to spray paint them! But they will be in there soon!
Thanks Again,
Drew
Here is a full tank pic.
The Limno is looking pretty bad, because I was watching the farm for a week, and it grew sooooo much it shaded out the bottom leaves and they all shed off!!!
So now they look like Dr. Seuss trees!!!
Anyway here is the pic, and I will be rescaping the tank Monday when I will be adding the new Spraybars, Intake pipes, and RexxGrigg style reactor! I will also be removing about 1/2" of sand too!
THANKS for looking, and PLEASE comment on any layout ideas!
Drew
Those plants Look sweet, expecially the bacopa. The betta is stunning too
Maybe incorparate some mosses in the New scape?
Hey Planted People!!!

I know it has been a long while since I have posted anything, but I have been fighting clado algae in the tank for over a year now, and I am sick of it!!!! I can get most all of it gone, but is a month it will come back with a vengeance!!!

SO I am at the point now of TEARING IT DOWN, and starting over! I am not in love with most of the fish that are in the tank, and I can trade them in at the LFS, so no worries there. There are a bunch of Kribs, 5 Rummy noses, 1 Cherry Barb, 1 Gold Barb, 2 Ottos, and 6 Albino Corries. The Ottos and Corries I am keeping, but the rest can go. I have sooooo many Kribs it isn't even funny anymore! I have 3 pairs that constantly spawn, and even if I leave the babys in the tank 5-10 survive, so it is way overcrowded with kribs! I might keep 1 pair for a 20g I will be setting up, but anyway.

The plants are going to be all trash! Even though many are doing very well in the dirt with no CO2 I don't want to risk transferring the clado to another tank or anyone else for that matter!!!

The Blasting grit and M.G. Dirt will go in the yard, since I see NO WAY of getting the clado out of it!

My questions are what to do about the tank, filters, and equipment???

Should I just run a strong dose of peroxide/clean water in the empty tank with all of the equipment in it? Or empty it and let everything dry out for "x" many days?

What do Yall think would kill the algae from the tank, inside the filters, ect...???

THANK YOU for any help yall can provide!!!
Drew
Algae Grower
Join Date: Apr 2013
Location: Singapore
Posts: 67
Wow, clado is tough to beat.i recently had an outbreak of clado as well in my 2ft but it all came under control once i added about 20 starving cherry shrimps in.they went at it until there was nothing but a faint green stain in my rocks where the clado used to be.

Anyways, why not do both? Soak your tank n equipment in bleach/peroxide then let it sun dry for a couple of days and air dry for the next week or so?
I was thinking of doing that, but I thought if I could get away with just doing the peroxide treatment I might be able to save the bacteria in my filters! I run the fluval ceramic "rings" in the top basket of the 2 fluval 205s, so I was wanting to keep them "alive" while at the same time kill the algae. I doubt now that I will be able to save the bacteria and use enough peroxide to kill the algae after doing some more reading online.

Anyway I plan on working on the tank tomorrow, and I will post some pics of it before I tear it down to give this thread some closure!

I just want to THANK EVERYONE for all of the help they have been over the years with this tank and all of the questions and help I have needed through out my planted tank life!!! I would have NEVER gotten as far as I did without Yall, so again THANK YOU ALL!!!! I am going to start a new journal for the 55g from the start and hopefully with more and better pics! I also will be setting up a 40B at the same time and will do a journal for it too!

Again THANK YOU to ALL and this site!!!
Drew
Well I still haven't torn the tank down, but I have been battling the clado algae, and it is getting somewhat better, but it just won't go away! I have been able to keep it off my plants for the most part, but it continues to grow on the substrate, filter intakes and outputs and wood!!! I have been doing a lot of trimming and replanting and have increased my plant load A LOT!!! Many stems in the tank, but only a few different types, but I don't want to spend any cash on a lost cause! I have hit a serious cash flow issue, so I can't afford to put any money into my aquariums right now, but maybe next month! I have got some god pics and I PROMISE to post them as soon as my camera cord comes in! Should be in by the end of the week or the beginning of next week at the very latest!

THANK YOU ALL for the continued support and help with the tank!!!
Take Care!!!
Drew
Well I AM SORRY IT has been WAY TOOOOO LONG since I have updated!!!

I was waiting on the cash to tare down the 55 and set it back up a bit different, but as most of you know LIFE gets in the way!!! So I have let the tank go on Auto Pilot doing a water change once a month and cleaning the filters at the same time. Feeding the ever expanding colony of Kribs every day and skipping every Sunday. Other than than doing nothing else but trimming plants when I couldn't see the back of the tank anymore!!!

Well It looks like I finally starved out the Clado algae by doing this!!! I no longer see any long stringy algae on the plants, sand , or anywhere for that matter!!! There is a bit of some kind of algae growing on the drift wood and coconut half shells I made for Krib hides, but it is short and very different and doesn't stink like clado did!

So the tank had been completely over taken by Bacopa Carolina from front to back , as you will see in the pics when I am able to post them in the next few days, so I did a major trim, and I am going to once again try to revive this tank!!! My plan is to remove most of the Kribs, keeping the best looking pair. Then I really want a German Blue Ram Pair, along with some Angels!

Do Yall think the Kribs will get along with the Rams? I plan on putting a few coconut shell caves on each end of the tank so the Kribs can have 1 end and the Rams can have the other, or is this just asking for trouble???

As for plants I want to get more crypts! I have always loved crypts, but with the damn Clado I just didn't want to add them into the tank, but as long as it stays gone, I will for sure add a few different types!

I am on the lookout for some new driftwood as well! I am fixing to take quite a few kribs to the LFS for credit, and they have some nice wood most of the time, but I don't want large and heavy! I want branchy stuff to make a nice Angel Fish Tank! Anyway I will get the pics up ASAP, but my Camera is in my truck and my Wife has it out of town!

Thanks for checking this out, and for any help with the Krib/Ram question, or any suggestion for that matter!


Take Care!
Drew
Kribs and Rams is definitely asking for trouble in my opinion. They are both cichlids that occupy the same level of the water column. Kribs are already territorial when spawning and if the rams are spawning, it could be seriously problematic! haha. I wouldn't risk it.