Cawolf's 29 Gallon Freshwater Community
---
I have been wanting to start a thread on my tank for a while - it is just another 29 but I know when I first started I scoured these threads for ideas and I want to put what I have done out there. It is a work in progress; a work in progress by someone with no budget as I am in internship for school (but only three more months)! A lot of it is done DIY, secondhand, or from RAOKs.
With that said I am pretty bad at scaping (first semi high tech tank) and as of the time I am starting this it is still in a "grow-out" phase. I am seeing what I can grow well and trying to scape minimally until I know what will last. If you have any ideas let me know!
Tank
- 29 gallon standard - 30" L x 18.5" H x 12" D
Filter
- SunSun (Perfect) HW-302 Canister filter running at approximately 150 GPH
Light
- CoraLife 30" T5NO w/ 2x18W 6700k/Colormax
Substrate
- 70% Flourite and 30% Aquarium Gravel
Co2
- DIY pressurized with a 20oz paintball tank running about 2.5 bps with a nano-diffuser. Showing green on the drop checker.
Ferts
- Standard EI dosing with KN03, KH2P04, KH2S04, Flourish, and Flourish Excel.
Parameters
- I don't test but I perform weekly 50% water changes.
Fish
- It is a community set-up with about 15 fish. Platys, Mollies, Tetras, Otos, a Cory, and a Pleco.
Inverts
- There is currently a colony of about 8 RCS.
Plants
- Anacharis, Anubias, Hygro, Micro Sword, Crypt Spiralis, L. Repens, Hornwort, and some others.
To do list:
-There is currently a Hydor heater in the mail to remove the in tank heater.
-Change background to black.
-Aquascape - I would love any ideas you have.
Pics:
Sorry for the bad cell-phone pics I will update with my real cam soon.
Tank overall as of now: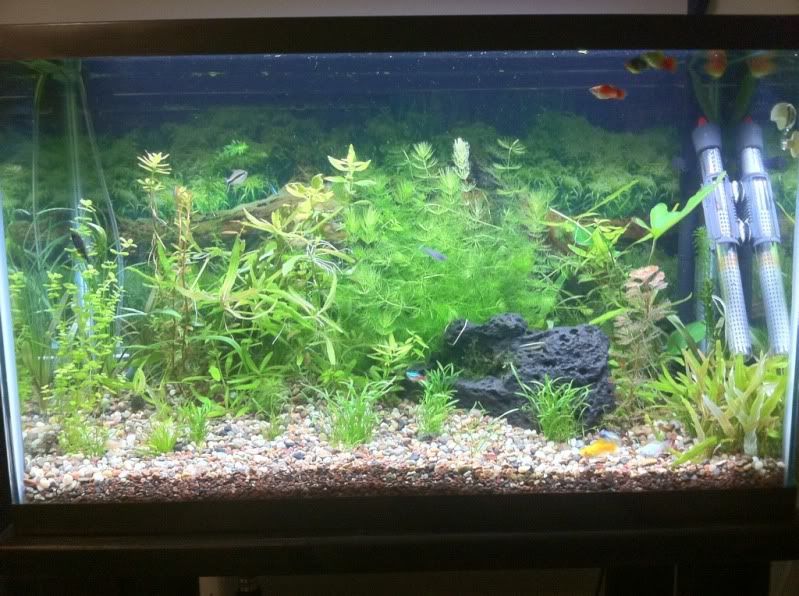 Lighting:
Albino Cory and an Oto: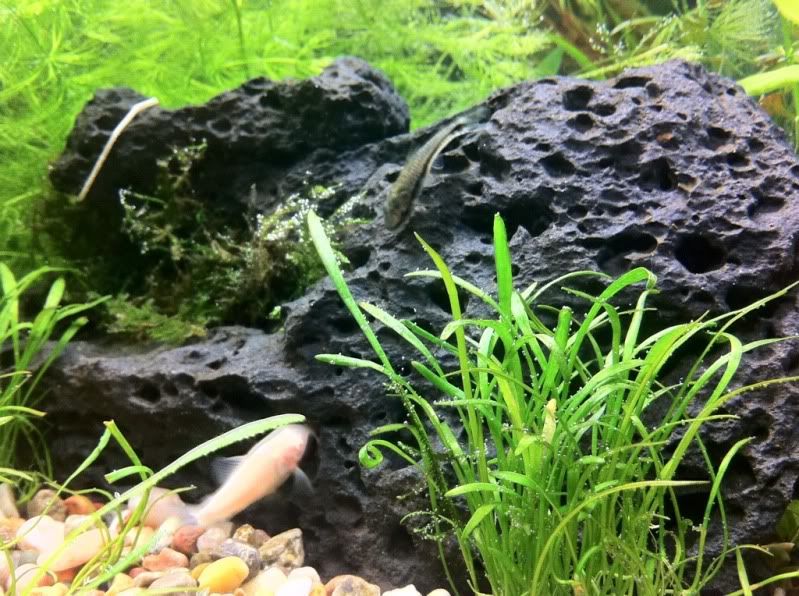 Some pearling: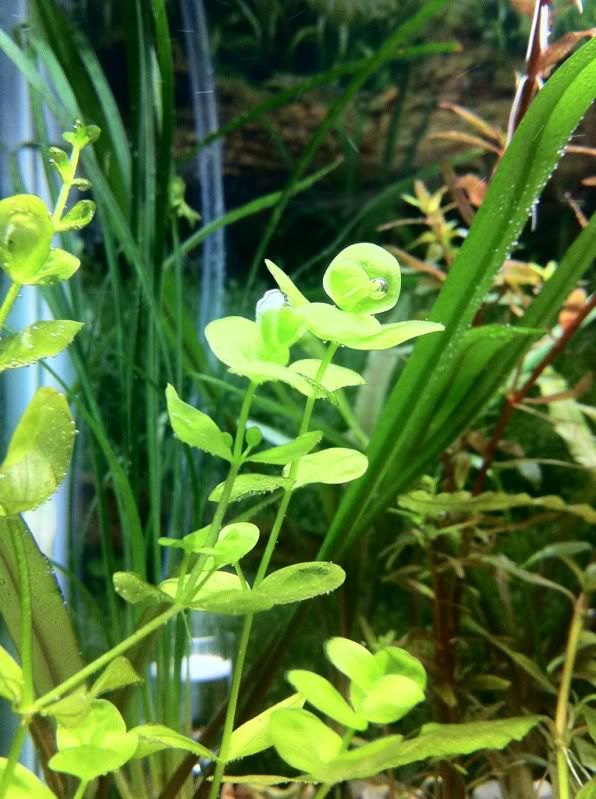 Platys and a Molly: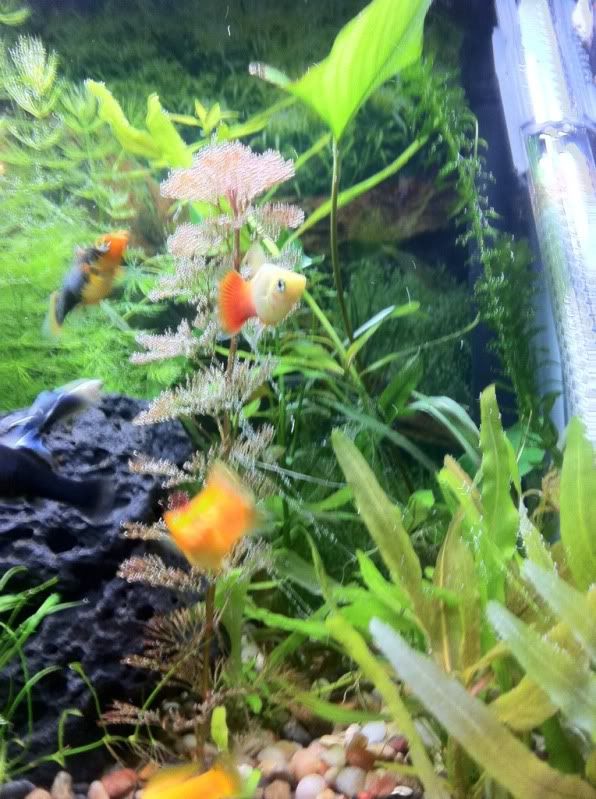 Penguin Tetra (he is 5!):
Albino Cory:
Tank 1 month prior: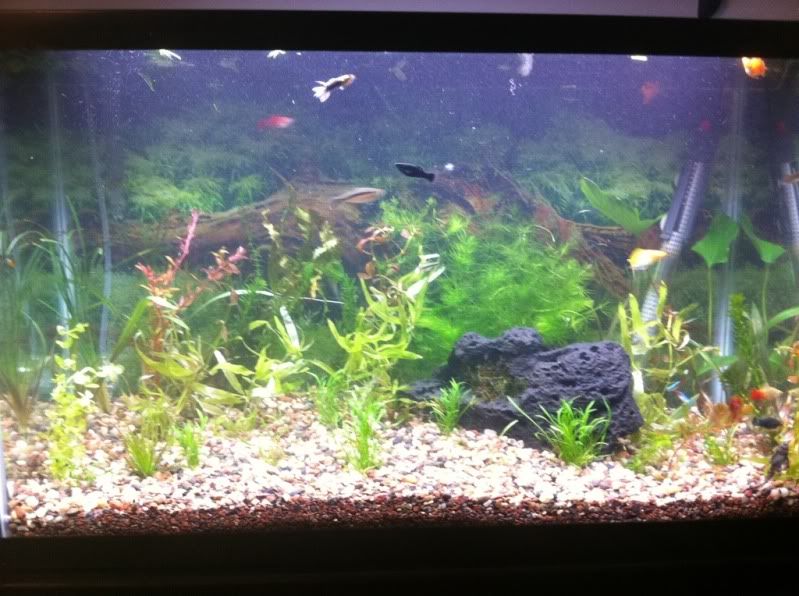 Platy and a 6 year old guppy: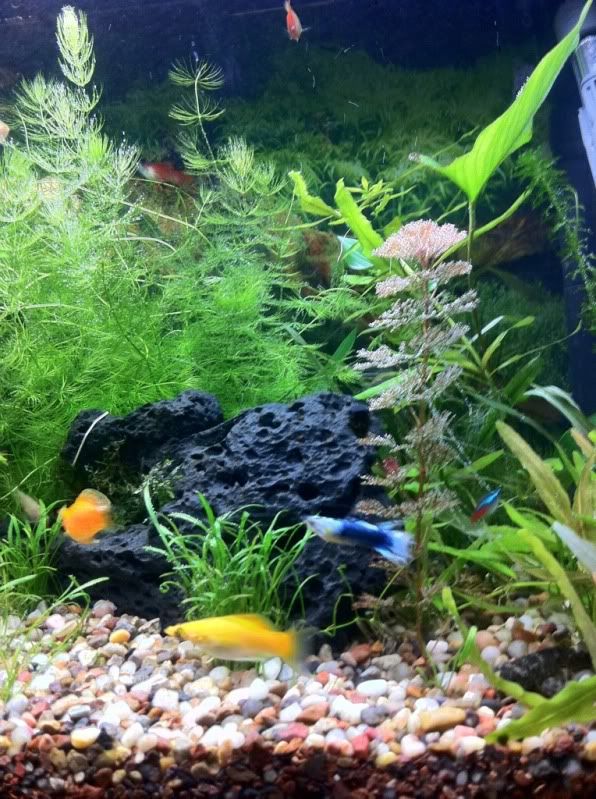 Thanks for looking!