S3Fs 10 gallons x 2
---
This is a journal for my ten gallon tanks. These will be turned into one tank in a while--one of them is just temporary-the other is just growing plants and keeping my kribensis alive.
Eventually I will condense to one of these tanks with some Celestial Pearl Danios or something similar.
10 gallon standard aquariums, HOB filters one has T8 lighting and the other has 2x 15w CFL 6700k spirals.
First picture is from Thanksgiving of 09, the others are from tonight 2-10-2010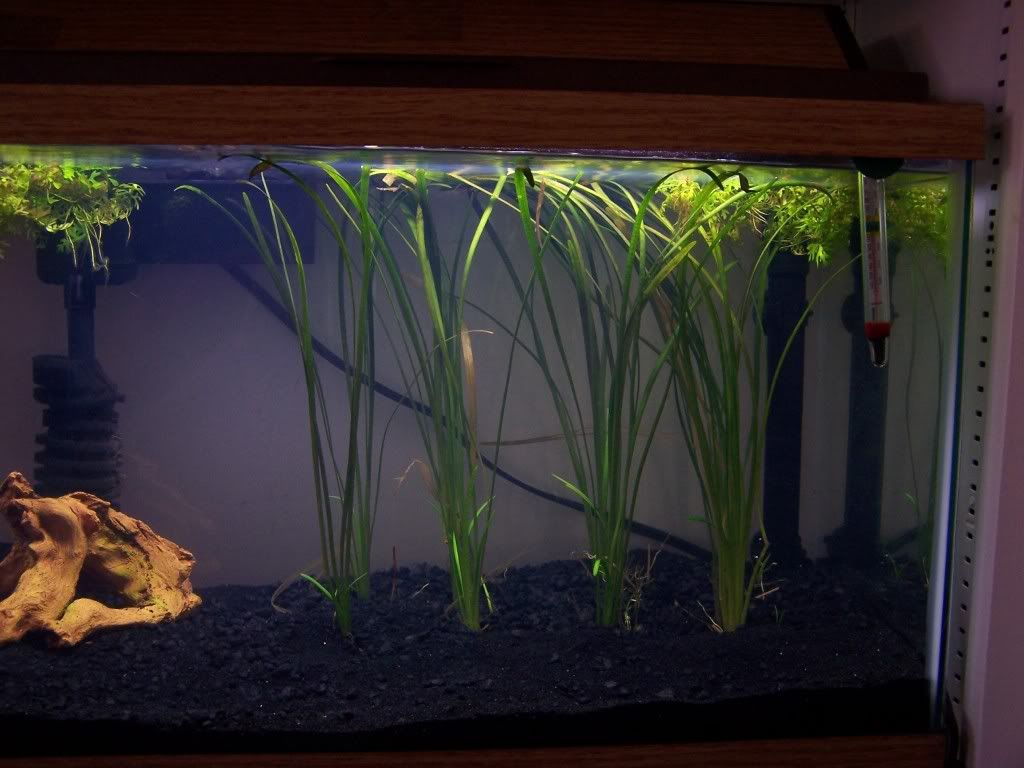 LOL--yeah, that will be gone eventually. The black gravel tank will be the only one remaining of these two once the 50 gallon gets setup. Actually, Im cosidering getting a 15g high ( 20 1/4 x 10 1/2 x 18 3/4 ) or a 20g xtra high ( 20 1/4 x 10 1/2 x 23 3/4 ) to go on the 10 gallon stand I have---OR I have a 20 gallon high ( 24 1/4 x 12 1/2 x 16 3/4 ) that I might set up. Either way, the pink, red and black gravel mix will be tossed in the garbage and replaced with solid black or natural colored gravel.
Tanks havent changed as far as layout. I did add 5 White Clouds and 2 Otos to the vacant tank 2.18.10. One White Cloud and one Oto didnt make it past the first 24 hours. The second Oto appears to have a slight case of Dropsy so Im not sure he/she is going to make it. Fingers crossed. The four remaining White Clouds seem to be doing great, I enjoy watching them swim around in the tank and I may stock my 50 gallon with a bunch of them. I think they are an underappreciated species. Very pretty fish with cool activity. Mine swim all over the place--top bottom and middle of the tank. At night they camp out in my Blyxa.
Almost 3 months later;
After reading someones comments about hacking all the leaves off of Anubias, I tried it. They are growing back, but slowly.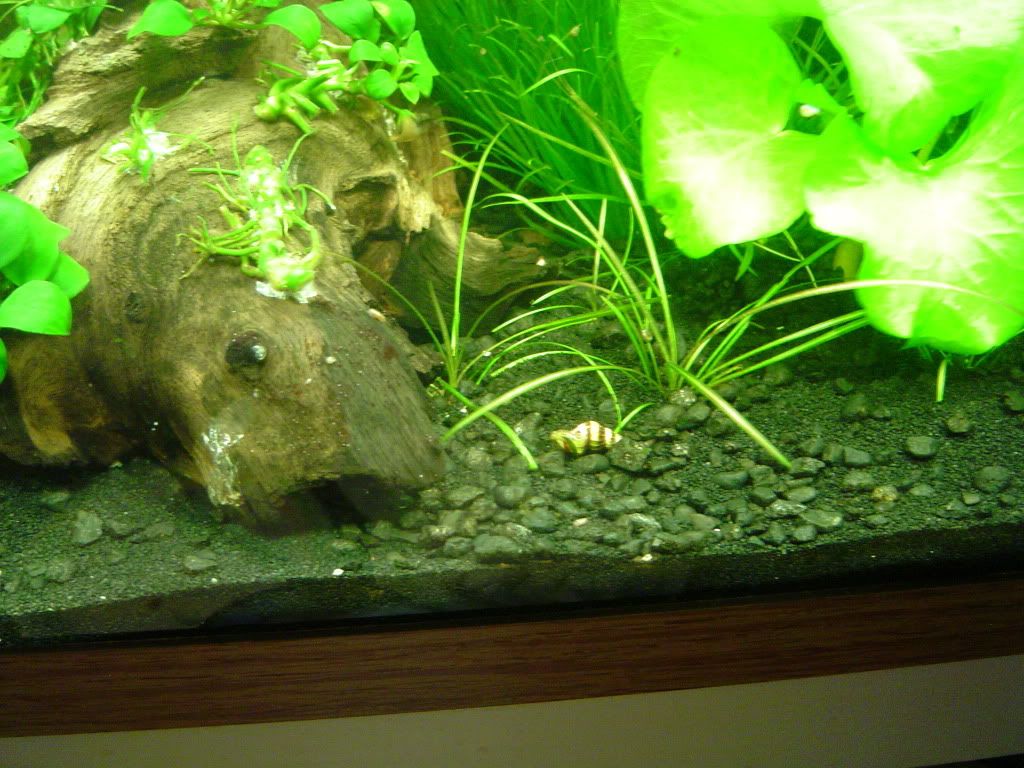 I dont understand this tank. Everything grows well in it and the critters seem happy. BUT, this is the tank that I had 7 Cardinal tetras, 5 Amano shrimp and 4 Tiger Nerites and 2 Assassin snails die in for no apparent reason. However, a group of WCMMs did great, as have the Rasboras that are in there currently. I mainly use this as a glorified QT tank. Also, it is home to a bazillion tiny ramshorn snails. I dont know why the other inverts croaked. ?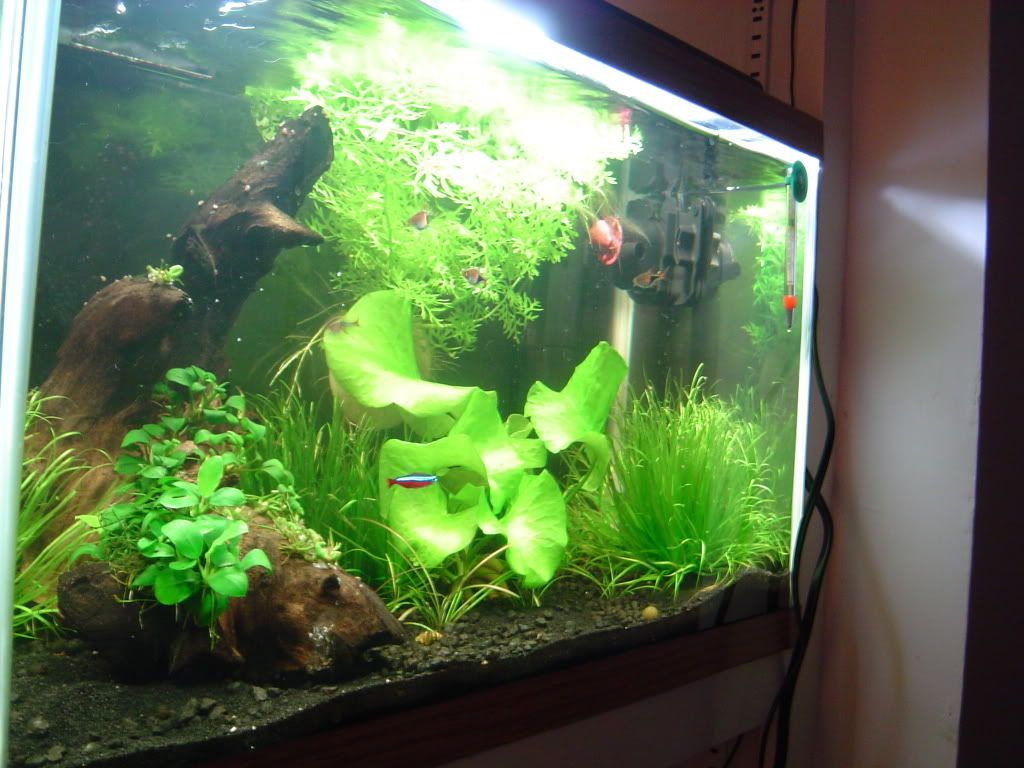 I have some VERY poorly dispersed CO2 in this tank ( air stone stuffed inside the HOB filter. But, the plants seem to be happy enough--Ive tossed out a large hunk of Blyxa like the one in the RF corner as well as about 3 times that amount of Watersprite. I was amazed at how thick the roots of the Watersprite became after adding CO2 to the tank.
That bad huh? Any suggestions on improvement? Im hoping to eventually cover the Mopani in Anubias--it just grows so slow ( even with CO2 Im only getting 2 or 3 leaves a week per plant. )

Any ideas why Ive lost all inverts other than the ramshorns and pond snails?