Algae Grower
Join Date: Mar 2014
Location: West Coast
Posts: 109
Good to know on the lighting.

Like I said, Currently my lights come on for 4 hours, off for 5, then back on for 4 hours, then off again until the next "day". So in one day they are getting a total of 8 hours, but with a 5 hour break inbetween.
Algae Grower
Join Date: Mar 2014
Location: West Coast
Posts: 109
UPDATE with more pictures!
---
Ok, So I don't feel like I got much response to whether or not my tank setup with lighting schedule, dosing schedule etc, is in the "ok" range for a NO CO2 setup.
I am still getting green spot algae, and am not sure what this other algae is (if it is algae), and many plants not growing well with some just melting away. Any thoughts from you guys more experienced with low-tech tanks??
Here are the Pictures with highlighted areas and questions.
THANKS
Feel free to click on pictures to expand them
.
1. Is this algae, and what kind?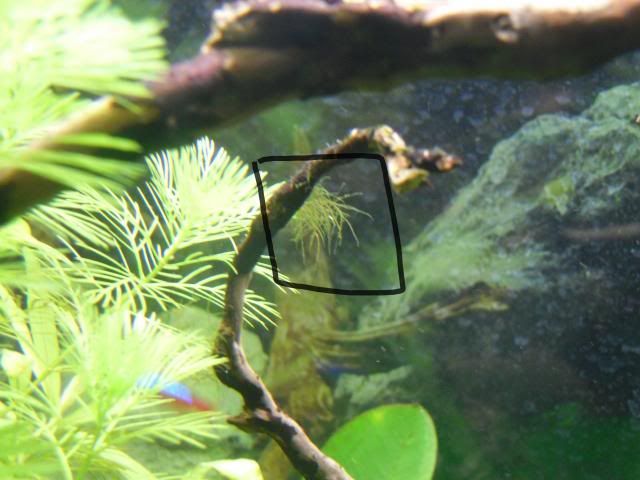 2. Here is more of the "algae" from picture #1, with this picture showing the "green spot" algae.
3. More green spot algae, and a bigger picture of the plant.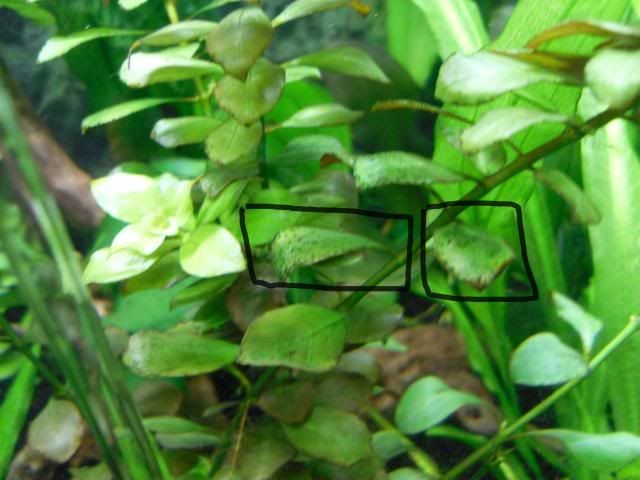 4. This plant's color just looks off. Or is it just me?
The algae in the first photo is cladophora. It grows like a plant and is not caused by anything that can be pinned down for certain. It is easy to kill if you take peroxide from the pharmacy store and use a syringe to apply peroxide directly to the algae underwater. 3 mL/gallon of tank water is the maximum you should dose in one day. It won't harm anything in the tank except the algae and breaks down very quickly.

As far as the spot algae goes. There is a lot of conjecture on what causes it but not a lot of solid evidence to back up those ideas. Some people believe it is related to low phosphate levels, and if you raise them spot algae goes away. Though I have never found this to be a reliable way of getting rid of it. I've found that in general when plants are healthy and growing fast, densely packed, etc. algae doesn't really appear as often. We aren't sure why algae dies off the more mature a tank gets but it seems to be a pretty reliable way of keeping algae away.

The field of algae isn't extremely accurate or well understood. Even the scientists who study algae seem to argue back and forth what causes it to bloom. Nobody on the forums has totally figured out how to never get algae or what causes each species to bloom and others not to as far as I have read. The best you can do is treat the algae using chemicals that kill it and make the conditions better for the plants so it doesn't have a clean shot at taking over your tank. When plants do well they seem to out compete the algae for whatever reason, with the exception of a few species of algae (clado being one of them).

Are the new plant leaves growing out more pale than the old leaves? It is hard to see as the difference might just be blown highlights in the photos you posted. If they are more pale then this may be an early sign of iron deficiency. What are you adding for iron?
Algae Grower
Join Date: Mar 2014
Location: West Coast
Posts: 109
Thanks Zapins for the help!
Here is what I am dosing currently with no CO2
Dosing:
Macros- Every other day, 5ml
Micros- Every other day, 5ml
Excel- 4ml daily, 12ml on Water Change day
Water Change: 50% weekly
Here is the amounts of Ferts I added to a 500ml bottle:
KNO3- 58g
MGSO4- 20g
KH2PO4-10g
K2SO4-30g
Also, CSM + B at 40g in separate 500ml bottle.
5ml alternate days than Macros
First page of this thread shows tank photo's also.
Here is another picture of this plant (don't know the name) that is melting as seen in the photos.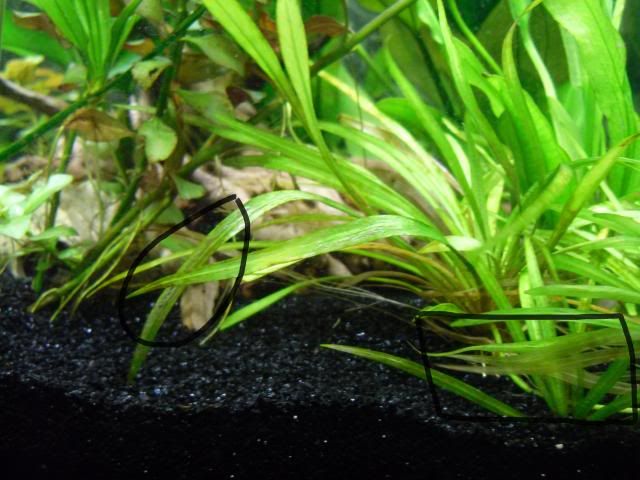 Helanthium bolivianum Latifolius is the plant (chain sword). It looks like it could be early nitrogen deficiency. Those leaves are older leaves right?

You are adding 3.24 ppm nitrate to your tank every time you dose. This may not be enough anymore now that the plants have grown in more.

Do you have a pleco in the tank?
Not every plant responds well to every environment into which we take a notion to put it in. Then also you may remember that plants often shed a couple of leaves when
moved to new environments. You also have that issue where a plant may have had parts of the leaves dry out too much while waiting to be planted if not kept under water during this time.
Put those things together/w the age of it and I'd say the tank is doing great considering how few issues you have. That type of algae is murder to be rid of once
established but the Excel hinders GSA somewhat. I need to try the Peroxide thing on
the none GSA type which is in one of my tanks but It does seem to be related to higher light ranges. It's not in my tank/w high end of low light. Just the one/w high
end of med light range.
---
The shortest distance between any two points is a straight line...in the opposite direction...
Algae Grower
Join Date: Mar 2014
Location: West Coast
Posts: 109
I do have a 2.5 inch Bushy Nose Pleco.

I will try to get more nitrogen into my tank to see if that helps any, while also spot treating the algae.
Use 1/3rd EI.

The issue is more with consistent Excel dosing, dose 20 mls into a 40 Gallon tank daily.

Trim, clean any algae you see.
Algae Grower
Join Date: Mar 2014
Location: West Coast
Posts: 109
Quote:
Use 1/3rd EI.

The issue is more with consistent Excel dosing, dose 20 mls into a 40 Gallon tank daily.

Trim, clean any algae you see.
With the numbers I listed above, am I pretty close to the 1/3 EI with my every other day dosing 5ml?
So for my 29g, 15ml of Excel daily would be where I want to be dosing?
Thanks everyone so far for the help!!