Cycling with high phospates?
---
I have a few questions about cycling a tank. My journal can be found
here
.
I have a 10g dirted (miracle grow organic) top with Flouramax.
HOB
powerhead for circulation
2 20w CFL 16" from substrate
pressurized CO2
I have it moderately planted now to abate some of the algae.
I wanted to leave the Ammonia and nitrite in to accelerate the development of bacteria. Sounds like a good idea, more food better growth. The water became quite stained, I understand it's a dirt tank, the nitrites off the scale as well as phosphates. The water smelled foul like a swamp pond. Changed 95% of the water.
Now it seems 2 days later I'm back to where I started. I had a growth of Rhizoclonium. I decided to do a 3 blackout and 1ml excel/day. I'm not sure why my phosphates are off the scale. My only thought is that it is the soil. I wonder if high phosphates are one of the reasons I have such bad brown algae.
I'm afraid I am going to have to change the water again. I did a 95% two days ago. The water is stained and smells like a pond. I'm at a loss at this point any ideas? Keep changing the water until phosphates are 2ppm? Below are charts for my water qualities. Remember I did a water change on 3/3/13. The initial Nitrate spike was KNO3 I added mistakenly rather than traces.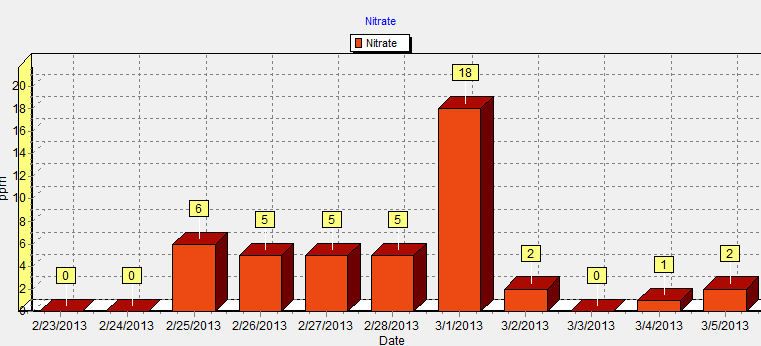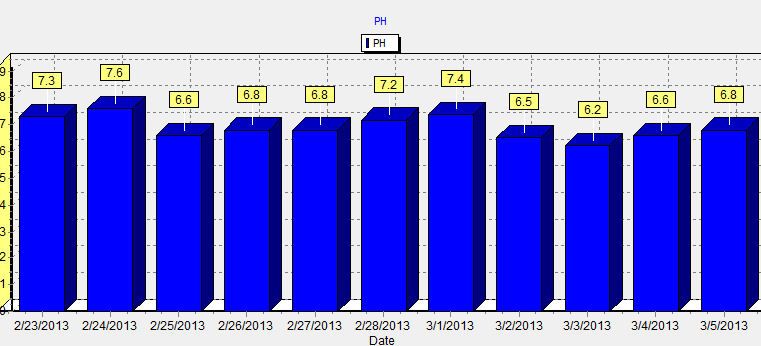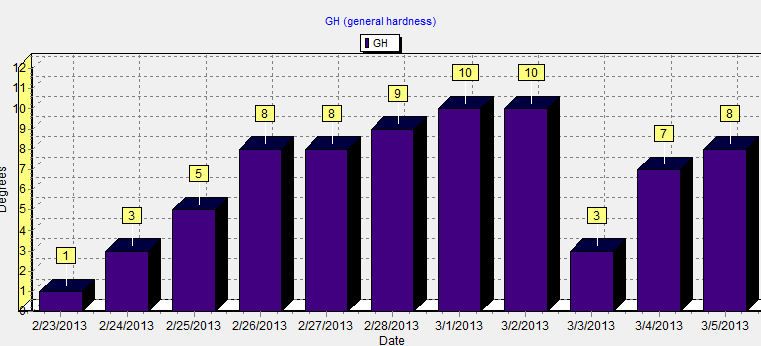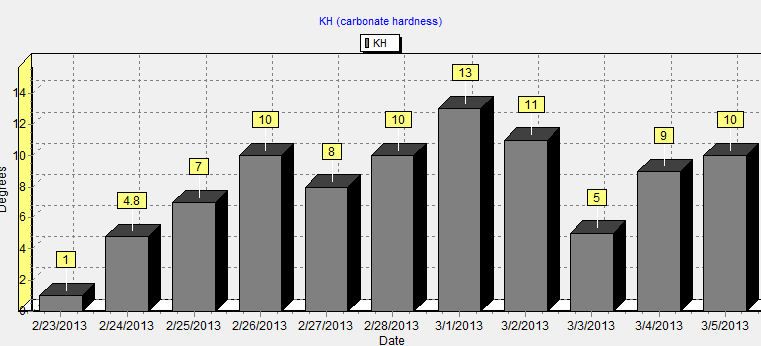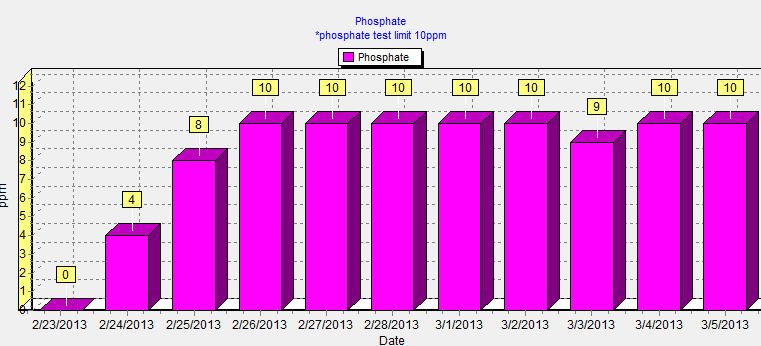 ---
Last edited by Zorfox; 03-06-2013 at

02:57 AM

. Reason: clarification
Planted Tank Guru
Join Date: Jan 2010
Location: Contra Costa CA
Posts: 11,721
I see GH and KH also dropped when you did a water change. There is some source of minerals in the tank. I would put a small amount of everything that is in the tank or filter into a separate glass of water and test each thing separately.
Glass A = Pure tap water, just add dechlor
Glass B = A handful of the material you are using as substrate.
Glass C = A handful of the material you are using as a cap.
Glass D = A few chips of what ever rocks you have in the tank.
Glass E, F, G... = Start with just tap water and dechlor, but add however much fertilizers to each (one fertilizer per glass) that you are adding to the tank. Maybe one or more of the fertilizers is actually a blend and is adding more than you think.
...and so on until you have tested everything that you are doing to the tank, everything that is in it.
Figure out what is altering each one of those tests.

You can continue with the fishless cycle while you work it out. Water changes are not a problem, as long as you re-dose the ammonia to keep the bacteria growing.
Water changes can be good. These bacteria do not grow so well when the ammonia or nitrite are too high. Do enough water changes to keep these under 5 ppm.

How a tank smells can help you figure things out.
A 'cat pee' or 'ammonia' smell, is ammonia. While you are cycling the tank, and adding ammonia it may indeed smell like ammonia. No getting around this. After the beneficial bacteria are established, though, you should not ever smell ammonia from the tank.

A strong 'plant-swamp' smell might be from a strong odor algae or other organism. Blue Green Algae, aka Cyanobacteria is often diagnosed by this smell.

A 'Swamp gas' or 'rotten egg' smell, especially when you disturb the substrate is usually due to anaerobic bacteria. They produce hydrogen sulfide. Not good if there is so much of this you can smell it.
Planted Tank Enthusiast
Join Date: Mar 2010
Location: Queens, NY
Posts: 817












Thanks for all your input!
Quote:
Your charts are awesome.
Thank you! They are from an application I have been writing to help with tank record keeping. It is basically a database with specific charts. I just added a CO2 calculator (as useless as I think they are lol). Next I want to add a fertilizer dosing calculator that alerts me when my levels fall out of range. Then advise the exact dose to bring it back. It takes the guesswork out of it all.
Things have not gone so well. Yesterday I came home to see a large "bump" in the substrate. It was raised about 3/4" and 6" across. Since it was next to the end of the driftwood I assumed it had moved. When I attempted to reposition the wood an explosion, for lack of a better word, occurred. A huge gas bubble under the substrate rose to the surface with enough force to splash water and soil on the wall! The odor was horrific! It literally smelled like raw sewage.
After the phosphate levels being off the charts, the Rhizoclonium algae and wacky water quality I completely tore it down. The tank was covered in soil. The filter completely clogged. I now have no faith in using Miracle grow organic mix out of the bag. I am convinced any soil or organic mix should be mineralized first. There are microbes that are not accustom to aquatic life. They produce hydrogen sulfide gas as a result of anaerobic metabolism. The nutrients in the mix were far too high, proven by phosphate testing of the mix. Proper mineralizing takes care of both problems.
I did not use mineralized substrate. I simply used the flouromax I had left over. I removed everything and cleaned thoroughly. I replanted essentially the same plants with a few exceptions below. I decided to try a bacteria culture starter. I have never believed in any of them but have read good things about Tetra's Safe Start so decided to try it. With that and filter material from my established tank we will see. No charts yet, only one set of tests done.
PH 6.5 (due to CO2)
Nitrate 0ppm
Nitrite 0.25ppm
Ammonia 0.25
GH 16
KH 11
Phosphate 2.0ppm
These were 24 hours after setting the tank up. I added enough KN03 to bring the nitrates up to 15ppm. I will be adding plantex GSM +B and iron chelate tomorrow. I did not use R/O water, instead I used straight tap water, treated of course. This is the reason my GH/KH are so high. I will begin using R/O again after the tank has cycled.
My journal on this tank starts
here
.
I completely understand your position after what you dealt with but not the summary statements as to organic content or microbes producing hydrogen sulfide as a normal product of organic breakdown and consumption.
Using potting soil people have reported huge spikes in ammonia for a few weeks (contains manures). Using the 'organic' potting mix with ferts added both phosphate and ammonia problems have been reported by those tanking an 'oops!' bag.
I
do not
doubt your data or the problems you endured trying to establish this tank. But I do challenge what was in reality used as a bagged product based on the results reported. Wish you had captured a photograph of the bag purchased. Scott's markets a number of products with very similar verbiage on the label.
Miracle Gro Organic Choice Potting Mix is the bagged 'dirt' product I use.
MGOCPM (potting mix) contains soils and a large portion of organic material (55-65% by volume). Sphagnum peat moss, composted bark fines, leaves, twigs, wood chips etc. and "pasteurized poultry litter" (cooked chicken crap).
0.10-0.05-0.05
http://www.scotts.com/smg/products/Miracle-Gro/soil/in_container/pdf/mgOrganicChoicePottingMix.pdf
The only quick release nutrient really is the poultry litter.
Nothing in it to cause out of control phosphates.
Having now set up over 14 tanks in house I post often on this method of tanking. Even set up several 'granny' tanks for shut in friends because gratefully I've found the reverse of the experiences you endured. After only two or three weeks of monitoring parameters I only visit these elderly friends maybe once a month to trim, clean glass and do partial water changes until they become comfortable with doing the maintenance.
Miracle Gro Organic Choice Potting Mix (exact labeling) is the only bagged 'dirt' product I have used.
Anaerobic bacteria are the end of the normal nitrogen cycle chain of bacters and the only ones that consume nitrate. Those starving and dying in large numbers or being disturbed can produce a sulfur odor but reality is not earth shattering. Something completely missed here in this tale of failure. Excessive layer depth, fluke of packaging, lack of needed minerals if only straight RO was used, something is missed.
Anaerobic and Aerobic type bacteria are present in nearly all substrate with only imbalance or larger pockets creating the 'problems'. Having had black stinky pockets in one tank or another I've never had anything die due to it except for a few Reopen stems. Later poking around and replacing plants the areas of issue were eliminated over time without any real drama.
Only a couple documented freshwater bacteria routinely release sulfur / acid compounds based on several published papers. The remaining strains, the vast majority (numbering in the hundreds), of anaerobic bacteria only do so when presented with a lack of food (NO3). Most die without any cumulative effect. Changes in the bacter food source is the cause of this shift to sulfate production and release not disturbance alone. Normally produced is the splitting of nitrogen and O2 (oxygen). This is science proven.
The presence of anaerobic bacteria is almost impossible to avoid except in bare tanks with positive flow sponge filters. These systems only have the first half of the nitrogen cycle in place and are dependent solely on water changes to remove all remaining waste products. Adding plants and substrate it's an entirely different game being played in system maintenance.
Anaerobic bacteria and the production of sulfides along with acids seems to always be reported in 3 ways;
Hobbyists repeating what they have heard or read with the majority being short on facts.
Those selling products inciting fears to help do so.
Scientific study papers which are very hard for most to read. (boring and chewy)
Almost anything can be stated as toxic above a threshold limit and allowed to become imbalanced.
Controlling anaerobic conditions in a nutrient rich substrate is absolutely possible. Anaerobic bacteria factor directly into natural planted tank keeping (Walstad published method) and ages old filter systems.
Conscientious Aquarist Magazine / Seachem published copyright 2010.
Freshwater Deep Sand Beds Work by Deirdre Kylie
closing excerpt;
While some tales of anaerobic disasters surely are true, bubbles from the substrate rise too quickly and have too little surface area to sufficiently contaminate even a small tank. It's more likely that dissolved gases and toxins from anaerobic decay were released into the water column when they were disrupted by the fishkeeper. Bubbles percolating up through the sand leave it to harmlessly close up behind them without even mixing much - this phenomenon can easily be observed in bubbles which form against the glass because the anaerobic sand is black and contrasts with the oxygenated sand.
Important Acknowledgement
Though my tanks are not Walstad tanks, they are inspired and informed by Diana Walstad's method and information as presented in her wonderful book, "Ecology of the Planted Aquarium." I suggest that book as a great source of information about nutrients, bacteria, lighting, etc., comprehensible to the layperson. Without it, I might have red and blue epoxy covered gravel, plastic plants, some overcrowded goldfish, and little enthusiasm for the hobby.
http://www.wetwebmedia.com/ca/volume_7/volume_7_1/dsb.html
I absolutely agree with all these statements.
Rex Grigg's planted tank guide, D.Walstad's book, George & Karla Booth (thekrib.com) are the primary source reference for my aquarium knowledge. Expanded with experience and further reading on topics of my interest.
Anaerobic bacteria feed on nitrates not ammonia and nitrites.
Good flow and circulation through the layers of substrate will maintain imbalance but WILL NOT eliminate all anaerobic forms of bacteria nor should you want it too.
Hobby related links
http://www.monsterfishkeepers.com/forums/showthread.php?270699-Anaerobic-Bacteria-in-Freshwater-Aquariums
http://www.aquariacentral.com/forums/showthread.php?221079-Why-Water-Changes-The-Long-Answer
http://www.tropicalfishkeeping.com/freshwater-articles/bacteria-freshwater-aquarium-74891/
(luv this site on a range of tanking topics)
http://sites.google.com/site/moashowmanyfish/nitrogen-cycle-a-must-for-freshwater-aquarists
Remaining Wastes topic
http://sites.google.com/site/moashowmanyfish/why-are-water-changes-necessary
Published study
http://horizon.documentation.ird.fr/exl-doc/pleins_textes/pleins_textes_5/b_fdi_20-21/26560.pdf
http://www.ncbi.nlm.nih.gov/pmc/articles/PMC169723/
Link list "anaerobic bacteria + freshwater" Scholar search all articles and patents.
http://scholar.google.com/scholar?q=anaerobic+bacteria+%2B+freshwater&hl=en& as_sdt=0&as_vis=1&oi=scholart
is what it is
Here's only one exchange on the topic of organics and anaerobic bacteria
http://www.plantedtank.net/forums/showthread.php?t=181611&highlight=anaerobic+bacter ia
Again I
do not
doubt your data or the problems you dealt with.
Only the product.
---
The Fraternity of Dirt
If at first you don't succeed,,, keep kicking it
RubberSideDownOnTheLanding,
2-75g planted, 5-55g planted, 5-20g planted, 110g w/30g sump, 8-10g,
Refugium,
doghouse/newbie
2012 update adding table top pleco pans & a 90g (Nutz)
That was quite an informative post, thank you. I appreciate all your input. I haven't had the time to read all the links you provided but I will.
The product I used was in fact Miracle Gro Organic Choice Potting Mix. I checked while I was at Wal Mart today and it was in fact still the same price, in the same location and matched the image you provided. I have no doubt it is a viable substrate. I've read hundreds of posts and articles from people using it successfully. I do however think I received an "oops" bag as you mentioned. Though I still feel that mineralizing the soil would help to prevent the initial chemistry problems.
The depth was about 1 1/2" of soil with an equal amount of Flouramax cap. When I did tear it down I put the soil in one container and the capping in another. I filled it with R/O water and tested about 24 hours later. The soil container was 10+ppm phosphate. The capping container was roughly 0.5ppm. I have no idea what was in the mix to cause this but it did. While sifting it I didn't notice any out the the ordinary clumps of organics or odd materials. It had no significant odor.
I assumed the large bubble that was released was hydrogen sulfide. It smelled quite rotten. Maybe as you said the very high CO2 concentration played a role but I have no idea. Maybe after digesting the information you provided I will have a better idea. By the way I actually like the chewy boring academic papers
.
Basically, I think we agree. MGOSM works but I simply got an "oops" bag. The tank now is fully cycled and doing well. I just need to pull all the initial plants and rescape it.