Planted Member
Join Date: Jun 2013
Location: AUS
Posts: 169
low budget 4x2x2
---
hey guys! thought i might through a up thread about my latest tank going up! about 6 months ago i was gifted a 4x2x2 and a stand by my uncle as grown up life was getting to much to be able to keep a marine tank.
i wasnt really sure what to do with it and was to poor to go all out! (i have a race car, so youll notice this is a common theme) end up stumbling across dirt substrate low maintence tanks. around this time my 3ft tank in my room burst making a horrible mess and losing everything.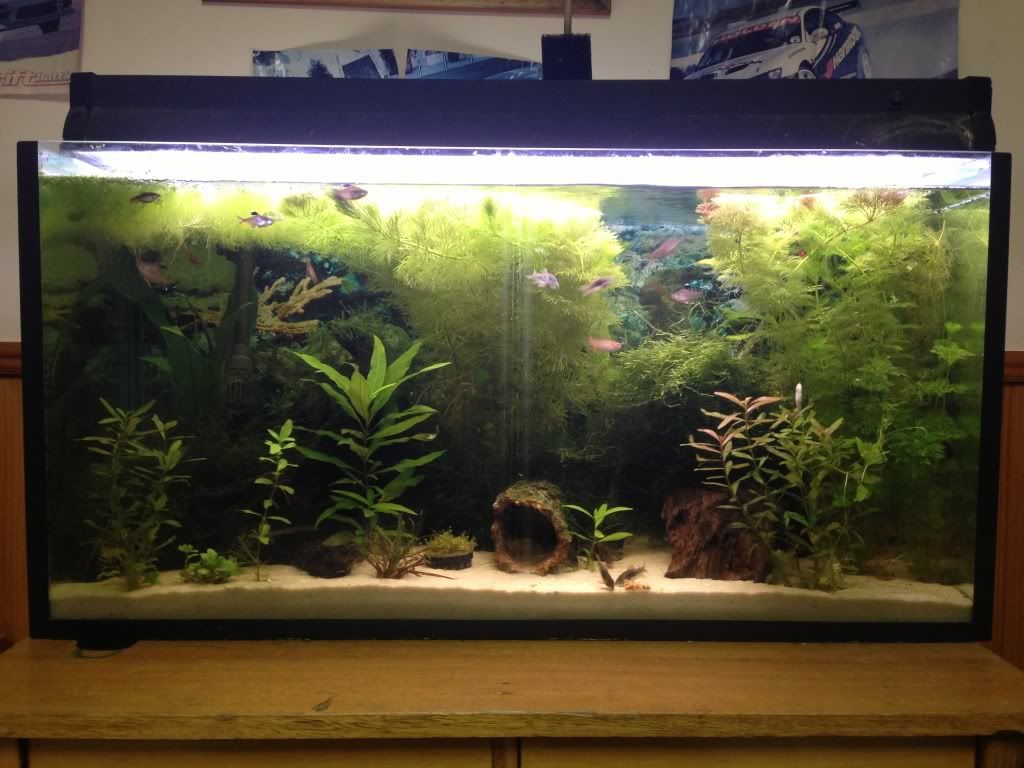 it had only been set back up for around 3 months as well which was annoying.
so fast forward 3 months of being lazy and the the bug bite to get back into it. now this tank was to big for my room so i decide to set it up in the shed and use it pretty much as a grow tank for the 4ft ill setup in place of the old burst tank.
i didnt end up taking any photos as i wasnt planning on putting it on the internet so youll have to make do with one.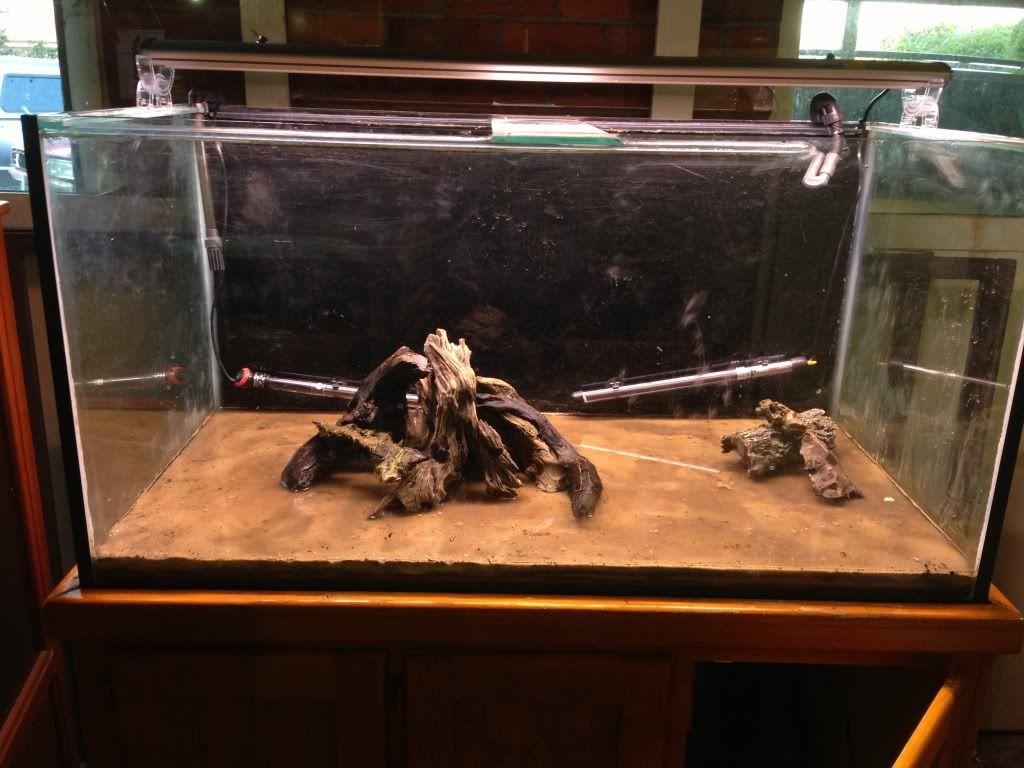 this tank is basically a slapped together as it can get using what i had laying around. only new bits are the light and a big enough heater. i think ill really need to get a larger peice of driftwood as what i had was all small tanks stuff.
i am currently waiting on a plant pack in the mail that supposedly will be enough to heavily fill the tank. that should get here tomorrow. i have no idea whats coming as yet. i am worried about that as i suck at the scaping side of things and i feel its always a let down of all my tanks.
whats in the tank at the moment.
no name 2x54 fixture with 2x gisseman aquaflora globes. was suppose to be 1xaqua and 1xmid day so i dont know how that will go.
1x 200w heater
1x 300w heater
1xfluval 205.
Edit : impulse brough a 2217 that im hoping will be enough on its on.
20kg pool filter sand - need to get more.
random top soil. - no idea how this will go. fingers crossed.
future stocking list
1x feather fin is all i have in mind so far.
sooo thats the start of my shed tank!
---
Last edited by frenchie1001; 09-03-2013 at

01:27 PM

. Reason: .
Planted Member
Join Date: Jun 2013
Location: AUS
Posts: 169
Todays aim was to get a large peice of driftwood and sort the hard scape, which due to small town living totally failed. but on a plus the plants rocked up!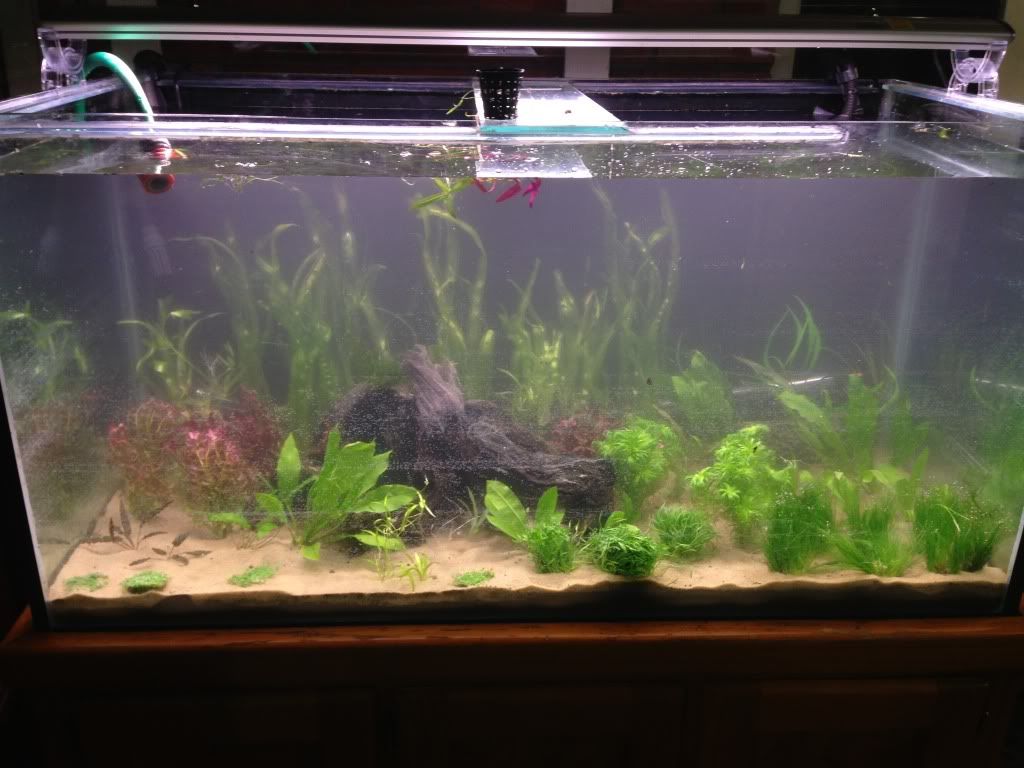 bang them all in, realised i really do need more wood and that i suck at scaping.
tomorrows job - water change and put some more sand where it end up a little thin after planting.
Planted Member
Join Date: Feb 2009
Location: Portland, OR
Posts: 216
Scape looks good to me man, just need to find that perfect piece of wood and it will all come together. Can't wait to see it fill in.
Planted Member
Join Date: Jun 2013
Location: AUS
Posts: 169
thanks man! wood will make it work, i hunted around locally today and found the perfect bit of wood but it was so dear! waaaay out of my budget for this tank. hopefully something will pop up soon.

i played a bit with the scape today, mostly foreground plants and filling in some sand. doesnt look much different but it made me feel better hahha! everything was pearling like crazy which was cool.