Algae Grower
Join Date: May 2013
Location: Mobile AL
Posts: 45
40 Gal MTS Planted set up
---
I set up my 40 gal, Mineralized Top Soil Tanks last night.
I am starting this thread to log my procedure, so I can get help if needed and so others can learn if they choose to emulate me. I am going to try and post an update weekly.
What I did before 7/19/13
The tank
I have a 40 gal breeder (dimentions are 36" wide, 17" Tall, 18" Deep) that has been set up for several years. Earlier this year I broke it down and installed a DIY natural stone background.
see this thread for more info
The tank has an old Fluval 205, it is drilled for inflow and out flow. I also have a drip system that replaces approximately 12-15 gal of water per week.
My city water is very soft, KH less than 1, GH is 4. They use gassed chlorine (i remove this with a charcoal filter).
Making the MTS
About 5-6 weeks ago I went and dug up about a 5 gal bucket of top soil from behind my office. The soil was very rich/black looking. My 9 year old and I sifted the soil to remove rocks, wood, grass, seeds, acorn casings, you name it.
After the sifting I ended up with about 3/4 of a 5 gal bucket full of black soil. I flooded it with a hose, several inches over the soil. The next day I poured the water off and dried it out on a tarp in the sun.
I repeated the wetting and drying process every sunny day for about 5-6 weeks. The soil had very organic almost fecal type smell at first, and the wet dirt was very smooth and muddy. It began to loose its smell and the dirt developed a very course gritty texture after about 4-5 wet/dry cycles. After sitting up in a bucket of water overnight it would become very firm, and it held clumps very well.
I purchased some modeling clay from Michaels craft store. I shaved half of it down with a cheese slicer (it looked like potato chips) and let it dry in the sun. I then pulverized it with a wood mallet.
I added 7% clay by weight to the MTS when dry.
I ordered my plants and they came in this Friday.
Plant List:
Sagittaria, Dwarf Subulata (Sagittaria subulata) 20
Sagittaria, Chilensis (Wideleaf)(Sagittaria platyphylla) 10
Vallisneria, Corkscrew (Vallisneria americana var. biwaensis) 20
Amazon swords 2
Ocelot Sword 1
aponogeton bulb 1
Last Night
I drained the tank (it's resident is now sharing space in the 75 gal)
I mixed water into the MTS (with clay) until it had a peanut butter consistency. I dusted the bottom of the tank with crushed coral, and about a tea spoon of Epsom Salt. I also added a dusting of Murate of Potash (0-0-60) to the bottom glass.
I scooped up the wet MTS and started to spread it across the tank bottom. An even coat was 5/8" - 3/4" thick and it covered about 85% of the tank bottom. I then capped it with 1" of sand
I placed the plants and filled the tank.
here is a picture of the tank a few minutes after it was filled
Here it is after the water settled out.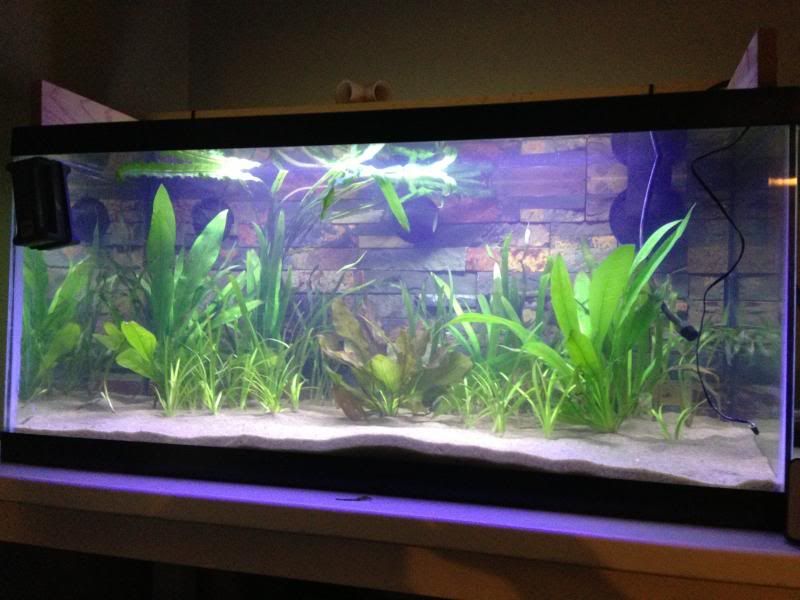 Ill post in about a week or so with an update
What kind of light? And how high off te top of the tank is it? Looks great!! Love the back ground
Algae Grower
Join Date: May 2013
Location: Mobile AL
Posts: 45
I have a 28" long, dual fixture.

it is a:

Coralife T5 dual - 1 lamp is ACTINIC, 1 is 10,000k

I will be replacing the bulbs in the near future with 6500k or 6700k bulbs.

the light fixture is about 3.5" above the surface
Algae Grower
Join Date: May 2013
Location: Mobile AL
Posts: 45