Newbie
Join Date: Aug 2006
Location: san diego, ca
Posts: 4
gone on vacation?
---
starting my first lowtech 60 gal tank and bought a bunch of plants with a friend from a local scape meeting. im still awaiting my driftwood in the mail so I planted them temporarily in my pea gravel, however, I'm leaving for an overseas trip for 2.5 weeks and this tank has no soil substrate or peat moss and I won't have time enough after i get the driftwood to waterlog. With 128 watts of 6500k and 5000k T8 fluorescent lighting, will the plants use up the nutrients too quickly while I'm gone before laying down a layer of the soil and peat moss? How long are typical photoperiods people are using for low-tech because I've seen most people that do 8+? Is that a significant or noticeable drain on the electric bill?
here's a couple pics of the temporarily planted scape.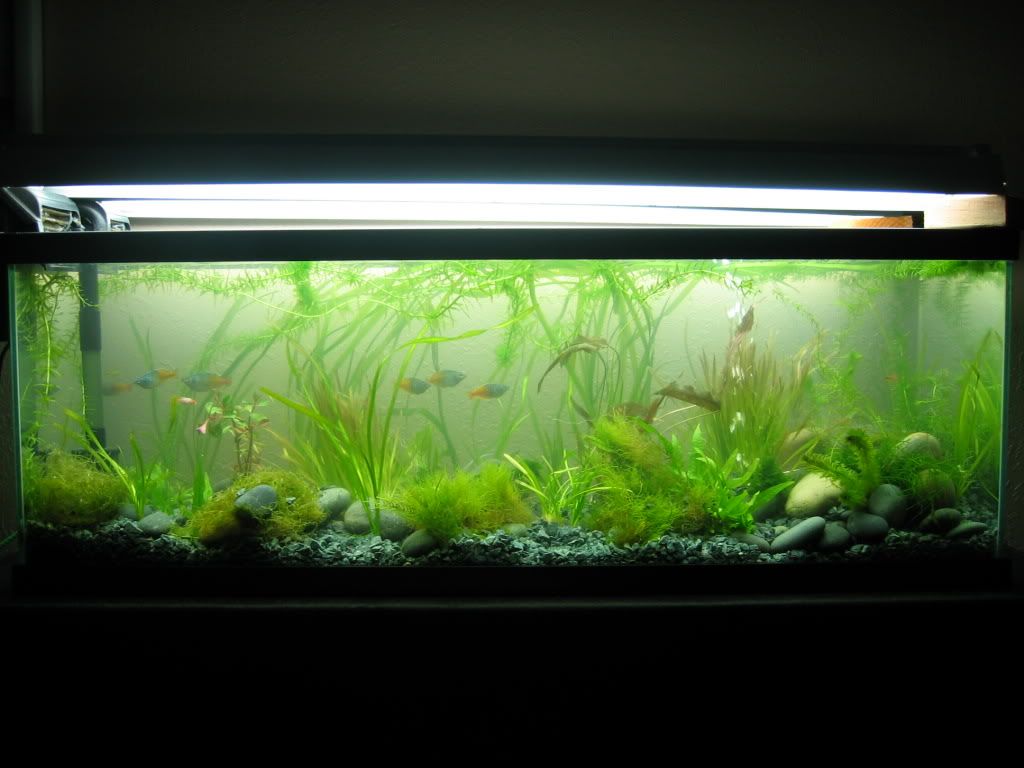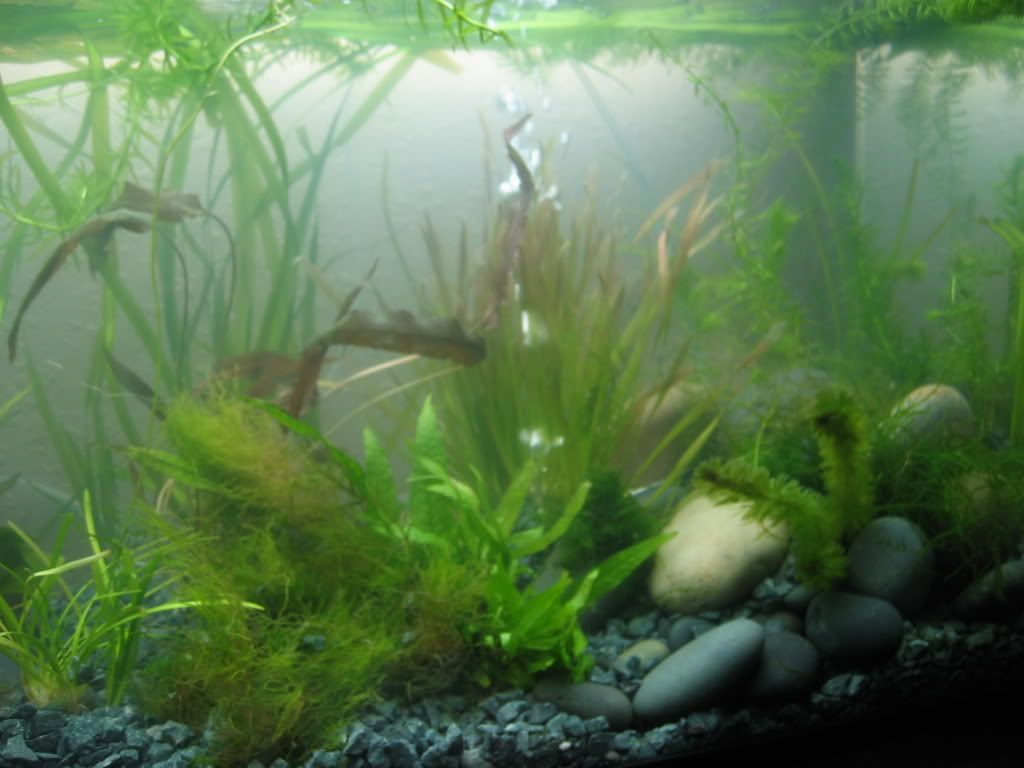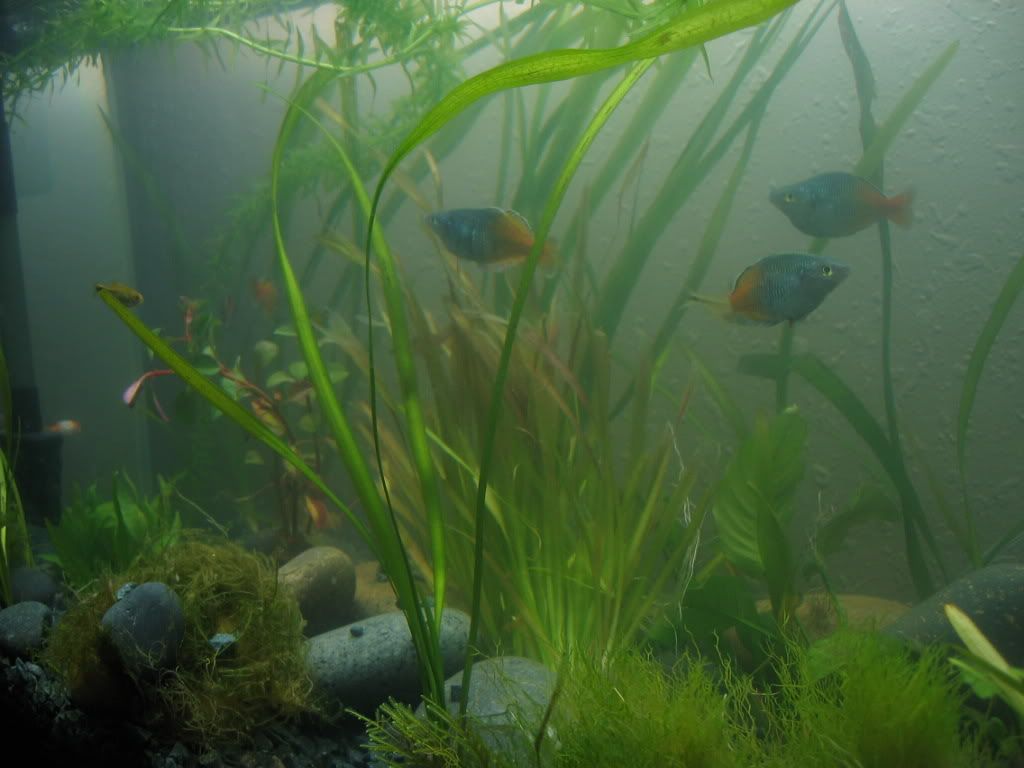 also for the people who use a layer of soil substrate, do you dose in addition to the water? and are there any issues with the soil kicking up if i layer pea gravel on top?
my plants are: java moss, anarchis, java fern, Vals, Riccia, Ludwigia repens, Cryptocoryne wendtii, hornwort, Anubias nana, and some chain swords
Ive often left my planted tank for approx two weeks with no inputs whilst I have been away, as long as your lighting is on a timer there should be no problem. The plants maybe a bit tatty upon your return but a good trim should see them right. Make sure you feed the fish well in the run up to your vacation so they are able to survive the fast, if not why not ask a neighbour or mate to pop in and give them a feed??
there are LOTS of autofeeders on the market. I got one for $14 and i use it every time i leave. works like a charm! makes life so much easier.

and your plants *should* be fine. you will want a timer though. and maybe reduce the light scedual to like 2-4 hrs while you are away thats what a generally do.

- fish newb -
That's going to be one beautiful tank! It looks much bigger than 60 gallons.

I currently have 3 tanks with soil sub. What I like about them is I don't have to dose. I've been extremely busy this summer and really haven't touched them. 2 look great. One has green spot Big time. I think it needs a new bulb though. Now, in the winter when I'm bored, I do sometimes test, dose and trim things up a bit. The flexablity is what I like most about soil. The plants and fish I see would make good canidates for a soil tank. I don't know a way to add soil to what you have already set up without making a huge mess of it.

I don't know that I'd recommend it, but I've left my tanks for up to ten days. I heavily feed fish for a week before. Drop the temps about 2-4 degrees. Shut off the lights while I'm gone. And darken the room. Put everything in a coma. When I come home I find that I have an algae free tank. Leaner, hungry fish. And the plants are alive and take right off again after a long rest. But I give no guarentees.

But when you get back from vacation, think about ditching the biowheel.
Good luck and enjoy your vacation.
in an established tank, you should not have any problem leaving the fish that long, however in a new tank, I would look at the auto feeders or have someone come by and feed them. If you have someone feed them, measure everything out before hand and label them by day, this makes it harder to mess up. The tank looks great!