Algae Grower
Join Date: Apr 2013
Location: Ga. USA
Posts: 5
New to forum with new tank!
---
I finally got my aquarium mostly established after several years without one.
It was cycled for a couple of months with just fish food and a few plants and it's beginning to settle in with some fish which are doing well and seem really happy. Funny how live plants will do that
My last tank did well with a bunch of mystery plants grown from those coconut looking seeds but this time I purchased some plants.
The larger plants on either side and through the skull were sold as Amazon Sword and are growing GREAT with one long runner that has grown another clump. The grass is some sort of hair grass and I have some water sprite as well as a "micro sword" and a moss ball. The guy at the pet store wasn't very knowledgeable about plants so I'm unsure about exactly what I have
The substrate is just gravel with some seachem tabs which I've had good luck with in the past.
I want to add some java moss, hide the mechanicals/hoses/etc., and just sit back and watch which is always fun
I have 2 tiger barbs, 2 platies, a little algae eating cat, a couple of ghost shrimp a beta and three little "dayglo" danios. I don't like the fish load because they will soon outgrow the tank but my wife and kids picked them up following the "inch per gallon" rule. They forgot that fish GROW!
My daughter picked up the beta and one of those cruel little boxes and It bugged me having him in such a tiny container... So far he's doing well in the tank after 3 weeks and thankfully the other fish him alone and he seems happy to just derp around.
The tank is just a 15 gallon tall with a single 15 watt grow bulb , bio wheel filter and heater.
I plan on getting this one "grown-in" for a while and then upgrading or adding a 30 gal or so with some fancy substrate and nice lights.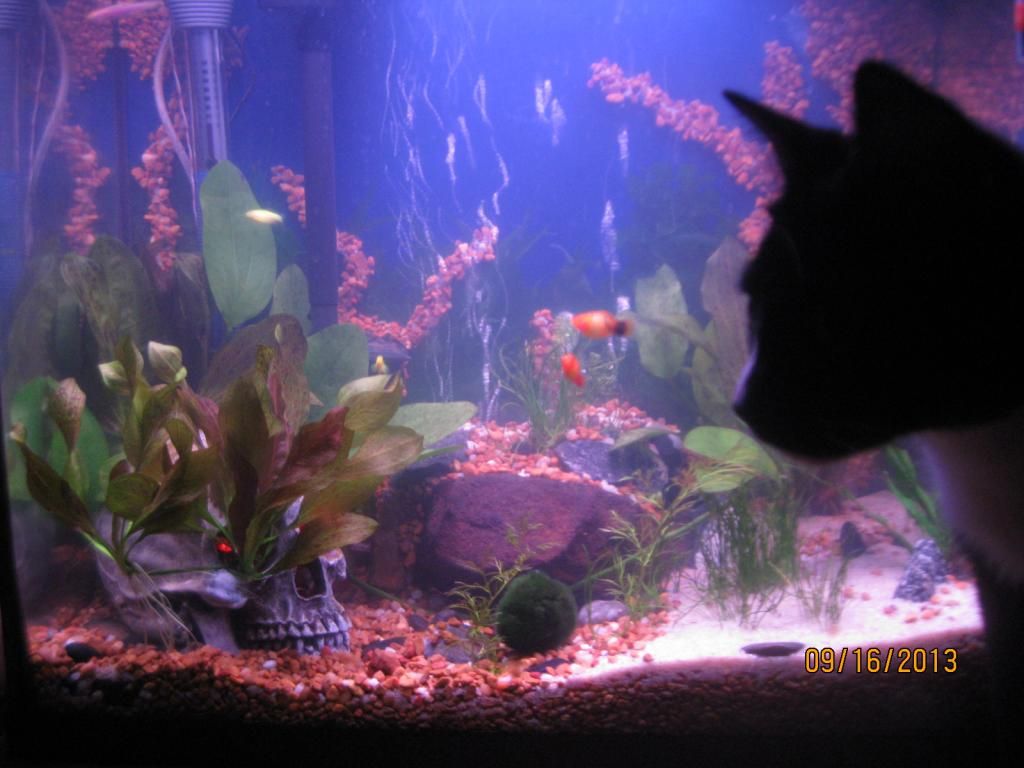 That's Frankie the Hellcat looking on
I'm not a big fan of the skull but the kids picked it up. I did train some plants through it for some camouflage.
Algae Grower
Join Date: Apr 2013
Location: Illinois
Posts: 44
Algae Grower
Join Date: Apr 2013
Location: Ga. USA
Posts: 5
Thanks Paint!
Everything is looking OK considering I only have a single 15W bulb: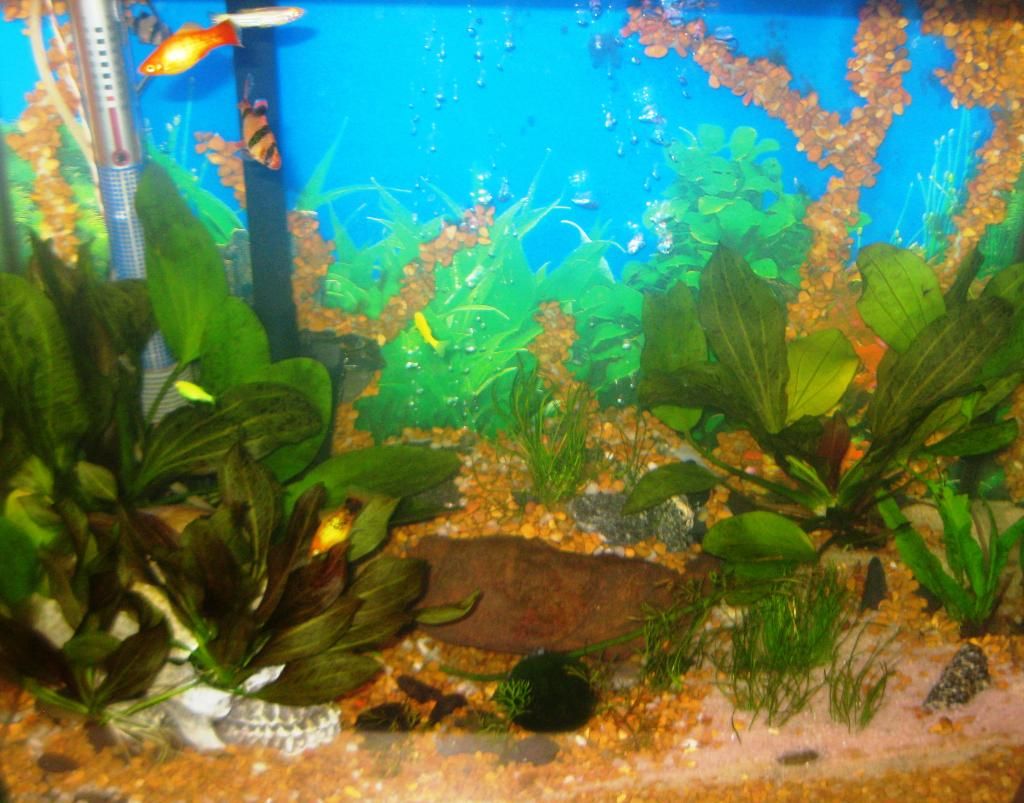 The background looks cheezy in the pic but in real life it's not that visible although I'll probably ditch it and go with black.
I have a touch of algae but not too bad. My nitrates have been running about 40 ppm (Zero at tapwater) so I just did a 50% water change. My ammonia and nitrites are zero so I'm happy with that!
I'm not too worried about the algae but any advise would be welcome.
You can see some of it on these roots:
I think it looks cool the way this runner is "reaching" down to the substrate. The fish seem to like swimming through it as well!
Welcome! I'm new to TPT too. I have a similar sized tank. Yours looks great. I like how you camouflaged the skull.
On the second picture, are the long orange "floaty things" from the background picture? It looks like your gravel is piled on top of the large rock in the middle and then the orange things look like your gravel... a bit confusing for me to figure out what I'm seeing.
My tank doesn't have a background aside from the wall behind it. I hesitate to put in a background cuz then I'd only be able to see the tank from 2 sides due to it's placement. My tank looks really bare cuz my plants are all small and new and I don't really have anything at the top level yet. I'm also planning later this year to upgrade this tank to 30g or so.
PS - Hello Frankie cat
Algae Grower
Join Date: Apr 2013
Location: Ga. USA
Posts: 5
The "floaty things" are gravel attached to the back of the tank with silicone. It had a crack in the back and I used the gravel to camouflage the repair
Plus added some extra.
I'm not sure if I really like it but the shrimp seem to enjoy crawling over it. It really does look a lot better in person than the pictures. I plan on attaching some moss onto the gravel stuck to the rear of the tank in the future.
Ahhh....that is creative! Thanks for explaining. I was having one heck of a time figuring that one out!
Algae Grower
Join Date: Apr 2013
Location: Ga. USA
Posts: 5
Well, I found this really cool rock:
That has lots of neat features and even some holes that go clean through it
Seemed too good to go to waste so I decided to re-plant the tank:
While I was at it I replaced the background with black posterboard, peeled off some of the gravel glued to the back of the tank and got rid of the skull.
I'm going to get some more hair grass to plant in the foreground and maybe some other low lying plants. The swords are just getting way too big and it looks kind of out of scale now. I think it would look better with some tall thin leaved plants.
Any advise on some plants?
Oh yea, I also added a 12 inch LED strip from Lowes. It's only 3500K but it balances the weird color from the T8 grow light I'm using plus it illuminates the back of the tank better. Not sure if it'll help the plants but it looks nice.