Algae Grower
Join Date: Jan 2013
Posts: 28
Nice tank. I love the branches, where did you get them?
It would look great with a few shrimp in it
. Is there anything in it now?
Weekly update...The crypts and red melon sword and some dwarf sag (with a female guppy in the foreground). There is some algae starting up...I think my 8 hour photo period may be too long (??) ...and maybe feeding this fish a bit too much (??)...unfortunately skipped the water change last weekend due to hectic schedule...will do it properly this weekend...will do a water test before the change to see what else is going on...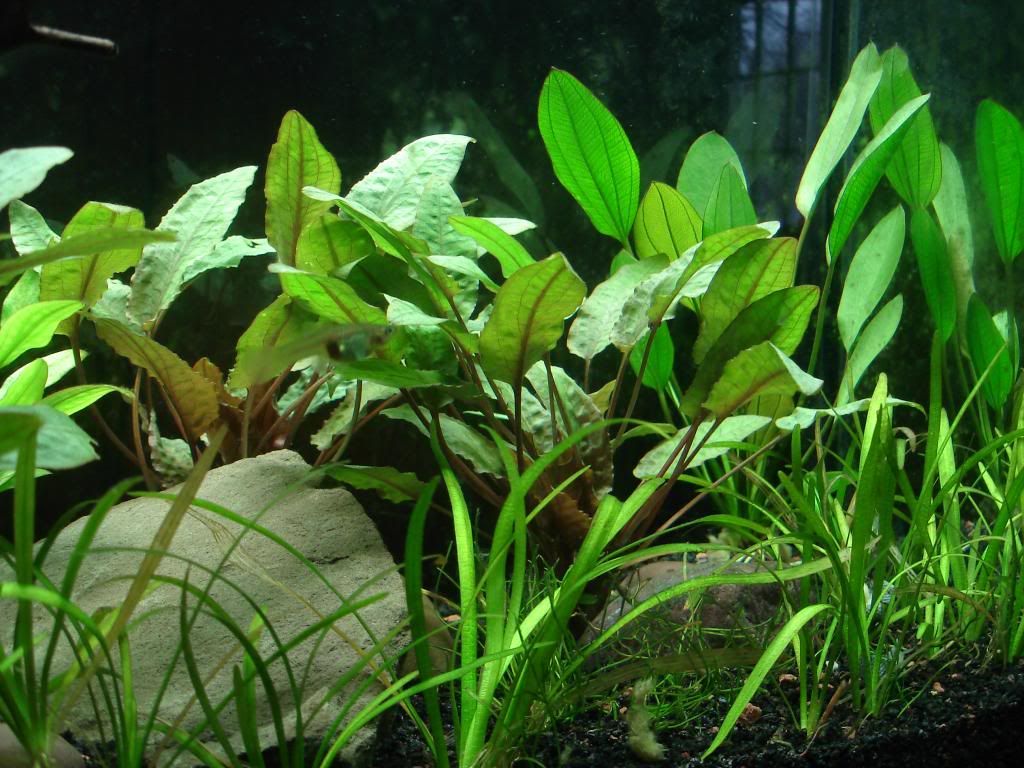 There are 4 juvenile angelfish...all with original-type striped coloration...but this one is more fancy...longer fins and somewhat bolder patterning....
No shrimp, Open Cages...but I am thinking about studying up on them for perhaps the 20 gallon tank. Don't know much about them and I'd want to be sure I was doing what was best form them so they'd thrive. Also there is a young beta in the 20 gallon and it really seems to like poking around the plants and rocks in that tank. I don't think a Beta and shrimp would get along too well...the Beta might think they were food? I think I am at my limit at 4 aquariums right now. The few cherry shrimp I've seen are pretty cool to watch though, especially when they zoom around
---
"Adopt the pace of nature; her secret is patience." ~ Ralph Waldo Emerson
---
Last edited by Saxtonhill; 04-13-2013 at

01:08 PM

. Reason: spelling
Found a flower on one of the anubias nana plants this morning!
I am wondering if it is flowering because it was grown emersed or submerged? (I started a thread on this over in the Plants forum section
)
Really, really having a lot of fun with all the aquarium plants!
My mom who is in hospice wants to see the flower so later today after breakfast we'll put her in the wheel chair and let her see...this 60 gallon tank has really been a fun thing for her to see also. It gives us all a sense of entertainment and also peace and tranquility
Thank you forum members for all your helpful comments and good advice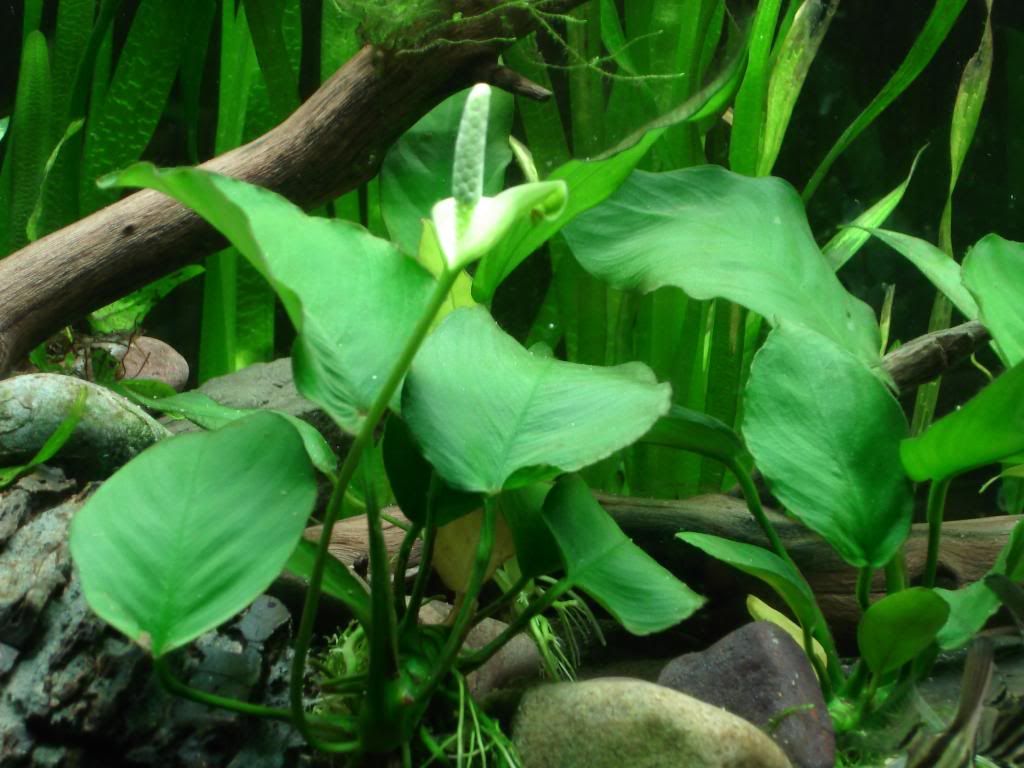 ---
"Adopt the pace of nature; her secret is patience." ~ Ralph Waldo Emerson
Tank is doing great except for some patches of this dark hair-like algae stuff...any clues?
---
"Adopt the pace of nature; her secret is patience." ~ Ralph Waldo Emerson